Milan, Madrid, Stockholm, Frankfurt, Istanbul are the five European cities that can boast the highest number of architectures designed according to the LEED international standard: the certification developed by the U.S. Green Building Council (USGBC) which certifies the sustainability and the energy efficiency of a building.
As we know, the built environment sector is responsible for over 35% of the EU's total waste generation [EU – A new Circular Economy Action Plan]. The leading cause of waste, and a large culprit for emissions, is the construction and demolition industry. It is also the world's largest consumer of raw materials, with about 3 billion tons annually. [Arup, 2016] and it is responsible for up to 40% of our CO2-emissions.
U.S. Green Building Council recently announced Italy ranks eighth in the world on its annual list of Top 10 Countries and Regions for LEED in 2021.
The ranking highlights countries and regions outside the United States that are making significant strides in healthy, sustainable building design, construction and operations. In 2021, 106 LEED projects were certified in Italy, representing more than 1.16 million gross square meters of space.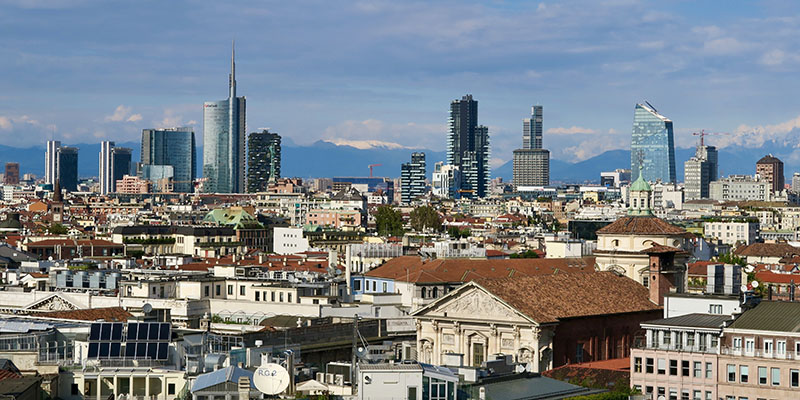 Milan comprehends now more than 230 LEED-certified buildings, or under certification, that help reduce carbon emissions and make healthier environments available to the people who live and work there.
In Milan, sustainable buildings are a fundamental solution to reverse the impact of the sector in terms of carbon emissions. From hotels and offices to schools and apartments, Milan's work with LEED sets an example for other cities in Europe and shows that better buildings can create a better quality of life.
In regards to LEED rating system, Valcucine presents "Sustainability beyond Space and Time" a series of events, before, during and after Milan Design Week (6-12 April 2022), to affirm the company's constant commitment to sustainable design and to celebrate the new LEED v4.1 mapping.
Among these appointments, Archivibe in collaboration with Fuorisalone.it, presents "LEED Buildings in Milan Fuorisalone itinerary" an educational itinerary that involves some of the most interesting LEED certified buildings designed by prominent International and Italian architectural firms such as:
Asti Architetti
Barreca & La Varra
GBPA Architects
Mario Cucinella Architects
One Works
Park Associati
Progetto CMR
Scandurra Studio Architettura
SOM Skidmore Owings Merril
Tectoo
In the upcoming weeks we will find out more about these LEED certified sustainable buildings.
Fuorisalone 2022 LEED Buildings itinerary