As we are witnessing with this series of articles and interviews about building with wood, sustainable timber constructions are taking over from steel and concrete buildings. Timber architecture seems to represent the only way to a more sustainable future.
Sustainable, green, eco-friendly, environmentally friendly are all appealing words that often are used in a wrong, or misleading, way. In fact, there is a thin line between green marketing and greenwashing.
Greenwashing is a form of ambiguous advertising that companies use with the sole purpose of obtaining an economic benefit, without really doing anything concrete towards environmental protection.
On the contrary, green marketing is when companies and architecture firms market their products, services, and architectures based on legitimate environmental features and standards.
What are the advantages of building with wood and how to clearly communicate timber constructions sustainability?
The best way to clearly provide information about the sustainable parts of a product or service is through certification schemes. The primary motivations are: to provide an ethical product for the consumers, improve the image of the company and gain a better relationship with stakeholders. 
Timber certification is a process which results in a written statement attesting to the origin of wood raw material, often following validation by an independent third party. Certification is designed to allow participants to measure their forest management practices against standards and to demonstrate compliance with those standards.
"Timber is only sustainable when it comes from responsibly managed forests. FSC-certified forests are protected from deforestation, biodiversity is preserved, and the social rights of workers are respected. Therefore FSC is an assurance of sustainably sourced timber, which supports the economic, environmental and social aspects of the forests. Illegal timber and timber from uncertified forests does not include this assurance of sustainability" says Jeremy Harrison, Chief Marketing Officer at FSC International.
An architecture firm amongst the timber construction pioneers in the UK is dRMM. They have championed the use of engineered timber since the studio's beginnings.
Jonas Lencer, Director at dRMM, says "In 2005, we introduced cross-laminated timber (CLT) construction to the UK in one of our earliest projects, the transformation of Kingsdale School, demonstrating how it could outsmart material competitors in versatility, building efficiency, and character. Since then, our approach to building in timber has always been characterised by innovation. In our landmark installation project, Endless Stair, which formed part of the London Design Festival in 2014, we developed a completely new CLT material made from American Tulipwood – an abundant, inexpensive and sustainable hardwood. The same material was later used within larger scale application on the construction of Maggie's Centre, Oldham, resulting in the UK's first hardwood CLT full-scale building"
Research and advocacy are also hugely important to dRMM's approach to timber architecture – our team works consistently within knowledge-sharing groups to promote learning around evolving uses of engineered timber. We participate in talks, exhibitions and panel discussions that relate to application, policy and construction processes around timber.
"The most powerful tool for communicating the benefits of building in timber is through the design process itself. Using design as an experiment is central to dRMM. Our team is driven by ongoing material research and innovation that unfolds through and with our projects, as well as through collaboration with external experts. This approach has allowed us to learn more about the sustainable benefits of timber constructions. Namely, the potential for modularity and the advantage of speed. Engineered timber is manufactured off-site, its quality can be monitored and is predictable, it offers shorter programme periods, and eliminates 'wet trades', ultimately accelerating delivery."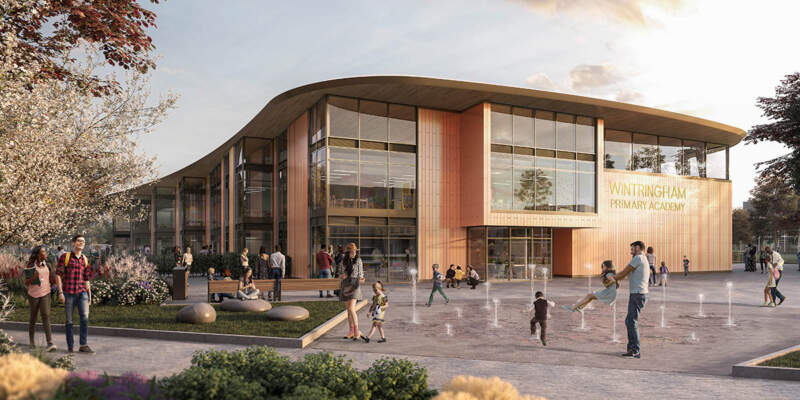 Courtesy: dRMM
"Going forward – continues Jonas – sustainable forestry management will need to be an important step for how the world reduces its carbon footprint – and therefore this should be a focal message in the sustainability debate. The architecture industry must strive to innovate and specify different timber species within construction, creating a demand for diversity. In this respect, dRMM's research into the development of Tulipwood CLT is particularly interesting – engineering a hardwood as opposed to the conventional softwoods used in mainstream manufacture was seen as an obvious advantage for carbon sequestration owing to its rapid growth. Testing new ideas and challenging accepted norms characterise our greatest chance for reshaping the way architecture is made.
Our research about building with wood is ongoing and constant; most recently, we have been working with timber on a mixed-use project called WorkStack. Building with wood is a significant response to the growing need for high quality workspace on compact sites. 
The project looks at a system of stacked timber units, reducing the footprint of the building significantly without loss of lettable area. The project that saw timber as having the potential to re-imagine the non-prescriptive Victorian warehouse space. Through the use of CLT, we've been able to reimagine spaces for work that allow for different uses over time, championing flexibility through the introduction or removal of mezzanines, walls, and services."
For more than two decades, the Danish architecture firm Schmidt Hammer Lassen have integrated wood in the design of cultural, civic, commercial, and educational buildings all over the world. Their approach to timber construction is rooted in a culture of sustainability and smart business – They believe that timber exists where these two notions intersect.
"The use of wood in construction is very important since it is a renewable resource, unlike most other building materials," – explains Mads Kaltoft, Partner and building in wood expert at Schmidt Hammer Lassen – "The vast majority of the materials we use such as gravel, sand, iron, natural stone and clay, are resources we extract from the earth and their supply is depleting fast, whereas wood as a building material – like our agriculture – is something we can cultivate."
We believe that timber contributes to a human sense of well-being and is an enviable solution in the quest for a resilient way forward.
"Building with wood is undoubtedly the only and truly sustainable practice that can be used for constructive systems, facades, roofing and interior fit out – continues Mads -there is a lot of technical knowledge from our timber constructions heritage that has been lost, we just need to rediscover and upgrade it to the techniques and technology that we take advantage of today."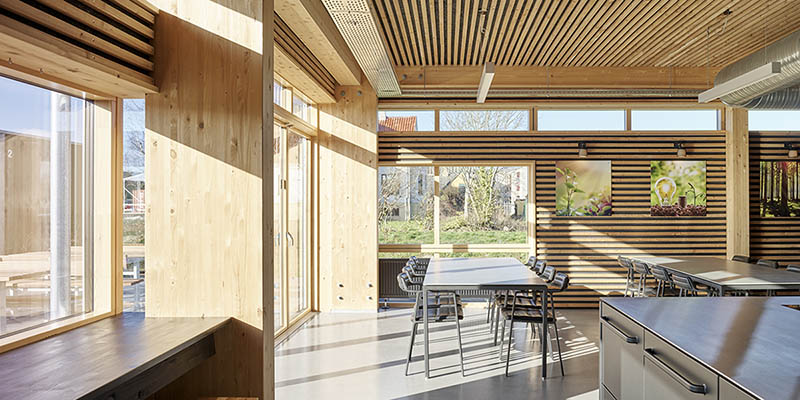 Photography: Anders Hviid | Courtesy: Schmidt Hammer Lassen
Framehouse, a 1,810-square-metre flexible office building in Dragør, Denmark, is a highly sustainable workspace wrapped in warm, natural materials. The industrial business area, 12 kilometres south of central Copenhagen, is dotted with repurposed aircraft hangars as well as new construction influenced by their form. While the simple building volumes of Framehouse are a nod to the local context, the building is a rare gem in Denmark – a sustainable and innovative exposed timber structure.
The building gathers different tenants under one roof and creates synergy and connectivity across the different workspaces, meeting rooms and common areas. The exposed timber structure of the building is the first of its kind in greater Copenhagen, Denmark; the use of this material creates a strong identity and manifests the office buildings' high sustainability ambitions. Framehouse is aiming for DNGB Gold certification, and sustainability permeates the project from the landscape to the rooftops. 
Joakim Kaminsky, founder of Kjellgren Kaminsky says "You can smell a wooden building and feel it and hear it. It's a material that speaks to all your senses when used throughout a project. That, I think, is the most important aspect of timber constructions. From a sustainable aspect, it's a local material in Sweden (and many other countries) that binds carbon dioxide, so it can generate a negative footprint, unlike most other construction materials. It is a material well suited for effective prefabrication both as CLT-walls and room modules. On the downside, timber constructions have thicker slabs and walls than concrete buildings and one have to address the risk of acoustic transmission"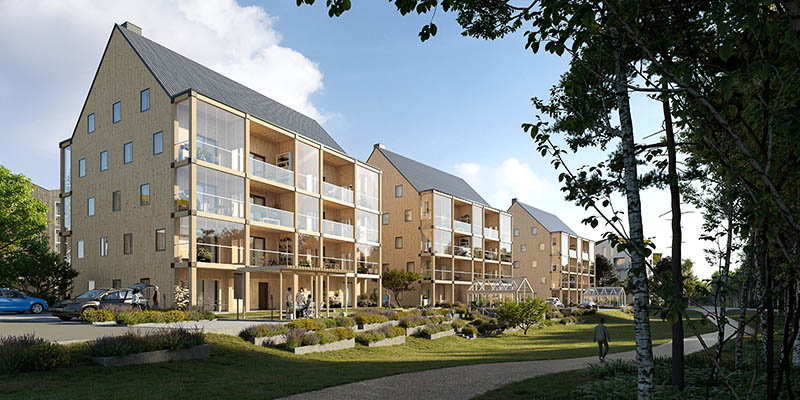 Courtesy: Kjellgren Kaminsky
"One of the latest Kjellgren Kaminsky timber architecture is located in Växjö. In the town located in the south of Sweden, the building has commenced on three wooden multi-family houses. In addition to building with wood, the architectures also feature solar cells and low energy usage. We have tried to minimize the usage of unrenewable material throughout the building, for instance, we are using wooden based boards in walls instead of gypsum boards. The buildings have an innovative financing method. They are financed with crowdfunding as the first example in Sweden, more than 78 million kronor have been founded."
At the Dutch architecture firm MVSA the mission is to create architectural solutions that enhance the well-being of the people who use our buildings.
They plan, build, and design seamless environments that add functional and emotional value for those who use them, enrich their surroundings, promote sustainability and help companies to succeed.
As they say, everything MVSA designs should be future-proof, contributing to a durable and sustainable society. They base each and every design on the functional needs of their client, the specific context of the project and the highest standards of sustainability. As they state, their goal is always to mix this pragmatism with architectural poetry, to create a building that people love to use. In order to fulfill these objectives, they conduct extensive research into new materials and production methods, including wood. Building with wood is a sustainable and friendly practice that not only contributes to the sustainability of our buildings but above all to the well-being and experience of the people who use them. 
Research is a natural part of MVSA working process and they embrace experimentation and innovation. They have pioneered sustainable solutions from their earliest years and often employ a design-build approach, with the contractor on board from the beginning, for optimal results. MVSA technical know-how means they can get the best out of standard materials and processes, achieving a surprisingly large impact.
"An important factor in succeeding in this is to formulate the sustainability ambitions of a project carefully and communicate them effectively. A precise analysis of these objectives, and a calculation of a building's life-cycle costs, often turns out to be much more feasible than was formerly thought. Even more than this financial analysis, it is vital that all the stakeholders in the process recognise the importance and necessity of sustainability. Because ultimately that's what it's all about: we want to leave a better world to our children."
MVSA is currently working on the completion of the spectacular Holland Casino in Venlo, the city that profiles itself as the cradle-to-cradle capital of the Netherlands. Venlo previously gained international attention for its new, fully circular, city hall.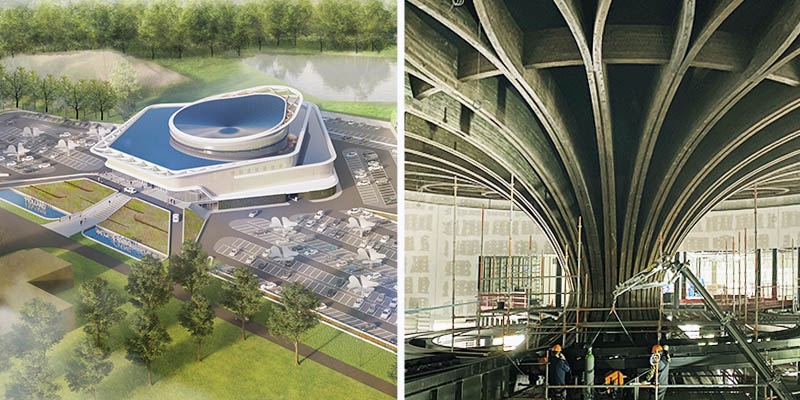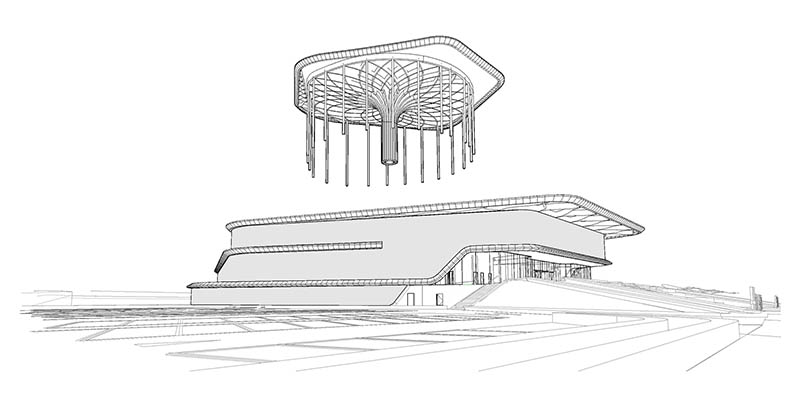 Courtesy: MVSA
The new Holland Casino will be an icon for Venlo: the region will get a boost while the casino and the city get the opportunity to profile themselves on an international level. The iconic timber building is visible from a great distance, as a portal to the Netherlands. An interactive façade changes color and illuminates the casino in a breath-taking fashion when it is dark, with the accent on the flower-shaped structure.
The building is fully circular and is based on a holistic vision of architecture and sustainability. Through this vision, a natural coherence between landscape, architecture, and interior has been realised.
MVSA's Architect and Director Wouter Thijssen says: "The Casino is designed like a large flower rising from the landscape. The expressive flower shape refers to the Netherlands' rich tradition of floriculture. The flowing, floriform shapes of the building naturally extend to the landscape, and beyond the boundaries of the site. The large flower-shaped roof fans out towards the motorway and reveals itself there in its full glory."
The central wooden flower construction forms the heart of the casino and supports the building's atrium roof. This wooden bloom rises from the building's core and is beautifully visible from the motorway. The invitingly designed central bar winds around the flower stem and extends over the various levels of the building. The bar transforms into a staircase and, together with the sculptural wood construction, forms the most striking highlight of the interior.
The giant bloom shape is made up of double curved composite (CLT) wooden beams. The flower construction arises from a 'stem' that unfolds upwards, transforming into the flower-shaped roof construction. This wooden bloom, made of approximately 300 composite beams, forms a roof measuring 55 by 45 m, is 25 m high, and is supported by a stem with a diameter of 3.2 m.
The spectacularly iconic timber constructions over the building and is visible from a great distance from the motorway. The new Holland Casino is currently being completed and will open its doors to the public in the spring of 2021. Venlo, the C2C capital of the Netherlands, thus gains a new icon in the field of sustainability. With the opening of the new venue too, Holland Casino will be able to cope with the rapidly growing number of visitors.
"Architects can benefit from FSC Project Certification by communicating their sustainability efforts to investors and clients. This means they can feature FSC trademarks in their presentations, along with images of their timber constructions. By using FSC trademarks, projects can easily communicate the added-value of certification and align with the Sustainable Development Goals. Sourcing FSC materials can also earn points for building certifications such as LEED and BREAM. FSC Project or Chain of Custody Certificate holders that source sustainable timber are able to significantly enhance their brand image and sustainability credentials" says Julian Nierentz, Program Manager (Trademark Management) at FSC International.
To learn more about the most relevant architecture firsms are building with wood please visit the other articles of this series: