Timber architecture is sprouting up the world over and nowadays the construction industry is the largest buyer of timber products.
Trees, and their derivative products, have been used by societies around the world for thousands of years. Increasing numbers of architects, developers, governments, educational institutions and corporations are embracing wood since timber can replace other construction materials in many structures while providing the same functionality.
This increase in wood use can be attributed to a variety of reasons: wood can be transported and handled more easily than most competing materials; wooden buildings are easier to work with; wooden buildings perform well during earthquakes; wood is cheaper than other materials; wood reduces carbon footprints; wood buildings are more energy-efficient. Timber offers plenty of advantages!
In partnership with FSC Forest Stewardship Council, the international non-profit organization that claims to promote responsible management of the world's forests, we asked many of the most influencing architecture firms in Europe, such as C.F. Møller, White Arkitekter, Jestico + Whiles, Mei,Schmidt Hammer Lassen, PLP, Henning Larssen just to name a few, about their approach to timber architecture.
C.F. Møller's work with timber architecture stems from a long term R&D commitment across the Nordic region. They took part in the 'Tall Timber Building' research project (2013-2020), supported by FORMAS, the Swedish research council for sustainable development. They are now participating in the 'Build in Wood' research project (2019-2023), supported by the EU Horizon 2020 program.
"With timber architecture – said Rob Marsh, Head of Sustainability at C.F. Møller – we are able to reduce the embodied carbon of our buildings with 50% in relation to concrete buildings. At the same time, we are able to work with a beautiful, renewable material that grows in sustainably managed forests that are indigenous to large areas of the Nordic countries"
Swedish data shows that multi-storey timber apartments cost 16% less to build than concrete buildings. Research from Norway shows that timber architecture can be 20% quicker to construct because of their light weight and greater precision, and that the sick leave of construction workers on timber buildings is 50% lower than comparable concrete projects.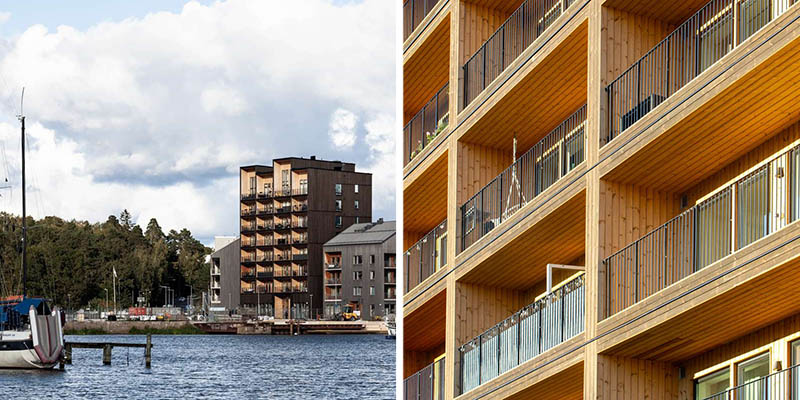 Kajstaden Tall Timber by C.F. Møller Architects | Photography by Nikolaj Jakobsen
C.F. Møller Architects are the architects for the Kajstaden Tall Timber Building, completed in 2019. The apartment building has become a landmark and, during construction, became Sweden 's tallest solid wooden building in the new district of Kajstaden at Lake Mälaren in Västerås. All parts of the building consist of cross-laminated wood, which includes the walls, joists and balconies as well as the lift and stairwell shafts".
Alex Gordon, Associate Director at Jestico + Whiles, said "It is no secret that the construction industry makes a significant impact upon the environment, accounting for up to 40% of global energy use and process-related carbon dioxide emissions. The use of replenishable timber therefore has a key role to play in decarbonising our fragile planet and helping to mitigate the ever more serious impacts of climate change. Given the significant contribution to carbon reduction structural timber can provide, Jestico + Whiles is a strong advocate of its use. Exposed timber also provides a raw natural beauty and warmth, alongside other notable benefits.
Engineered structural timber solutions (e.g. CLT, Glulam) involve the use of off-site manufacture making building in timber quick, clean and easy. Aside from the programme advantages this brings, the use of engineered timber also allows for improved accuracy and finish, reduced waste, and no need for storage or further finishing on site".
Over the past decade Jestico + Whiles has increasingly made use of engineered timber on its timber architecture projects – particularly in the education sector which remains one of the most popular for CLT. Indeed, some of the first CLT buildings delivered in the UK were schools and research since has demonstrated that exposed timber interiors have a calming effect on children, promoting wellbeing and better learning. Education buildings are typically low rise and include a range of spans – often resulting in the use of hybrid solutions where pure CLT is used to smaller cellular classrooms with Glulam / steel additions required to span larger halls / auditoria.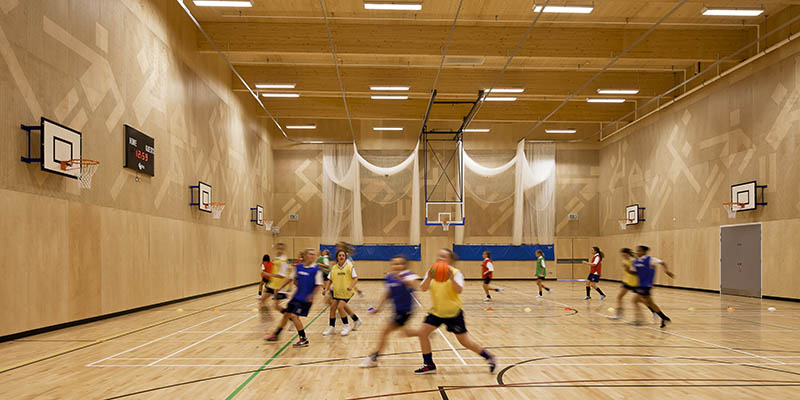 Passmores Academy by Jestico + Whiles | Photography: Tim Crocker
Jestico + Whiles first used CLT at Passmores Academy in Essex (2011) using a hybrid Glulam beam / CLT structural solution to the sports hall. Subsequently completed school buildings in timber include Mossbourne Victoria Park Academy (2014) and Reach Academy (2014) – both in London – which use CLT / Glulam more extensively throughout. Elsewhere in London, and in design currently, are specialist new buildings forming part of a wider masterplan for leading UK independent school, St Paul's Girl's School. Here, exposed Glulam structural framing and CLT is proposed to the new buildings – one of which is a Centre for Design and Innovation – where the exposed timber frame will assist in helping the children to learn about construction as part of their curriculum.
As Anders Tväråna, architect and partner at White architects says, "business plan vision is that in 2030 all our architecture is climate neutral through design excellence. As one of the necessary means for that we are always suggesting wood as the first choice of structural material
"Today most of the clients, technical consultants and contractors we work with are not very experienced in wooden buildings. Furthermore, the standards and building codes are in many cases developed with steel and concrete in mind. We work hard to pursue deep knowledge and experience of all the technical aspects of wooden construction, but also to develop our design methodology in regard of the limitations and possibilities of wood. In our internal research, we dive deeper and develop new tools to utilize the maximum output of wood as a material".
"In the project Magasin X in Uppsala, Sweden – Anders continues – we helped our client to transform what in the early stages was meant to be a traditional prefabricated concrete structure to Scandinavia's largest wooden multi-tenant office building. Besides being the obvious choice for sustainability wood is attractive and gives a warm feel in the interiors. The project is currently in production and by being fully rented two years before completion, with the highest rents in the city, it is not only an enviromental and architectural success but also very good for business".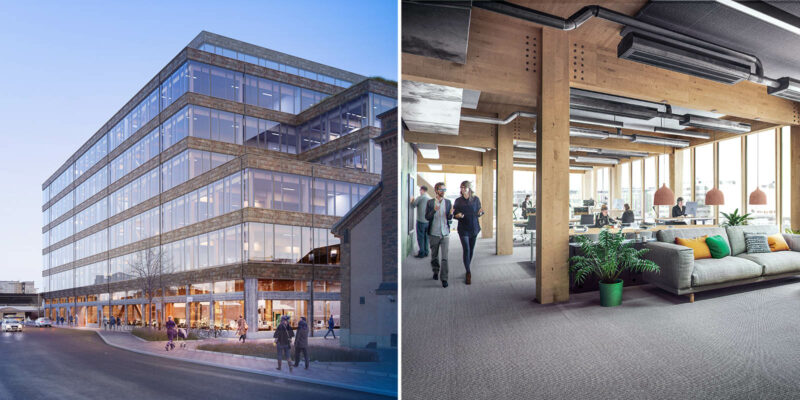 Magasin X by White architects | Courtesy: White architects
"In context of the Sustainable Development Goals and objectives to reduce CO2 emissions both locally and worldwide, one of our biggest recent projects SAWA is being executed almost completely – including the 50-meters-high main support structure – in Cross Laminated Timber. There are multiple advantages of building in CLT" says Robert Winkel, founder Mei and initiator of SAWA.
In addition to the fact that it stores CO2 and reduces emissions, timber architecture is also very lightweight, easy to work with, reusable in the future, and construction time will be shorter compared to a concrete construction.
"For SAWA – Robert Platje, associate at Mei, says – the aim is to leave as much wood as possible visible in the houses and on the galleries and balconies. Wood has a natural softness, resulting in a calm and comfortable living environment. Mei has used this principle before in for example the communal courtyard of Fenix I, emphasizing the calm by using a gradation of different colors of wood".
Additionally, Mei commits to contributing to a healthy living environment, and working with timber increases the possibilities for nature-inclusive solutions. Therefore, SAWA will get specifically chosen integrated greenery on balconies, terraces, and deck, as well as integrated nesting boxes in the facades and roofs. Building with wood also stimulates sustainable forest management, because for every cut down tree, three new ones are planted.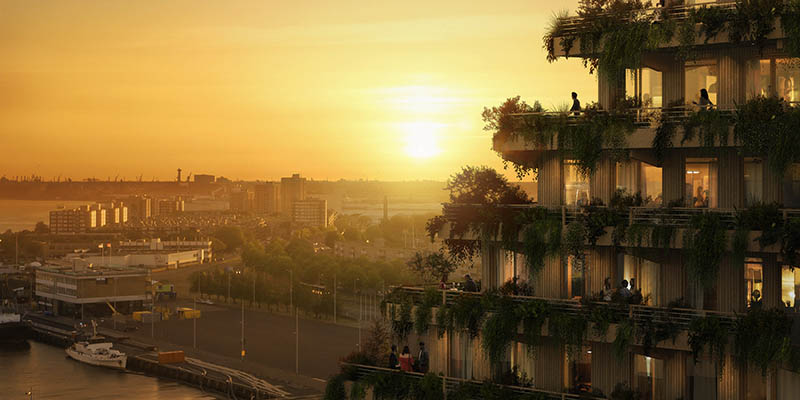 SAWA by Mei | Courtesy: Mei
Timber has a lot of benefits and opportunities still to be discovered, and SAWA will be an exemplary project for new generations, an important step in the sustainability goals and demonstrable evidence that things can be done differently.
We asked Jeremy Harrison, Chief Marketing Officer at FSC International "What is the importance of sustainably sourced timber, and in what terms does FSC certification contribute to LEAD and BREEAM certifications?
Using wood for construction is a fantastic choice, but only if the wood is produced sustainably.
You need to make sure that wood is coming from responsibly managed forests and FSC provides that assurance. FSC's slogan is "Forests For All Forever" and our standards are designed to ensure that forests are maintained, with harvested trees being replaced, either through natural regeneration or through planting to ensure no loss of tree cover over time.
From a climate perspective, using FSC-certified wood has a positive impact because not only does the wood used in buildings store carbon, but also the forests that produce the wood are maintained, thereby continuing to capture and store carbon, over time.
FSC project certification is a valuable tool to achieve recognition by the main Green Building certification schemes – such as LEED and BREEAM, which are the most popular in Europe. Both schemes award additional points for projects that include FSC-certified building materials and products. For example, LEED v4 for commercial buildings recognizes FSC within the 'Sourcing of Raw Materials' category. Within this category, credit may be earned by using FSC materials that account for at least 25% (by cost) of the total value of permanently installed building materials in the project.
FSC-certified wood is one of a few materials (other options include reused and recycled materials) that can count toward the 25% threshold. On top of this, FSC project certification represents an additional level of assurance for customers on the sustainable origin of the timber products used in the project"
To learn more about the approaches to timber architecture of many renowned architecture firms please visit the other articles of this series:
Cover image by Nikolaj Jakobsen