Wooden architecture and tips to comply with the most important building certifications and laws in Europe
In the first three episodes of this series about wooden architecture, we had the pleasure to interview some of the most prepared architects from top architecture firms in Denmark, Sweden, the Netherlands and UK.
Architects revealed their different approaches to timber architecture and the advantages of using wood in architecture, FSC International told us about the importance of sustainably sourced timber, what are the key sustainability factors of timber and how to clearly communicate wooden architecture sustainability.
Now, we asked Jeremy Harrison, Chief Marketing Officer at FSC International, what is the new FSC project certification standard?
Projects become more appealing to both investors and users when they support environmentally friendly practices such as using FSC-certified wood and wood-based products. Organizations that are certified according to the new FSC Project Certification Standard can issue project statements to identify their projects as being FSC-certified. These are some of the key points of the new standard:
Forest-based material categories such as FSC 100%, FSC Recycled and FSC Mix are eligible for full project claims.
An organization and its project members need to ensure that all FSC-certified materials sourced for the project come directly from suppliers with valid FSC certificates and should regularly verify the validity and product scope of the certificates through the FSC certificate database
An organization may choose to only become certified for the duration of the project (one-time certification) or to retain certification for managing multiple projects (continuous certification that can be renewed every 5 years).
For projects which cover a renovation, all requirements of the standard apply to newly sourced forest-based material/products used in the renovation project.
Project statements should not include references to other forest certification schemes or information not related to FSC project certification.
For the purposes of this standard a wooden architecture is defined as the production or renovation of a construction or civil engineering project that is made of, or contains, forest-based materials. In this fourth article, we keep on presenting some diverse interesting wooden architecture approaches and some tips to comply with the most important building certifications and laws in Europe.
Daniel Philip Veenboer, Head of Sustainability at EFFEKT said "As a Danish architecture company working very strongly with sustainability we want to be at the forefront of wooden architecture and wherever possible we want to use timber as a building component, because of all the benefits that it brings with it. Aside from these well-known advantages, we are very interested to investigating further the health aspect of working with wood as a biophilic design principle. The fact that wood can have a positive impact on your health – both mental and physical well-being"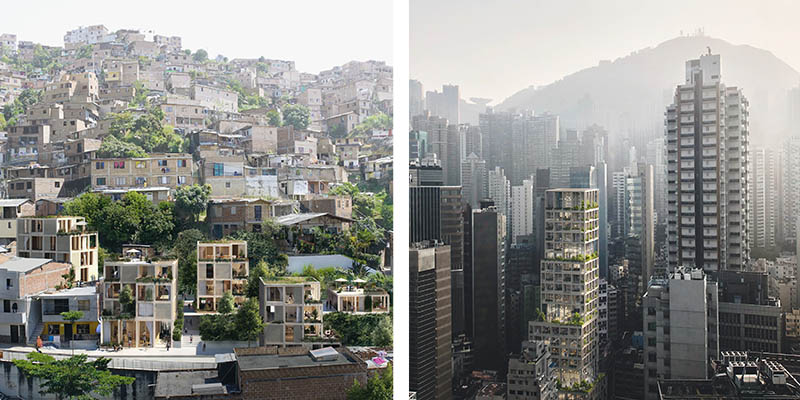 Urban Villa Project | Image courtesy: EFFEKT
"To achieve the max flexibility possible, the Urban Village Project is designed to be built in Cross Laminated Timber. The CLT modular elements are quick and easy to assemble – in fact, based on the building technique, it is possible to actually design your building system in a way that the components could have a second use after the building has ended its life cycle. Also, standardized building components can be prefabricated for specific applications which results in little to no manufacturing waste.
A third point is that wood is light and easy to transport. So, components can be delivered and erected as a just-in-time construction method. This means that CLT is ideal for projects with limited on-site storage capacity, for example in dense urban areas. Taking into account a shorter construction phase and a more efficient building process, timber is also more convenient and time saving in that sense."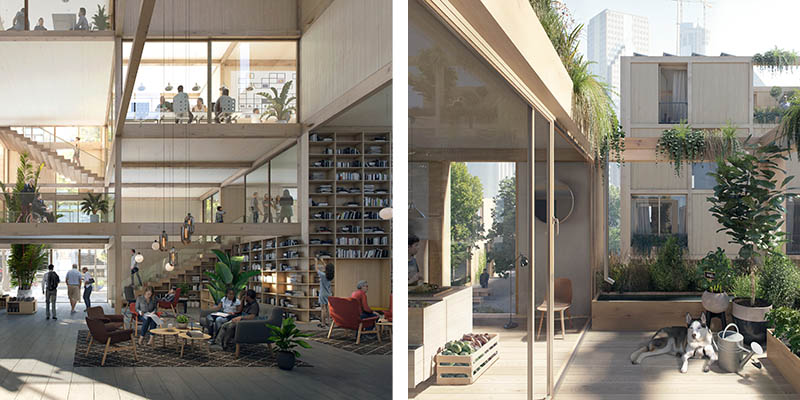 Urban Villa Project | Image courtesy: EFFEKT
EFFEKT recently completed Veterans Home on the outskirts of Aarhus, Denmark, which is built mostly in wood. Conceived as a series of wooden pavilion, the complex is a quiet and home-like gathering place for local war veterans and their friends and family.
The wooden architecture is situated in a lush landscape shaped by sloping glacial hills and is conceived to meet all the different needs and wishes, while creating spaces for both socialization and privacy. The main material chosen for the new pavilions and the interiors is wood, as it can have a positive impact on your mental and physical health. It is a natural material and we, as humans, have this innate desire of being surrounded by natural living things, and it can have an overall effect of reducing stress and increasing productivity.
There are cases where the recovery of patients in hospitals has sped up through their contact with natural material and views of nature, so wood has a lot of potential to improve the health of the users of the building." 
Rasmus Waern, Architect at Wingårdhs says "We live in the part of the world that has employed timber in construction more than any other has. But for a short period of time, wood was replaced by much less competent materials when it comes to comfort, sustainability and flexibility. We are now trying to bring wood back to where it belongs."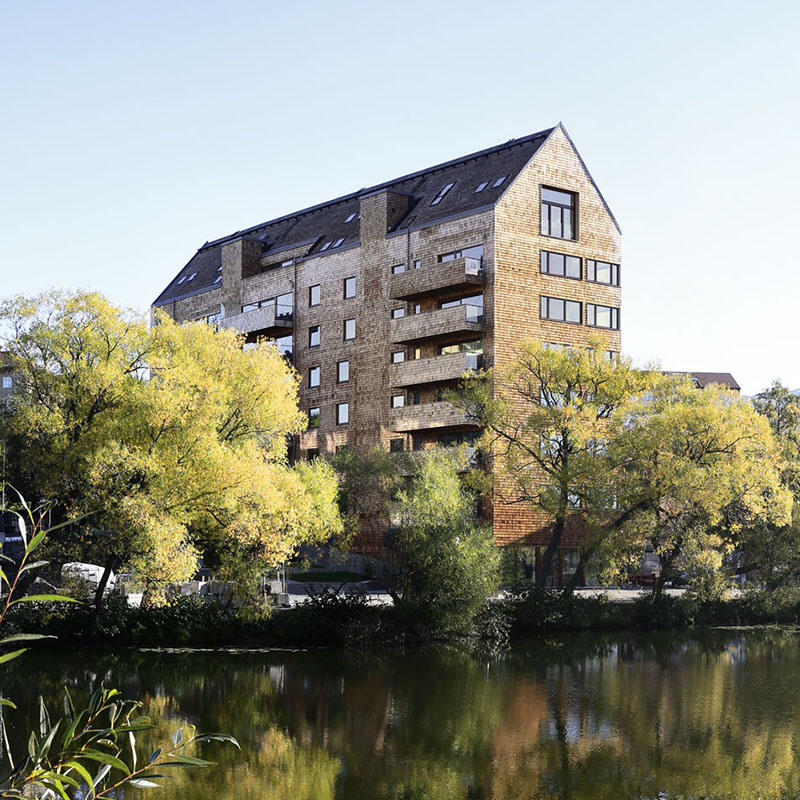 Strandparken | Image courtesy: Wingårdhs | Photography Tord-Rikard Söderström
"Let's talk about Strandparken – Rasmus continues – two tall wooden houses in Sundbyberg just outside Stockholm. Today, they have been standing there for more than seven years without any repair works, maintenance or corrections. This is not usually the case. There are also numerous testimonies regarding the comfortable indoor climate. It did not come as a surprise – if you replace synthetic materials with massive wood, the air will contain less chemicals. However, Strandparken was not cost-efficient if you just look at the numbers. But it was an investment. Today, we and the construction industry know how to be efficient, and costs are therefore going down."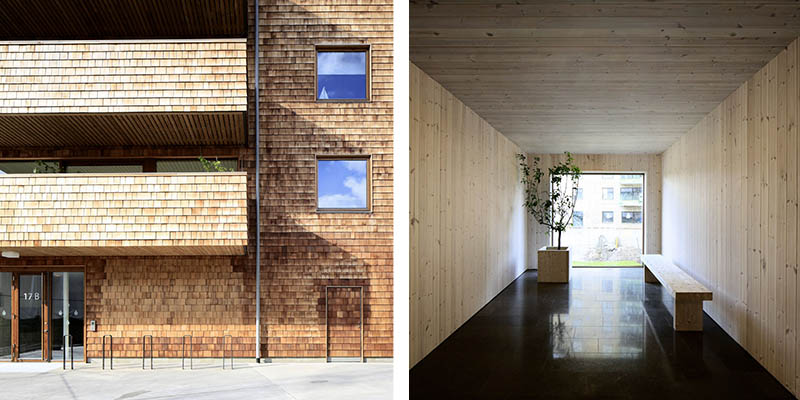 Strandparken | Image courtesy: Wingårdhs | Photography Tord-Rikard Söderström
At Wingårdhs, they are now looking into standardization and to take more advantage of the installation floors that wooden housing needs for acoustic reasons. Timber construction is in a period of very rapid development right now.
A world leader in engineered timber and pioneer in the field of tall timber buildings is the British architecture firm Waugh Thistleton Architects.
As a practice Waugh Thistleton Architects aspire to produce architecture that is environmentally responsible and human centric. They believe that climate change remains the most pressing and urgent issue of our time and, as one of the most heavily polluting industries, the construction industry and architecture have become politicised. It is in response to the climate emergency that their work over the last 15 years has utilised and prioritised low carbon materials like engineered timber.
"Unlike Brutalism – says Kieran Walker associate architect at Waugh Thistleton Architects –  forever associated with the use of concrete, the use of engineered timber has yet to articulate a definitive style or aesthetic which might define it. Perhaps this is because the majority of structural timber, particularly in residential buildings, is covered, wrapped or disguised, by a variety of traditional and recognisable materials. 
In contrast, within schools and commercial projects there is more opportunity to celebrate and showcase the material as acoustics, fire and thermal performance requirements are often less stringent, and the wellbeing benefits associated with exposed natural materials more desirable and conducive to spaces where there is less opportunity for personalisation and poorer connections to nature.
This is speculation of course. The definition of what constitutes a 'timber architecture' is something that is evolving, hard to pin down, and that we continue to explore through our own work. From our perspective, an architecture based on a specific material or system should celebrate its capabilities and benefits, not force it into a preconceived stylistic response. Though this can of course be challenging.
With engineered timber, those benefits and capabilities are extensive. First and foremost, by using timber we are able to lock away carbon in the fabric of the building and stimulate a regenerative architecture, borne of natural materials sustainably sourced and manufactured, often in a closed loop. Perhaps most importantly this material can be replenished. 
When we build in timber we are not depleting the earth of its finite resources, conversely we are stimulating an industry, encouraging the planting of more trees, providing a much needed way of removing carbon from the atmosphere.
Where wooden architecture might once have been identified as vernacular, reflecting the source of the timber, the tree size, and the skills and tools of craftspeople, 21st century timber architecture is facilitated by digital manufacture and computational design tools. This enables architects and engineers to experiment with complex forms and configurations, and to identify efficiencies in the use of the material. This digitisation of the design and manufacturing process allows us to interface more closely with those that produce building systems and products, empowering architects and engineers to wrestle back (some) control over what is built from the traditional contractor
Waugh Thistleton embrace the design for manufacture and assembly philosophy, whether that be using engineered timber systems or other prefabricated products and components. Our architecture reflects a DfMA mind set and prioritises 'process' over 'product', ensuring that we retain flexibility to create and to adapt our buildings to evolving client briefs and changing uses over time.
Building and material lifecycles are also important considerations. Our architecture increasingly reflects the way in which the buildings we design can be adapted, disassembled, reused, or repurposed. This is evidenced in projects such as our factory for Vitsoe. Conceived as a kit of parts, the primary LVL structural frame can be supplemented with new columns and beams to increase the size of the building or to support secondary floors. These elements are designed to accommodate secondary partitions and finishes that can be simply installed or removed, ensuring long term resilience to changes in use."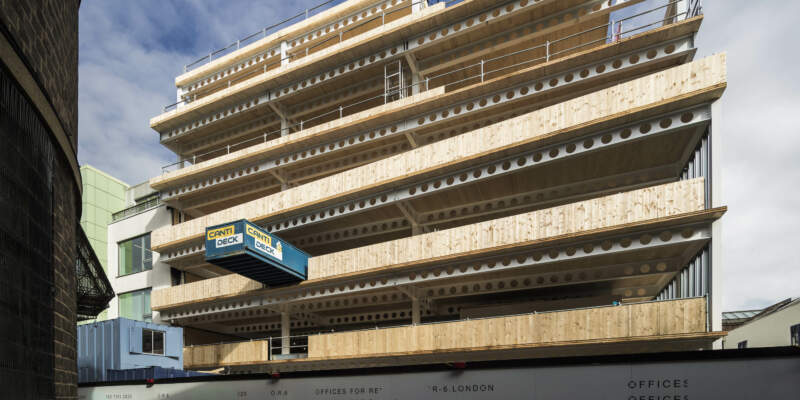 6 Orsman Road | Image courtesy: Waugh Thistleton Architects
"Our latest completed project at 6 Orsman Road adopts a similar strategy. This project is an example of a hybrid structure where CLT was paired with a steel frame to create a grid and floor plate that can be adapted and reconfigured. All primary structural and cladding elements are bolted together to facilitate reuse, repurposing or recycling at the end of the building's life. The requirement for applied finishes is minimised, and the structural timber exposed. This mitigates the waste and energy expended in the fabrication and installation of secondary finishes, helping to reduce the building's carbon footprint. Where applied finishes were required, then organic based materials have been selected including clay plasters and timber joinery. These were supplemented with finishes that use recycled content, like glass terrazzo counters.
These buildings demonstrate what can be achieved when clients ask us to deliver a timber building. An expressive and responsive use of engineered timber, rather than using CLT as an alternative to concrete frame.
When timber is the preferred structural solution from the outset, this gives us the opportunity to work with the material in a way that a potter might work with clay.
The scale of this change in mindset shouldn't be underestimated. It wasn't that long ago that we were being told that we could use timber, but only if it was covered up"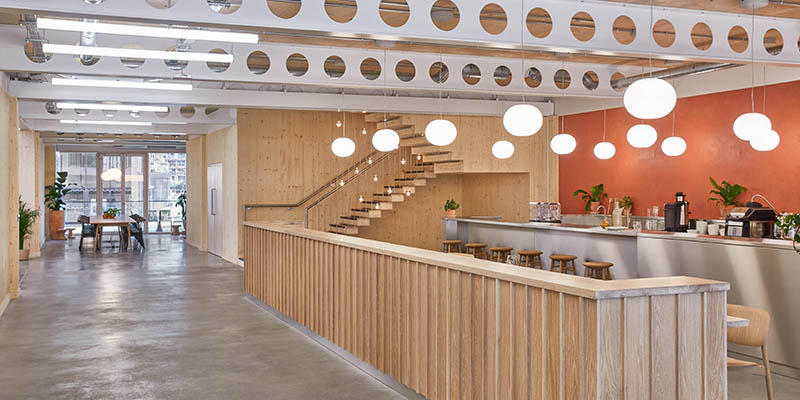 6 Orsman Road | Image courtesy: Waugh Thistleton Architects
The challenge now is to maintain momentum. Embodied carbon is still not sufficiently considered within UK government policy or recognised environmental accreditation schemes, and recent changes to building legislation have prejudiced against the use of timber in the short term without justification. It is within this context that celebrating timber architecture remains important, both as an example of how climate targets can be met, but also how MMC and prefabrication can be harnessed to expedite the delivery of much needed new homes, schools, and hospitals."
As seen in this series of articles about timber architecture, engineered wood products are used in a variety of applications. It can be used for joists and beams that replace steel in many building projects.
We found engineered timber in a range of different products: plywood, fibreboard, particle board, glue laminated timber (Glulam), cross laminated timber (CLT), parallel strand, finger joint, beams and trusses.
But wood in architecture may not be only structural. Wood could
also be used as cladding. Incorporated into a building, for internal uses or external walls, it could perform just for aesthetics to enhance the look of the wall or for technical reasons.
The Dutch architecture firm KAAN Architecten used timber as cladding in their project Bottière Chénaie, in the North-Eastern area of Nantes (France). It was part of a wider urban development plan conceived by urban planner Jean-Pierre Pranlas Descours in collaboration with landscape firm Atelier Bruel-Delmar. 
Extremely compact, the project features a multifunctional plinth, composed of commercial spaces, a supermarket and a car park. Above this base rise two 5-storey residential blocks comprising 172 apartments in total. The first volume is dedicated to market-rate housing, while the second hosts a social housing complex.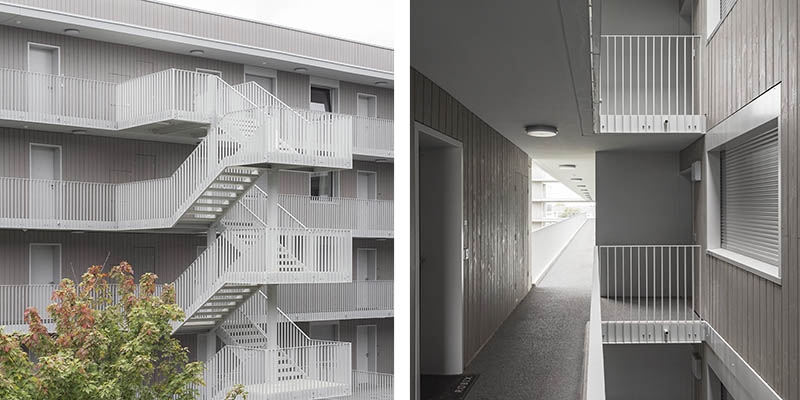 Bottière Chénaie | Image courtesy: KAAN Architecten | Photography: Sebastian van Damme
Monolithic at first glance, the project is enriched by high-quality facades composed of a regular 60 x 60cm post-and-beam structure in precast concrete that generates large transparent surfaces and singular fully glazed corners. The project's compactness allowed the optimization of economic standards and environmental recommendations throughout the whole building process.
The facades provide abundant daylight to the interiors and naturally link them to the city, both during the day and at night. Towards the courtyards and walkways, the vertical surfaces are cladded in grey stained timber giving them a characteristic domestic feel and reinforcing the duality between exterior and interior while elevating the inner public space as the beating heart of the project.
Marylene Gallon, director of KAAN Architecten France says "In order to provide an enhanced domestic feeling, the vertical surfaces oriented towards the inner courtyards and external walkways are cladded in grey stained timber, reinforcing the duality between exterior and interior while elevating the inner public space as the beating heart of the project. The wood chosen for these surfaces is local Douglas Fir wood, coming from the French woods. The wood cladding is an elegant and subtle addition to the building materiality and textures, integrating the overall concrete structure."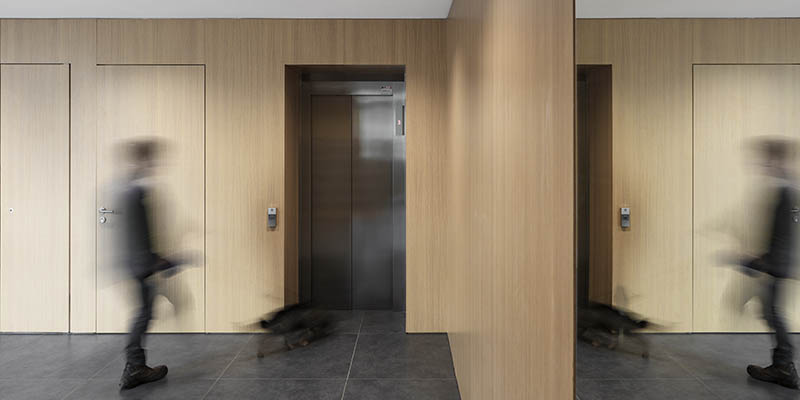 Bottière Chénaie | Image courtesy: KAAN Architecten | Photography: Sebastian van Damme
To conclude this series of articles about wooden architecture we have to know that FSC project certification can also be a tool to facilitate the achievement of the main Green Building certification schemes – such as LEED and BREEAM, just to mention the most popular in Europe.
"Both schemes – Jeremy Harrison continues – recognize additional points for projects that include FSC-certified building materials and products. LEED v4 for commercial buildings recognizes FSC-certified wood within the 'Sourcing of Raw Materials' category and credit may be earned by using products that meet "leadership extraction practices" for permanently installed building products in the project.
FSC-certified materials purchased from certified suppliers will come with FSC claims on the invoices for the certified products. Invoices with FSC claims are required for documentation purposes of the credit. To find FSC-certified building materials that are eligible for use in LEED and other green building standards, you can use the FSC Certificate Database."
To learn more about the approaches to timber architecture of many renowned architecture firms please visit the previous articles of this series: