As already mentioned in our editorial "Modern architecture in Istanbul you should know", in the first years of the republic, contemporary architecture, as the best architecture firms in Turkey, were influenced by Ottoman architecture, in particular during the First National Architectural Movement. At the beginning of the '50s, a new generation of architects such as Hayati Tabanlıoğlu, Nevzat Erol, Turgut Cansever, Abdurrahman Hancı, Cengiz Bektaş, Enver Tokay, İlhan Tayman and Yılmaz Sanlı became more influential in the Turkish architectural arena.
The liberalization of the economy during the '80s opened the way for the private sector to become the leading influence. Prominent Turkish architects from this period include Murat Tabanlıoğlu, Melkan Tabanlıoğlu, Emre Arolat, Behruz Çinici, Merih Karaaslan, Sevinç Hadi, Şandor Hadi, Ersen Gürsel, Mehmet Çubuk, Doğan Tekeli, Sami Sisa,  Hüsrev Tayla, Doğan Hasol, Atilla Yücel, Sema Soygeniş, Murat Soygeniş and Kaya Arıkoğlu, amongst the others.
Top architecture companies in Turkey
2×1 Architects
A Tasarım Mimarlık
ACARARCH
Autoban
AVCI Architects
AS Architects
CAA Studio
Cinici Architects
CM Mimarlik
DDA Durmus Dilekci Architects
EAA Emre Arolat Architecture
ERA Architects
Erginoğlu & Çalışlar Architects
Evren Yigit Architects
GAD Global Architectural Development
Geo_ID
GMWM
Manço Architects
MAS | Miskavi Architecture Studio

Motto Architecture

MUUM
Not Architects
Nous
Oncuoglu architects
Ozer \ Urger Architects
PAB
SP Architects
Salon Alper Derinbogaz
slasharchitects
SO?
Studio Vertebra
TA_ Tabanlioglu Architects

Tint Mimarlik

Teget Architectural Office
Yerce Architecture

Yalin Mimarlik

Yazgan Design Architecture

Zemberek Design
2×1 Architects
2X1 Architects – İkikerebir, was founded at the beginning of 2010 by Hakan Evkaya and Kutlu Bal in Ankara. İkikerebir is a formation which imagine, think and realize founded dreams. 2×1 principle to feed professional practice with different areas at different scales. The office focuses architectural and interior design, project management and professional supervision in the areas of architecture.
Koru, Ihlamur Cd. No:71, 06810 Yenimahalle/Ankara, Turkey
A Tasarim Mimarlık
A Tasarım Mimarlık has been founded by M. Arch Ali Osman Öztürk in 1997. Urban design, mixed-use, public, culture, residential, commercial, office, hospitality, education and research projects are the main fields of the firm. Specializing on grand projects, A Tasarım has vast experience on designing the constructions within their own environments and incorporating them into the urban life. With an approach of creating qualified living spaces, the firm the leads design and construction process in cooperation with investors, engineering groups, landscape design teams and consultants. A Tasarım continues its local and international practices with corporate offices in Ankara and İstanbul.
Armada İş Merkezi Eskişehir Yolu 6 Kat 9 No 12 06520 Söğütözü Ankara Turkey
ACARARCH
In 2016, Acararch was founded as an Istanbul-based architecture studio by Emre Acar. Since it was founded, many projects with different scales and various functions such as residences, art galleries, offices and stores have been designed. The design philosophy is creating modern, simple and holistic places while blending functionality and esthetic together with specific details. While considering that each client and each project are one and only, Acararch does not separate design process and construction process, so aims to create problem-specific design solutions and unique details.
Sultan Selim Mah. Hümeyra Sok. No:7, Nef 09 Plaza, B Blok, D:164, 34415 4, Levent, İstanbul, Turkey
Autoban
Internationally renowned, Istanbul-based multidisciplinary design studio Autoban was founded in 2003 by Seyhan Özdemir and Sefer Çağlar. Now employing 40 staff, Autoban works across architecture and interiors, product and experiential design, forging a reputation for thoughtfulness, experimentation and craftsmanship. Approaching each project initially as storytellers, their work seeks to understand the character and context of each project. Each element is informed by a uniquely space-centric approach, blending wit with sophistication, and minimal forms with rich materials.
Autoban Building Dibek S. No48  Galata 34425 Istanbul, Turkey
AVCI Architects
Selcuk Avci and Sanja Jurca Avci established Avci Architects in London in 1989. In its first year, the practice won the top prize in the European Union biannual Energy Efficient Buildings Competition, a culmination of years of experience in sustainability, which set the tone for the direction of the practice. Although the practice specializes in many sectors in terms of programme, sustainability has become an underlying driving ethos, from the scale of regional masterplanning down to the design of a single product. Avci Architects has designed projects in the UK as well as in Italy, Hungary, Saudi Arabia, Ghana, Serbia, Czech Republic, Slovenia and more recently in Turkey. Currently active projects include commercial and institutional offices, retail centres, private residential developments, and educational and cultural buildings including exhibitions and museums. Avci Architects has studios in London, Istanbul and Ljubljana.
Tomtom Mahallesi 16/1 Tercüman Çıkmazı Beyoğlu, Istanbul Turkey
AS Architects
AS Architects is an Ankara based, independent architectural studio founded in 2015 by Ayşin Sevgi Karakurt Macit, as the continuation of ASKM's architectural practices which started in Turuncu Architecture (established in 2005) as partner and co-founder. The studio continues its practice at the offices in Ankara and İstanbul with projects that range from high rise buildings with complex requirements to small villas covering just hundred square meters. ASKM has taken place in many prestigious and important national projects. Her approach to each project is finding out innovative, feasible and also most efficient solution to problem within its individual context. Cooperation with engineering and consultancy firms has extensively been performed, sufficient detailing and consultancy throughout the project schedule has been extensively held. The most distinctive characteristic for the team is their continuous performance of the design and detailing from the first day of the problem to the end of the project and construction.
Mutlukent Mah. Yelkenli Cad. Prime One Sit. No: 45/14 Angora Evleri Çankaya, Ankara, Turkey
CAA Studio
CAA.Studio is an award winning architectural team led by Alisan Cirakoglu and Ilgın Avcı working on wide range of scales and subjects as cultural, educational, residential and commercial buildings and urban design. CAA.Studio was founded in Istanbul by Alisan Cirakoglu in 2002.
Evliya Çelebi, Kıblelizade Sk. No:1 Daire:9, 34430 Beyoğlu, İstanbul, Turkey
Cinici Architects
Cinici Architects was established by in 1963 Altuğ & Behruz Cinici on the occasion for the execution of the middle east technical university campus in Ankara. Since then numerous projects were carried out covering a wide range of subjects and scales, amongst educational buildings gain primary importance. in 1989 firm's general management was moved to Istanbul. Can Cinici who joined to the office in 1992 concentrated mainly on competition and design work. The firm having a decisive importance on the last 35 years period of Turkish republican architecture was acknowledged by various national and international awards – some of them are 1985 Simavi foundation award, 1986 iş bank award, 1994 national architecture award and 1995 Aga Khan award for the building of the mosque within the grand national assembly
Alacak Iskele Arkası Sokak no:7 34668 Üsküdar, Istanbul, Turkey
CM Mimarlik
CM Design and Architecture" was established in Istanbul in 2001 and has been operating under the name of "CM Architecture" since 2004 under the lead of founder Cem Sorguc. CM's design and operation intellect seeks the accurate harmony of project components such as clients, construction cost economy, physical conditions, time, end users and functional criteria, along with the aesthetic and scientific conditions, with no interest in trendy fashions, and creates contemporary, technological, environmental and working products as final outcome.
Nisantasi Ihlamur Yolu, Cehreli 1 Apt. 65/6 Tesvikiye 34365 Sisli, Istanbul, Turkey
DDA Durmus Dilekci Architects
Durmus Dilekci Architects (DDA) is an architectural studio based in Istanbul. DDA was founded in 2014 by Durmus Dilekci, following the practice Uras x Dilekci between from 2003 to 2014. The practice adopts a research-based methodology and collaborative design approach to create and deliver value for clients and wider environment. Their design solutions focus on enriching the local context with sustainable contemporary architecture, creating meaningful experiences. They work on various projects with diverse functions for both public and private sectors; including hospitality, residential, office, retail, education, and mixed-use. This wide range of experience together with a passion to design inspiring, exceptional places and communities have granted several awards and international recognition including German Design Award and European Property Award.
Mahmut Cavuş Sokak No: 15, Istinye 34460 Istanbul, Turkey

Courtesy: Durmus Dilekci Architects
EAA – Emre Arolat Architecture
EAA – Emre Arolat Architecture was founded in May 2004 by Emre Arolat and Gonca Paşolar in Istanbul, as the continuation of Emre Arolat's architectural practices which he started at his parents' office, Arolat Architects, as an associate designer in 1987. Today EAA is not only one of the largest and most renowned architectural offices of Turkey, also has a recognized presence in the global scene along its offices in New York and London in addition to Istanbul. Since its establishment, the studio has built an impressively wide range of works from urban masterplans, airports to residential, cultural buildings and workplaces. The practice has received international attention very early with the Minicity Theme Park in 2005 which was recognized as Selected Work by the Mies van der Rohe Awards for European Architecture. A great number of international awards followed including Aga Khan Award for Architecture in 2010 with the Ipekyol Textile Factory Building. Latest breakthrough project Sancaklar Mosque, a building that blends perfectly with the landscape, is again honored by the selection of Mies van der Rohe Award in 2015, along many others.
Levent, Nispetiye Mah., Aytar Cad. No:24 Kat:3-4, 34340 İstanbul, Turkey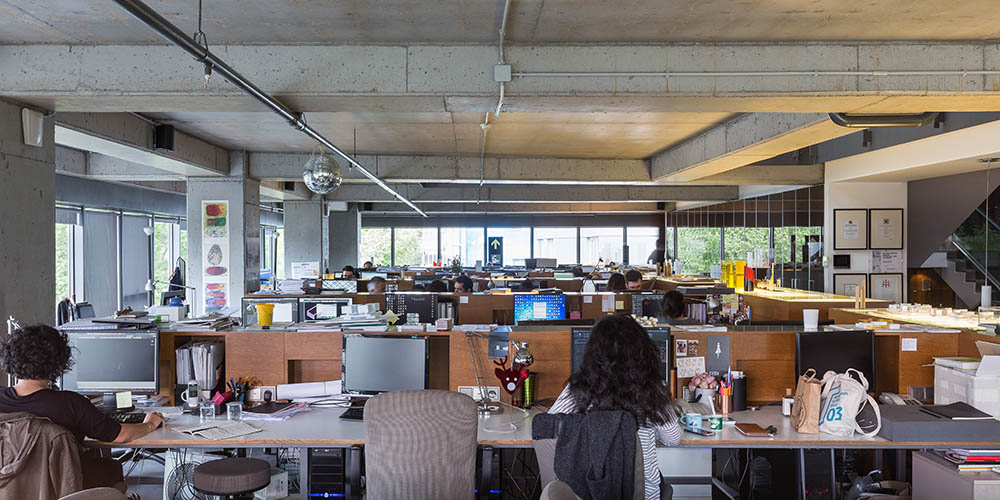 Courtesy: EAA Emre Arolat Architecture
ERA Architects
Amongst the best architecture firms in Turkey, ERA Architects has been working creating architectural solutions since it was established in 1972 in Istanbul. ERA Architects has been practicing architecture in the light of these values in Paris since 2000, in Beijing since 2011 and in Moscow since 2018 alongside with the head office in Istanbul. ERA Architects expanded its business in global arena with the ISO 9001 certificate (1997) and the Worldwide-Professional Indemnity Assurance (1998) and concurrently has proven itself in terms of design and production capabilities by establishing offices in France and China. After Ali Hiziroglu's participation to the company and his increasing influence, ERA is now shaping contemporary architecture by combining visionary approach together with 47 years long experience. Amongst the best architecture firms in Turkey, ERA operates in various fields of activity with an approach that grasps the profession of as a whole. From cultural and shopping centers to office and residential buildings, all structures at various scales completed by ERA are creating new living spaces with strong concepts. ERA Architects takes part in different phases of architecture, from master plan, concept design to construction documentation, consultancy, project management, and quality control.
Firuzaga Mahallesi Defterdar Sk. N:5 D:B3 Beyoglu, Istanbul, Turkey
Erginoğlu & Çalışlar Architects
Erginoglu & Çalışlar Architects is an Istanbul based, independent firm of architects founded in 1993 by Hasan Çalışlar and Kerem Erginoğlu. The firm specialises in urban planning, architecture, and interior design projects together with providing assistance for planning applications. The ethos of the company is to view each project within its individual context and contribute to it through innovative architectural solutions. The firm has vast experience gained through successful completion of a wide variety of both national and international projects on a range of scales.
Ataşehir Atatürk, Gardenya Plaza 3, 34704 Ataşehir, İstanbul, Turkey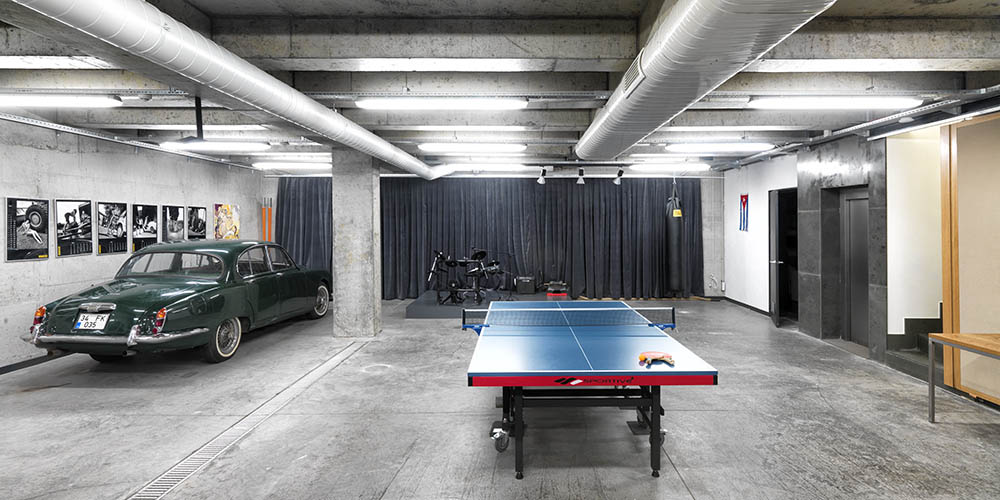 Courtesy: Erginoğlu & Çalışlar Architects
Evren Yigit Architects
Evren Yigit Architects is founded in 2015 by architect Evren Yigit **, M.Sc. Company is based in Ankara, capital city of Turkey, and mainly Works on architectural and interior design. Evren Yigit has been designing her projects since 2015 with her own brand. Evren Yigit started her profesional practice at 2001. At 2005 she founded Turuncu Architecture Company. After 2015, she continued her Professional practice with her own brand. Design team is composed of 7 architects, 3 interior designers, 1 landscape architect. Evren Yigit Architects provides comprehensive architectural Project services and coordination both in Turkey and abroad countries including Iraq, Afghanistan, Romania, Kyrgyzstan and Syria with small and large scale architectural projects and completed many projects. In 13 years 2 million square meters of construction area and over 100 projects have been completed. The design criteria that the Project Office gives importance is to design innovative, environmentally friendly, positive relationships with the environment, structures that the appropriate to the human scale and which considers user comfort.
Mutlukent, Beysu Villakent Sitesi, 1920. Cadde No:19, 06800 Çankaya, Ankara, Turkey
GAD Global Architectural Development
Headquartered in Istanbul with design studios in New York and Moscow, principal and founder of GAD – Global Architectural Development, Gokhan Avcioglu and his design team have been producing dynamic, innovative concepts for projects ranging from small private homes to extensive urban master plans in Turkey around the world for over twenty-five years. Led by Mr. Avcioglu, the dedicated, international, creative staff of GAD takes an unconventional approach to creating projects that push the boundaries of architectural thinking. Among his extensive and numerous projects are office buildings, hotels, cultural centers, public and commercial spaces, and a multitude of residences in Istanbul, Bodrum, New Jersey, New York City, Washington DC, Virginia, Connecticut, Libya, Beirut, Riyadh, Tashkent, Moscow, Montenegro and Budapest.
Harbiye Mah. Abdi Ipekci Cad. Park Apt. No: 19-1 Kat: 6, Istanbul, Turkey
Geo_ID
Founded in 2013,  Geo_ID is an interdisciplinary design studio creating new identities and unique spaces. With a team of young creatives from varying design fields, the studio develops unique narratives focusing on revolutionizing all aspects of design, from the brand identity to visually and spatially harmonious interiors. Fitted accordingly to the specific needs and requests of their clients, Geo_ID covers all creative levels that are necessary to bring identity and soul to each design. Starting off with a clear understanding of the context and determining the values that define the project, Geo_ID devices space settings by putting human experience in the center of the design. Always in search of the new and well-connected to the current changes in everyday lifestyles, the studio offers sophisticated space creations with a young spirit and essence that is true to their culture and innovative modern-day design approach. Based in Istanbul, the young studio boasts a fresh luxury portfolio from Turkey and the Middle East. Ranging from high-end hotels to boutiques and restaurants, few examples are W Hotel Istanbul, Turkey's first "Grand Boutique Resort" Maxx Royal Kemer, Bebek Hotel by The Stay, Caja by Maxx Royal Bodrum, Frankie, Petra Cafe, Paragastroteka, Huqqa and The Market Dubai.
Meşrutiyet Caddesi No.94 D:7  Şişhane  34430 Istanbul, Turkey
GMWM
GMW Mimarlik was established in 2000 under the leadership of Ali Evrenay Özveren, who was then a senior partner of GMW Architects, a London practice originally formed in 1949.  Based in Nisantasi district of Istanbul, the practice is currently led by Dicle Demircioglu and Pinar Ilki, who joined Ali Evrenay Ozveren as partners in 2011. Following the completion of the new international terminal project at Istanbul Atatürk Airport in 2000 GMWM has been commissioned to carry out several other major international projects in the transportation sector in Europe, Middle East and North Africa as well as in Turkey.  Whilst the core business of GMWM remains to be the airport terminal projects the practice has also been responsible for projects in other sectors including offices, retail, hotels and mixed-use developments.
Vişnezade, Süleyman Seba Caddesi BJK Plaza No:48 A Blok Daire:123 34357 Beşiktaş İstanbul Turkey
Manço Architects
Manço Architects, founded in 1970 by Aytaç Manço, Dipl. Arch., is an Istanbul based, award winning architectural practice that has been designing projects in Turkey and abroad, which have been featured on architectural publications. The firm where Aytaç Manço acts as founding partner and his son, Ali Manço, B.Sc. Architect / M.Sc. C.E.M., as managing partner, is providing architectural / interior design, consulting and construction monitoring services by combining its professional experience of more than 50 years with the dynamism of its young team. Areas of architectural expertise of the practice include a wide range of project types including residential, office, hotel, data center, mixed use, fair / exhibition, commercial, public and industrial buildings where cost and energy efficient innovative solutions are sought.
Haci Emin Efendi Sk. Yakindogu Apt. 61/B Nisantasi 34365 Istanbul, Turkey
MAS | Miskavi Architecture Studio
MAS is an architecture and design practice based in Istanbul, established in 2018 by Kerim Miskavi. Through an iterative, concept-driven approach, the studio engages in projects of various scales and media ranging from custom-made furniture design to large-scale urban transformations. MAS continues to develop its local and international architecture projects through all design stages from concept to construction administration and has completed several interior design projects with residential, office and retail programs in the past four years. MAS is dedicated to achieving solutions that make a difference through its experience in operating across geographical boundaries, open communication with clients and teamwork as well as a rigorous design process.
Süleyman Seba Cad. Abacı Latif Sok. No:1/4 Maçka, Istanbul, Turkey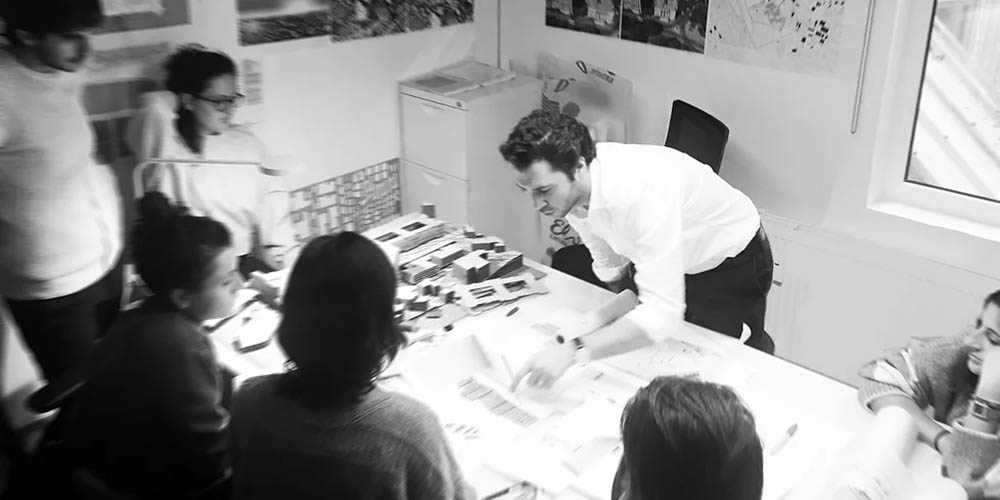 Courtesy: MAS
Motto Architecture
Motto Architecture is a team of consultants and researchers, dedicated to creation of spaces that focus on shaping interaction. They believe that architecture plays a vital role in human activity and focus on tailoring spaces of sustainable interaction between users and their environment. To fulfill this goal, Motto Architecture know that architecture must contemplate where, when, and how it performs. They offer over +15 years of experience working with international clients in Turkey, as well as overseas collaboration with clients & colleagues.
MUUM
MUUM is a design studio founded by Murat Aksu and Umut Iyigün in Istanbul, Turkey and also based in London. The studio focuses on architectural, urban and interior design. The Turkish practice aims to produce functional, aesthetically pleasing and socially responsible environments by being in close interaction with everyone involved in the design process. This process takes place in an investigative and creative framework based upon social, cultural, environmental values combined with arts, science, technology and economy. MUUM delivers innovative and sustainable solutions for our clients using contemporary techniques and provides design services ranging from workplace consultancy to master planning.
Kozyatağı Mh. Kocayol Cd. Atılım Sitesi No:39/A Kadıköy, Istanbul, Turkey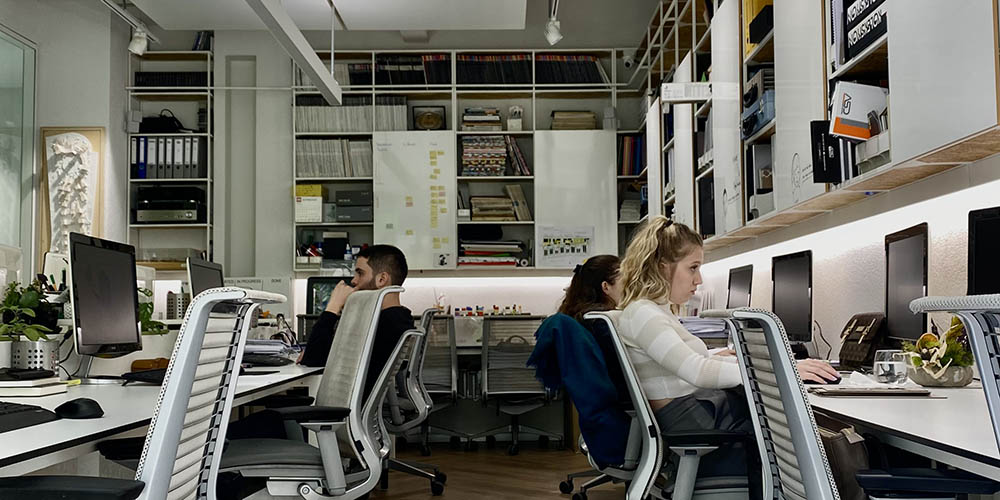 Courtesy: MUUM
Nous Architecture
Nous Architecture | Design Studio is based in Istanbul, and directed by co-founders and lead architects Sıddık Güvendi (b.1983) and Cihan Sevindik (b.1986). Nous aims to combine aesthetic, ecological, social, practical and economic demands into memorable architecture that is in harmony with its context. The Turkish architecture practice work with building design consisting of public buildings, housing and business premises. In addition, they are experienced in urban design and city planning with projects ranging from small urban interventions to large city plans. Nous Architecture have particular expertise in designing future learning environments, museums and other complex public buildings in demanding urban settings, as well as additions in delicate historical contexts and natural surroundings.
Rasimpaşa Mah. Duatepe Sok. No: 59A 34716 Kadıköy, Istanbul, Turkey
Not Architects
Not Architects Team is a young, dynamic and hardworking Turkish practice that can work as a whole, constantly improving the practice of working together.  Not Architects is an interdisciplinary team which believes in innovation in all areas. Based in Izmir they implement projects of different scales and styles in Architecture, Interior Architecture and Urban Design. "We care about the architectural environment of Izmir. We are entering competitions. We have ideas that we want to share with everyone. We want a new and creative architectural environment and we're working to be a part of it."
Kızılay Caddesi Melih Pekel Apt. No:6/1 İzmir, Turkey
Oncuoglu architects
Amongst the largest architecture firms i Turkey, Oncuoglu is an international architectural practice based in Ankara. The practice is composed of a dynamic and experienced team of architects, designers, planners and engineers that provides a full scope of project services from master planning, and concept design to working documentation in wide geography including Turkey, Russia, Uzbekistan, Eastern Europe and the Middle East. The architecture company, which was founded by Hasan Oncuoglu in 1964, is directed by Enis Oncuoglu with his partner Engin Oncuoglu since 1996. With more than 58 years of experience in architectural design and planning, they are one of the oldest architecture firms in Turkey.
Ataturk Bulvari 185/5-6, 06680 Cankaya, Ankara, Turkey
PAB
PAB
is an architectural practice aiming to explore architectural and urban potentials through flexible research and design forms. PAB is founded by Pınar Gökbayrak, Ali Eray and Burçin Yıldırım in 2007 in Istanbul. With their varying backgrounds, office partners have worked in a number of fields such as architectural design projects, construction site practices, various research projects and architectural publications while keeping architecture at the core. 
pabedu
is founded in 2016 that brings together experts from different fields of the educational ecosystem to design innovative learning environments and school buildings with the leading role of  PAB Architects. Following global innovations through a questioning and progressive approach, PAB Architects keeps on designing with local input and global perspectives together with the multidisciplinary approach of the office.
Bağdat Cad. Rüştiye Sok. No:13/2  Fenerbahçe Kadıköy, İstanbul, Turkey 
SP Architects
SP Architects has been continuing its works and producing large scale projects such as master plans, mixed use and urban transformations since 2005, has a large portfolio in different sectors such as residential, commercial, health and education. As one of the largest and renowned architectural practices in Turkey, SP is based in Istanbul. As of October 2018, SP Architects has been anounced as a Design Center by the Turkish Ministry of Science, Industry and Technology. SP Architects have a strong, young and dynamic team of 150+ architects and multidisciplinary designers. SP Architects keep developing both global and local large-scale projects such as master plans, residential, commercial, urban transformation, urban renaissance, mixed-use projects and social facilities such as hospitals and education buildings.
Ayazaga Dist. Azerbaycan St. Vadistanbul 2B Office, No: 3K, Floor: 6 34485 Sariyer, Istanbul, Turkey
Salon Alper Derinbogaz
Salon, founded by Alper Derinbogaz, is an architecture practice focusing on continuities between humans, spaces, and the Earth. They produce designs and studies in the fields of architecture, art, interior design and urbanism. By focusing on research processes as the catalyst for an evolving engagement with the constructed world, Salon speculate on critical solutions for architecture. Collaboration and openness are crucial to their work. They value ideas and criticism. The collaborative character of Salon design and research methods results in developing contemporary solutions for architectural, interior and urban conditions. They value innovation, investigate contemporary programs, execute the latest fabrication technologies, and transform complex digital designs into buildings.
Gümüşsuyu Mah. İndigo Apt. 41/7 7th Floor, Beyoğlu, İstanbul, Turkey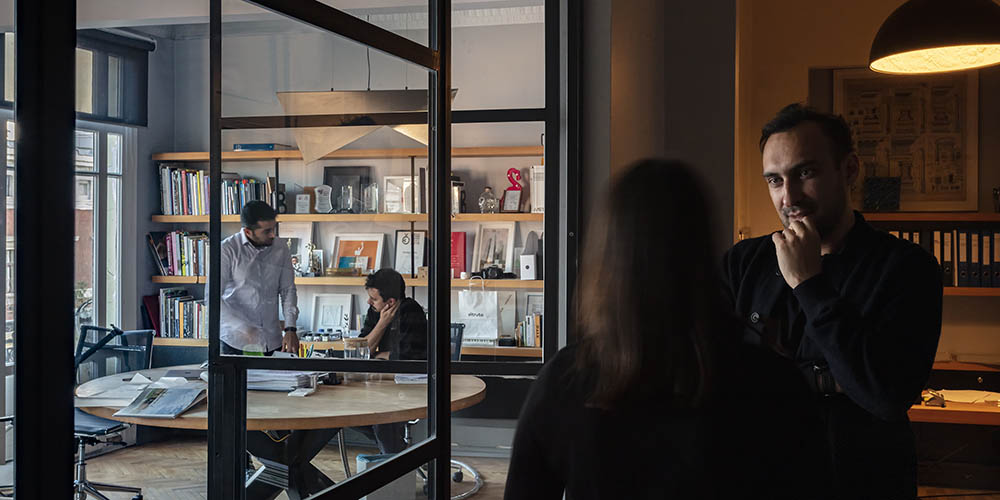 Courtesy: Salon
slasharchitects
‍‍Led by Şule Ertürk, slasharchitectsis a group of design enthusiasts and professionals. The practice conducts diversified design work both nationally and internationally in the field of architecture, urban design, interior architecture and furniture design.
slasharchitects addresses the world through compositional work that rethinks various typologies of architecture and accomplishes profundity by establishing a strong bond between the urban context, the user and the architectural product whose utter value lies in the collective intelligence behind its ultimate form. From conception to execution, all architectural decisions are carefully scrutinized to meet the contextual challenges and the users' beyond-anticipations in exceptional spatial experiences.
Refik Saydam Cad. Haliç apt. no 23/11, Beyoğlu / Istanbul, Turkey
SO? 
Founded in 2007 by Sevince Bayrak and Oral Goktas, SO? is an Istanbul-based studio focusing on design, architecture, and urbanism. In 2013, they won the Young Architects Program by MoMA/PS1, creating Sky Spotting Stop for Istanbul Modern, exhibited in MoMA and MAXXI. In 2015, they won the invited competition at the Royal Academy of Arts; their project Unexpected Hill was realized in London. After that, their installation, Lost Barrier, was mounted in Rome and acquired by MAXXI for the permanent architecture collection. Their work has been published internationally and nominated for the prestigious Mies and Aga Khan Awards; they were among the finalists of the Architectural Review Emerging Architecture Award 2019. They were shortlisted for the Future Architecture Platform 2019. The duo has lectured in cities such as Istanbul, London, Bordeaux, New York, Genoa, Rome, Graz, Arles, Ljubljana, and Sarajevo. Their recent work includes a public cultural center in Istanbul, a chicken coop and a cabin in the rural parts of Turkey, and an interdisciplinary research project on post-disaster emergency housing. Bayrak recently published a book adapted from her Ph.D. dissertation about the evolution of public space in Istanbul and has been teaching in MEF University since 2015 Göktaş has been running a graduate design studio titled Alternative Architectural Practices in MEF University since 2019.
Şahkulu Sokak, Robert Han 11/5 34421 Galata, Istanbul, Turkey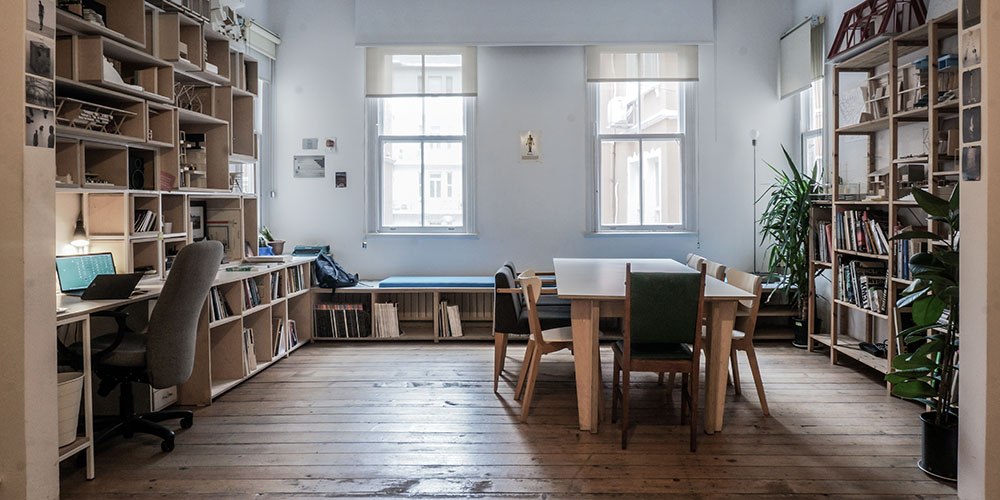 Courtesy: SO?
Studio Vertebra
Studio Vertebra is an architectural design office established by four partners in 2009. It provides "multidisciplinary" project services in the fields of architecture, interior architecture, and historical restoration. Keeping in mind urban, architectural and interior architectural factors together, it adopts a "holistic" approach in all its projects. The design process is far from individual convictions and all the designers in the team contribute to the progress of the process. The employer's requests are evaluated as an important factor in the design process and the employer is also considered as a partner in the team. The mentioned "multi-input" approach is an extension of the concept of "universal" project. The field of activity consists of all the architectures in various forms and scales including city designs in high quantities. As well as being consistent to the architectural typologies, the interior architectural projects are designed in boutique and point scales according to the characteristics of the space. The Studio Vertebra carries out projects that contain global architectural values and that provide sustainability by considering human space ratio.
Kısıklı Cad. No:28 Kat:-1 Altunizade / İstanbul, Turkey
TA_ Tabanlıoğlu Architects
Founded  in 1990 by Murat Tabanlıoğlu and his father; the office's pronounced affinity for architecture can be traced back to Dr. Hayati Tabanlıoğlu's architectural work, which stretches back into the 1950s. Melkan Gürsel joined as partner, in 1995. TA_ counts more than 100 employees in offices in Istanbul, New York, Dubai, and Doha. Establishing a distinguished track record as designers of high profile cultural buildings, galleries, luxury hotels, revitalising existing historical fabrics and complex urban regeneration projects, all cornerstones of their work, with more than 30 years' experience TA_ Architects is one of the Turkish most renowned architectural practices. Considering the uniqueness of the "place" and the individuality of requirements, the innovative, yet efficient and economically viable design alternatives of the office range from opera houses to airports, and stadiums,  as well as commercial, residential, and industrial buildings, TA_ has been the firm behind a number of key sites in Turkey and abroad. The wide range of building types include the Atatürk Cultural Center (AKM), Bodrum International Airport, Astana Arena, congress centers in Tripoli, Malabo, Equatorial Guinea, Dakar, Senegal etc., with various awards including RIBA International in 2011 and 2013. The quantity and quality of projects, awards and publications endorse its solvency. Additionally, Tabanlioğlu has been involved in the art and design world through curotorial contributions,  exhibitions and installations.
Passage Petits-Champs Mesrutiyet Caddesi No:67 Beyoglu 34430 Istanbul, Turkey
Teget Architectural Office
Teğet Architectural Office, headed by Mehmet Kütükçüoğlu and Ertuğ Uçar, first established at Ankara in 1996, has been practicing in Istanbul since 2000. Housing young, talented architects in its structure in İstanbul, İzmir and Konya offices, Teğet has a resemblance of school of architecture and design while it is not only a professional architectural office but an authentic design studio putting a different practice. Team has been practicing with a wide spectrum of scale and content, from single family dwellings to large scale urban interventions and taking every single subject as a multi-dimensional architectural research. The genuine effort and hard work are accurate keywords for Teğet approach to every phase of the project. Addressing the potentials, boundaries, possibilities and contributions to the architecture of the project with an awareness and professional sensitivity, increases the value and originality of the project. This characteristic of the office is a distinctive feature enriching the relations of partners and employers, making outcome of the projects priceless. Teğet rejects to have a definite (and limited) architectural style yet the consistency of approaches and works, refer to the significant attitude and method.
Nejat Eczacıbaşı Binası, K:3 Evliya Çelebi Sadi Konuralp Caddesi, Şişhane Sk. D:No:5, 34433 Beyoğlu/İstanbul, Turkey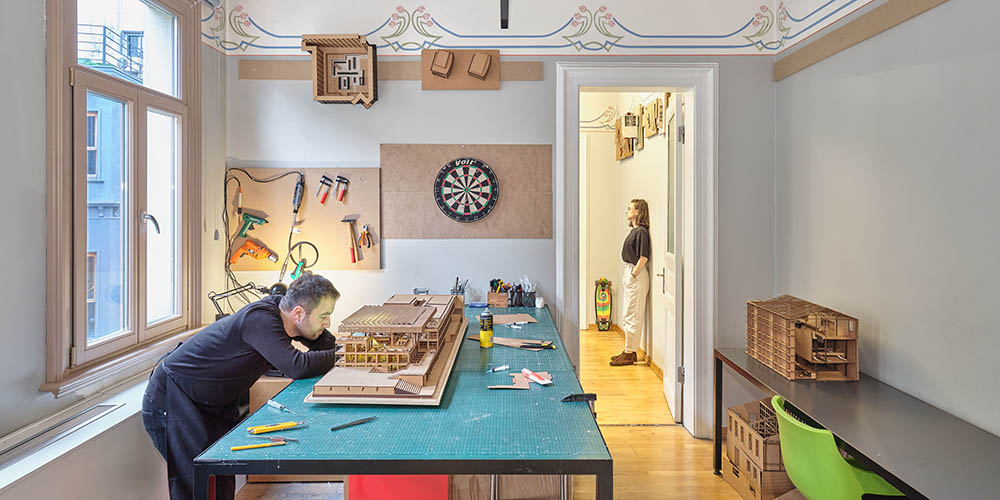 Source: Teget Architectural Office website
Tint Architects 
Tint Architects
is founded in 2015 by architect Saltuk Furkan Topçu. They may claim to be the newest architectural studio in Turkey is one of those planning a large-scale, substantial project. The team's average age is under 30 and all of their undertakings are affected by young power. Because of their dynamism and youthful outlook, which gives Tint Architects influence, the majority of their clients grant them opportunities. For projects of all sizes and types, from specialist interior design to substantial urban makeovers, the organization uses an iterative, concept-driven approach.
Alacaatlı mah. Park cad. NO:15/1 Çayyolu/Çankaya Ankara, Turkey
Yerce Architecture
Yerce Architecture, focuses on innovative, creative and experimental solutions in the fields of industrial design, interior design and architecture, operating in their offices in Istanbul and Munich. Among the projects they have realized; Yataş Fair stand has been awarded the 'Best Exhibition Space' inside İsmob İstanbul Furniture Fair. Orfisera Office Project has been chosen to be part of the East-Centric Architecture Triennale in Bucharest, and Studio Loft has been a finalist in the World Architecture Festival 2017 in the 'Creative Re-Use' category and winner of Big See Interior Design Award in the residential category. The project they have designed for the international competition of the olympic village design for YAC 2019 – Sport Citadel in Torino, Italy, has won the third prize. The 'Path' installation, an intersection between art and architecture, has been awarded with Frame Awards 2020, People's Choice Trade Fair Stand Of The Year. Yerce Architecture with its experience in projects they have designed in Turkey, China, Belgium, Germany and England; continue to operate in their offices in Istanbul and Munich.
Mecidiye Mah. Palanga Cad. No:36 D:3 Ortaköy, Beşiktaş Istanbul, Turkey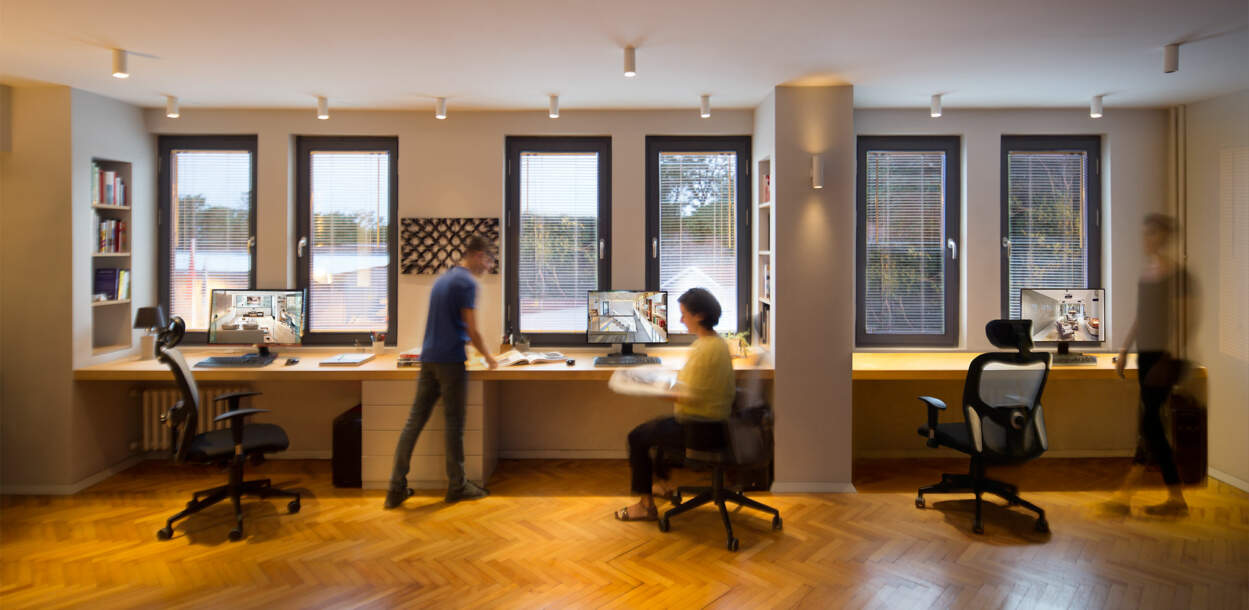 Source: Yerce Architecture website
Yalin Mimarlik
Yalın Architecture is trying to produce an architecture related to today connected with the place where the project is located. This production includes solutions to architectural problems of different scales and subjects that they have developed from their own perspective and from where they are. At Yalın Architecture, they see architecture not as a design tool that looks good on paper, but as a spatial arrangement tool that connects with its place, cultural and social environment, past and future, methods of construction. In this sense, they are trying to establish the link between the production techniques, the worker, the workmanship, the inseparable part of architecture related to production and construction, with design. The two founders, Ömer Selçuk Baz and Okan Bal, brought together thei professional practices as architects and city planners in the Yalın Architecture and Urban Design Office they founded in 2011. They develop designs on a single building or on urban scale in a variety of sizes and programs for the public and private sectors.
Çarşı Cad. Üryanizade Sok. No:2/1 Kuzguncuk, Üsküdar, Istanbul, Turkey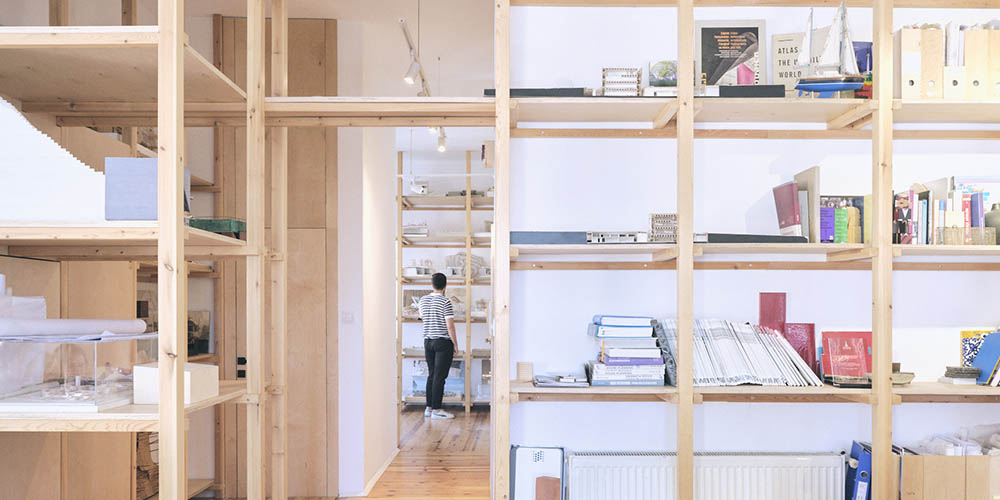 Courtesy: Yalın Architecture
Yazgan Design Architecture
Founded in 2003 by Kerem Yazgan and Begüm Yazgan, both PhD. Architects, Yazgan Design Architecture Inc. is an architectural, interior, landscape and graphic design and construction firm based in Ankara, Turkey. With an experienced staff of architects, landscape designers, technical draftsmen, graphic designers and IT experts, the company has signed on to many architectural, interior design and landscape projects. In the past 18 years, Yazgan Design Architecture has been published in 19 countries and has been awarded with 133 national and international design awards. With over 8.500.000 square meters in total projects which was constructed located in both Turkey and a number of other countries, the portfolio of Yazgan Design Architecture continues to grow and diversify. The company has the capacity to create projects of different programs and scales that cover conceptual, design development and construction phases. Mixed-use buildings, retail, hotel, residential, office, educational buildings, hospitals, cultural centers, airports, and sport complexes are some of the building typologies that comprise the company portfolio. Yazgan Design Architecture also achieves interior and landscape design construction works alongside its project repertoire.
Üsküp Caddesi No: 26/14 Çankaya, Ankara, Turkey
Zemberek Design
Zemberek Design, a team mainly works on interior projects, is conservative about, starting a design process by "finding the right question" is the key element, that reveals the basic and simplest idea, leading to conclusion. This initial and most time-consuming phase of the design process evolves with dialogs and exchanging of ideas between the members of Zemberek Design Team. Occasionally, constraints of existing building, project requirement, hierarchy of functions, or decisions on circulation becomes the main idea of design, in addition to consider the space perception of the user. "The right question" that needs to be answered in the final project are taken into the consideration in its simplest form. Simple architectural solutions as answer to basic demands of the space make the user perceive the initial question. By the perception of space that is prioritized at the beginning of the process, initiation of an involvement process for the user in which the user is able to read and understand the cause-effect relations, is aimed. This approach renders the user-designer relation cyclical.
Basçavus Sok. Evtas Is Hanı 31/12 34720 Kadıköy, Istanbul, Turkey
This is our selection of best architecture firms in the Turkey based on turnover and awareness.
If you want to suggest someone that is missing feel free to contact us at info @ archivibe.com!
Here below you can find all our other selections of top architecture companies in the World and in Europe: