Let's discover the vibes and the ethos of the best architecture firms in France.
France is world-famous for its cuisine, fashion, wine and art but we cannot forget its architecture and architects. Throughout history, French architecture played a few seminal roles, giving birth to some of the most famous architectural styles and presenting itself as a role model for the rest of the world.
The Académie Royale d'Architecture founded in 1671 had a leading role in influencing architectural theory and education throughout Europe and the Americas from the late 17th century to the mid-20th. Amongst the most renowned modernist and contemporary French architects we can find names such as Le Corbusier, Perrault, de Portzamparc, and Nouvel. You can see some of their most interesting architectures in Paris, where most of the best architecture firms in France are also headquartered, in our editorial about our visit to Paris.
Amongst the best architecture firms in France here you will find ranked the biggest in terms of turnovers, employees, awareness, our favourites, and the most loved ones on social media.
Top architecture companies in France
Summary
AREP
Renzo Piano Building Workshop
Valode et Pistre
Ateliers Jean Nouvel
Chabanne + Partenaires
Viguier
Kardham Cardete Huet Architecture
SUD Architects
AS Architecture Studio
ATELIERS 2/3/4/
2Portzamparc
Arte Charpentier Architectes
RDAI
Majorelle
Leclercq Associés
A26
Brenac-Gonzalez et Associes
DTACC
ANMA
Patriarche.
GROUPE-6
Local Architecture Network
FRESH Architectures
Franklin Azzi
Wilmotte et Associés
AIA Life Designers
Coldefy et Associés Architectes Urbanistes
Ferrier Marchetti Studio
FREAKS Architecture
JAKOB+MACFARLANE
Manuelle Gautrand Architecture
CALQ
Marc Mimram Architecture et Engineering
PERIFERIQUES Marin+Trottin
DPA Dominique Perrault Architecture
Pietri Architectes
AZC Atelier Zündel Cristea
Studio Vincent Eschalier
VIB Architecture
ORY Architecture
AAVP Architecture Vincent Parreira
Richez_associés
SCAU
DGM et Associes
Reichen Robert
AREP
With more than 20-year project experience and 800 projects and studies across the globe, AREP is an interdisciplinary architecture practice subsidiary of SNCF Gares; Connexions and the biggest architecture firm in France. They offer a wide variety of skills both upstream and downstream of the project, including architects, urban planners, engineers and designers proposing a unique approach to inclusive mobility. Headquartered in Paris, AREP group is present in France and abroad, particularly in Asia, Europe and the Middle East.
16 avenue d'Ivry, Paris, France
Renzo Piano Building Workshop
The Renzo Piano Building Workshop (RPBW) was established in 1981 by Renzo Piano with offices in Genoa, Italy and Paris, France. The practice has since expanded and now also operates from New York. RPBW is led by 9 partners, including founder and Pritzker Prize laureate, architect Renzo Piano. The practice permanently employs about 130 architects together with a further 30 support staff including 3D visualization artists, model makers, archivers, administrative and secretarial staff. They usually provide full architectural design services and consultancy services during the construction phase. RPBW design skills extend beyond mere architectural services including interior design services, town planning and urban design services, landscape design services and exhibition design services.
34 Rue des Archives, Paris, France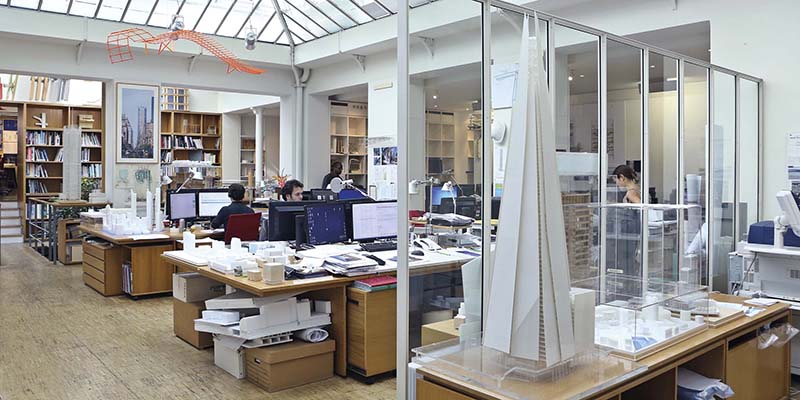 Courtesy: RPBW | Photography: Stefano Goldberg
Valode et Pistre
Valode et Pistre is one of the most renowned architecture firms in France operated by Denis Valode and Jean Pistre and based in Paris. Their projects attempt to find that singular echo, carrying symbolism and poetry, which exceeds the simple requirement of logic and program. With offices in Moscow, Dubai and Beijing, Valode et Pistre are able to cover a wide range of subjects and to decline all the scales, from an apartment building to a tower or the district of a city, from new build to rehabilitation.
115, rue du Bac Paris, France
Ateliers Jean Nouvel
Amongst the most renowned and best architecture firms in France, Ateliers Jean Nouvel is for sure a world-renowned design firm with a multicultural team of 122 people from about twenty countries. Ateliers Jean Nouvel combines the disciplines of architecture, urban planning, interior design, landscape design, graphic design, and product design into a single integrated practice. Jean Nouvel's award-winning designs and reputation have attracted many prestigious commissions. His portfolio of completed projects or projects currently in progress includes museums, concert halls, conference centers, theaters, hotels, residential buildings, office buildings, commercial centers, and private residences. AJN's Board of Executive Directors accompanies the stakeholders of each project throughout the process of conception and realization. The Board includes AJN's President François Fontès, CEO Frédérique Monjanel, and Deputy Managing Director Diane Clerc.
10 Cité d'Angoulême, Paris, France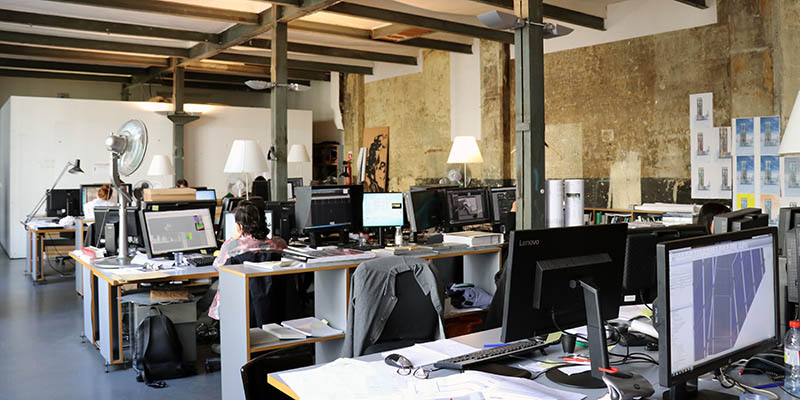 Courtesy: Ateliers Jean Nouvel | Photography: Frédéric Clad – The Farm
Chabanne + Partenaires
Founded by Jean Chabanne, Chabanne + Partenaires employs 150 architects and engineers specialised in complex projects such as public works in the fields of health, education, sport; leisure. The 4 offices in Paris, Lyon, Aix-en-Provence and Geneva provide national coverage and ideal proximity for hands-on project management. The added value of the agency lies in the networking of its skills. The intermingling of their trades of architects and engineers allows Chabanne + Partenaires to approach projects with a global responsible vision: from design to completion, to operation.
38 Quai de Pierre-Scize, Lyon, France
Viguier
Viguier architecture is an international architecture and city planning practice based in Paris. Pluralist and innovative, Viguier designs and directs comprehensive and integrated projects in various fields such as planning program, landscape, interior design, for public as well as private purposes (offices, housing, equipment and retail). Fostering inter-generational relations, the practice employs 150 people from 17 countries led by Jean-Paul Viguier and 12 partners. VIGUIER's collaborators display their talents on a global scale on projects of city planning, district planning, urban parks and architectural plans for: housing, offices, libraries, hospitals, schools and universities, public and private museums, retail spaces, leisure spaces and extraordinary buildings such as the French Pavillon at the Seville World Fair in 1992 or the Site of the Banque de France Paris La Courneuve in 2018.
16, rue du Champ de l'Alouette, Paris, France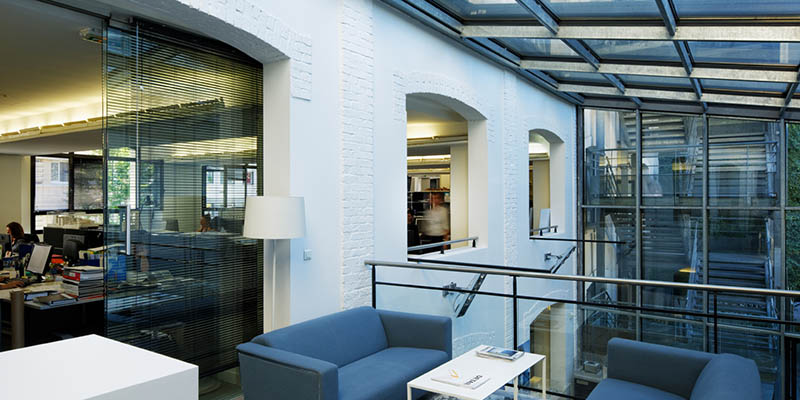 Courtesy: Viguier | Photography: Takuji Shimmura
Kardham Cardete Huet Architecture
With nearly 400 employees in France and worldwide, Kardham is an independent group that stands out for the diversity and complementarity of its businesses (architecture, interior design, engineering, consulting and digital), combined with the agility and the attentiveness of a human sized structure. The group's ambition is to build a community of culture and values that favours innovation and creativity in the best interest of its clients. For 40 years, 90 architects have been working at Kardham Cardete Huet Architecture. As an integrated agency, its added value lies in its ability to coordinate interdisciplinary collaborations and to harmonize them in all aspects of a project while observing a virtuous environmental approach. This collective intelligence combines a conceptual approach and a thorough knowledge of new technologies (BIM, digital solutions, virtual reality). ISO 9001 certified, the agency deals with architectural design and project management of buildings for all types of programs: offices, industry, health, education, retail, culture, sport, housing or hotels, both in the private and public sectors. Located in 5 cities in France and fitted with an international culture, the agency guarantees proximity, responsiveness and expertise.
Headquarter 10, rue du Débarcadère, Paris, France
Kardham Cardete Huet Architecture 38 Rue Alfred Dumeril, 31400 Toulouse, France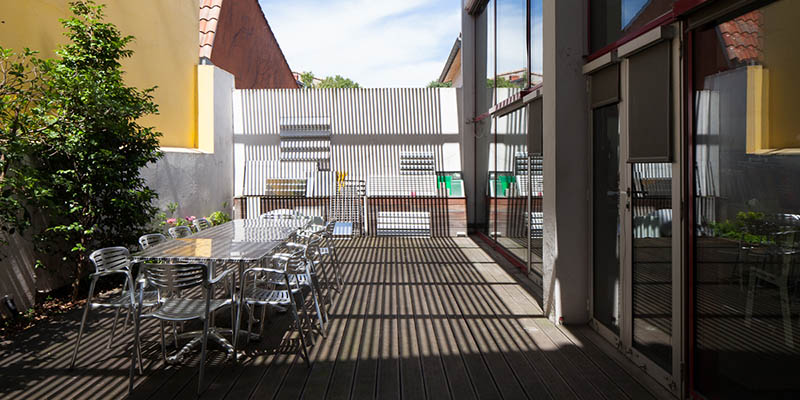 Courtesy: Kardham Cardete Huet Architecture
SUD Architects
Founded in Lyon/France in 1986 and developed between Paris, Warsaw, Beirut, Shanghai and Hong Kong; the partnership of 20 architects with different sensitivities and an extensive international's team, enable us to tackle ambitious projects, for varied solutions and manage all aspects of the contemporary city, from urban planning projects, housing, hospitality, offices, retail and commercial centers, transportation to mix-use… SUD- thinking long-term, is to envisage the different life cycles of buildings, and to predict their evolution. Leading today to the design of symbolic patrimonial redevelopments (the Citroën garage in Lyon, the Halles Novacieries in Saint-Charmond, the Raffles Europejski Hotel in Warsaw, Katowice station…). Reference to the high expertise, SUD Architects promote the combination of art of synthesis and knowledge exchange. The project's diversity undertaken, varies between urban planning, mix-use, housing, retail and leisure, offices, industry and laboratories, health care, hospitality, transport and rehabilitation.
27, rue Joannès Carret, Lyon, France
AS Architecture Studio
Architecture-Studio is a French architecture practice based in Paris, Shanghai and Venice. Today, the studio is composed of 150 architects, urban planners, landscape and interior designers of 25 different nationalities, led by 13 partner architects: Martin Robain, Rodo Tisnado, Jean-François Bonne, Alain Bretagnolle, René-Henri Arnaud, Laurent-Marc Fischer, Marc Lehmann, Roueïda Ayache, Gaspard Joly, Marie-Caroline Piot, Mariano Efron, Romain Boursier and Widson Monteiro. The company principle of Architecture-Studio is the collective conception. From the very beginning, the practice believes in the virtues of exchange, crossing ideas, common effort, shared knowledge and enthusiasm. Architecture-Studio believes in a socially engaged architecture. This approach is nourished by the numerous worldwide achievements made over the last forty years, and by a constant attention to the quality of public spaces and new uses. The ecological city is a matter of fundamental research for Architecture-Studio: the practice has been working for almost thirty years on original and practical solutions to challenge the major urban issues of the twenty-first century.
10, rue Lacuée, Paris, France
ATELIERS 2/3/4/
Ateliers 2/3/4/ a group dynamic based on individual talents. The architecture practice brought in 2006  the experience of three French firms that, since the early 1980s, have paid particular attention to new lifestyles that demand a return to simplicity and the basics. Since 2016, new partners have joined the firm to broaden its fields of expertise. Ateliers 2/3/4/ defends the luxury of a «lifestyle» that seeks out «well-being». Made to measure, each project is the opportunity for a study that makes it unique whether in terms of sustainable development, typology or construction system. Even before the selection of construction materials, Ateliers 2/3/4/ favors the only readily available raw material: light. Their expertise on the permeability of buildings allows such an alchemy to transform «density into intensity».
234 rue du Faubourg Saint-Antoine 75012 Paris, France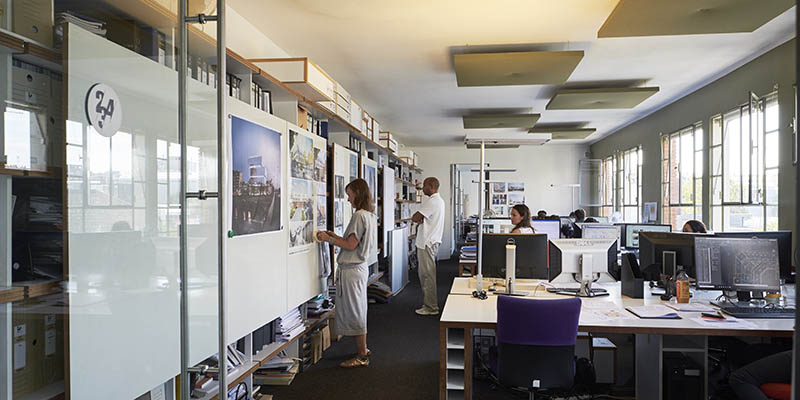 Courtesy: Ateliers 2/3/4/ | Photography: Julien Falsimagne
2Portzamparc
Since they met in 1981, Elizabeth and Christian de Portzamparc have kept working on their own projects, in their respective agencies. Sharing the same values, they became managing partners in their new company 2PORTZAMPARC in which they carry on deepening their specific approach with their distinct teams. For some large scale projects, their ideas and know-how are often complementary, so they have established a unique form of dialogue to enrich their conceptions and know how.
38, rue la Bruyère, Paris, France
Arte Charpentier Architectes
Founded in 1969, Arte Charpentier Architectes employes 120 people of 15 different nationalities, including 20 associates, in their Paris, Lyon and Shanghai agencies. Since the beginning, the French architecture firm is focused on complex projects. They strive to bring a fresh approach to each new challenging brief, adapting and renewing their practice of architecture, urbanism, interior design and landscape on a daily basis. Their multi-faceted approach has come about through the analysis of the transformation of different regions. It provides a working method for urban development and the design of commercial, office and residential spaces which will form the resilient towns and cities of tomorrow, in Europe, in the Maghreb, in Africa and in Asia, where the agency has been involved since its creation.
8, rue du Sentier, Paris, France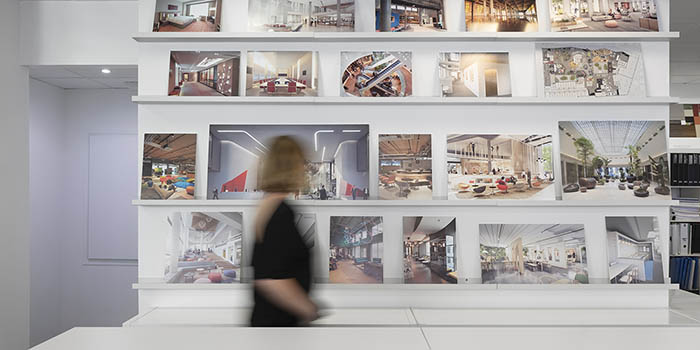 Courtesy Arte Charpentier Architectes
RDAI
RDAI's legacy stretches back to the firm's founding in 1972 by the much-admired interior designer, Rena Dumas. Rooted in the elegant architecture of Paris, RDAI's heritage of interiors, sited in the world's most luxurious shopping streets, became design laboratories for the incubation of ideas. Now directed by Denis Montel the practice has brought its experience to bear on a global architecture addressing every conceivable scale. In 2007 Denis Montel co-founded RDAI-Architecture with Rena Dumas and Nicolas Karmochkine. After Rena's death in 2009 he became managing director and artistic director of the two agencies, RDAI and RDAI-Architecture.
13, rue du Mail, Paris, France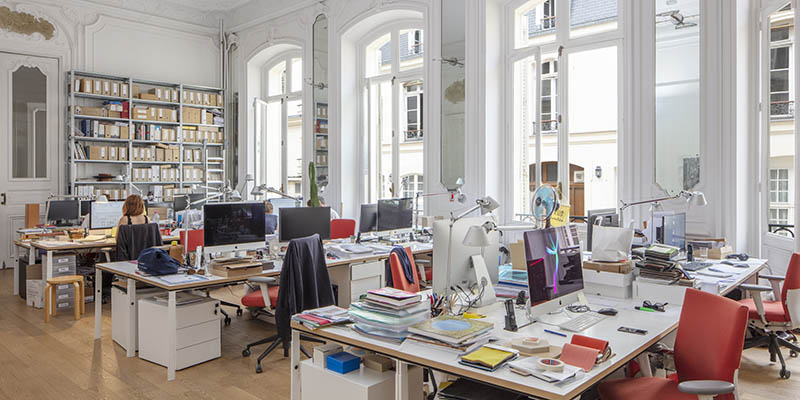 Courtesy: RDAI
Majorelle
Majorelle has always been at the forefront of the design of new tertiary spaces, thanks to a team made up of visionary personalities like their founders Lucy Bakli and Richard Galland. Beyond productivity, the challenge today is to create attractive and dynamic environments, space-saving, optimized by the deployment of new technologies. Majorelle architecture firm is a co-creation place of more than 200 m², composed of 6 spaces around an open-air terrace. A hub dedicated to the collaborative work that places digital at the heart of this device dedicated to the design and implementation of customer projects. An experience to live in a unique environment, offering an unprecedented dimension to teamwork.
80 Rue Taitbout, 75009 Paris, France
Leclercq Associés
Leclercq Associés have been developing a transversal approach combining architecture, urbanism and landscape for over thirty years. Our projects, all of which are unique, encompass contextual analysis, formal design, a sense of uses, an original approach to materials, pleasure in construction, new itineraries in the city, and a reinvention of urban situations. A structured working environment encourages creativity and personal initiative. The ambiance, at once warm, relaxed and studious, reflects the spirit of the firm, with its taste for ideas, alterity, exchange and movement, a quest for multidisciplinary skills, independence of mind, trust and freedom. The firm's headquarters occupy 600m² in a former industrial workshop, with a private garden serving as an ideal place in which to relax, take a break or continue a meeting.  
39 rue du Repos, Paris, France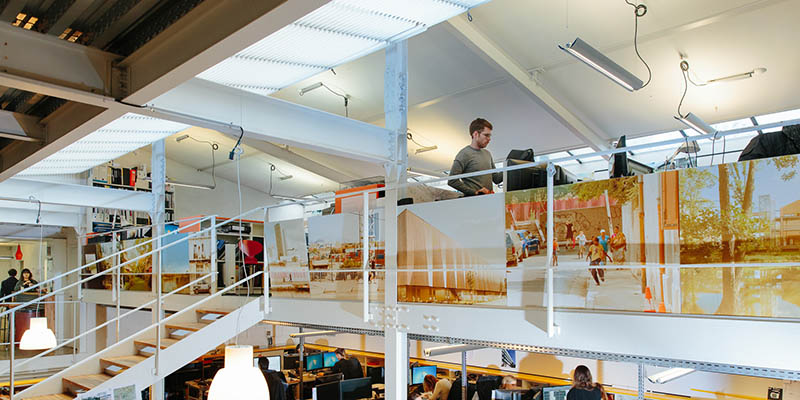 Courtesy: Leclercq Associés
A26
In a context of permanent evolution, involving flexibility and responsiveness, sharing of expertise and wealth of experience, adaptability and technical rigor, control of impacts and costs, that A26 imagined a positioning of a dedicated architecture agency to the diversity of issues facing prime contractors today. Architects, engineers, design offices, economists, A26 offers in-house all the skills of multi-specialists at the service of innovative architecture, that is to say responsible, efficient, aesthetic and scalable. Systematically seeking the balance between relevance of investments, well-being of users, contribution to society, A26 teams design and build buildings whose value lies in the collective intelligence that guided their design.
165 bis rue de Vaugirard, Paris, France
Brenac-Gonzalez et Associes
Brenac-Gonzalez et Associes was created in 1981 and today employs around 30 people. In addition to the achievements and competitions, the French architecture firm is committed to developing permanent research which relates more particularly to the development of housing typologies and the protection of the environment. This site traces more than twenty years of architectural practice where programs, very differentiated, more or less complex, succeed one another. Their projects are made from processes whose parameters are linked to contexts – sites, clients, program, funding, willingness to experiment or simple mood of the moment are all determining factors of our aesthetic choices.
36 Rue des Jeûneurs, Paris, France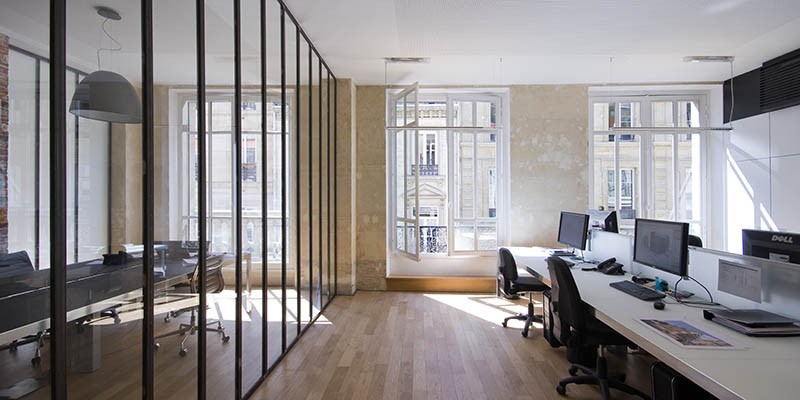 Courtesy: Brenac-Gonzalez et Associes | Photography: Stefan Tuchila
DTACC
Located in Paris, DTACC architecture firm is recognized for its architecture of quality and elegance that it has expressed for more than 45 years through prestigious achievements. Their ever growing success is the result of a perfect combination of architectural creation, listening to customers, quality of achievements and technological innovation. They realised many projects of offices, headquarters, hotels, housing and urban development. DTACC works in both the public and private sectors. Specialized in projects classified as 'sensitive and complex', they combine high-tech technologies and architectural enhancement in order to offer optimal solutions while respecting costs and deadlines.
98 rue de Sèvres, Paris, France
ANMA
Ever since it was founded in 2001, ANMA's partners, Nicolas Michelin, Michel Delplace and Cyril Trétout, have been developing innovative studies and productions in the fields of architecture, urban planning and landscaping. Based in Paris, Bordeaux and Beijing, the practice currently employs around 60 staff members. Its work draws on strong convictions that produce ultra-contextual urban projects marked by constructive rigor and an unflagging determination to use natural energies. ANMA's projects create and maintain a fruitful dialogue between architecture, landscaping and urban planning. They spearhead bold viewpoints on the construction of the city and foster negotiated urban planning and participative housing.
9 Cour des Petites Écuries, Paris, France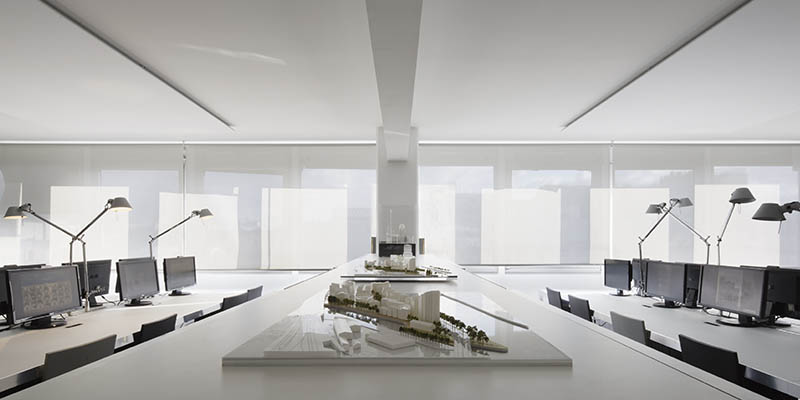 Courtesy: ANMA
Patriarche.
Patriarche. Office of Architecture is a multi-disciplinary architectural agency driven by innovation where each project is approached as a brand-new endeavor founded in 1960. With 8 agencies amongst France, Swiss and Canada, and more than 300 employees Patriarche is on of the biggest architecture firms in France. At Patriarche., they take a proactive approach to design as they aim to offer functionality, innovation and flexibility in every one of their architectural initiatives. They approach each project as a brand-new endeavor: this is what has allowed Patriarche. to research, test and produce new, sustainable concepts such as the House-Boat (a construction on piles for flood zones designed in 2009), Maison Rodolphe (a modular residential structure built in 2012), the Green House (an inhabitable greenhouse concept, winner of Bordeaux Métropole's 2016 UrbaLab Call for Ideas) and the Floating Home (a houseboat concept created in collaboration with naval architecture firm CLYD in 2017).
Taxiway – BP 285, Le Bourget du Lac, France
GROUPE-6
Groupe-6 was founded in 1970 in Grenoble as a partnership of 6 highly creative architects who take a collective and shared approach to the practice of architecture.  The Group-6 agency is structured to meet the major challenges of our contemporary society: education, science, working spaces, mobility, businesses, culture, health … Remarkable projects are the mixed equipment of the Vache Noire and the hospital of Sud-Francilien, near Paris, in Île-de-France; The Caserne de Bonne and the Musée des Beaux-Arts in Grenoble. The agency recently carried out the Orleans hospital center and the LMA Laboratory in Marseille (Prix AMO Saint-Gobain 2016). Groupe-6 currently carries out the international hospitals of Rennaz, Switzerland, and of Agadir, Morocco, and the tower of the Marriott Hotel in Bahrain; In France, the Cap 3000 shopping center in Nice, the headquarters of Schneider Electric in Grenoble, the Arena de Chartres, the CRBS laboratories and the extension of the General Hospital of Reims.
12 rue des Arts et Métiers CS 70069, Grenoble, France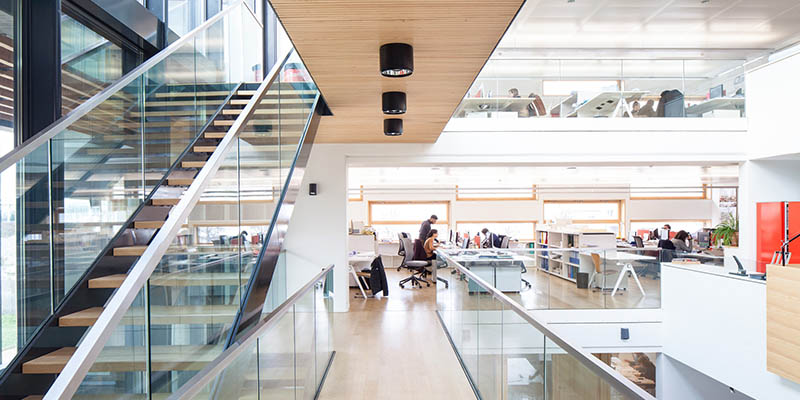 Local Architecture Network
LAN (Local Architecture Network) is an awarded architecture studio created by Benoit Jallon and Umberto Napolitano in 2002, with the idea of exploring architecture as an area of activity at the intersection of several disciplines. This attitude has developed into a methodology enabling LAN to explore new territories and forge a vision encompassing social, urban, ecological, functional and aesthetic and economic questions. The firm's projects give shape to this universe at different scales and through very diverse programs. In 2016, LAN represented France at the 15th edition of the Venice Bienniale of Architecture and the following year was scientific curator of the Paris Haussmann, a Model's Relevance exhibition. The firm has received many prizes and awards both in France and internationally.
47 rue Popincourt 75011 Paris, France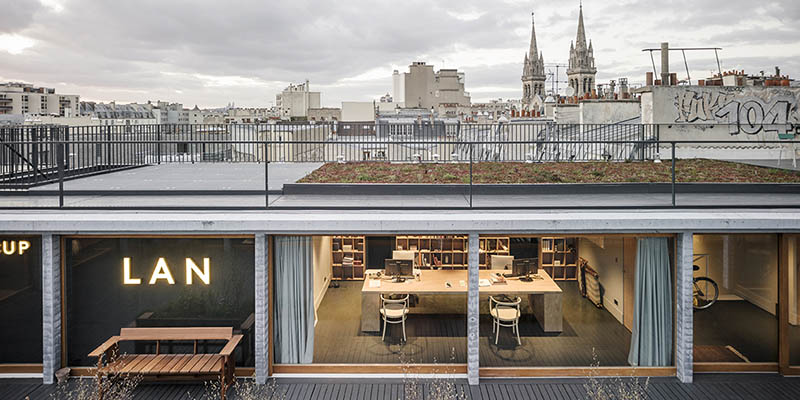 Courtesy: LAN | Photography: Cyrille Weiner
FRESH Architectures
Julien Rousseau, Ulisse Gnesda and Luca Battaglia are the three founding partners of Fresh Architectures. They have honed their skills with agencies such as Foster + Partners, Renzo Piano Workshop or Ateliers Lion associés. Through their work, the future partners discovered their complementarity, which led them to create Fresh in 2007. From small to large, from design to town planning, from the high fashion object to the city neighbourhood, from order to response, they tackle projects based on their dynamic rather than their scale. Fresh works on sites where the societal challenge equals the urban potential and the agency's strategies are deeply anchored in reality.
64 Rue de Crimée, Paris, France
Franklin Azzi
Since the foundation of his firm in 2006, Architect Franklin Azzi developed his skills in architecture, interiors, furniture and urban design throughout France and abroad. The firm premises are set up in a former industrial workshop on the 2nd Arrondissement of Paris. Franklin Azzi Architecture (FAA) deploys a multidisciplinary team composed of some 50 collaborators including architects, interior designers, decorators, graphic designers, art historians, and also parametric design researchers. Thanks to being at the crossroads of these many disciplines, a process of collective reflection arises. This attention to transversality allows FAA to explore, among others: large-scale renovation programs for industrial buildings, but also new construction, or specific interior design for luxury stores.
13, rue d'Uzes 75002 Paris, France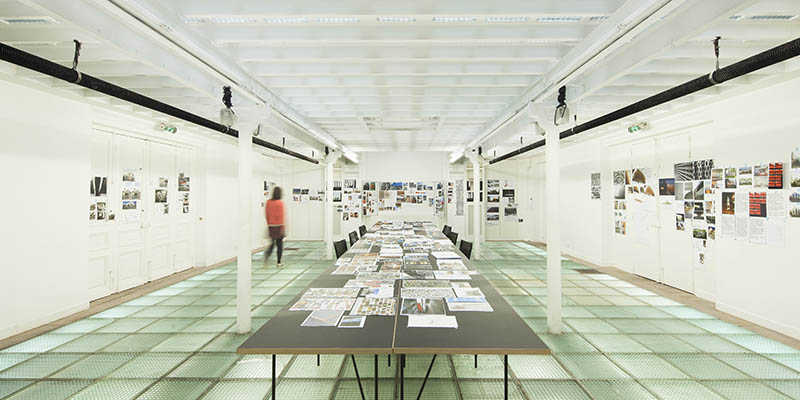 Courtesy: Franklin Azzi | Photography: Mathieu Ducros
Wilmotte et Associés
Architect, city planner and designer, Jean-Michel Wilmotte was born in 1948 in Soissons (France). He founded his own architecture firm in Paris in 1975. Today, his business is structured around two companies – architecture firm Wilmotte et Associés and design studio Wilmotte Industries SAS –, operating more than 100 projects at any one time. Amongst the best architecture firms in France and well known for the diversity of its output and the elegance and excellent finishing quality of its work, the Wilmotte firm operates in both the public and private sectors, across luxury, hospitality, residential, and the service industries. The firm unites 270 employees of 25 different nationalities and operates in 20 countries. Established in Paris and Nice, its international development brought about the launch of two subsidiary companies: Wilmotte UK Ltd in London, and Wilmotte Italia Srl in Venice. The firm is also represented by an office in Seoul.
68 rue du Faubourg St Antoine, Paris, France
AIA Life Designers
First and foremost, AIA Life Designers is born of a creative wager made in 1965. It strove to enable dialogue between architects and engineers within a single structure. Today, they are a tightly knit group of architecture enthusiasts: architects, engineers, economists, urban planners, landscapers and site supervisors. Their projects are always imbued with a spirit of collective adventure, as well as a commitment to table innovative architectural solutions buttressed by technological excellence. For their customers and their teams, AIA Life Designers promote a culture of solidarity and attention to others. In France and globally, AIA Life Designers brings together more than 650 collaborators within five main firms: AIA Architectes (Architects), AIA Ingénierie (Engineering), AIA Management, AIA Territoires (Territories) and AIA Environnement (Environment). These entities collaborate within the framework of a common creative process.
23 Rue de Cronstadt, Paris, France
Coldefy et Associés Architectes Urbanistes
After holding positions in Paris, New York and London, with KPF, Ateliers Hamoutène Architectes, SCAU + Tadao Ando, Swanke, Hayden Connell Architects, SOM, and Atelier Yves Lion he serves as Managing Director of Coldefy since 2006 and became Principal in 2010. "The need to escape a frenzied way of living, a yearning for calm or a connection with nature are among the fundamental needs that we experience as children, yet which we lose sight of as time goes by" Aware that the buildings we inhabit influence our behavior and shape our cities, at Coldefy, they believe that architecture should serve the senses that allow for memorable experiences. They are focused on social and sensory experiences, so that the question of aesthetics, which is inevitably subjective, takes a back seat.
13 rue Jean Prouvé, 59000 Lille, France
20 Passage Saint Sébastien 75011 Paris, France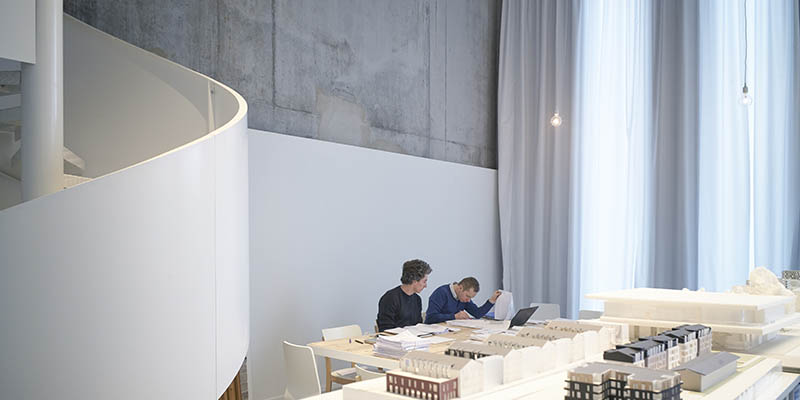 Courtesy: Coldefy | Photography: Julien Lanoo
Ferrier Marchetti Studio
Pauline Marchetti and Jacques Ferrier started collaborating in 2008, when they designed the French Pavilion for the Shanghai World Expo. Ferrier Marchetti Studio implements design powered by thinking as a research and development strategy to transform ideas into actions and to develop innovative project solutions. Through a platform that brings together practitioners, researchers in the fields of architecture, city planners, designers, and humanities and social scientists, we aim to achieve a framework that is innovative and groundbreaking. Interaction and experience-sharing are key to this collaborative dynamic between inquiries and propositions, between diagnoses and solutions.
24 rue Dareau 75014, Paris, France
FREAKS Architecture
FREAKS is a Paris-based architecture firm lead by three architects (Guillaume Aubry, Cyril Gauthier et Yves Pasquet) favouring prospection, research and experimentation through projects and building process practices from small scale art installations to large scale architecture competitions. FREAKS has been awarded the AJAP price from the French Ministry of Culture and Communication in 2010 and the 40under40 european price in 2016. Recent projects include the MECA in Bordeaux (in association with the Danish architecture firm BIG), the International Glass Blowing Center of Meisenthal (in association with SO-IL), the Fiminco art Foundation in Romainville or the Museum of Natural History of Strasbourg.
25 Rue des Cascades, 75020 Paris, France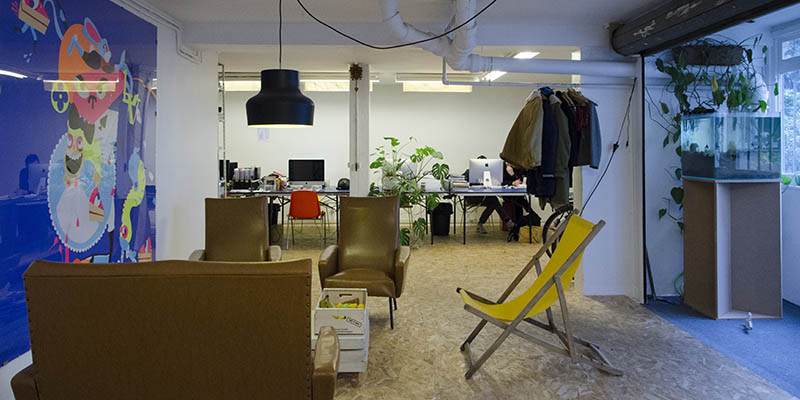 Courtesy: FREAKS Architecture
JAKOB+MACFARLANE
Since its foundation by Dominique Jakob and Brendan MacFarlane in 1998, Jakob + MacFarlane architects have been oriented as an experimental laboratory in architecture focused on environmental transition and digital culture. The agency's interest in programmatic and urban social innovations where the passion for construction and innovation is manifested in projects such as the Orange Cube in Lyon and the Frac Centre in Orléans among a few examples. The agency is involved in a research on links with the technicality, the materiality of each project to anchor each of them in their temporal relationship and site.
13-15 rue des Petites Écuries, Paris, France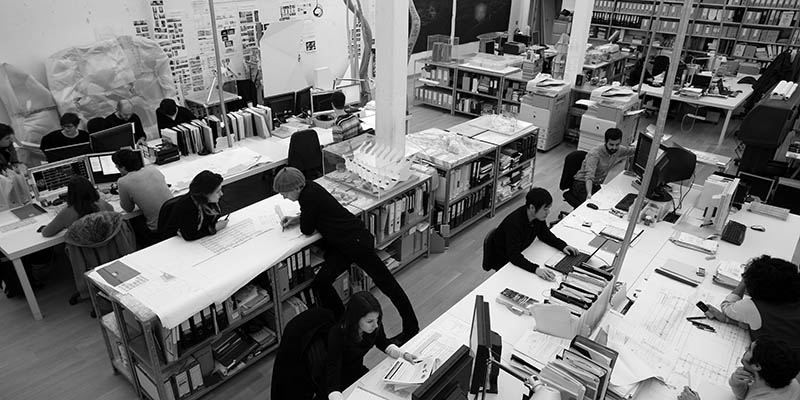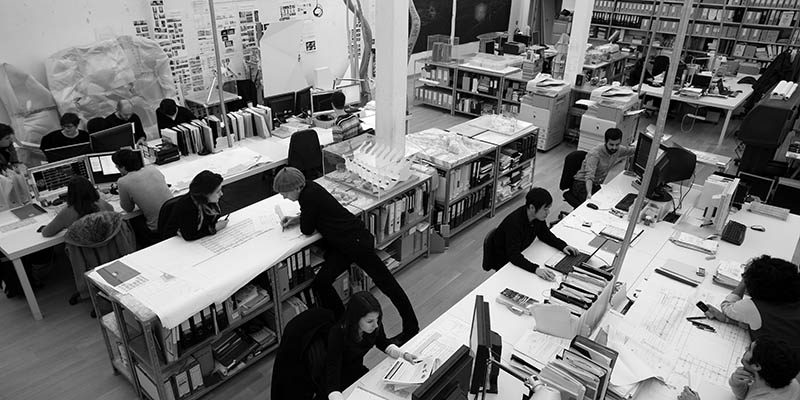 Courtesy: Jakob + MacFarlane | Photography: Jean Ber
Manuelle Gautrand Architecture
The agency was founded in 1991, and is animated by Manuelle Gautrand, leading architecture concepts/team, and by Marc Blaising, administrative and financial manager. The office develops projects for major public and institutional contracting authorities as well as private firms. While the office's main activity is primarily situated in France, its international presence is on the rise; the firm is frequently invited to participate in the major international architectural competitions. The firm's creative architecture expresses itself in the endless variety of answers and solutions, using the most contemporary methods of planning and design in a variety of areas ranging from cultural facilities to residential, commercial and office buildings.
36, Boulevard de la Bastille, Paris, France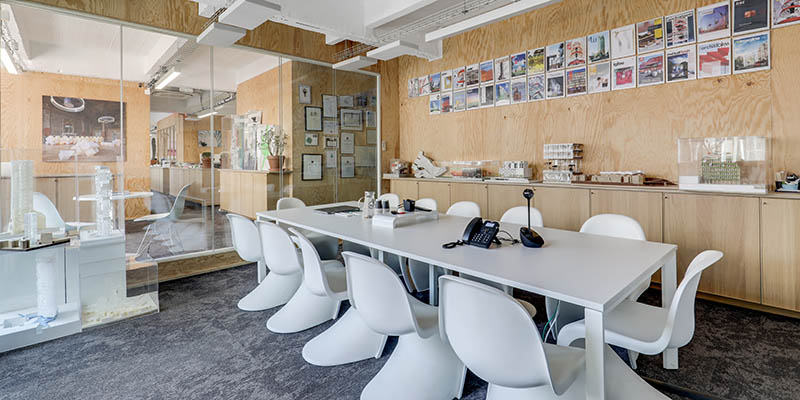 Courtesy: Manuelle Gautrand Architecture
CALQ
Paris-based, the firm designs and sees through to complete projects of all descriptions, including new-builds and refurbishments, over all sectors of activity : offices, hotels, residential, retail and public facilities.  Known for its exacting standards and the quality of its work, CALQ is especially careful to incorporate into all its projects notions of flexibility with respect to the completed works.  A human-scale firm attaching great importance to the quality of relations and working with its clients on a basis of mutual trust, CALQ and all the staff at the firm share one and the same ambition: to work together to create the urban landscape of tomorrow.
6 rue du Sentier, Paris, France
Marc Mimram Architecture & Engineering
Amongst the best architecture firms in France, Marc Mimram Architecture et Engineering was founded in 1992 and located in the 11th district of Paris, in former factories surrounding a landscaped courtyard. It is composed of an architecture agency (Marc Mimram Architecture et Associés) and a structural design office (Marc Mimram Ingénierie). It develops iconic projects and approaches many fields of construction. The office is consulted on emblematic projects in France and abroad (Tribunal of Paris, SAMSIC Tower in Rennes, Carreau des Halles in Paris…) and develops a lot of large-scale projects in the field of engineering structures and buildings (Vinci Headquarter, AgroParisTech Campus in Saclay, Extension of Roland-Garros, Montpellier TGV Station, Pleyel bridge…). It has also realized a lot of bridges and infrastructures like the Jin Liu Lu Bridge in Singapore, the bridge over the Danube in Linz or the footbridge in Bath, for example.
21 Rue de la Fontaine au Roi, 75011 Paris, France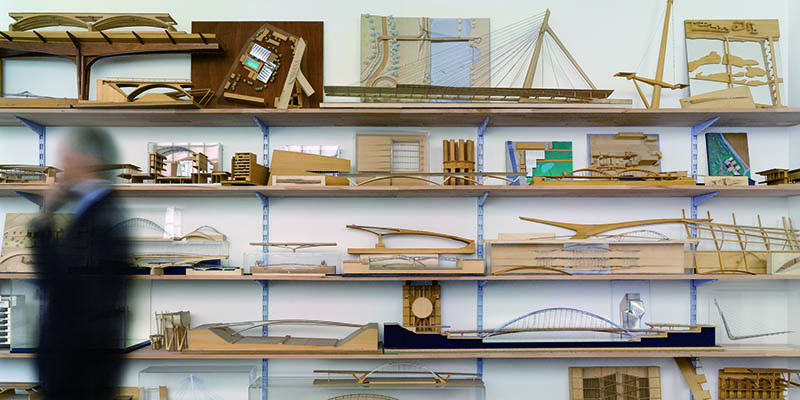 Courtesy:

Marc Mimram Architecture et Engineering
PERIFERIQUES Marin+Trottin
For 25 years, PERIFERIQUES Marin+Trottin have been working on a wide variety of projects: housing, universities, teaching and research buildings, cultural equipment and transport… All the usages are necessary for the development of the city and the comfort of its uses. Each of these architectures is the subject of a specific approach where the functioning, use and integration in a social, economic and geographical context contribute to defining the response Their architectural approach is a mashup of popular culture and architectural history to design places in tune with their times. Their style figures the methodology of the project, so their proposals are not very similar: they design, for a place and a program, a story to share. It will structure an architecture that will become a living space.
8, rue Montcalm 75018 Paris, France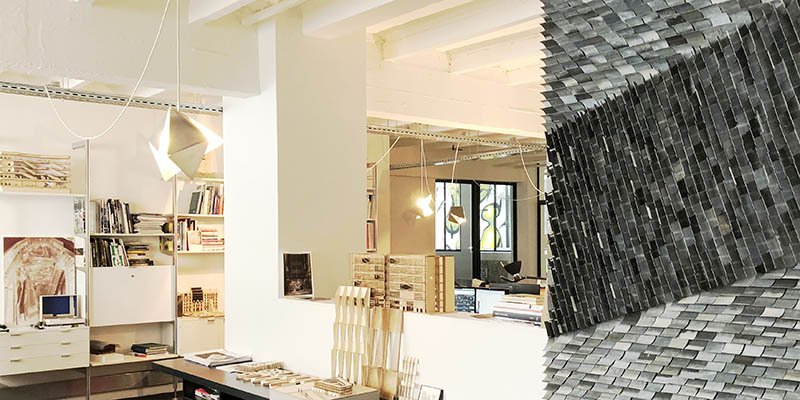 Courtesy: PERIFERIQUES Marin+Trottin
DPA Dominique Perrault Architecture
Founded in 1981, Dominique Perrault Architecture is an international architecture, urban planning, interior design and design studio. For sure one of the most renowned and best architecture firms in France. Co-directed by the architect and urban planner Dominique Perrault and the designer Gaëlle Lauriot-Prévost, DPA has offices in Paris and Geneva employing a multidisciplinary team of about 70 specialists. Along with the Bibliothèque Nationale de France, for which he won the competition in 1989, his main projects to date include the Olympic Velodrome and Swimming Pool in Berlin, the extension of the Court of Justice of the European Union in Luxembourg, the Olympic Tennis Stadium in Madrid, the EWHA Woman's University in Seoul and the Fukoku Tower in Osaka in 2007. In recent years, DPA inaugurated the tallest tower of Austria in Vienna, the DC Tower 1, and led various heritage rehabilitation projects, including the new public entry pavilion for the Château de Versailles and the repurposing of La Poste du Louvre in Paris.
6 Rue Bouvier Paris, France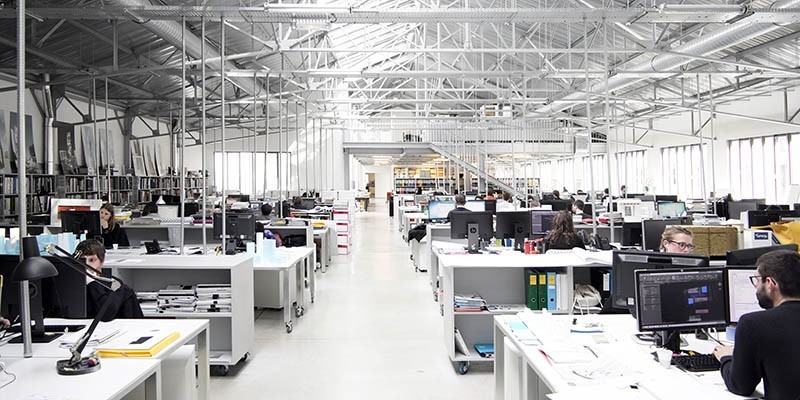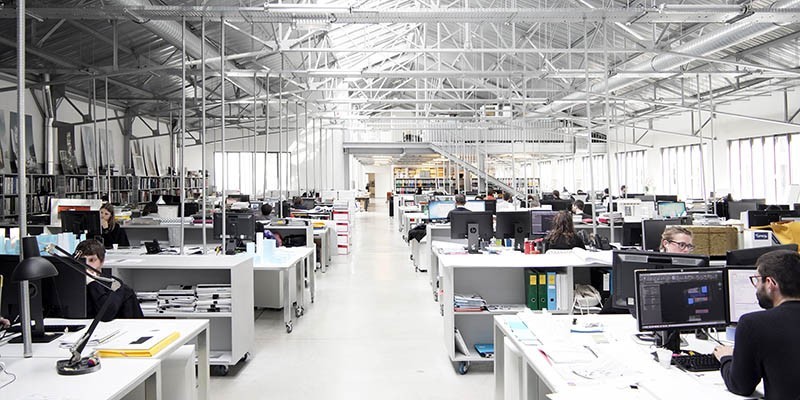 Courtesy: DPA Dominique Perrault Architecture
Pietri Architectes
Pietri Architectes, founded by Jean-Baptiste Pietri is a French architecture firm based in Paris. The agency projects, located especially in the Parisian region and the Southeast France, reflect a great diversity of programmes, both public and private, from individual houses to office towers, and even a luxury hotel with waterfront views. The agency claims an architectural approach both demanding and poetic, constructed and developed around its own philosophy, marked by a "romantic rationalism". This concept connects a strict constructive conception, optimized for a meaningful appropriation of the site. The structures are light, refined, elegant and resolutely modern. The nobility of the materials –sometimes made-to-measure–, are essential in the design process.
47 rue Popincourt Paris, France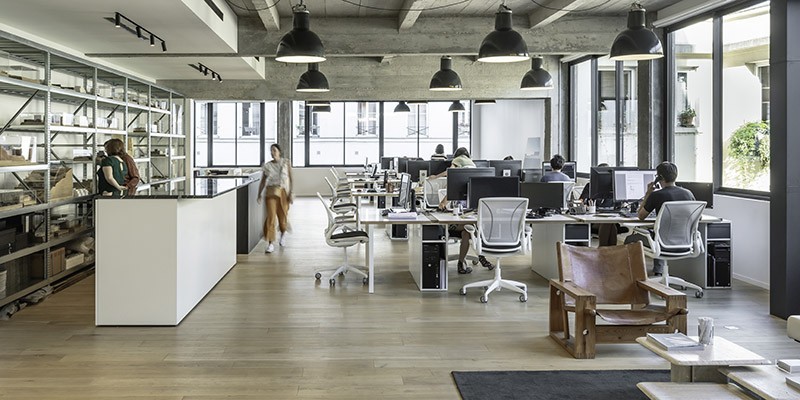 Courtesy PietriArchitectes | Photography: Luc Boegly
AZC Atelier Zündel Cristea
Founded in Alsace, in 2001, by Irina Cristea and Grégoire Zündel, AZC is today a Parisian architecture agency composed of about twenty people, which carries out various projects: new constructions or rehabilitations, for the use of offices, housing and private or public facilities. For AZC, doing architecture is not linked to a specific program, but to a process. Building a building is still a long and very impactful act on resources, energy and context, while the uses to which it responds are, more and more, inconstant. To continue to respond to these uses without depleting resources, AZC have two approaches: one is to design sustainable structures capable of adapting to the greatest number of uses; the other, lightweight structures that are easy to move or recycle to meet specific and ephemeral needs.
15/17 Rue Vulpian, Paris, France
Studio Vincent Eschalier
Established in 2009, Studio Vincent Eschalier is a French architecture firm with expertise in both exterior and interior design. Based in Paris in a true living space, the Haussmanian loft in the up-and-coming district of Faubourg St. Denis is a place for exchanges and meetings between employees, customers and partners. For the past 10 years the studio has been distinguished by its complex and elegant creations. Vincent Eschalier seeks permanent improvement and does not hesitate to take up challenges. Between tradition and risk-taking, the architect imposes an unconventional style.
16 Rue Martel, Paris, France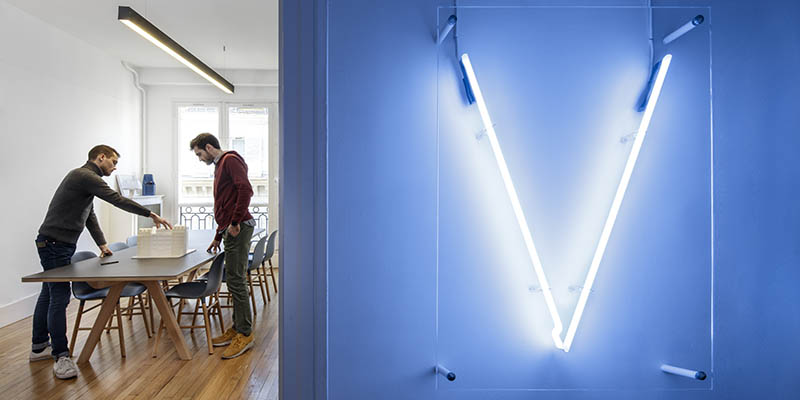 Courtesy: Studio Vincent Eschalier | Photography: Axel Dahl
VIB Architecture
Founded by Franck Vialet and Bettina Ballus in 2013, VIB architecture has acquired serious experience in the design and build of multiple projects, such as offices, residential, research centers, educational or cultural facilities throughout France, in places like Paris, Versailles, Toulouse, Caen, Bordeaux or Strasbourg. The Paris based multicultural team comprises around twenty architects. Depending on project programs and complexity, we can expand our design team with specialists and partners with expertise in landscaping, engineering, economy, acoustic, scenography – that fit our creative and sustainable way of design.
8 Rue Henner, Paris, France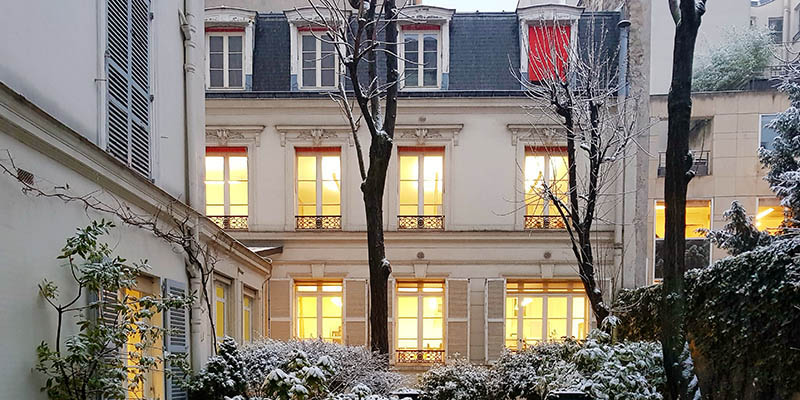 ORY Architecture
Ory et Associés bring together around 60 employees in different operational departments: architecture, interior design, project management and monitoring of construction sites. Originally renowned for having carried out major Parisian restructuring operations, the Studios d'Architecture Ory & Associés have diversified into many other fields. Thus, the architecture firm deploys its skills in the housing, hotel and accommodation sectors (students, seniors, multigenerational), shops and equipment. However, it has retained and developed its know-how in the field of rehabilitation, as well as sensitive heritage operations.
6 Rue du Général Camou, Paris, France
AAVP Architecture Vincent Parreira
Vincent Parreira is a French-Portuguese architect born in Paris in 1969. He graduated with a degree in architecture from École Nationale Supérieure d'Architecture de Paris La Villette. He founded the AAVP Architecture agency in 2000 with the ambition to create projects that are brimming with sentiment. Projects enrolled as close to their contexts, diverting the primary vocation of materials, the approach is renewed for each construction. For each of them, spatiality is apprehended by the beauty of the senses (pleating, the sensuality of forms, materiality, ornamentation, lighting, framing …) and feeds on the diversity of its author's references, like a dialogue by which reality is inscribed.
11, Cité de l'Ameublement, Paris, France
Richez_associés
Practicing since 1985 simultaneously and holistically architecture, urban design, and landscape architecture has proved powerful creative stimulus for Richez_Associés:  the design of a new urban neighborhood is fed by the practice's architectural ambition as well as by a vision for public spaces; building projects are honed by the urban context they are creating, and public spaces are brought alive through a carefully managed relationship with the architecture that defines and landmarks them. In its over 30 years track-record, Richez_Associés has completed award-winning buildings, neighborhoods and public spaces, on 3 continents, and has gained recognition of its world-class expertise on transportation projects
2 rue de la Roquette, Paris, France
SCAU
SCAU is a multidisciplinary studio founded in 1971 in Paris by Aymeric Zublena, together with five colleagues: Maxime Barbier, Bernard Cabannes, Luc Delamain, Francois Gillard, Michel Macary. The architecture practice, which today has a team of over 90 collaborators, carries out important public projects in France and abroad in parallel with urban planning research. SCAU has in fact designed universities, hospitals, stadiums, offices and offices. Composed of architects, engineers, economists, designers, the studio is able to follow the design process from its conception to realization. In fact, they believe the project is born out of encounters, points of view and exchanges, that it is created when our differences, knowledge and sensibilities dare to mingle, to challenge, to surpass themselves. Spaces of creativity of infinite richness are thus formed which have the intelligence of the collective and the singularity of the unique.
35 Rue Tournefort, Paris, France
DGM et Associes
The architecture firm DGM et Associates, founded by Antoine Delaire and Véronique Mauer 30 years ago, has acquired extensive experience both in the field of urban planning and new construction as well as in that of major restructuring. With its 70 employees, DGM has also developed its applications for the construction of public facilities; conservatory of music and dramatic art in Levallois, Buffon school group in Levallois, Ampère school group in Saint Ouen, Lorilleux parking lot in Puteaux. At the same time as carrying out major housing operations (more than 10,000 housing units completed or in progress to date), Antoine Delaire and Véronique Mauer specialized in the construction and restructuring of office buildings, 4 * hotels and 5 * Parisians, managed residences and shopping centers.
74 Rue Rivay, 92300 Levallois-Perret, France
Reichen Robert
Last but not least in our best architecture firms in France: Reichen Robert. The practice was founded in 1973 by Bernard Reichen and Philippe Robert. By transforming the Leblan spinning mill in Lille and the Grande Halle de la Villette in Paris, the French architecture firm has acquired an international reputation in the fields of the conversion of industrial complexes. From Nestlé's headquarters in the Menier chocolate factory to the recent achievements of the Cité du Cinéma in Saint Denis or the Grands Moulins de Pantin, this reuse dynamic has been developed to better integrate the new sustainable development hypotheses: "reuse" territories, buildings, materials and materials. The Reichen et Robert et Associés agency was created in 2004, now operates in all fields of architectural and urban action.
17, rue Brezin, Paris, France
This virtual tour through the best architecture firms in France is based on our knowledge and researches, if you want to suggest someone that is missing, and we are sorry for that, feel free to contact us at info(at)archivibe.com!
---
If you appreciated our "best architecture firms in France" here below you can find all our other "best architecture firms in…"