Dutch architecture firms and architects have played an important role in the international scene on architecture during the latest centuries. From the 17th century, when the Dutch empire was at the height of its power, through the years during development of modernism and de Stijl, till today when dutch architecture firms are at the forefront of contemporary architecture.
They are now contributing to cityscapes in the Netherlands and all over the world. Here, we list our favorite architecture firms in the Netherlands we would love to visit as soon as possible.
Top architecture companies in the Netherlands
UNStudio
MVRDV
HofmanDujardin
i29
Mecanoo
KAAN Architecten
O.M.A.
Mei architects and planners
Orange Architects
Studioninedots
Concrete Amsterdam
Powerhouse Company
Benthem Crouwel
Hans van Heeswijk Architects
VMX Architects
MVSA
MKA Marc Koehler Architects
Cepezed
Team V
ZJA
de Architekten Cie.
GROUP A
Wiel Arets Architects
UNStudio
UNStudio was founded in 1988 by Ben van Berkel and Caroline Bos. It is an international architectural design network with four full-service international offices in Amsterdam, Shanghai, Hong Kong and Frankfurt. UNStudio is specialized in architecture, interior architecture, product design, urban development and infrastructural projects. "As what we design today is normally built in three to five years' time, we're used to working with the future in mind. However, the future is changing faster than ever before. Even the most accurate predictions can be made redundant by a sudden advance in technology. To ensure we don't contribute to a waste of materials and investment that is no longer sustainable or appropriate in today's world, we develop strategies that not only anticipate the future, but possible changes to that future as well"
Stadhouderskade 113  1073 AX Amsterdam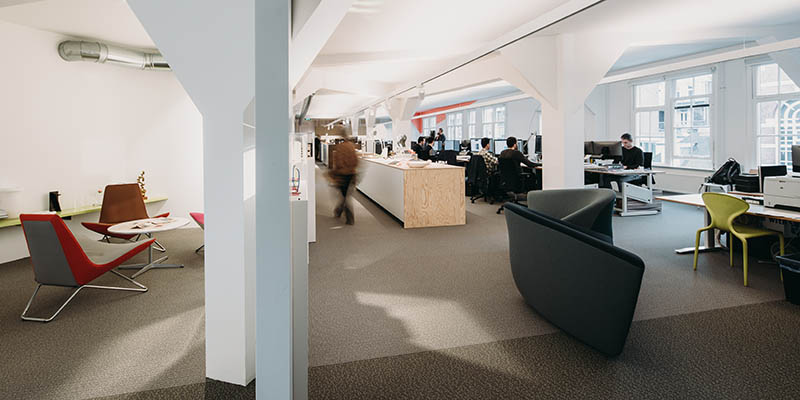 UNStudio | Photography: Eva Bloem
MVRDV
Founded in 1993 by Winy Maas, Jacob van Rijs and Nathalie de Vries, MVRDV is one of the most famous Dutch architecture firms. Based in Rotterdam, MVRDV has a global scope, providing solutions to contemporary architectural and urban issues in all regions of the world. Their highly collaborative, research-based design method involves clients, stakeholders, and experts from a wide range of fields from early on in the creative process. The results are exemplary, outspoken projects that enable "their" cities and landscapes to develop towards a better future.
Achterklooster 7 3011 RA Rotterdam NL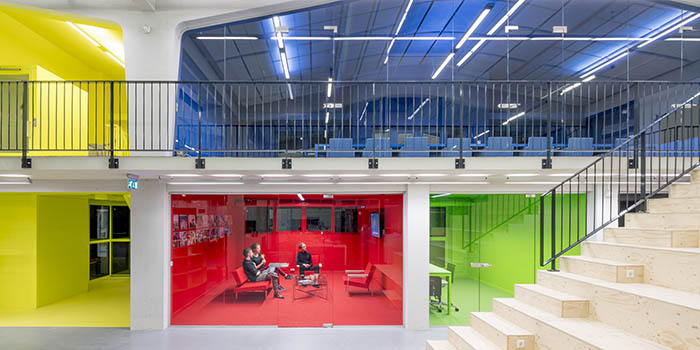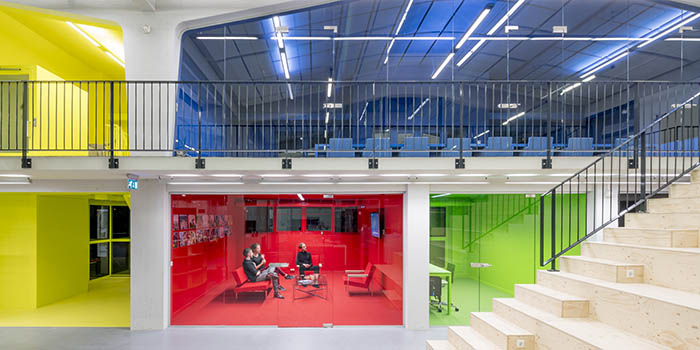 Courtesy: MVRDV | Photography: Ossip
HofmanDujardin
Based in Amsterdam, HofmanDujardin was founded in 1999 by Michiel Hofman and Barbara Dujardin. Since then, they have completed a wide range of architectural, interior and product design projects. Since the foundation of the office they worked on a large variety of projects gaining experience in the realization of architectural projects, renovations, interior design projects and product designs and their projects and ideas have been granted several international design awards.
HofmanDujardin Verrijn Stuartweg 34 1112 AX Diemen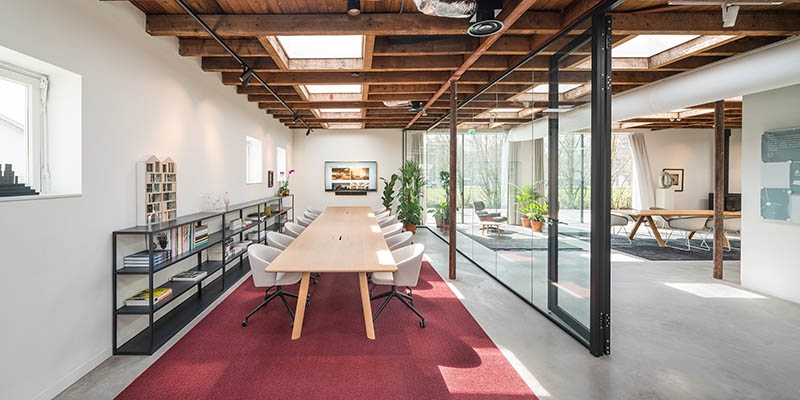 Photography: HofmanDujardin | Matthijs van Roon
i29
Founded in Amsterdam by Jaspar Jansen and Jeroen Dellensen, i29 is probably one of the most awarded Dutch architecture firms in the latest years. They won World Interiors News Award 2018, Best Interior Practice of the year, German Design Award 2018, Design Week Award, WIN Awards 2016 Interior practice of the year, Blueprint Finest Interior Award 2016, Core77 Design Awards 2016, Global excellence awards 2016 just to name a few.
They believe in simplicity and contrast. Simplicity to them means being selective and to push each choice to the limit. Contrast provides energy. Bringing opposites together unifies diversity. They don't make interiors to impress people, but interiors that leave an impression on people.
Industrieweg 29 1115 AD Ouder-Amstel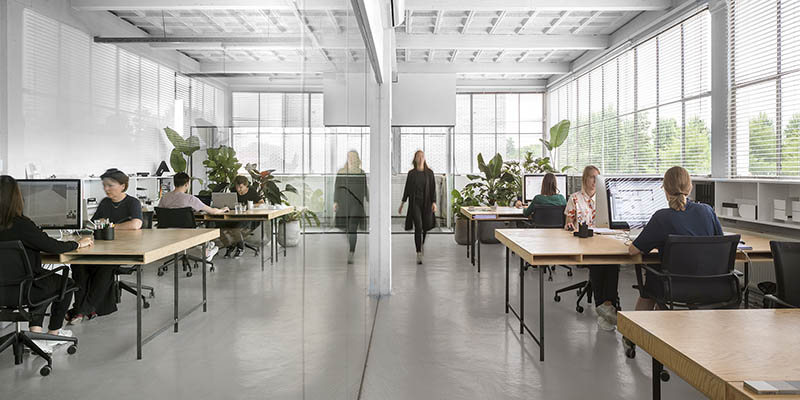 i29 office
Mecanoo
Mecanoo architecten, officially founded in Delft in 1984, is made up of a highly multidisciplinary staff of creative professionals from 25 countries. They are amongst the most well know Dutch architecture firms in the World. The team includes architects, engineers, interior designers, urban planners, landscape architects and architectural technicians. Mecanoo is led by creative director/founding partner, Francine Houben, design and research director/partner Dick van Gameren, technical director Friso van der Steen, and financial director Peter Haasbroek.
Oude Delft 203, 2611 HD Delft, The Netherlands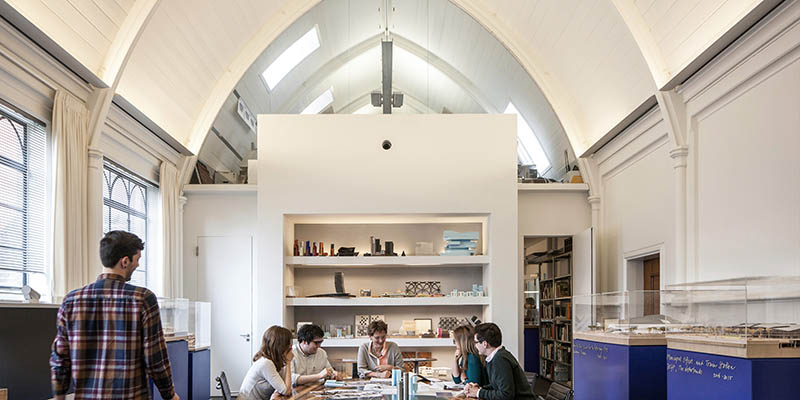 Mecanoo office
KAAN Architecten
KAAN Architecten is a Rotterdam and São Paulo based architectural firm operating in a global context and merging practical and academic expertise within the fields of architecture, urbanism and research on the built environment. The studio is led by Kees Kaan, Vincent Panhuysen and Dikkie Scipio. KAAN Architecten's projects transcend the traditional notion of scale and typology, ranging from furniture and interiors to urban development and from retail and offices to museums and buildings for health and education. KAAN Architecten has moved to a new office, marking a page-turn for the expanding architectural practice.
Boompjes 255 3011 XZ Rotterdam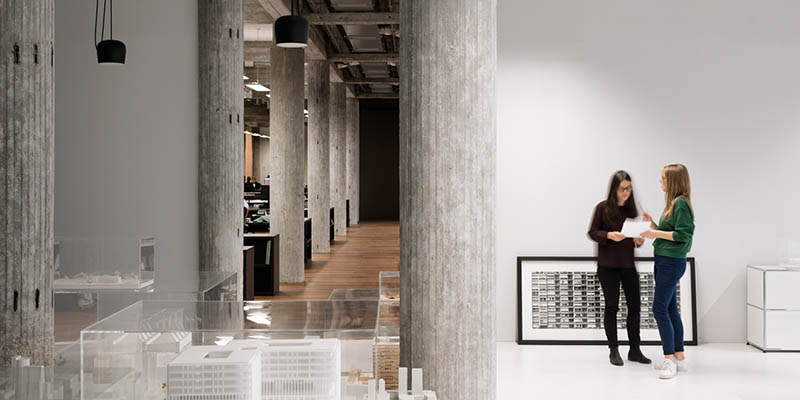 KAAN Architecten | Photography: Simone Bossi
O.M.A.
Based in Rotterdam and led by Rem Koolhaas, Ellen van Loon, Reinier de Graaf, Shohei Shigematsu, Iyad Alsaka, Chris van Duijn, Jason Long, and Managing Partner-Architect David Gianotten – and maintains offices in Rotterdam, New York, Hong Kong, Beijing, Doha, Dubai and Perth. OMA Office for Metropolitan Architecture is certainly amongst the most famous Dutch architecture firms. As they say, they are operating within the traditional boundaries of architecture and urbanism. AMO, a think tank within OMA, is a research and design studio that applies architectural thinking to domains beyond.
Heer Bokelweg 149 3032 AD, Rotterdam
Mei architects and planners
Set up in 2003 by architect Robert Winkel and based in Rotterdam, Mei architects and planners is an internationally operating Dutch architectural firm with extensive expertise in the area of redevelopment, transformation, urban planning and inner-city development projects. The work of Mei architects and planners has been widely published and awarded. Mei architects and planners is an enterprising, knowledge-intensive office that focuses on development and innovation in architecture.
Schiehavenkade 150 3024 EZ Rotterdam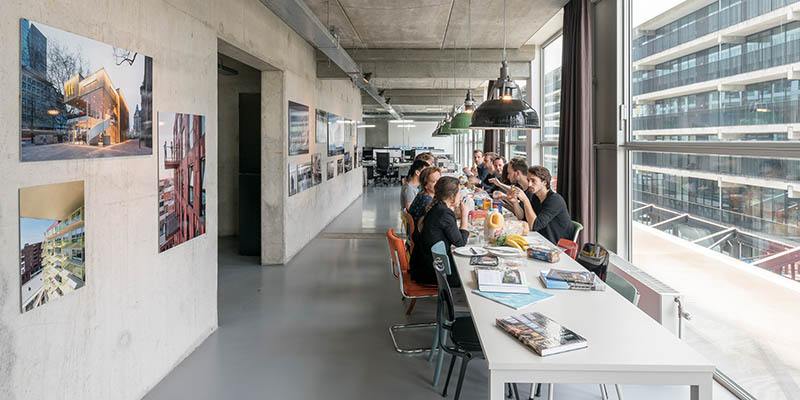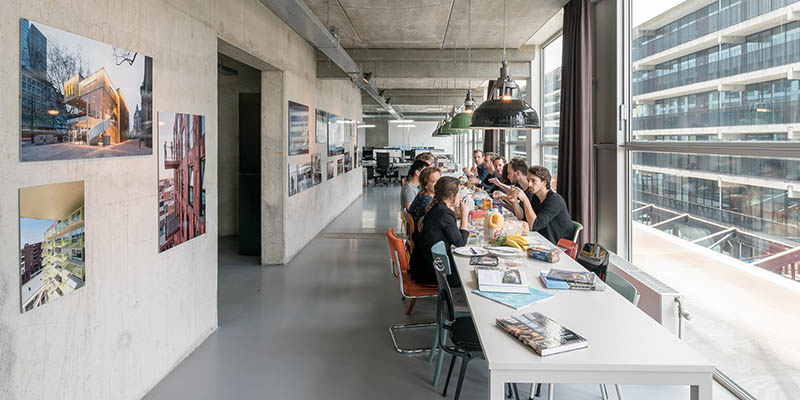 Photography: Ossip
Orange Architects
Orange Architects was established in 2010 in Rotterdam and is led by Patrick Meijers and Jeroen Schipper. Orange Architects is a multidisciplinary design firm, working internationally in the fields of architecture, interior design and urban planning. The goal is to guide clients on a successful path towards inspiring, powerful and rich environments in every design-scale. From urban (re)development to product design; from collective housing to luxurious villa; from office planning to private interior.
Kipstraat 52 3011RT Rotterdam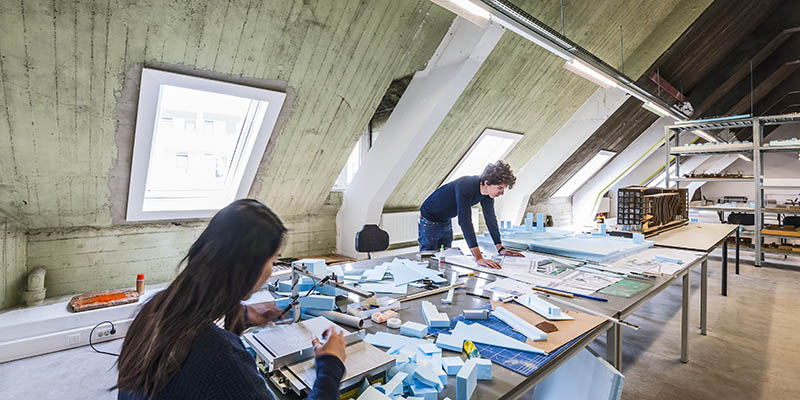 Orange Architects
Studioninedots
Based in Amsterdam, Studioninedots established in 2011 by Albert Herder, Vincent van der Klei, Arie van der Neut and Metin van Zijl as an architecture and urban design practice whose work extends from housing to urban concepts. The practice excels in projects that transform complex urban sites, interweaving the built environment with the social fabric of a city. Studioninedots is fascinated by the processes of (re)using or activating these sites.
Gedempt Hamerkanaal 111 1021 KP Amsterdam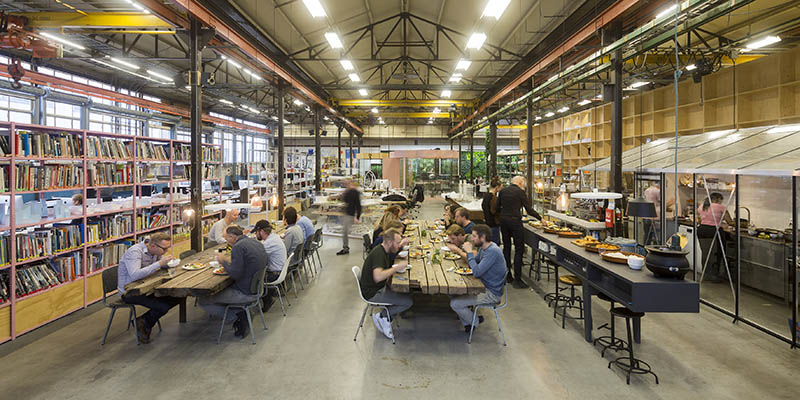 Photography: Luuk Kramer
Concrete Amsterdam
Concrete is a design firm based in Amsterdam. As they say, Concrete thrives by redefining what's come before. They have developed new categories in hotels and restaurants, retail, even pharmacies. They believe that change happens in unexpected moments. It also appears when cultures and concepts collide, which is why they love to work internationally. Their philosophy is no philosophy. They are used to reinvent themselves, adapting according to every project's needs.
OudezijdsAchterburgwal 78a  1012 DR Amsterdam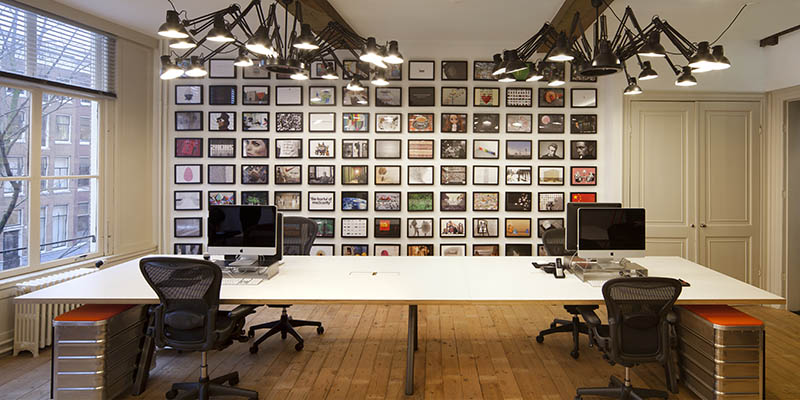 House of Concrete | Photography: Ewout Huibers
Powerhouse Company
Powerhouse Company designs generous architecture that combines a fascination with the craft of architecture, site-specific influences, and our clients' ambitions. This results in meticulously detailed buildings with a distinct presence. Powerhouse Company rises to the challenge of crafting the entire scope of a project for the best end result. Over the years, they have put this approach into practice internationally, refining it in a wide variety of projects from private houses and high-rises to interiors and train stations.
Westzeedijk 399 3024 EK Rotterdam
Benthem Crouwel
Benthem Crouwel was founded in 1979 by Jan Benthem and Mels Crouwel. Together with partners Joost Vos and Marten Wassmann, they direct offices in Amsterdam and Düsseldorf. For more than three decades Benthem Crouwel has been creating innovative, flexible and efficient designs that must meet high standards and complex user requirements. Their field of work extends from (public) buildings to infrastructural projects and urban master plans. Whether they are renovating or modernizing a building or designing a completely new structure, they always seek clear, unique and efficient solutions.
Generaal Vetterstraat 61, 1059 BT Amsterdam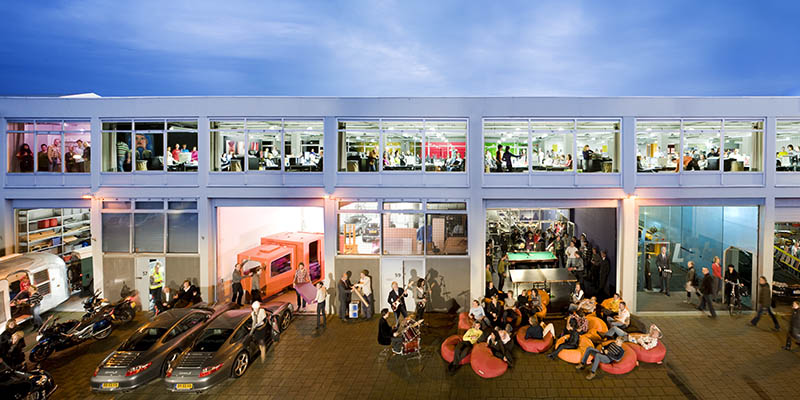 Benthem Crouwel | Photography: Jannes Linders
Hans van Heeswijk Architects

Hans van Heeswijk Architects is an all-round architects practice that was founded in 1985 in Amsterdam. The practice has realised a wide range of buildings and projects, from museums to office buildings, form interior projects to product design. Hans van Heeswijk Architects keyword is "clarity" and they say "above all, architecture should be light".
Ertskade 111 1019 BB Amsterdam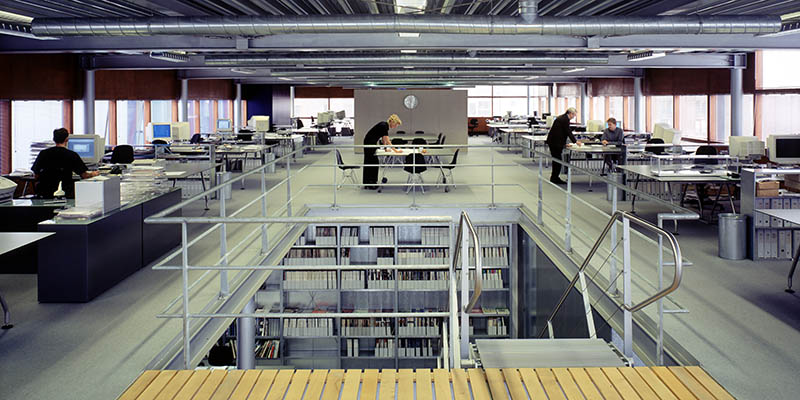 VMX Architects
VMX Architects is an internationally operating prize-winning office founded in 1995 and based in Amsterdam. Their work ranges from the typically dutch bike shed to a VIP terminal at Schiphol airport, and from social housing to university buildings in Shanghai. VMX social commitment is reflected in frequent lectures, contribution to education, participation on advisory councils and juries, and summer schools.
Wamberg 35, 1083CW Amsterdam
MVSA
MVSA is a renowned international architecture with offices in The Netherlands and Switzerland Founded in 1984 by Roberto Meyer, now co-directed by Wouter Thijssen and Charlotte Griffioen, MVSA employs an international team uniting various design and architecture-related disciplines. MVSA Architects mission is to create architectural solutions that enhance well-being. They plan, build and design seamless environments that add functional and emotional value for those who use them, enrich their surroundings, promote sustainability and help companies to succeed. MVSA creates innovative and exciting architecture, future-proof and sustainable, within schedule and budget.
Moermanskkade 600, 1013 BC Amsterdam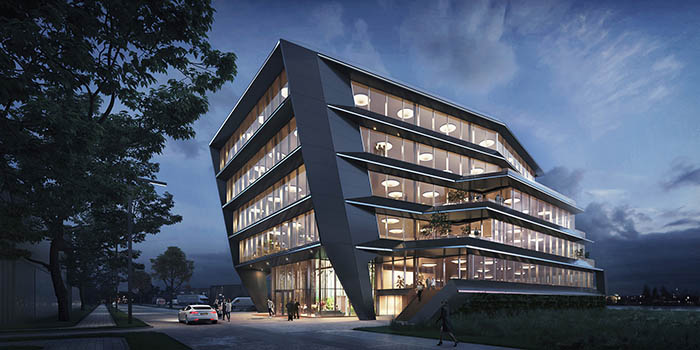 MKA Marc Koehler Architects
Marc Koehler Architects (MKA) is an international design agency founded in 2005 by Dutch architect Marc Koehler. Based in Amsterdam, the practice comprises a multidisciplinary team of architects, designers and engineers. Marc Koehler Architects are in the business of bringing people together. They build for the new ways that people want to live. MKA designs spatial concepts, solutions, and tools that enable people to co-create their living, working, learning or leisure environment, inspiring a more sustainable and creative world.
Keizersgracht 126 1015 CW Amsterdam
Cepezed
Cepezed is an award-winning spatial design specialist founded in 1973, based in Delft and led by Jan Pesman, Ronald Schleurholts and Paddy Sieuwerts. Assignments address the challenges of town-planning, industry, architecture and interior design. At Cepezed, projects are designed as monuments of function for people, not monuments of thanks to an architect. Cepezed uses an integrated design method with multiple material use in which various aspects such as spatial design, construction and installation techniques are forged into an indivisible whole.
Architectenbureau Cepezed, Ezelsveldlaan 61 2611 RV Delft
ZJA
ZJA is an international architectural firm, headquartered in Amsterdam, the Netherlands, and founded in 1990. ZJA is an optimistic team, using an innovative signature to translate often complex assignments into unexpected solutions with added value. Born as a design studio for architecture and product development, ZJA has now developed into a professional architectural office specializing in Sports & Leisure, Infrastructure and Public Transport.
Pedro de Medinalaan 7, 1086 XK Amsterdam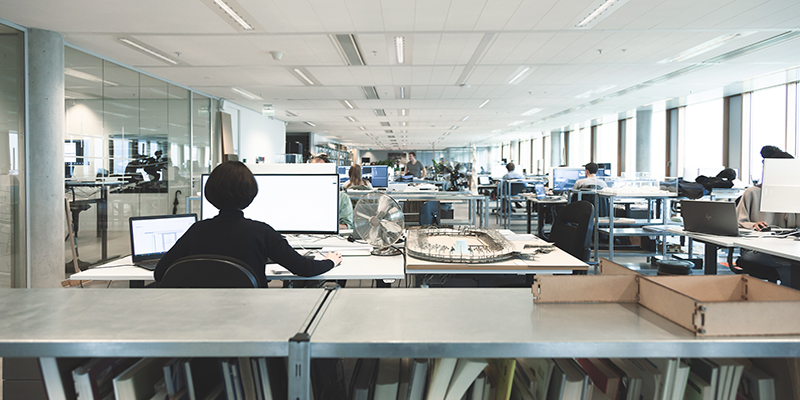 Team V
Team V is one of the youngest Dutch architecture firm. It has been founded in 2013 in Amsterdam. The strength of Team V architecture lies in the precision and character of their response. The architecture of Team V is effective and refined. Robust and functional. Expressive and original. Team V puts the joint result first. They bring their collective expertise with complex projects to the table. In every process, they make use of the competencies of others. Together we create the best possible result.
Jacob Bontiusplaats 9 1018 LL Amsterdam
de Architekten Cie.
Amongst the best Dutch architecture firms de Architekten Cie can't miss. The Amsterdam-based architecture firm has 30 years of experience in the realization of buildings and areas.  They stand for intelligent designs. Designs realized by a diverse team of professional designers. Designers who work from urban planning to architecture and product design and can deliver from sketch design to engineering. Teams of architects and assistants provide the knowledge that is essential for the success of the projects.
Klaprozenweg 75A, 1033 NN Amsterdam
GROUP A
GROUP A is a studio for architecture, interior, urban and product design based in Rotterdam. The office, founded in 1996, is led by Adam Visser, Folkert van Hagen and Maarten van Bremen, and employs 30 designers and 5 support staff. In the past twenty years, they have worked on offices, industrial buildings, housing projects and redevelopments. They are convinced of the need to treat interior design, architecture and surrounding urban landscape as mutually interactive parts of any design solution.
Keilestraat 9F, 3029 BP Rotterdam
Wiel Arets Architects
Last but not least, amongst the best architecture firms in the Netherlands: Wiel Arets Architects. WAA is a globally active architecture and design firm based in Amsterdam, whose work extends to education and publishing. Comprised of an international team of architects, designers, thinkers, and administrators, the firm is currently involved in a large number of projects throughout Europe, North America, Asia, and Africa. Its architecture and design emerges from research and a balance of hybrid-programming solutions, which adapt to and anticipate future contextual change. The output of WAA is acclaimed for both its craftsmanship and tactility.
De Lairessestraat 41 1071 NS Amsterdam
This virtual tour amongst the best architecture firms in the Netherlands is based on our knowledge and researches. If you want to suggest someone that is missing, and we are sorry for that, feel free to contact us at info(at)archivibe.com!
Are you curious about our other best of?
Here below you can find all our other selections of top architecture companies in the World and in Europe: