Starting with the turn of the new millennium, a lot of premium architecture firms in Denmark have flourished both at home and abroad. The trend in contemporary architecture is the emergence of a new generation of successful Danish architecture firms inspired both by international trends and by the Scandinavian modernist tradition, a perfect infusion of cutting-edge design and practical functionality based on social and environmental sustainability.
Top architecture companies in Denmark
Summary
BIG – Bjarke Ingels Group
Henning Larsen Architects
C.F. Møller Architects
Lundgaard & Tranberg
3XN Architects
Schmidt Hammer Lassen Architects
Gottlieb Paludan Architects
Norm Architects
COBE Architects
Dorte Mandrup Architects
CEBRA
JDS – Julien De Smedt Architects
Dissing+Weitling
EFFEKT
PLH Architects
Rørbæk & Møller Architects
KHR Architects
WE Architecture
BRIQ
Christensen & Co Architects
Arkitema Architects
JAJA Architects
Lendager Group
KANT part of SWECO
ADEPT
AART
Karlsson Architects
BIG – Bjarke Ingels Group
BIG is probably one of the most wellknown architecture firms from Denmark. It is a Copenhagen, New York and London based group of architects, designers, urbanists, landscape professionals, interior and product designers, researchers and inventors. Bjarke Ingels founded BIG – Bjarke Ingels Group in 2005 after co-founding PLOT Architects in 2001 and working at OMA in Rotterdam. BIG's architecture emerges out of a careful analysis of how contemporary life constantly evolves and changes. Not least due to the influence from multicultural exchange, global economical flows and communication technologies that all together require new ways of architectural and urban organization. They believe that in order to deal with today's challenges, architecture can profitably move into a field that has been largely unexplored. A pragmatic utopian architecture that steers clear of the petrifying pragmatism of boring boxes and the naïve utopian ideas of digital formalism.
Kløverbladsgade 56 2500 Valby, Copenhagen Denmark
Courtesy: BIG – Bjarke Ingels Group
Henning Larsen Architects
Henning Larsen Architects is one of the most progressive and professional architecture practices in Denmark and worldwide. Founded in Copenhagen in 1959 by Henning Larsen where he was active for more than 50 years. Henning Larsen designed a vast array of important works of architecture in Denmark and abroad. He was often described as the "Master of Light". Henning Larsen is a studio made up of a highly specialized team of architects, designers, engineers, thinkers and doers. Their architectural approach is based on curiosity and artistic audacity, resting on a solid foundation of knowledge-based design and attention to detail. Henning Larsen Architects projects are designed as generous gestures, reaching out to their audience and allowing them to experience the unexpected. Their field of work is defined by people, daylight, and space. The solution is living architecture, designed for people.
Esromgade 15, opg 2, st. 2200 Copenhagen, Denmark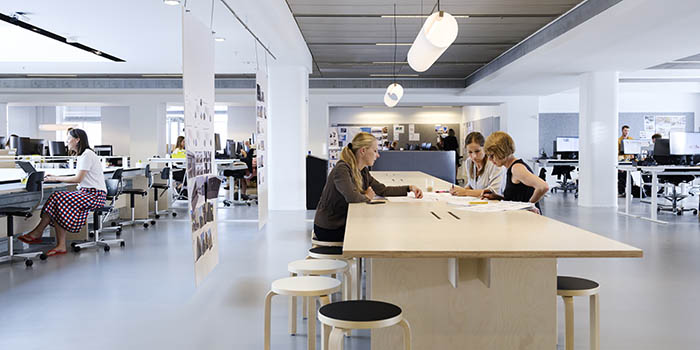 Courtesy: Henning Larsen Architects | Photography: Peter Nørby
C.F. Møller Architects
C.F. Møller Architects is one of Scandinavia's leading architectural firms, with 90 years of award-winning work in the Nordic region and worldwide. Since their founding in Denmark in 1924, they have contributed significantly to the development of welfare societies in Scandinavia and the rest of the world. Today C.F. Møller has offices in Aarhus, Copenhagen, Aalborg, Oslo, Stockholm and London. They are continuously recognized and awarded internationally for setting new architectural standards, due to their strong focus on the functional, artistic and social value of architecture. In fact, their design solutions are methodically and holistically created following a rigorous analysis of the local context. They look to set new global standards by fostering a design approach which uniquely integrates urban planning, landscape, architecture and design of specific building components.
Europaplads 2, 11. 8000 Aarhus, Denmark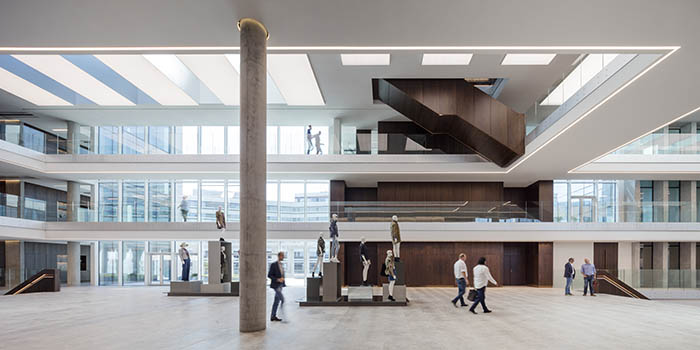 Courtesy: C.F. Møller Architects | Photography: Adam Moerk
Lundgaard & Tranberg
Lundgaard & Tranberg was founded in Copenhagen in 1985 by the architects Boje Lundgaard and Lene Tranberg. Since then, the firm has made its name as one of Denmark's most respected and award-winning architecture firms. The firm works with the development and realization of architecture in the form of buildings, urban and landscape planning and product design. They work with both new buildings and renovation projects. In each and every project, Lundgaard & Tranberg aim to create visionary, site-specific and sensuous architecture that makes a positive contribution to people's lives and to the community at large. The Danish architecture firm is rooted in the Nordic architecture tradition with humanism, simplification and craftsmanship as core values.
Pilestræde 10, 3. sal 1112 Copenhagen, Danmark
3XN Architects
3XN Architects was founded in Aarhus, Denmark in 1986 by young architects Kim Herforth Nielsen, Lars Frank Nielsen and Hans Peter Svendler Nielsen. The three Nielsens quickly developed a reputation for creating buildings of substance with compelling aesthetics, supported by a strong theoretical foundation. This heritage continues to inform their work today, as they bring 3XN's vision to clients all over the world. They work on a global scale but take pride in their history and Scandinavian roots bounded by humanistic values. This allows them to re-invent tradition with a clear understanding of some of the most exciting and pressing challenges of the 21st century.
Kanonbådsvej 8 1437 Copenhagen, Denmark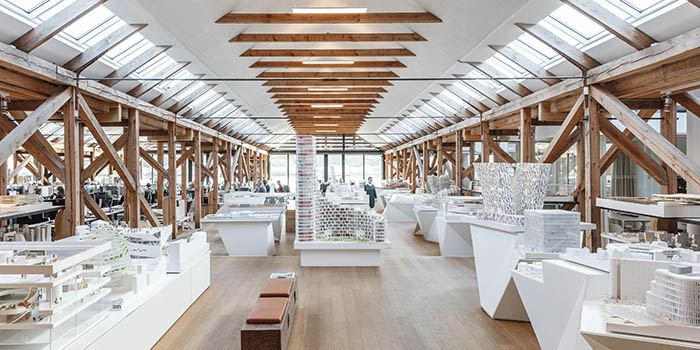 Courtesy: 3XN Architects | Photography: Rasmus Hjortshøj
Schmidt Hammer Lassen Architects
Schmidt Hammer Lassen was founded in Aarhus, Denmark in 1986 by architects Morten Schmidt, Bjarne Hammer and John F. Lassen. With more than 30 years of experience, Schmidt Hammer Lassen Architects is one of the most award-winning and amongst the best architecture firms in Denmark. Working out of studios located in Copenhagen, Aarhus and Shanghai, they provide skilled architectural services all over the world, with a distinguished track record as designers of international high-profile architecture. Schmidt Hammer Lassen Architects is deeply committed to the Nordic architectural traditions based on democracy, welfare, aesthetics, light, sustainability and social responsibility. In 2018, Schmidt Hammer Lassen became part of global architecture and design firm Perkins+Will.
Njalsgade 17A Pakhus 2 2300 Copenhagen, Denmark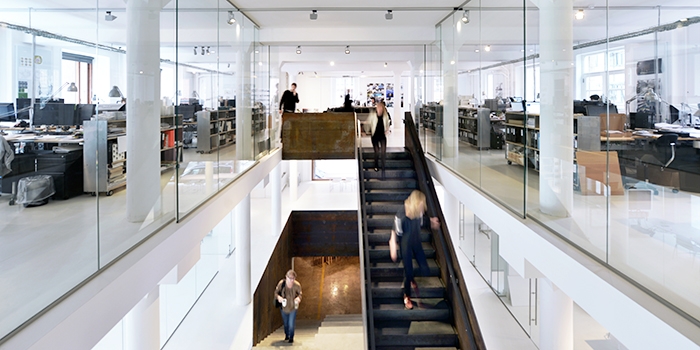 Courtesy: Schmidt Hammer Lassen Architects
Gottlieb Paludan Architects
Founded in Copenhagen in 1901, Gottlieb Paludan Architects is a large Scandinavian architectural company with offices in Denmark and Norway, and has been run by changing generations of architects since then. These days, Gottlieb Paludan Architects is a Scandinavian architectural company with a broad international outlook. Their objective is to create greater cohesion through architecture that connects people and urban spaces and that supplies the necessities for everyday living. Working out of offices in Copenhagen, Malmö, Oslo and Trondheim, they strive to create architecture that understands, connects and enriches the whole world. 
Orientkaj 4, 2150 Nordhavn, Copenhagen, Denmark
Norm Architects
Amongst the best architecture firms in Denmark cannot miss Norm Architects. Founded in 2008, Norm Architects works in the fields of industrial design, residential architecture, commercial interiors, photography and art direction. Situated in one of the oldest streets of Copenhagen, Denmark, Norm Architects respects their context and builds on the traditions of Scandinavian design—of timeless aesthetics, natural materials and upholding Modernist principles of restraint and refinement. Through exploring what it is that heightens the human senses regardless of personal preference, their projects strip spaces, objects, ideas and images back to their simplest form. Their expertise lies in finding the balance—when there's nothing more to either add or take away.
Snaregade 14 1205 Copenhagen, Denmark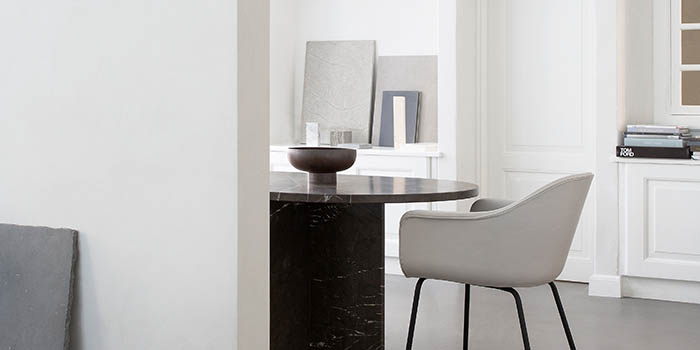 Courtesy: Norm Architects
COBE Architects
Amongst the best architecture firms in Denmark here will list COBE Architects a progressive and contemporary community of architects that focuses on architecture and design – from buildings to public space, to large scale urban planning. COBE Architects is situated in a refurbished warehouse centrally located on the Copenhagen harbor front in Nordhavn, Copenhagen, and currently employs approximately 130 dedicated architects, urban planners and administrative staff of different nationalities. They aim to create social interaction through all their projects with an inclusive approach to architecture based on social, practical, economical and environmental issues integrated within the process.
Pakhus 54 Orientkaj 4, st. 2150 Nordhavn, Denmark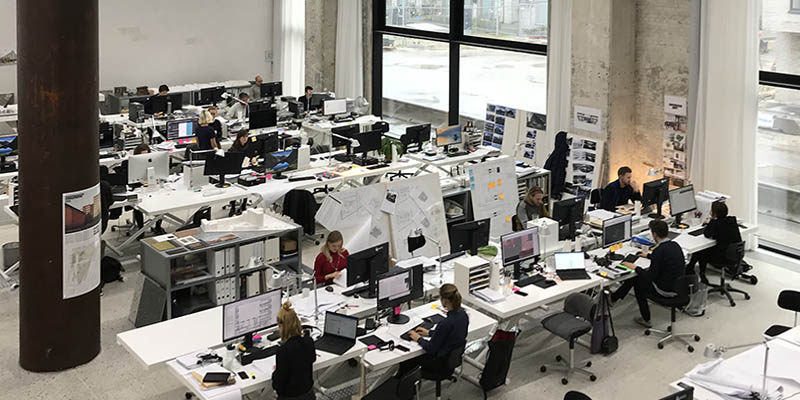 Courtesy: COBE
Dorte Mandrup Architects
Dorte Mandrup Arkitekter is a Danish practice based in Copenhagen and founded in 1999. Danish architect Dorte Mandrup-Poulsen is the Founder and Creative Director of the architectural practice. Originating from a background in sculpture and ceramics, Dorte Mandrup's approach to architecture has always been 'hands-on'. Shape and form constitute the company ethos – to create spaces which are aesthetically pleasing, contextually relevant, and invite people to engage. Driven by a devout belief in the possibilities of modern architecture and an experimental curiosity that insists on outstanding craftmanship – Dorte Mandrup Arkitekter team combines a firm grasp on reality with a knack for dreaming out loud.
Vesterbrogade 95A, 4th floor 1620 Copenhagen, Denmark
CEBRA
CEBRA is a both young and experienced Danish architectural design practice, based in Aarhus and in Abu Dhabi. It was founded in 2001 by architects Mikkel Frost, Carsten Primdahl and Kolja Nielsen and currently employs an international and multidisciplinary staff of 50 at their offices in Aarhus, DK and in Abu Dhabi, UAE. In April 2017, architect MAA Mikkel Hallundbæk Schlesinger entered the group of partners, which now consists of the three founding partners Mikkel Frost, Carsten Primdahl, Kolja Nielsen and new partner Mikkel Hallundbæk Schlesinger. They develop projects from first draft to final documents, from drawing board to on-site supervision. Their portfolio consists of Danish as well as international projects, ranging from research projects to a multitude of built work.
Vesterbro Torv 3, 2nd floor 8000 Aarhus, Denmark
JDS – Julien De Smedt Architects
Founded and directed by Julien De Smedt (co-founder of PLOT), JDSA is a multidisciplinary office that focuses on architecture and design, from large scale planning to furniture. JDSA currently employs some 30 people with offices in Copenhagen and Brussels. At the core of their architecture is the ability to take a fresh look at design issues through experienced eyes. Their approach aims at turning intense research and analysis of practical and theoretical matters into the driving forces of design. By continuously developing rigorous methods of analysis and execution, JDSA is able to combine innovative thinking and efficient production. JDSA works with corporate, government and private clients in numerous countries to realize civic, residential, office, commercial, healthcare, educational, and waterfront development projects.
Ryesgade 23, 2nd Floor 2200 Copenhagen, Denmark
Dissing+Weitling
Led by five partners, Dissing+Weitling consists of around 50 architects, designers, technicians and administrative personnel. Danish award-winning architecture firm works since more than 50 years within the field of mobility, building and renovation: they design headquarters, workspaces and hotels, and they renovate and transform the built cultural heritage. Dissing+Weitling are also behind the bridge you drive, cycle or walk over. Their bridge experts design bridges and develope green urban solutions of all scales, ranging from carefully articulated pedestrian and bicycle bridges to notable, long-span structures. Their portfolio includes projects in more than 40 countries
Artillerivej 86, 3. tv. 2300 Copenhagen, Denmark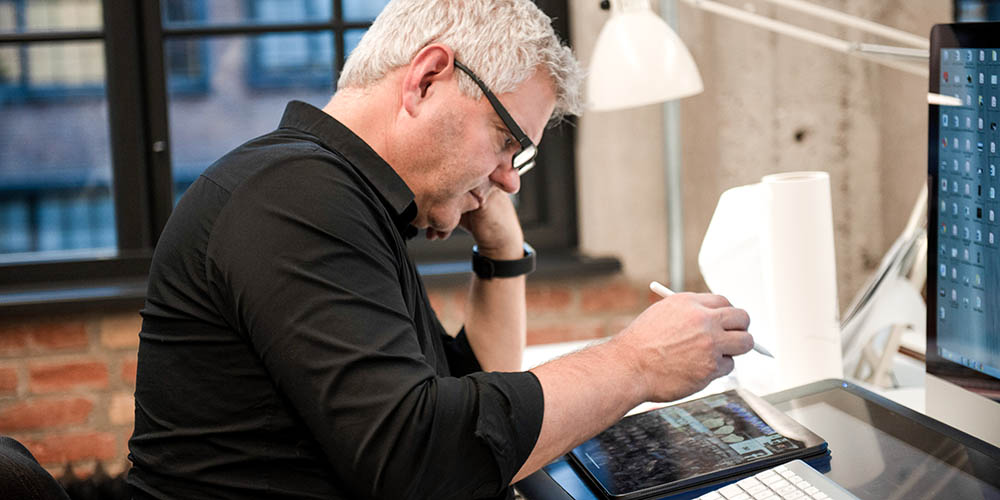 Courtesy: Dissing+Weitling
EFFEKT
EFFEKT is the Danish word for impact. Founded by Sinus Lynge and Tue Foged, they are a collaborative office based in Copenhagen. As part of the new generation of Danish architects revitalizing the Nordic tradition, EFFEKT has in recent years distinguished themselves on both the national and international scene through highly profiled and award-winning projects within architecture and urban planning. Our approach is rooted in the humanistic Scandinavian design tradition that focuses on honest, intuitive and empathic design centered around the human scale, democratic values and a pragmatic approach to function and form in relation to physical and social context. They work with architecture and planning in a broader sense, creating positive change by incorporating new technologies and interdisciplinary knowledge they develop responsible projects that create lasting value for all stakeholders.
Blågårdsgade 8, 2. sal 2200 Copenhagen, Denmark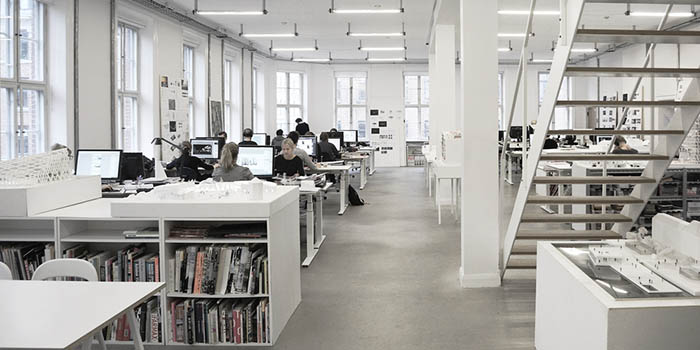 Courtesy: EFFEKT
PLH Architects
PLH Arkitekter was founded by Palle Leif Hansen (1948-1997) in 1977. He was a visionary and, at that time, a controversial leader, that was not afraid to pave a new way with a professionalized and commercial approach to the architectural industry. The firm quickly developed to one of the biggest practices in Denmark and with major Danish and international corporations as a core client base. User-centered design, developed in close dialogue with clients, was already from its inception a foundation stone in PLH's architectural approach.
Vermundsgade 38K 2100 Copenhagen, Denmark
Courtesy: PLH architects
Rørbæk & Møller Architects
Rørbæk og Møller Arkitekter is an architectural firm based in Copenhagen. The company was founded by Peer Hougaard Nielsen og C.J. Nørgaard Pedersen in 1950. Birte Rørbæk and Lars Møller have been partners from 1976 and the company assumed its current name when they took full ownership of the company in 1989. The current partner group in the company consists of Bente Rørbæk Jørgensen, Nicolai Overgaard and Anders Wesley Hansen.
Thoravej 7, 1. sal, 2400 Copenhagen, Denmark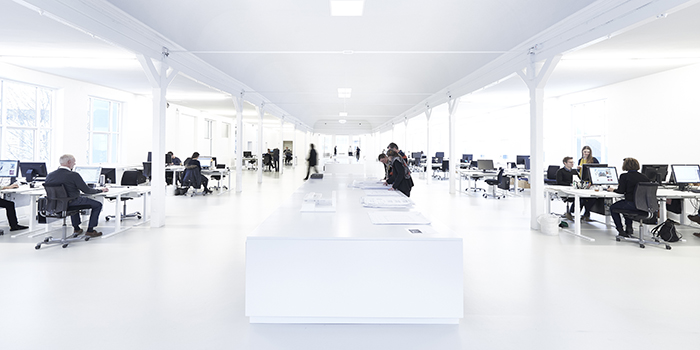 Courtesy: Rørbæk og Møller
KHR Architects
KHR Arkitekter, formerly known as KHRAS, is a Danish architecture firm founded in 1946 and based in Copenhagen. The company was founded by Gunnar Krohn and E. Hartvig Rasmussen. During the 1960s, the company started focusing on European styles applied to public buildings in Denmark. KHR Arkitekter explores the boundaries of architecture with curiosity and do not shy away from experimenting with new methods and materials. Their architecture has a clear Nordic standpoint in the sense that they strive for a simple and clear mode of expression where the individual, the place and the function are in focus. For KHR Architecture, a house is not just a house. Architecture is more than mere form, function and colour. Great architecture changes the way we look at the world and creates new modes of living and working.
Kanonbådsvej 4b, 1437 Copenhagen, Denmark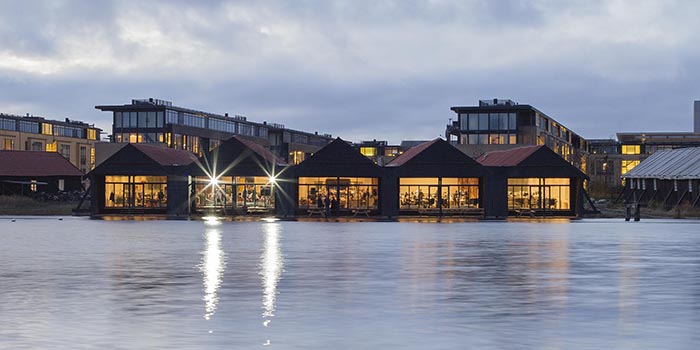 Courtesy: KHR Architecture
WE Architecture
Founded in 2009 by Marc Jay and Julie Schmidt-Nielsen, WE Architecture is a young innovative architecture office based in Copenhagen.
WE Architecture capabilities include architecture, urban strategies, tangible design, utopian ideas and visual construction.
The name WE Architecture is based on the philosophy that architecture is not the result of only one person's stroke of genius. WE Architecture believes that the best results occur through teamwork and transdisciplinary networks. That is why WE Architecture works across continents as well as across professional borders to enter complex conditions with the best insight and precision. They create proposals that merge through creative translation of all the information we get from contexts, conditions and programs. WE Architecture strives to push innovative architecture forward to improve the condition of the world.
Njalsgade 21E, 2. sal, 2300 Copenhagen, Denmark
BRIQ 
BRIQ is a Copenhagen-based design- and architecture studio working in the fields of urban life, architecture and spatial design. Their mission is to create spaces that bring people together to live, work, and socialize approaching each space as if we they are going to live there themselves. They believe in the fact that hospitalization is needed in all public spaces and that they, because of their retail heritage, offer their clients a product that is deeply rooted in the identity of the bespoke city. At the same time, BRIQ balances aspects of recreational space, commercial space, and cultural space.
Olivia Hansens Gade 3, 5th floor DK-1799 Copenhagen, Denmark 
Christensen & Co Architects
Christensen & Co. is an award-winning international architectural practice based in Copenhagen. It was founded by Michael Christensen in 2006. Today, the partner group consists of Creative Director & Founding Partner Michael Christensen, CEO Vibeke L. Lindblad and Thomas Nørgaard, Mikkel H. Sørensen and Michael Larsen. Since 2006, they have made architecture that challenges conventional thinking. This has resulted in a wide range of buildings, which has received international recognition and awards. Their works include culture and sports facilities, institutions, advanced educational buildings and universities, as well as commercial and residential properties. People are at the center of all their projects and Christensen & Co strive to create architecture that strengthens and supports social interaction.
Bragesgade 10 B DK-2200 Copenhagen, Denmark
Arkitema Architects
Now owned by Danish engineering company Cowi, Arkitema Architects is a Danish architectural firm headquartered in Aarhus with branch offices in Copenhagen, Stockholm, Oslo and Malmö. The firm was founded in 1969 as Arkitektgruppen Aarhus by five students from the Aarhus School of Architecture after they won a competition for the design of an expansion of Køge Town Hall. They were Helge Tindal, Ole Nielsson, Michael Harrebæk, Eriling Stadager and Lars Due. Today Arkitema Architects has 14 partners. Arkitema has designed a broad range of architectural projects, from minor expansions and renovations to large redevelopment, infrastructural, residential and urban design projects.
Frederiksgade 32 8000 Aarhus, Denmark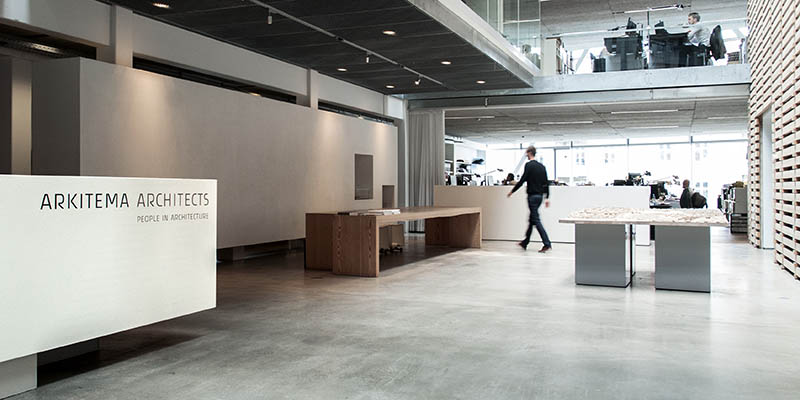 Courtesy: Arkitema Architects
JAJA Architects
Working across scale and traditional boundaries, JAJA Architects strives to create architecture, landscape, and urban planning from a holistic perspective. They aim to make each intervention a distinct, yet natural part of its environment, to create a dialogue between the project and the inherent qualities of the location. JAJA believes that projects with strong roots in their physical environment create greater experiences and added value, not only to the project but also to the surrounding community.
Heimdalsgade 35, 3. baghuset 2200 Copenhagen, Denmark 
Lendager Group
Last but not the least, amongst the best architecture firms in Denmark we have to quote Lendager Group. The Danish architecture firm is specialized in promoting circular economy within future cities, buildings and companies across its three legs: Lendager ARC, Lendager UP and Lendager TCW. Lendager Group offers an innovative approach to the dissemination of circular economy and the new business models that arise from this shift. They contribute in creating a future where economic growth is decoupled from greenhouse gas emissions. Because they can show through pioneering development projects that theories and ambitions can be translated into tangible results that make a real difference!
Sundkaj 11, Pakhus 48, 2150 Nordhavn, Denmark
KANT part of SWECO
Over the past several years, KANT arkitekter has created a strong position within strategic partnerships as well as private and public construction, especially in Eastern Denmark, and with the acquisition achieves a balanced position between public and private construction throughout the country. Established in 1977, today the company has around 75 employees in one office location in Copenhagen. From March 2020, KANT arkitekter became part of the largest European architectural and engineering company, Sweco.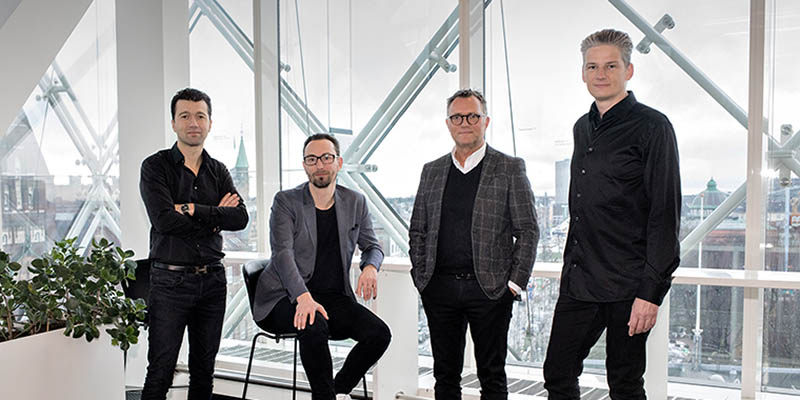 Courtesy: Kant part of Sweco
ADEPT
ADEPT is an architecture firm based in Copenhagen. The studio is creatively lead by the partners Anders Lonka, Martin Krogh, Martin Laursen and associate partner Simon Poulsen. They design architecture, public space and large-scale urban plans with a cross-disciplinary team of architects, landscape architects, engineers and urban planners. They believe that generosity manifests itself in architecture that moves beyond solving specific needs. ADEPT aims to create spaces that offers new value to users and surroundings.
Struenseegade 15A, 4. 2200 Copenhagen, Denmark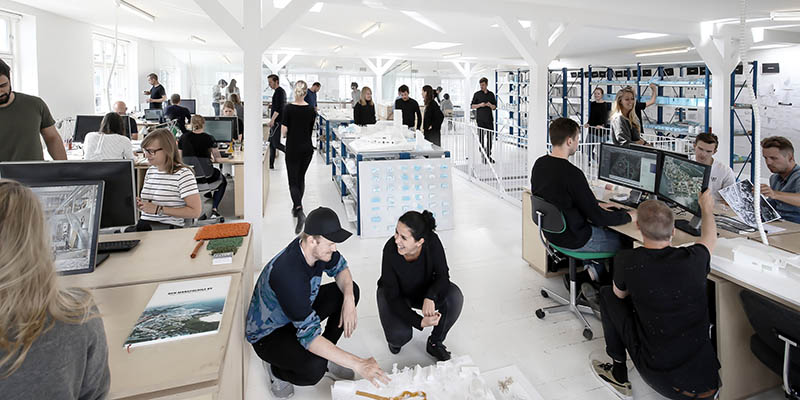 Courtesy: ADEPT
AART
AART is one of Denmark's leading architectural firms with 150 employees across offices in Aarhus, Copenhagen, Oslo, and Stockholm. As a full-service architectural firm, AART provides consulting across scale and sector. They do this based on a holistic focus, where they include the right skills at the right times in the process. Together with their clients they challenge the framework for the given project – with the aim to create the greatest possible impact on both the social, economic and environmental bottom line.
Mariane Thomsens Gade 1c, 8000, Aarhus, Denmark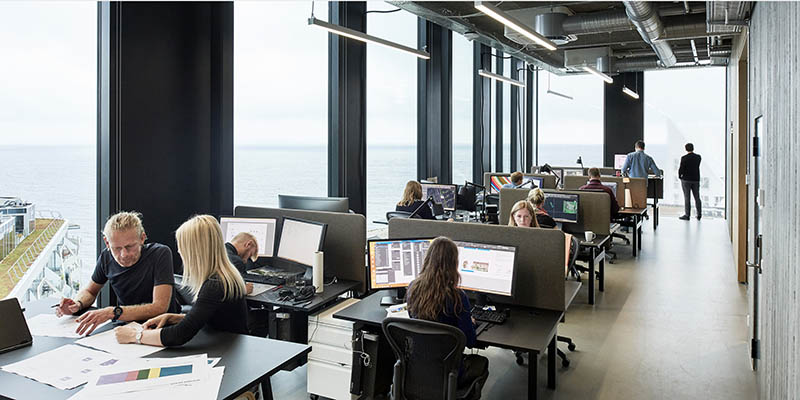 Courtesy: AART
Karlsson Architects
Karlsson Architects is founded in 2007 and has through several competitions and completed projects marked itself as an ambitious, innovative and service minded architectural practice. They work with a broad spectrum of assignments from lead consultancy and planning to cultural heritage and the buildings of tomorrow. Specialized in visionary psychiatry, healthcare and care centers, Karlsson Architects aims to develop sustainable concepts as a foundation of design and project development through analysis of program, location and client.
Wilders Plads 8E 1403 Copenhagen, Denmark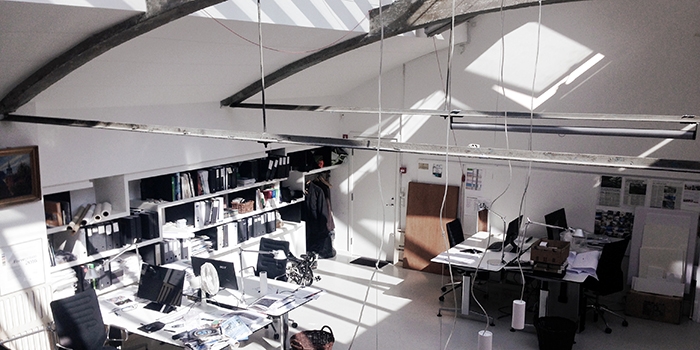 Courtesy: Karlsson Architects
This is just our selection of top architecture firms in Denmark based on our knowledge and researches. If you want to suggest someone that is missing, and we are sorry for that, feel free to contact us at
info @ archivibe.com

!

Here below you can find all our other selections of top architecture companies in the World and in Europe: