Modern architecture in Istanbul is the consequence of many different periods: in the first years of the republic, Turkish architecture was influenced by Ottoman architecture, in particular during the First National Architectural Movement. Then The Republic of Turkey was trying to release itself from the Ottoman image and creating a combination of nationalism in the ideal Republic. (Read more here > "Turkish architecture, in balance between history and future")
The influence of this style started to diminish due to the next wave of influences, especially International Style and Rationalism.
Turkey endured various kinds of political and economic crises which affected even the Turkish architecture sector and consequently the modern architecture in Istanbul. Despite these hardships, architects were able to design some important buildings.
At the beginning of the '50s, a new generation of architects such as Hayati Tabanlıoğlu, Nevzat Erol, Turgut Cansever, Abdurrahman Hancı, Cengiz Bektaş, Enver Tokay, İlhan Tayman and Yılmaz Sanlı became more influential in the architectural arena. In this period the government sector was still the leading client.
The liberalization of the economy during the '80s opened the way for the private sector to become the leading influence.
Notable architects from this period include Murat Tabanlıoğlu, Melkan Tabanlıoğlu, Emre Arolat, Behruz Çinici, Merih Karaaslan, Sevinç Hadi, Şandor Hadi, Ersen Gürsel, Mehmet Çubuk, Doğan Tekeli, Sami Sisa,  Hüsrev Tayla, Doğan Hasol, Atilla Yücel, Sema Soygeniş, Murat Soygeniş and Kaya Arıkoğlu, among others.
Istanbul is not only charming! It is huge and chaotic with its 15M inhabitants. 12M tourists per year make it the world's fifth most popular tourist destination…it has been slightly complicated to visit all the architectures we had on our list…and actually, we didn't make it.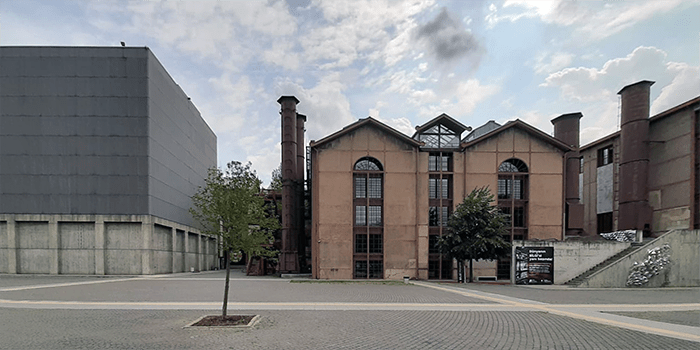 Santralistanbul by EAA Emre Arolat Architects
The first venue we visited is the surprising Santraistanbul an international platform for arts, culture and learning, inspired by a comprehensive, multi-dimensional and interdisciplinary vision that promotes urban regeneration. In its original incarnation, before restoration by EAA – Emre Arolat Architects and conversion into Santralistanbul, the Silahtarağa Power Plant was the Ottoman Empire's first urban-scale power plant. The project's concept has similarity with Tate Modern in London.
Emniyettepe, Kazım Karabekir Cd. No:2, 34060 Eyüp/İstanbul, Turkey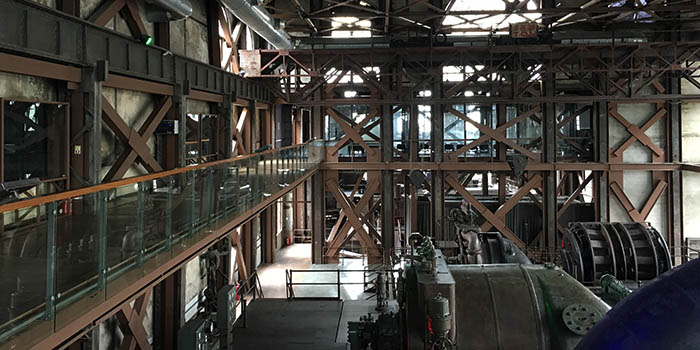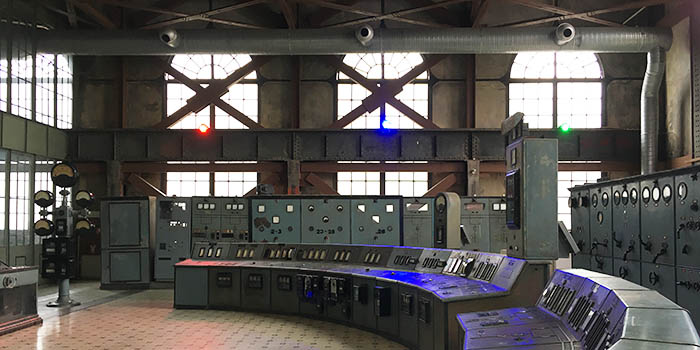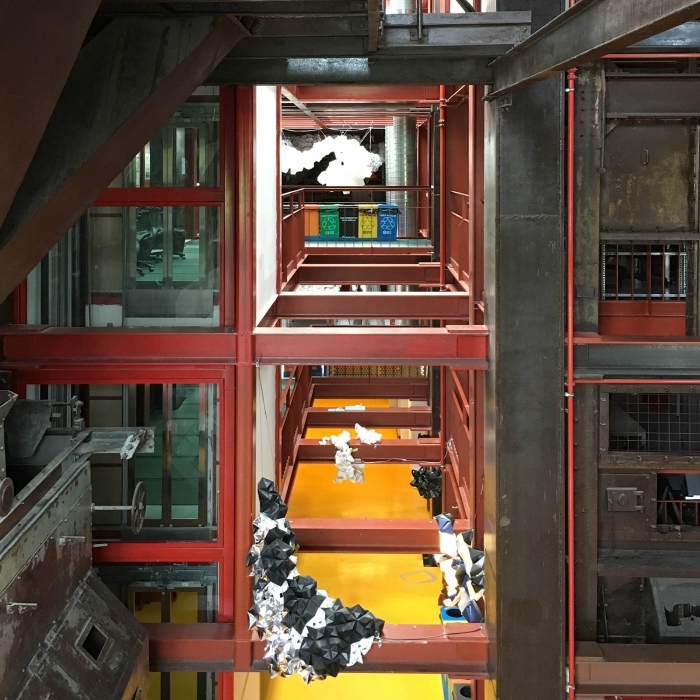 The rainy day led us to visit some multiple-use building complex and their shopping malls in the central business district of Leven.
Istanbul Sapphire, the first ecological skyscraper in Turkey designed by Tabanlıoğlu Architects. It was Istanbul's and Turkey's tallest skyscraper between 2010 and 2016, and the 4th tallest building in Europe when its construction was completed in 2010. Sapphire rises 54 floors above ground level and has an above-ground roof height of 238 meters.
Emniyetevleri, Eski Büyükdere Cd. No:1, 34415 Kâğıthane/İstanbul, Turkey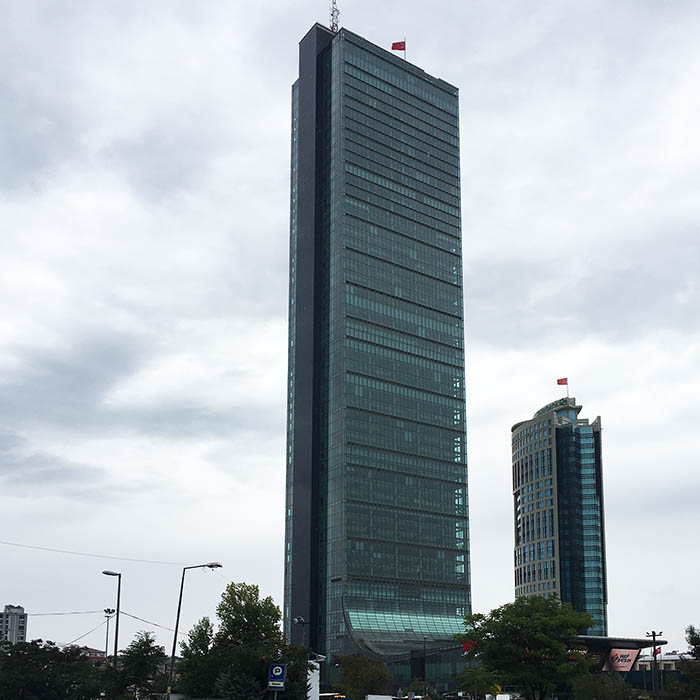 Istanbul Sapphire
Kanyon is a multi-purpose complex. Opened on 6 June 2006, it unites a 160-store shopping mall (covering an area of 37,500 m2), a 30-floor office tower (26 floors of which rise above street level) and a 22-floor residential block with 179 residential apartments into a complex undulating around a dramatic architectural "canyon". It was designed by the American architecture firm Jerde Partnership who collaborated with Tabanlıoğlu Architects.
Levent, Büyükdere Cd. No:185, 34394 Şişli/İstanbul, Turkey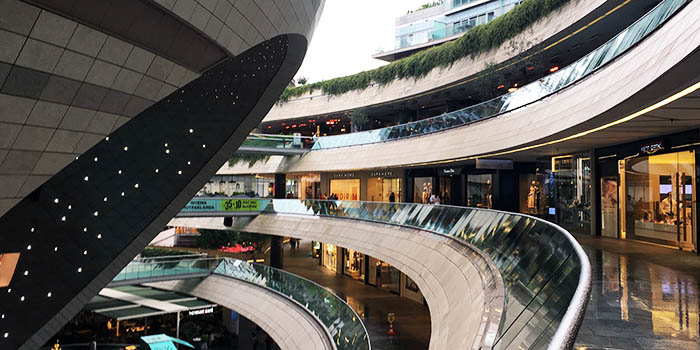 Kanyon Shopping Mall by Jerde Partnership with Tabanlıoğlu Architects.
On the way, we had the chance to admire the striking QNB Finansbank Kristal Tower with its prismatic form designed by the American architecture firm Pei Cobb Freed & Partners.
Esentepe, Kristal Kule Binası, Eski Büyükdere Cd. D:B1 No:215, 34394 Şişli/İstanbul, Turkey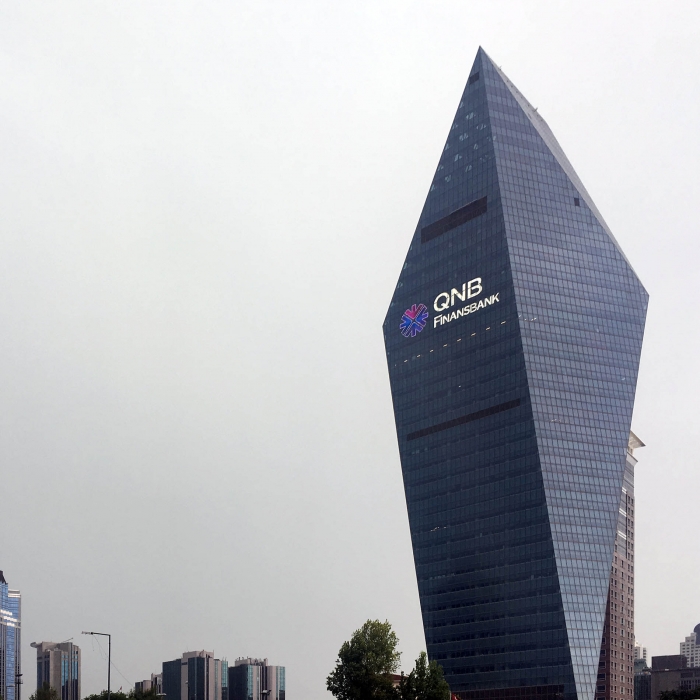 QNB Finansbank Kristal Tower by Pei Cobb Freed & Partners
On the same road, we saw one of the most attractive business centres, Levent 199 by Tabanlıoğlu Architects, and the new İstanbul Tower 205 design by Skidmore, Owings & Merrill (SOM) another modern architecture in Istanbul inspired by the traditional layers found in Seljuk architecture.
Esentepe, Büyükdere Cd. No:199, 34394 Şişli/İstanbul, Turkey
Levent 199 and İstanbul Tower 205
We ended this first day of modern architecture in Istanbul by visiting the fish market in Besiktas, an eclectic area with a village-like atmosphere that is in the process of urban renewal. Actually, we were quite dissatisfied given the state of decay of the building, the triangular-shaped concrete shell is now very different from the original poetic design and idea by Gokhan Avcioglu & GAD.
Sinanpaşa, Mumcu Bakka Sk., 34353 Beşiktaş/İstanbul, Turkey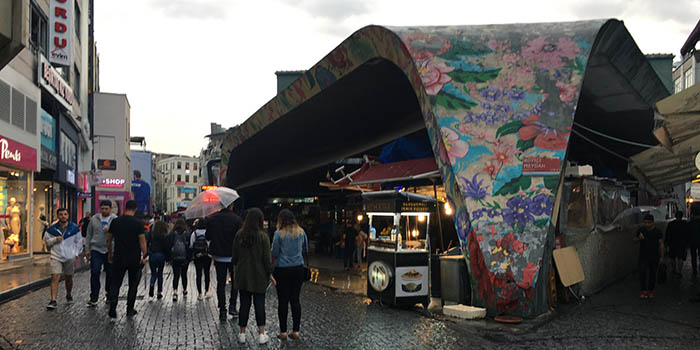 Now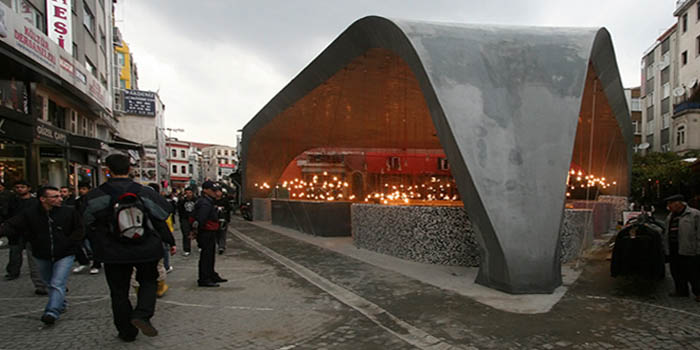 Original design by
Gokhan Avcioglu & GAD
When you will go to visit all the typical architectures and mosques in the Golden Horn do not forget to take a sneak peek at the Beyazit State Library restored by Tabanlıoğlu Architects. The minimal intervention approach ensured the spirit of one of the oldest libraries in Istanbul survives while modern facilities are grafted onto the historic fabric.
Beyazıt, Çadırcılar Cd. No:4, 34126 Fatih/İstanbul, Turkey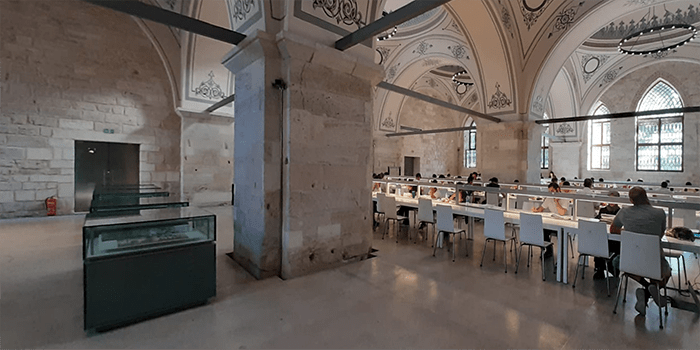 Beyazit State Library
We spent the second day of our tour through modern architecture in Istanbul in the Asiatic part of the city visiting building such as the Palladium Tower by the renowned American architecture firm Swanke Hayden Connell Architects (felt in bankruptcy in 2015) and sculptural Allianz Tower designed, with its solar-responsive skin that alludes to Islamic tradition, by the New York-based architecture firm FXFowle.
Küçükbakkalköy, Kayışdağı Cd. No:1, 34752 Ataşehir/İstanbul, Turkey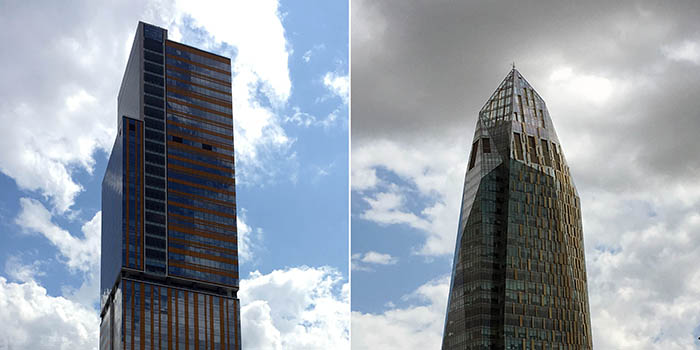 Palladium and Allianz Towers
Not so far from this area, it is easy to reach the Atasehir District where the monumental Varyap Meridian designed by internationally renowned architectural firm RMJM is probably the most notable building complex. RMJM's vision was to create an iconic, innovative and sustainable design that responds to the complex topography of the site. The master plan was inspired by and responds to the unique context and culture of Istanbul, creating value through design excellence. The unique context and culture of Istanbul is incorporated into the design including a spectral tiled facade, ranging from terracotta to blue to white.
Barbaros, Ak Zambak Sokağı O-2, 34746 Ataşehir/İstanbul, Turkey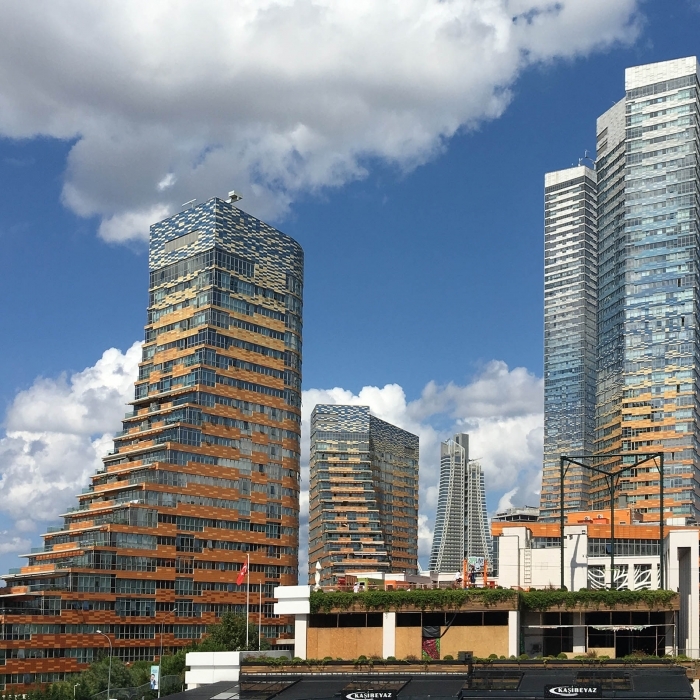 Varyap Meridian by RMJM
After this 30 minutes walk we had to take a taxi to visit the Yeşilvadi Mosque by Adnan Kazmaoğlu MAM Mimarlık Araştırma Merkezi. This mosque contrasts heavily with early church architecture we visited in the Golden Horn that is rectangular, linear axis construction, dogmatic, oppressive and dark.
Fatih Sultan Mehmet, Fatih Sultan Mehmet Cd., 34771 Ümraniye/İstanbul, Turkey
Yeşilvadi Mosque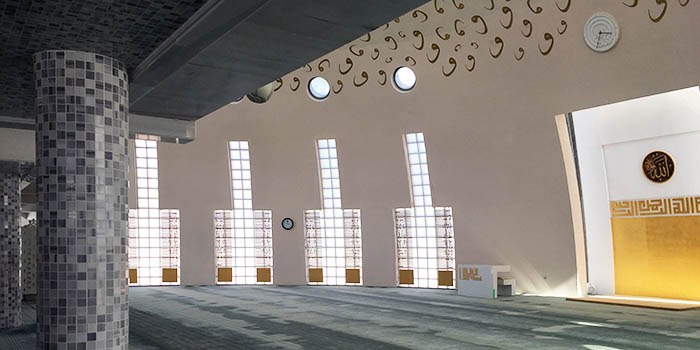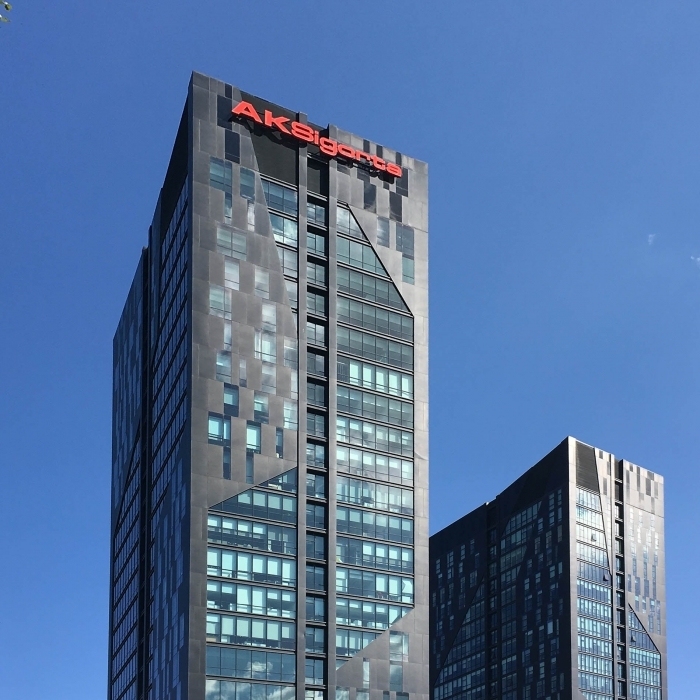 BuYaka office building complex
On the other side of the Bosphorus, the European part of Istanbul was again waiting for us…
Recently added, Arter Contemporary Art Museum by Grimshaw Architects in Istanbul is a the vibrant cultural hub that brings together artists and audiences to celebrate contemporary art in all its forms and disciplines. Conceived as a dynamic multi-layered, interdisciplinary public building for showcasing artistic works, it offers a rich cultural programme to stimulate and challenge its audience.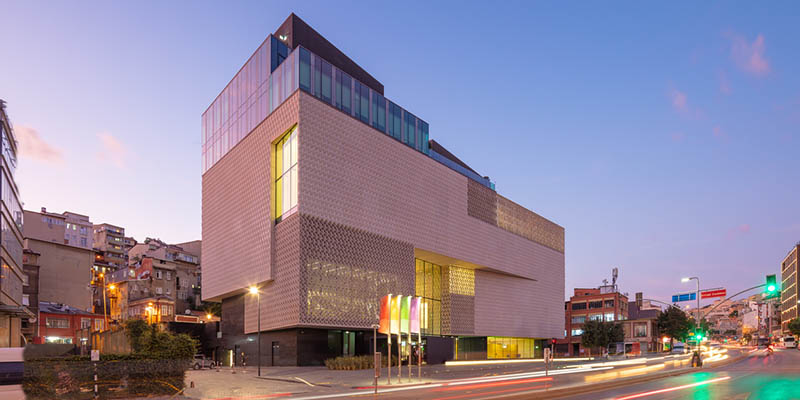 Arter, Istanbul, Turkey. Designed by Grimshaw Architects, 2019.
Before flying back home we cannot fail to admire the vaulted canopy of the new Istanbul airport designed by a team of architecture firms led by London firm Grimshaw which also includes Norwegian firm Nordic Office of Architecture and London studio Haptic Architects. The new stunning Istanbul airport is the world's largest airport terminal "under one roof", covering a site of nearly 100 hectares. 
Tayakadın, Terminal Caddesi No:1, 34283 Arnavutköy/İstanbul, Turkey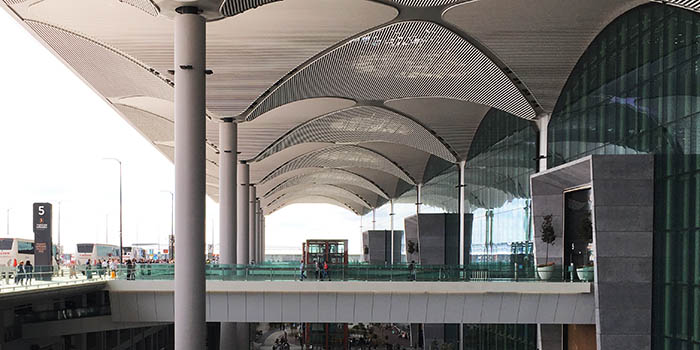 Istanbul Airport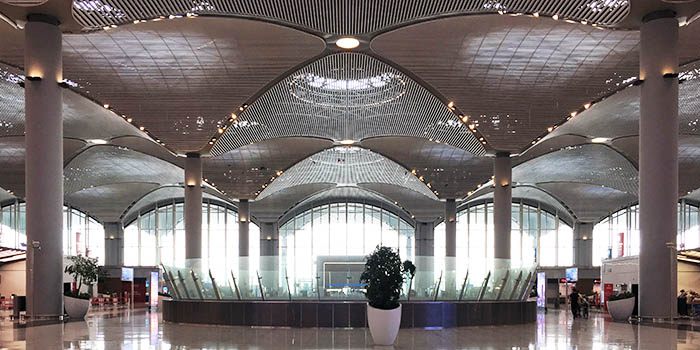 Thank you Turkey! It has been a huge vacation and architecture full immersion!