With just over two  weeks to go, we look at the unmissable things to see and do over the three days at World Architecture Festival 2018.
Wednesday 28th November
Jeanne Gang, founding principal of Studio Gang will take to the main stage on Wednesday 28th November at 11am for the first keynote speech of the day called 'Beyond Binary'. Jeanne will discuss the inherited binary notions of identity, female/male, nature/city, wild/tame – and how they continue to influence architecture and urban design, though science and culture increasingly demonstrate their limits. How can our model of the city evolve when we think beyond oppositional relationships and focus instead on connecting for mutual benefit?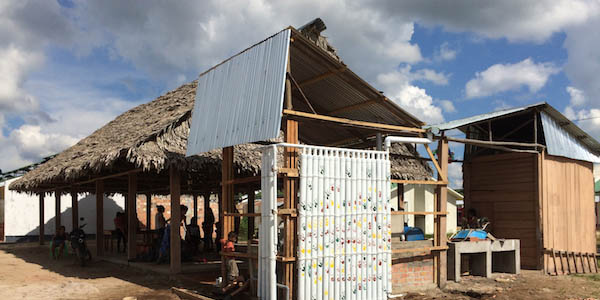 The Water Research Programme is a new initiative supported by World Architecture Festival founder partner GROHE. The winning entrant is a community-led water management system in Peru which captures, stores and treats rainwater and puts it back into pre-existing water networks. The winning team will receive £10,000 towards further research, to be presented at the festival. Find out more about this scheme when the winners talk it through at the Festival Hall stage on Wednesday 28 November at 2pm.
The Rockwool Workshop on Re-thinking cities, on Wednesday 28 November at 4pm, is a fully interactive session looking at the key factors in making urban regeneration successful. It explores how architects can embrace these factors in their work by rethinking their material choices and building methods. Keynote speakers will address themes of urban planning, circularity in the built environment and health and wellbeing, both in interiors and within the public realm.
The MaterialDistrict Pop Up pavilion in the main Festival Hall at World Architecture Festival 2018 provides a wealth of hands-on material inspiration, featuring 100 brands with products suitable for both interior and exterior use. Innovations on display include vegan 'leather', recycled marble and bricks made of paper.
Thursday 29 November
Now in its 20th year, the annual Architectural Review Emerging Architecture (AREA) awards celebrate the architectural stars of tomorrow, this year recognising excellence in entrants' overall body of work and providing them with a platform to reach a global audience. This year's shortlisted practices include Abari, Alejandro Guerrero | Andrea Soto, Ampuero Yutronic, Aulets Arquitectes, Carla Juaçaba Studio, DOMAT, Johansen Skovsted Arkitekter, OJT, Rosmaninho + Azevedo, Studio FH Architects, Studio Weave, T O B Architect, Titan and Yu Momoeda Architecture Office. The 14 finalists' work will be displayed on The Architectural Review's stand in the Festival Hall, with the overall winner announced on the evening of Thursday 29 November.
A keynote talk by Sir David Adjaye, founder and principal at Adjaye Associates, will be chaired by Jeremy Melvin, curator of WAF, on Thursday 29 November from 6.15pm – 7.15pm. Sir David Adjaye established his practice in 2000 and currently has offices in London and New York. The practice's largest commissions to date include the Smithsonian Institution's National Museum of African American History and Culture on the National Mall in Washington D.C. and the Moscow School of Management (SKOLKOVO). Last year Adjaye Associates, Ron Arad Architects and Gustafson Porter + Bowman won a competition to design a National Holocaust Memorial and Learning Centre near the Houses of Parliament in London. Adjaye is the subject of an upcoming solo show at London's Design Museum opening in February 2019.
Join Soluis in its Technology Hub, where groups of visitors can experience the benefits of a genuinely immersive shared experience in the Reality Portal™, featuring architectural projects from around the world through virtual reality.
Friday 30th November
Seminal Dutch architect Rem Koolhaas delivers the closing keynote session on Friday 30th November at 5.40pm. After attending London's Architectural Association, Rem Koolhaas co-founded the practice OMA and currently heads up the work of both OMA and its research arm AMO. Highlights of a career spanning over forty years include Moscow's Garage Museum of Contemporary Art, Fondazione Prada in Milan and the headquarters for China Central Television (CCTV) in Beijing. In 2014, he was the director of the 14th International Architecture Exhibition of the Venice Biennale. Current projects include the Qatar Foundation headquarters, Taipei Performing Arts Centre and a new building for publishing house Axel Springer in Berlin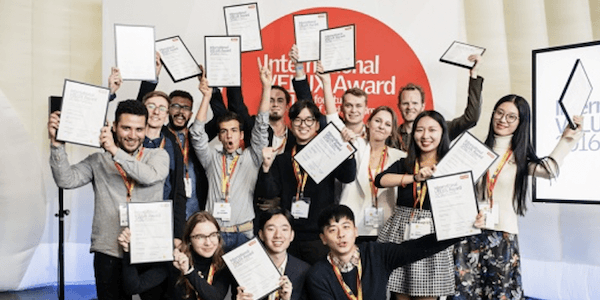 The International VELUX Award for Students of Architecture is a biennial competition, which has been running since 2004 and encourages architecture students to explore the theme of daylighting. This year, over 600 entries from 250 schools of architecture were whittled down to nine regional winning teams whose work can be seen in the Festival Hall. They will present to a jury of internationally renowned architects on Friday 30 November, 9.40am – 1pm, and the two global winners will be presented with their awards at the WAF Gala Dinner that evening.
All completed building category winners will present to an esteemed super jury at this year's WAF as they compete for the ultimate accolade of 'The World Building of the Year'. Following three days of crit presentations, the overall winner will be announced at the WAF Gala dinner on Friday 30 November, held this year at the Beurs van Berlage building. This is a fitting venue to celebrate architectural innovation, as it was originally given the go ahead at the end of the nineteenth century when Amsterdam was a flourishing city for trade. Although built to serve as a stock exchange, its architect Hendrik Petrus Berlage always intended it to be a people's palace and it now functions as an important cultural and meeting venue.
More details about World Architecture Festival here
…and if you can't make it we will be there for you: follow the World Architecture Festival 2018 with #architectoursWAF18