Drawing up the list of the best architecture firms in Europe is a very difficult task since there are a lot of renowned companies. Their popularity, turnovers and awards change every year.
This wants to be just the gateway for the most renowned architecture firms in Europe.
Here list our favourite amongst the best we already ranked in our previous "Best of architecture firms in…" Germany, France, Spain, Norway, Sweden, Denmark, Italy, United Kingdom, Netherlands.
Top architecture companies in Europe are:
3XN/GXN
Arkitema
BIG / Bjarke Ingels Group
BDP
C.F. Møller Architects
Foster+Partners
Gmp Architekten von Gerkan, Marg und Partner
Grimshaw
Henning Larsen
Herzog & de Meuron Architekten
HPP Architekten
MVRDV
Nordic Office of Architecture
O.M.A. Office for Metropolitan Architecture
Rafael de la Hoz
RBTA Ricardo Bofill – Taller de Arquitectura
Renzo Piano Building Workshop
RKW+
Saraiva +  Associados
Schmidt Hammer Lassen Architects
Snøhetta
Sweco
UNStudio
Viguier
White Architects
Let's discover more about them.
3XN/GXN Architects | Denmark
Amongst the best architecture firms in Europe, 3XN/GXN Architects was founded in Aarhus, Denmark in 1986 by young architects Kim Herforth Nielsen, Lars Frank Nielsen and Hans Peter Svendler Nielsen. The three Nielsens quickly developed a reputation for creating buildings of substance with compelling aesthetics, supported by a strong theoretical foundation. This heritage continues to inform their work today, as they bring 3XN's vision to clients all over the world. They work on a global scale but take pride in their history and Scandinavian roots bounded by humanistic values. This allows them to re-invent tradition with a clear understanding of some of the most exciting and pressing challenges of the 21st century.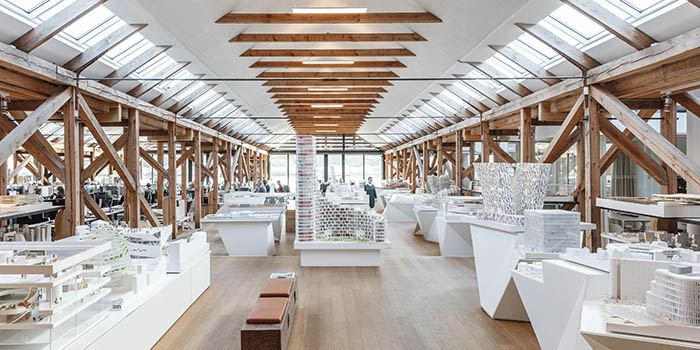 Courtesy: 3XN Architects | Photography: Rasmus Hjortshøj
Arkitema Architects | Denmark
Now owned by Danish engineering company Cowi, Arkitema Architects is a Danish architectural firm headquartered in Aarhus with branch offices in Copenhagen, Stockholm, Oslo and Malmö. The firm was founded in 1969 as Arkitektgruppen Aarhus by five students from the Aarhus School of Architecture after they won a competition for the design of an expansion of Køge Town Hall. They were Helge Tindal, Ole Nielsson, Michael Harrebæk, Eriling Stadager and Lars Due. Today Arkitema Architects has 14 partners. Arkitema has designed a broad range of architectural projects, from minor expansions and renovations to large redevelopment, infrastructural, residential and urban design projects.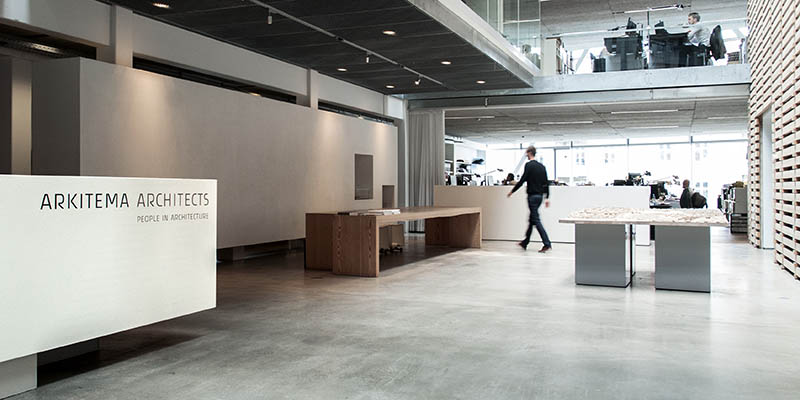 Courtesy: Arkitema Architects
BDP | United Kingdom
Amongst the largest architecture firms in the UK, BDP was founded in Preston by Sir George Grenfell Baines in 1961. International architecture, engineering and design collective BDP puts placemaking, sustainability and collaboration at the forefront of its user-centred and award-winning designs, delivering many high-profile projects. It adopts an interdisciplinary approach to design and is passionate about the role of design to improve everyday life and enhance communities. BDP has 16 studios, across the UK, Europe, Middle East, North America and Asia. In 2016 it joined forces with Japan's leading engineering practice Nippon Koei, strengthening its integrated design approach.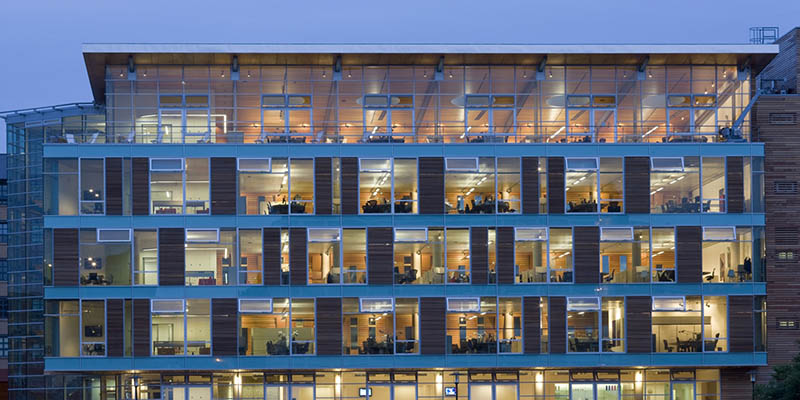 Courtesy: BDP
BIG – Bjarke Ingels Group | Denmark
BIG is probably one of the most wellknown architecture firms from Denmark. It is a Copenhagen, New York and London based group of architects, designers, urbanists, landscape professionals, interior and product designers, researchers and inventors. Bjarke Ingels founded BIG – Bjarke Ingels Group in 2005 after co-founding PLOT Architects in 2001 and working at OMA in Rotterdam. BIG's architecture emerges out of a careful analysis of how contemporary life constantly evolves and changes. Not least due to the influence from multicultural exchange, global economical flows and communication technologies that all together require new ways of architectural and urban organization. They believe that in order to deal with today's challenges, architecture can profitably move into a field that has been largely unexplored. A pragmatic utopian architecture that steers clear of the petrifying pragmatism of boring boxes and the naïve utopian ideas of digital formalism
Courtesy: BIG – Bjarke Ingels Group
C.F. Møller Architects | Denmark
C.F. Møller Architects is one of Scandinavia's leading architectural firms, with 90 years of award-winning work in the Nordic region and worldwide. Since their founding in Denmark in 1924, they have contributed significantly to the development of welfare societies in Scandinavia and the rest of the world. Today C.F. Møller has offices in Aarhus, Copenhagen, Aalborg, Oslo, Stockholm and London. They are continuously recognized and awarded internationally for setting new architectural standards, due to their strong focus on the functional, artistic and social value of architecture. In fact, their design solutions are methodically and holistically created following a rigorous analysis of the local context. They look to set new global standards by fostering a design approach which uniquely integrates urban planning, landscape, architecture and design of specific building components.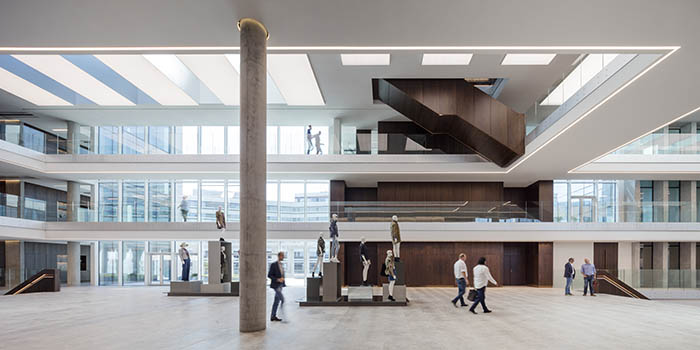 Courtesy: C.F. Møller Architects | Photography: Adam Moerk
Foster + Partners | United Kingdom
Foster + Partners, a global studio for architecture, urbanism and design, rooted in sustainability, is one of the largest architecture firms in the World. The practice was founded over fifty years ago in 1967 by Norman Foster. Since then, he and the team around him have established an international practice with a worldwide reputation for thoughtful and pioneering design, working as a single studio that is both ethnically and culturally diverse. The studio integrates the skills of architecture with engineering, both structural and environmental, urbanism, interior and industrial design, model and film making, aeronautics and many more – their collegiate working environment is similar to a compact university. These diverse skills make Foster + Partners capable of tackling a wide range of projects, particularly those of considerable complexity and scale. Design is at the core of everything that they do.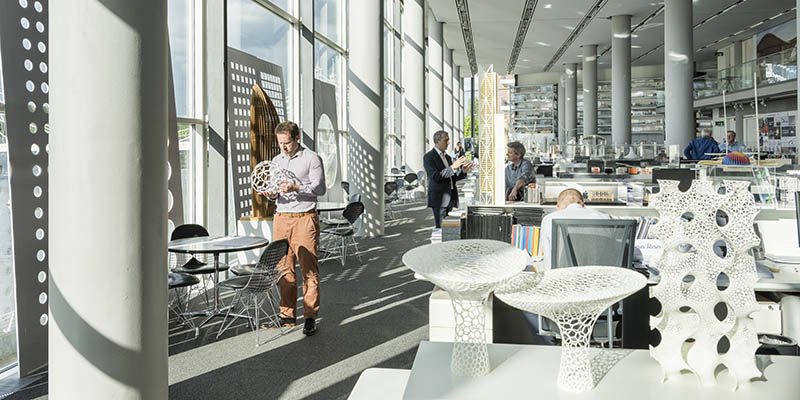 Courtesy: Foster + Partners
Grimshaw | United Kingdom
Grimshaw was founded by Sir Nicholas Grimshaw in 1980. The practice became a Partnership in 2007 and operates worldwide with offices in Los Angeles, New York, London, Paris, Dubai, Melbourne, and Sydney, employing over 650 staff. Everything they produce, from buildings to master plans to industrial design, is the culmination of an evolutionary process that derives beauty from form, economy and efficiency. With each project Grimshaw learns more about creating forms and places, serving processes and people, and respecting the fragility and resources of our planet. The results of this accumulated expertise are comfortable, healthy environments that instill wonder and delight while simultaneously attending to the functional and social needs and aspirations of the individuals they serve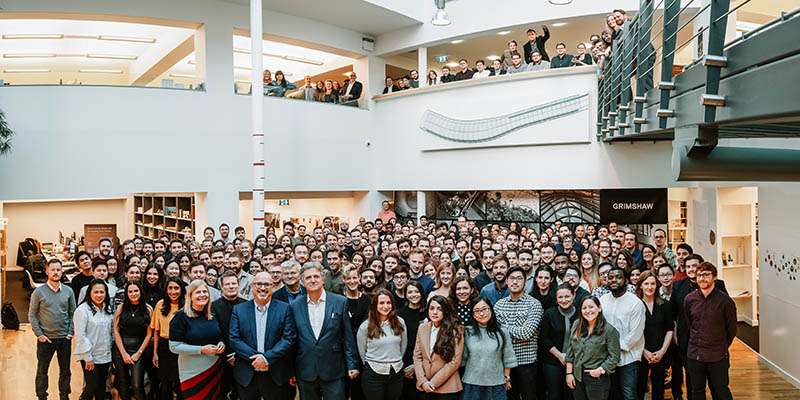 gmp Architekten von Gerkan, Marg und Partner | Germany
The architectural practice von Gerkan, Marg and Partners was founded by Meinhard von Gerkan and Volkwin Marg in 1965. gmp is one of the few practices with a generalist position, which takes responsibility for a project from the design idea and its realization right through to the interior design. They have designed small scale homes, hotels, museums, theaters and concert halls, office buildings, commercial centers, and hospitals as well as research, educational and sports facilities, buildings for transportation, trade and industry buildings and master plans. gmp has succeeded in winning more than 590 prizes in national and international competitions, among them more than 310 first prizes and a large number of awards for exemplary architecture. More than 370 buildings have been constructed by gmp worldwide.
Herzog & de Meuron Architekten | Switzerland
Established in Basel in 1978, Herzog & de Meuron is a partnership led by Jacques Herzog and Pierre de Meuron together with Senior Partners Christine Binswanger, Ascan Mergenthaler, Stefan Marbach, Esther Zumsteg, and Jason Frantzen. An international team of nearly 500 collaborators including the two Founders, five Senior Partners, ten Partners, and 41 Associates work on projects across Europe, the Americas and Asia. The main office is in Basel with additional offices in London, New York, Hong Kong, Berlin and Copenhagen. The practice has designed a wide range of projects from the small scale of a private home to the large scale of urban design. Many projects are highly recognized public facilities, such as museums, stadiums, and hospitals, and they have completed distinguished private projects including offices, laboratories and apartment buildings.
Henning Larsen Architects | Denmark
Henning Larsen Architects is one of the most progressive and professional architecture practices in Europe and Worldwide. Founded in Copenhagen in 1959 by Henning Larsen where he was active for more than 50 years. Henning Larsen designed a vast array of important works of architecture in Denmark and abroad. He was often described as the "Master of Light". Henning Larsen is a studio made up of a highly specialized team of architects, designers, engineers, thinkers and doers. Their architectural approach is based on curiosity and artistic audacity, resting on a solid foundation of knowledge-based design and attention to detail. Henning Larsen Architects projects are designed as generous gestures, reaching out to their audience and allowing them to experience the unexpected. Their field of work is defined by people, daylight, and space. The solution is living architecture, designed for people.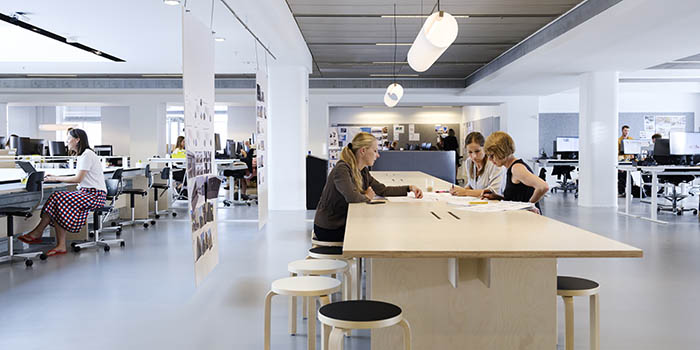 Courtesy: Henning Larsen Architects | Photography: Peter Nørby
MVRDV | Netherlands
Founded in 1993 by Winy Maas, Jacob van Rijs and Nathalie de Vries, MVRDV is one of the most famous architecture firm in Europe and Worldwide. Based in Rotterdam, MVRDV has a global scope, providing solutions to contemporary architectural and urban issues in all regions of the world. Their highly collaborative, research-based design method involves clients, stakeholders, and experts from a wide range of fields from early on in the creative process. The results are exemplary, outspoken projects that enable "their" cities and landscapes to develop towards a better future.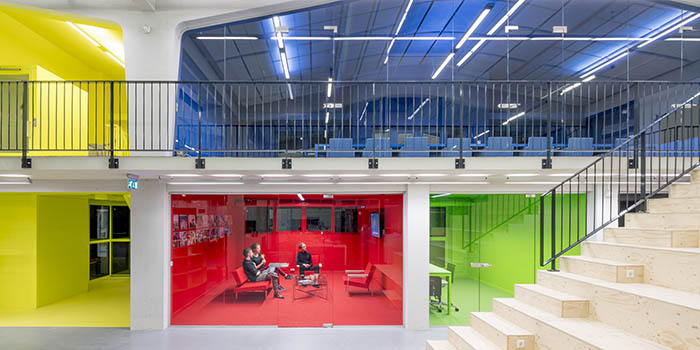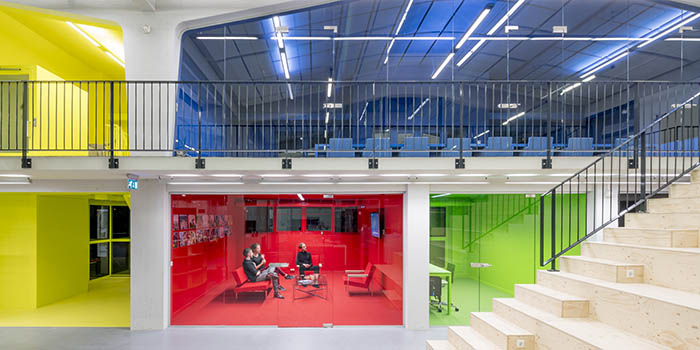 Courtesy: MVRDV | Photography: Ossip
Nordic — Office of Architecture | Norway
Nordic is one of Norway's leading architectural practices, with offices in Oslo, Copenhagen, Reykjavik and London. A wide range of interesting projects and more than 240 colleagues from over 30 different nationalities make Nordic an exciting place to work. Their mission is to build a more sustainable society through exceptional architecture that transforms, inspires and enhances the environments in which people live. Nordic covers the following fields: masterplanning, urbanism, architectural design, interior, furniture and product design, visualisation: VR/AR and film, design and BIM management.
Courtesy: Nordic – Office of Architecture
HPP Architects | Germany
Founded in 1933 by Professor Helmut Hentrich, HPP Architects is one of Germany's leading architectural partnerships with over 450 employees. For more than 87 years they have been producing buildings of every type and size in Germany and abroad. HPP Architects' headquarter is in the Düsseldorf Media Harbor, other offices are located in Amsterdam, Beijing, Berlin, Cologne, Frankfurt, Hamburg, Istanbul, Leipzig, Munich, Shanghai, Shenzhen and Stuttgart. HPP provide a full range of architectural and master planning services. They specialize in the design of corporate headquarters, hotels, laboratories, hospitals, sport and leisure facilities, shopping centres, transport buildings, town planning, residential units and in refurbishment and listed building projects.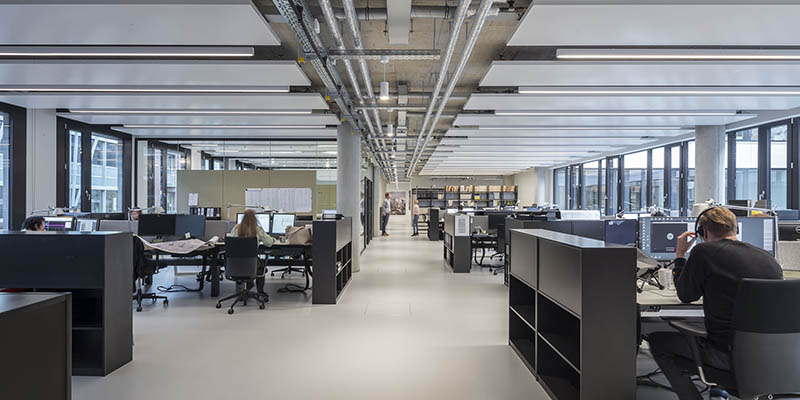 Courtesy: HPP Architects | Photography: Ralph Richter
O.M.A. | Netherlands
Based in Rotterdam and led by Rem Koolhaas, Ellen van Loon, Reinier de Graaf, Shohei Shigematsu, Iyad Alsaka, Chris van Duijn, Jason Long, and Managing Partner-Architect David Gianotten – and maintains offices in Rotterdam, New York, Hong Kong, Beijing, Doha, Dubai and Perth. OMA Office for Metropolitan Architecture is certainly amongst the most famous European architecture firms. As they say, they are operating within the traditional boundaries of architecture and urbanism. AMO, a think tank within OMA, is a research and design studio that applies architectural thinking to domains beyond.
Rafael de la Hoz | Spain
Amongst the best architecture firms in Spain, Rafael de la Hoz, a multi-disciplinary International Architecture Practice based in Madrid, Spain. Founded in 1.920, it is one of the most prestigious and longest standing architecture firms in the world. Experience and knowledge acquired over all these years have enabled the successful completion of more than 500 projects in 20 different countries. They are renowned for their outstanding architecture and our steadfast commitment to design excellence, innovation, and sustainability.
Ricardo Bofill Taller de Arquitectura (RBTA) | Spain
Amongst the best architecture firms in Spain we cannot avoid to quote the renowned RBTA. Based in Barcelona at the repurposed cement factory La Fábrica, with over fifty years of experience found on architectural sophistication and an innovation-driven international outlook Ricardo Bofill – Taller de Arquitectura is always projected into the future. They create dynamic spaces founded on the centrality of the human scale in its purposes, functions, movement. Through refined technical expertise and a mature cultural sensitivity, the multidisciplinary team of specialists at RBTA develops a liquid vocabulary for the built environment in an ever-changing world. Nomads on a journey to redefine style and space.
Renzo Piano Building Workshop | Italy
The Renzo Piano Building Workshop (RPBW) was established in 1981 by Renzo Piano with offices in Genoa, Italy and Paris, France. The practice has since expanded and now also operates from New York. RPBW is led by 9 partners, including founder and Pritzker Prize laureate, architect Renzo Piano. The practice permanently employs about 130 architects together with a further 30 support staff including 3D visualization artists, model makers, archivers, administrative and secretarial staff. They usually provide full architectural design services and consultancy services during the construction phase. RPBW design skills extend beyond mere architectural services including interior design services, town planning and urban design services, landscape design services and exhibition design services.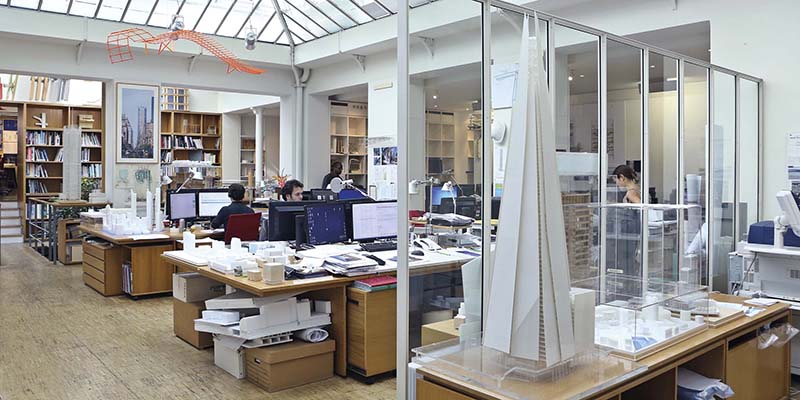 Courtesy: RPBW | Photography: Stefano Goldberg
RKW Architektur + | Germany
Based in Düsseldorf, RKW Architektur +, as one of the best architecture firms in Germany, has been shaping contemporary living and working environments since 1950. This makes RKW a pioneer amongst German architectural firms that, in the course of its long, unparalleled success story, has created and still creates iconic designs. Together with around 400 employees from 25 nations, RKW offers private and public builders a comprehensive range of services in all classic services phases including general planning, building and quality management, BIM-planing as well as project development, moderation and consulting services.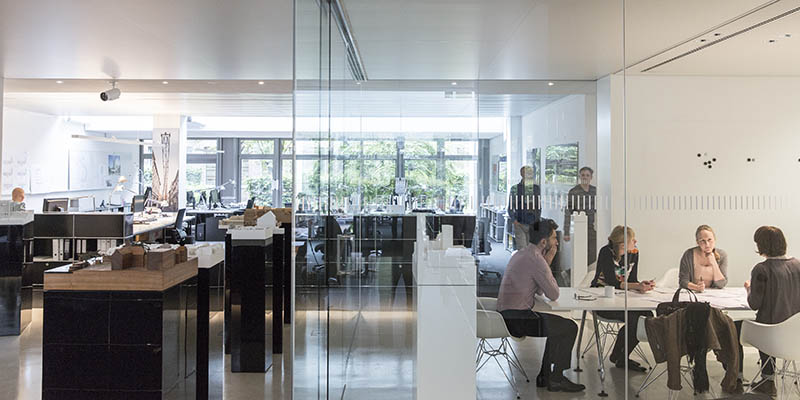 RKW Architektur + Düsseldorf | Courtesy: RKW Architektur
Saraiva + Associados | Portugal
Since 2013, S+A's operations have widened to cover a vast spectrum of services, encompassing not only architecture and urban planning, but also the areas of design and sustainability. That versatility has become one of the company's great strengths, allowing it to maintain high levels of quality and innovation, building bridges of trust and creating solid relationships between all stakeholders. With Lisbon, Portugal, as its creative base and the home of over a hundred of its collaborators, S+A sets itself apart with its capacity for openness to the wider world, adaptability to new markets and resilience in the face of challenges that are faced by a constantly changing society. With offices in 11 countries, S+A is now a major player in a number of different countries.
Schmidt Hammer Lassen Architects | Denmark
Schmidt Hammer Lassen was founded in Aarhus, Denmark in 1986 by architects Morten Schmidt, Bjarne Hammer and John F. Lassen. With more than 30 years of experience, Schmidt Hammer Lassen Architects is one of the most award-winning and amongst the best architecture firms in Europe. Working out of studios located in Copenhagen, Aarhus and Shanghai, they provide skilled architectural services all over the world, with a distinguished track record as designers of international high-profile architecture. Schmidt Hammer Lassen Architects is deeply committed to the Nordic architectural traditions based on democracy, welfare, aesthetics, light, sustainability and social responsibility. In 2018, Schmidt Hammer Lassen became part of global architecture and design firm Perkins+Will.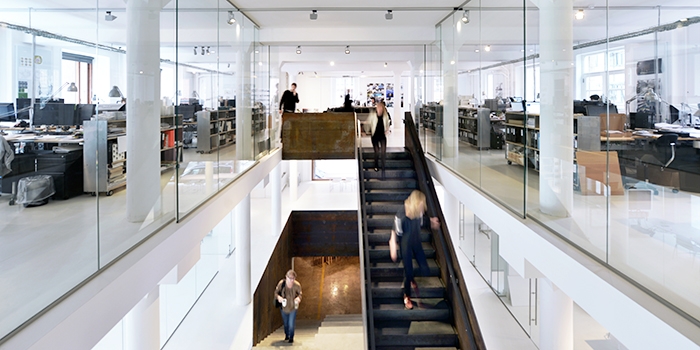 Courtesy: Schmidt Hammer Lassen Architects
Snøhetta | Norway
Amongst the best architecture firms in Europe, Snøhetta is an architecture firm based in Oslo and New York with offices in Paris, Hong-Kong, Innsbruck and Adelaide. Since its foundation in 1989, Snøhetta has maintained its original transdisciplinary approach, and integrates architectural, landscape, interior, product and graphic design across its projects. The collaborative nature between Snøhetta's different disciplines is an essential driving force of the practice. Snøhetta's working method practices a simultaneous exploration of traditional handicraft and cutting-edge digital technology. At the heart of all Snøhetta's work lies a commitment to social and environmental sustainability, shaping the built environment and design in the service of humanism. Snøhetta believes well-conceived design can help things run more efficiently, improve people's well-being and make life more enjoyable. Every project is designed with strong, meaningful concepts in mind – concepts that can translate the ethos of its users and their context.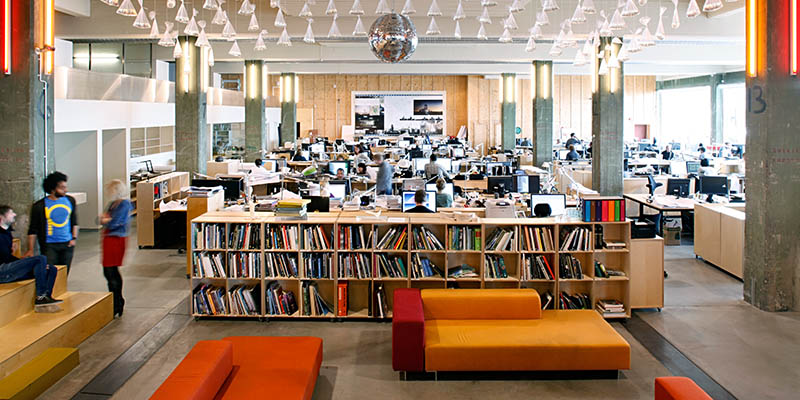 Snøhetta Headquarter in Oslo | Courtesy: Snøhetta | Photography: Marte Garmann Johansen
Sweco | Sweden
Amongst the best architecture firms in Europe, Sweco is a leading international architecture firm with broad experience in architecture, design, urban planning and construction. Founded in 1958, they are today more than 1,300 architects working from offices in Denmark, Sweden, Germany, Finland, Poland, Belgium and Norway. With the combined strength of Sweco's 17,000 experts within architecture, engineering and environmental services, they can take on your project from design and planning to construction and site supervision. Sweco act in small teams close to you to ensure professional excellence in every project – no matter size. It's about creating value through architecture – to ensure a high quality of life in healthy cities by high-end design of places, spaces and buildings. Together with their clients, Sweco transforms communities and cities towards a sustainable future and reduced environmental impact.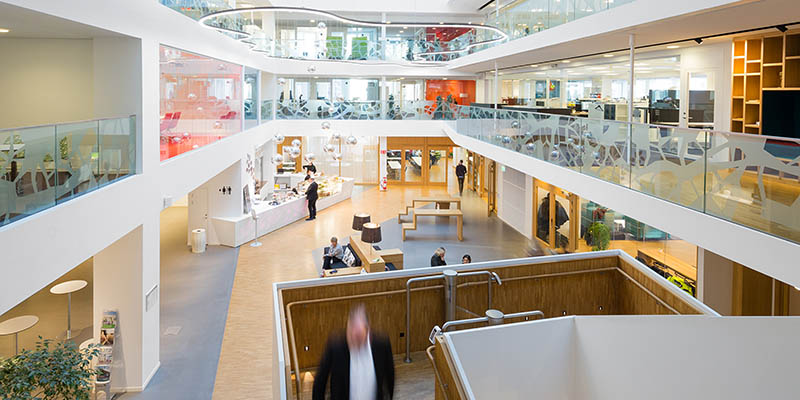 Courtesy: Sweco
UNStudio | Netherlands
UNStudio was founded in 1988 by Ben van Berkel and Caroline Bos. It is an international architectural design network with four full-service international offices in Amsterdam, Shanghai, Hong Kong and Frankfurt. UNStudio is specialized in architecture, interior architecture, product design, urban development and infrastructural projects. "As what we design today is normally built in three to five years' time, we're used to working with the future in mind. However, the future is changing faster than ever before. Even the most accurate predictions can be made redundant by a sudden advance in technology. To ensure we don't contribute to a waste of materials and investment that is no longer sustainable or appropriate in today's world, we develop strategies that not only anticipate the future, but possible changes to that future as well"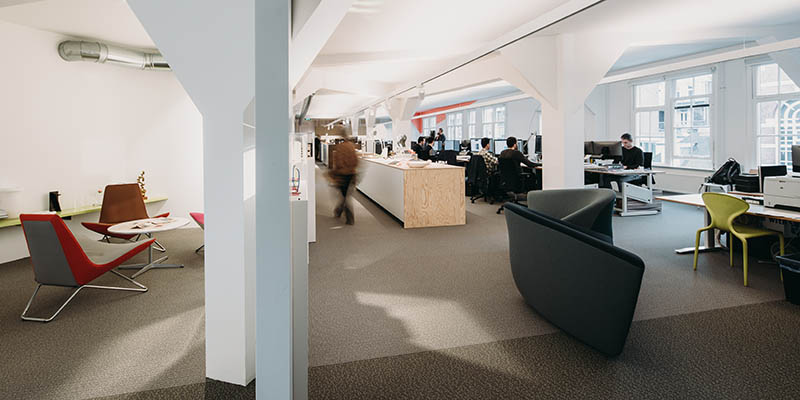 UNStudio | Photography: Eva Bloem
Viguier | France
Viguier architecture is an international architecture and city planning practice based in Paris. Pluralist and innovative, Viguier designs and directs comprehensive and integrated projects in various fields such as planning program, landscape, interior design, for public as well as private purposes (offices, housing, equipment and retail). Fostering inter-generational relations, the practice employs 150 people from 17 countries led by Jean-Paul Viguier and 12 partners. Viguier's collaborators display their talents on a global scale on projects of city planning, district planning, urban parks and architectural plans for: housing, offices, libraries, hospitals, schools and universities, public and private museums, retail spaces, leisure spaces and extraordinary buildings such as the French Pavillon at the Seville World Fair in 1992 or the Site of the Banque de France Paris La Courneuve in 2018.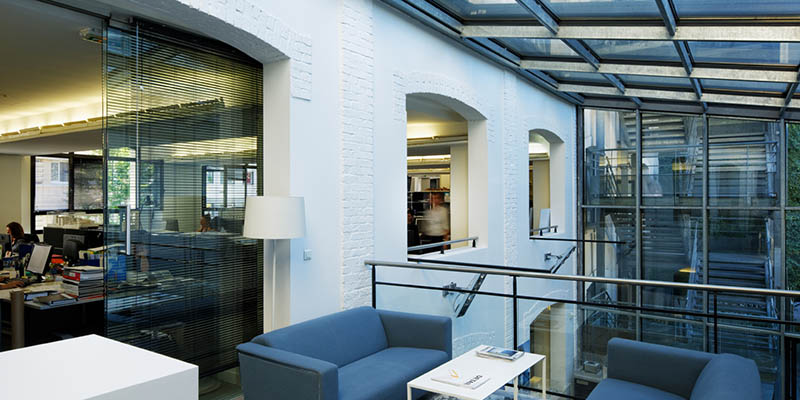 Courtesy: Viguier | Photography: Takuji Shimmura
White Arckitekter | Sweden
Amongst the oldest and the best architecture firms in Europe, White Arkitekter is an interdisciplinary practice founded by Sidney White in 1951 in Gothenburg, Sweden, with the aim to improve society through architecture. His legacy lives on in our ambition to contribute towards a more sustainable world. Since its foundation, White Arkitekter has grown to be a collective of nearly 800 and nowadays it's an employee-owned company. Their mission is to enable sustainable life through the art of architecture. Indeed, their vision for 2030 is that all our architecture will be carbon neutral through design excellence. Through design, creativity and a humanistic approach, they look to solve great challenges.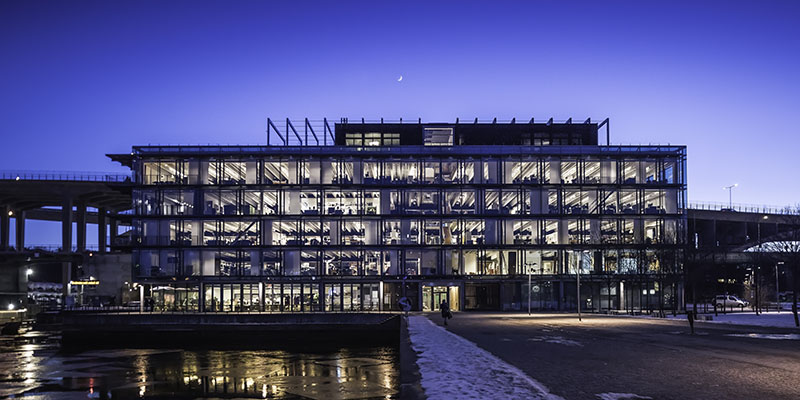 Courtesy: White Arckitekter | Photography: Anders Bobert
Are you curious about our selections of best architecture firms in Europe?
Here below you can find all the other popular pages:
Best architecture firms in the UK
Best architecture firms in the Netherlands 
Best architecture firms in Italy
Best architecture firms in Denmark
Best architecture firms in Germany
Best architecture firms in Spain
Best architecture firms in Sweden
Best architecture firms in France
Best architecture firms in Norway