The United States Pavilion at the 17th edition of the Venice Architecture Biennale, presents an exhibition exploring the ubiquity and aesthetic power of wood framing in American architecture.
Organized by the University of Illinois Chicago (UIC) with support from the U.S. Department of State's Bureau of Educational and Cultural Affairs, AMERICAN FRAMING is commissioned by Paul Preissner, Associate Professor at UIC, and co-curated by Preissner and Paul Andersen, Clinical Associate Professor at UIC. The exhibition is on view to the public May 22 through November 21, 2021.
AMERICAN FRAMING presents the architecture of wood framing, the most common construction system in the U.S. and one of the country's most important contributions to building practice.
Featuring a monumental installation that activates the entrance to the neoclassical U.S. Pavilion and newly commissioned photographs, models, and site-responsive furniture, the exhibition brings attention to an architectural element that has been mostly overlooked by historical and contemporary discourse.
"We want to work with a particularly American theme and open up new possibilities for design. The exhibition looks back at the history of wood framing and speculates on how buildings might be different if we restrain or exaggerate the system itself," said Paul Andersen, U.S. Pavilion Co-Curator. "We are incredibly honored to represent our country at the Venice Architecture Biennale. As practicing architects and educators, we often explore how ordinary architecture might be a platform for new ideas and discourse."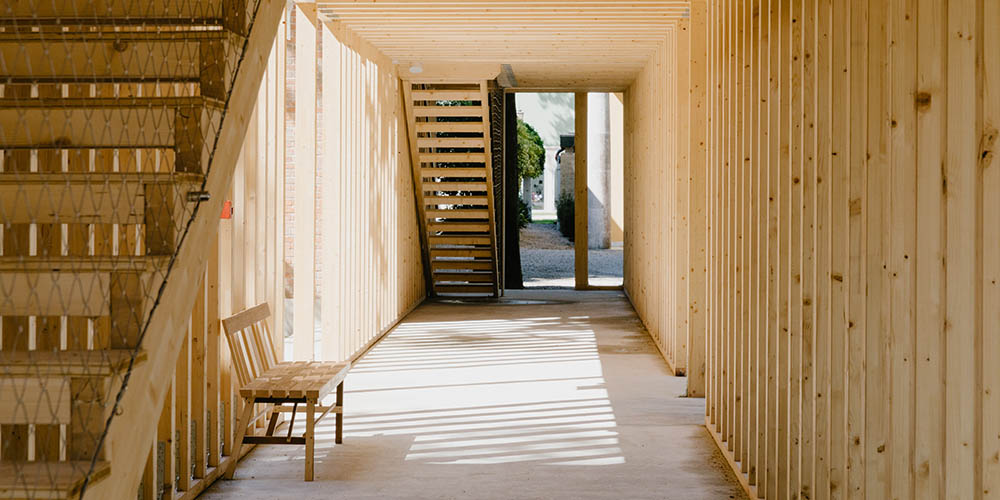 AMERICAN FRAMING reflects on timber architecture as emblematic of American ideology, from its history and culture to its utility and design potential. Originating in the early 19th century during the rapid westward expansion of the United States, wood framing was introduced as a pragmatic solution to support infrastructure needs. With abundant forests making wood materials widely available and the simplicity and speed of its construction, wood framing has become a symbol of affordability in American architecture, flattening typological and class distinctions. At the same time, its adaptability offers expansive design potential and continued relevance today.
"By committing the entire exhibition to wood framing—the great forgotten basis of American architecture—our presentation at this year's Biennale elevates an often dismissed or ignored form of construction," said Paul Preissner, U.S. Pavilion Co-Curator and Commissioner. "As Paul and I were both part of the 2000 U.S. Pavilion as students at our respective universities, we are happy to be able to share this same opportunity with current UIC students and proud to show their work to the world."
The exhibition takes a multi-disciplinary approach to the material, exploring timber framing through built structures, models, photographs, and furniture.
Before visitors enter the Pavilion, a full-scale installation, comprised of a half-section of a wood-framed house, introduces the subject, and forms a new façade for the historic building. Enclosing the Pavilion's courtyard, the open-air structure is a permeable barrier, allowing visitors to see through to the neoclassical Pavilion and requiring them to pass through the installation to enter the exhibition. Fully traversable across four floors, the structure invites people to experience the forms and techniques of wood framing firsthand.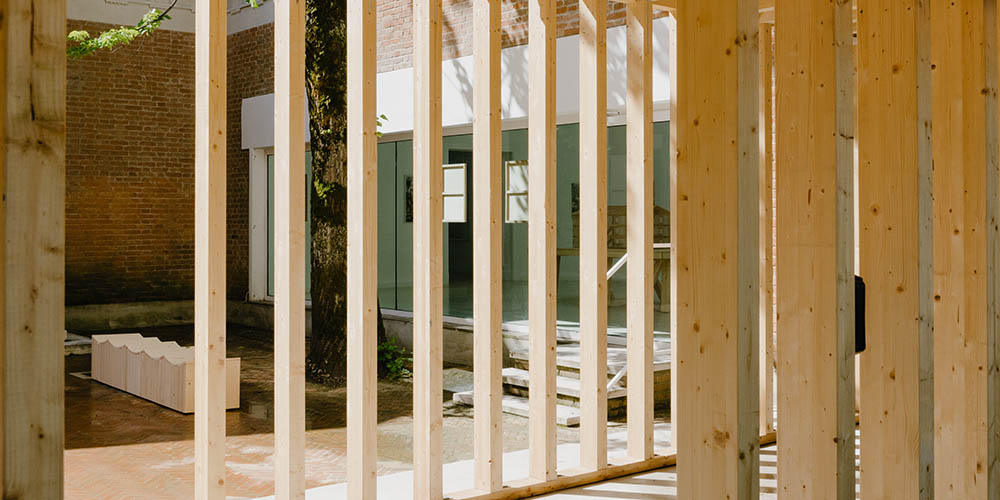 The installation is interspersed with site-responsive furniture, including chairs, rockers, and benches, designed by UIC students in collaboration with Assistant Professor Thomas Kelley, co-founder of Norman Kelley, and his design partner Carrie Norman. The courtyard of the U.S. Pavilion is also punctuated with benches collaboratively designed by UIC students and Clinical Assistant Professor Ania Jaworska. Drawing influences from distinctive American designs, such as Shaker furniture and Gerrit Rietveld's Crate Furniture, these works revisit and reimagine historic pieces of furniture in common dimensional lumber.
The galleries of the U.S. Pavilion feature two series of newly commissioned photographs that explore the culture surrounding wooden architectures in dialogue with various scale models that draw from the history of wood framing.
Photographer and UIC alumnus Daniel Shea's commissioned suite of photographs document fir and pine forests where the trees used for lumber grow, capturing the natural environments—spanning Alaska to Texas—from which wood framing originates. Chris Strong's images showcase the full spectrum of labor producing wood-framed construction, from harvesting and preparation of lumber to the building process, and captures both the human faces that make this contemporary industry a reality and their surrounding environments.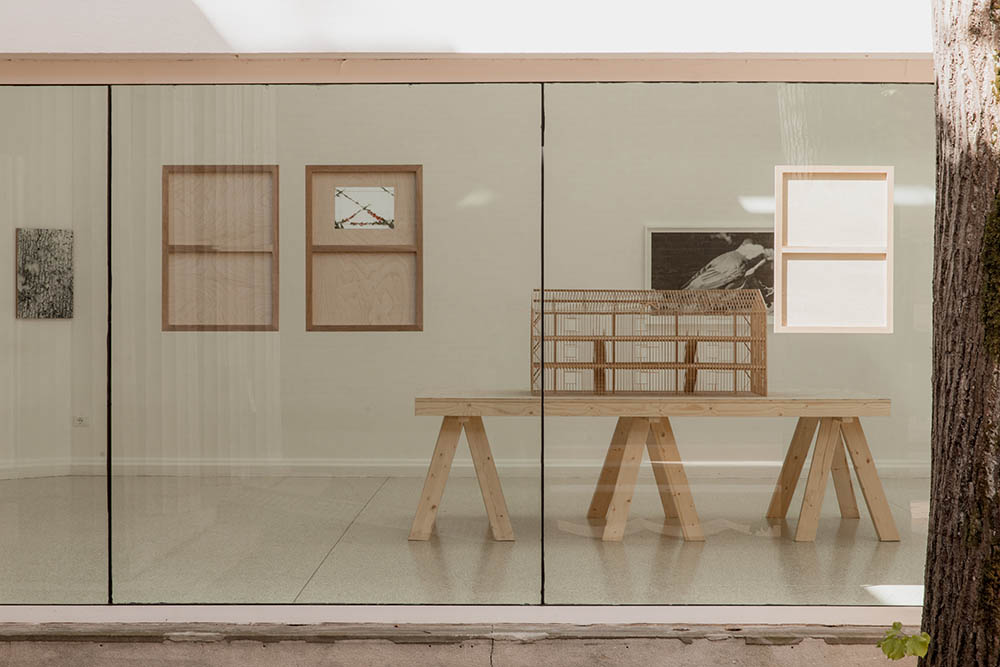 Complementing these photographs are scale models designed and built by UIC students during seminars led by Preissner and Andersen. Nine models trace the history of wood framing from its early development through various social and cultural moments in the 20th century. Examples of prominent structures replicated in these models include the Sears Hillsboro House, a 1950s mobile home, and refugee cottages from the San Francisco earthquakes in 1906, among others.
Rebecca Rugg, Dean of the College of Architecture, Design, and the Arts at the University of Illinois Chicago, said, "Collaborating with Paul Andersen and Paul Preissner to bring the 2021 U.S. Pavilion to life is an unparalleled opportunity to not only showcase the breadth and depth of our faculty and alumni talent, but also to provide our students with hands-on experience through their contributions to the fabrication of models and furniture design."
Director of the UIC School of Architecture Robert Somol added, "As in other work conducted in the School, the UIC proposal for the U.S. Pavilion intensifies and deviates a standard element or system as a means to remake the world in a surprising yet plausible way."
For more information about the 2021 U.S. Pavilion, please visit: http://americanframing.org/
To learn more about timber architecture see our series of articles about "Timber buildings: evidence, best practices and advantages" with the participation of  some of the most renowned architecture firms in Europe such as Waugh Thistleton Architects, dRMM, PLP Architecture, Wingårdhs, MVSA, C.F. Møller Architectsand, MVRDV, Schmidt Hammer Lassen, White Arkitekter, EFFEKT, Jestico + Whiles, Mei, Krook & Tjäder, KAAN, Kjellgren Kaminskyand Henning Larsen Architects.
Courtesy: the Pavilion of the United States at the 17th International Architecture Exhibition at La Biennale di Venezia.