Schoonschip is a sustainable, circular, residential community of floating houses in Amsterdam.
Schoonschip site is currently still under development and completion, but since the beginning of 2020 a total of 46 floating houses and just over 100 residents are living there.
Together with Waterstudio and Metabolic, the ideas of the Schoonschip initiative group has been translated into a smart urban plan by Space&Matter. The team aimed to create Europe's most sustainable floating community.
The floating homes were designed by many different architecture firms such as + 31architects, Amber Architecture & KUUB, Chris Collaris Design & I29 interior architects, BO6 Architecten, Hans Kuijpers, Hollandshuis, Jeroen Apers Architect, John Kusters, KPMV Architects, Loco-Motief, Metabolic, MTBarchitecten, Studio Valkenier, Smeele Architecture, Space & Matter, TWWB and Waterstudio.
Schoonschip is located in Buiksloterham, a neighborhood in Amsterdam-Noord where the robustness of old industry goes hand in hand with sustainable new-build projects. Schoonschip is a co-signer of the 'Buiksloterham circular' manifesto.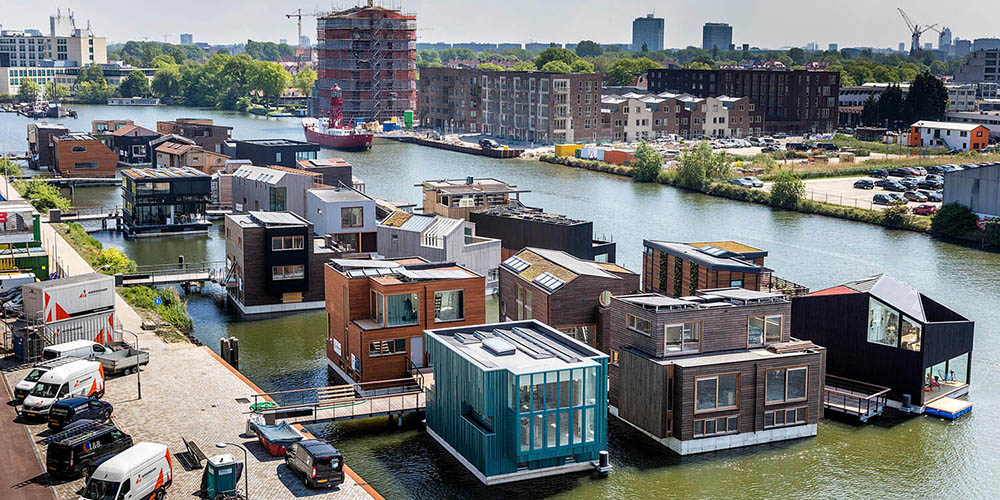 Photograpy: Space&Matters
The site is energy self-sufficient, employs circular building practices and serves as a showcase for sustainable living. A smart jetty connects the 46 floating households with each other and the quay.
On the top surface, the jetty is a social connector where people meet. Down below the surface, the jetty is a functional and sustainable connector with all the energy, waste and water lines attached to every household connected together.
Schoonschip sustainability goals:
100% renewable heat and hot water supply
100% renewable electricity
100% wastewater and organic waste treatment
100% water self-sufficiency
60 – 80% nutrient recovery
50 – 70% reduction in electricity demand over conventional
60 – 70% vegetable & fruit production using locally recovered nutrients
sensor network and real-time system performance displays
community facilities for resource sharing and support of group cohesion
electric mobility capacity
support of biodiversity
But Schoonschip is not only sustainable in an ecological sense, but also socially: the residents work closely together to realize their residential area and coordinate their plans. They have agreed to renounce their personal cars and instead share electric cars together. The group also made a conscious search for diversity in the composition of residents.
"We put forward the neighbourhood as the unit of change," says Sascha Glasl founder at Space & Matters. "Neighbourhoods are spatial units that people can relate to, where we can combine innovative approaches to circularity with a high quality of life. At the neighbourhood scale it becomes possible to invest in innovative new approaches to circularity because you have a critical mass which lacks at the scale of the dwelling. To test this theory in reality, we've so far developed two place-based prototypes in Amsterdam Noord: De Ceuvel and Schoonschip, as part of a wider masterplan called Circular Buiksloterham.
These are post-industrial sites that we've transformed into thriving neighbourhoods based on regenerating existing nature and ensuring social, ecological and financial value remains with the community. Schoonschip was initiated and developed fully bottom-up, by future residents themselves. By commissioning us for a smart urban plan and plot passports, we were able to support them with the structure they needed to realise their dream. Both processes ensure a network of stewardship and care which will keep the neighbourhoods operating in a circular way for perpetuity."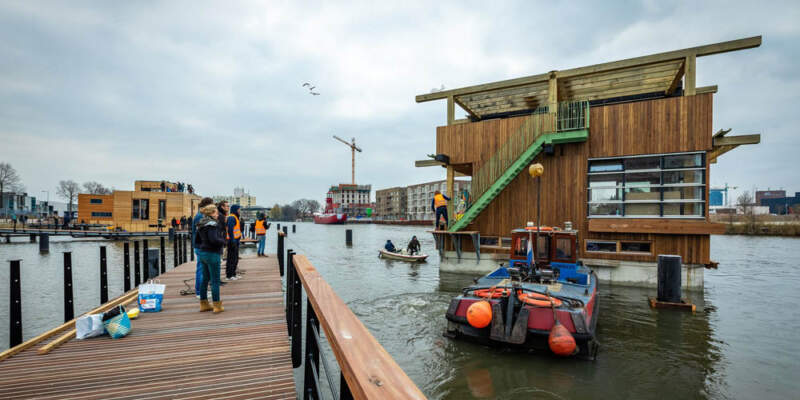 Floating Home by Mijke de Kok & Studio Valkenier | Photograpy: Isabel Nabuurs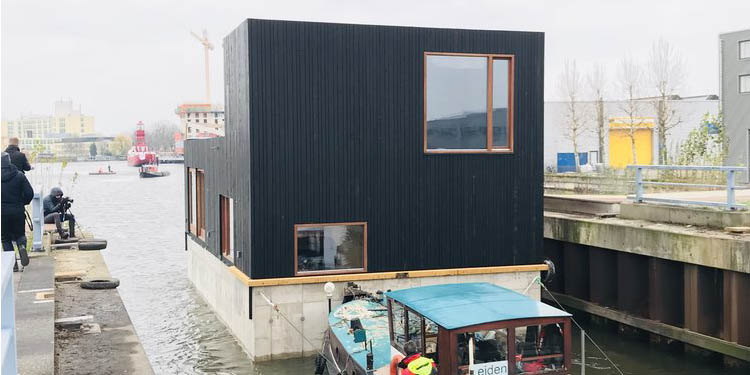 Courtesy: Space&Matters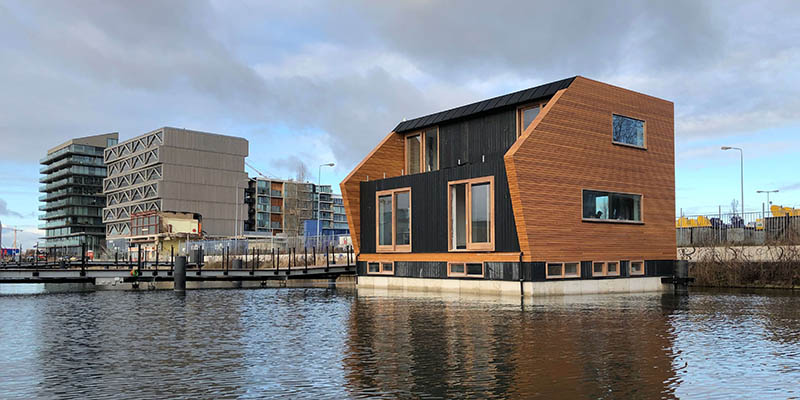 Courtesy: Water Studio
On that note, there are two 'kangaroo houses' in Schoonschip, where two households live together on one boat. Meanwhile, the floating houses are connected by a 'smart jetty' that serves as a pavement and meeting place.
Within the smart grid of the village and the given boundaries of every water plot, every single floating house is able to be unique in architecture and interior design.
"When we approach circular neighbourhoods like these, we always envisage an ecosystem where shared services like mobility, energy, water and waste are considered part of one holistic whole. For this, collaboration is key. For both De Ceuvel and Schoonschip we collaborated with experts in material flow analysis (Metabolic), green energy production (Spectral), smart grids (Grid-Friend), grey water management (Waternet) and a host of active community members who lent their own expertises to realise the project. In the case of Schoonschip we even collaborated with other architects who designed individual homes to fit within our flexible plan. My advice to other architects approaching this topic is simple: collaborate more! The challenges we face in designing circular future cities are such that no one actor can solve them alone. We need all hands on deck – and this makes things much more interesting!" continues Sascha.
All inhabitants were allowed to choose their own preferred architect to design their floating houses.
The floating home designed by Chris Collaris Design & i29 interior architects is the result of a space extensional study within the interior and vice versa.
The floating volume has a pitched roof, but the coping of the roof is turned diagonal in the floor plan which gives an optimization in usable space on the inside and an outspoken architectural design on the outside.
All areas are in open connection to the atrium which comprises three floors. The layout is extended with a split level connection to a loggia terrace just above water level. The interior and facade play with the views on the outside.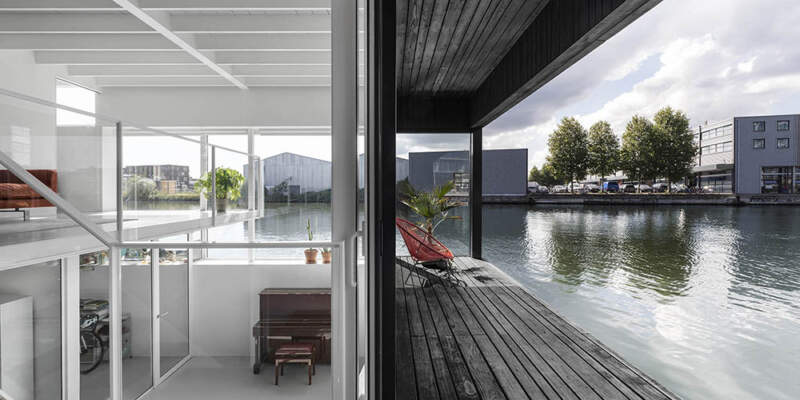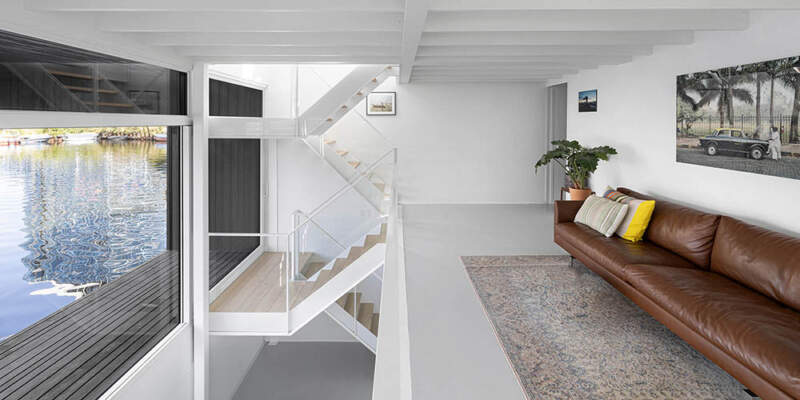 Views appear and disappear while moving through the home. The basement offers direct water level views, the living room only gives a view on the surroundings when sitting in the lounge and the kitchen on the top floor has directed views towards the south and north side of the canal.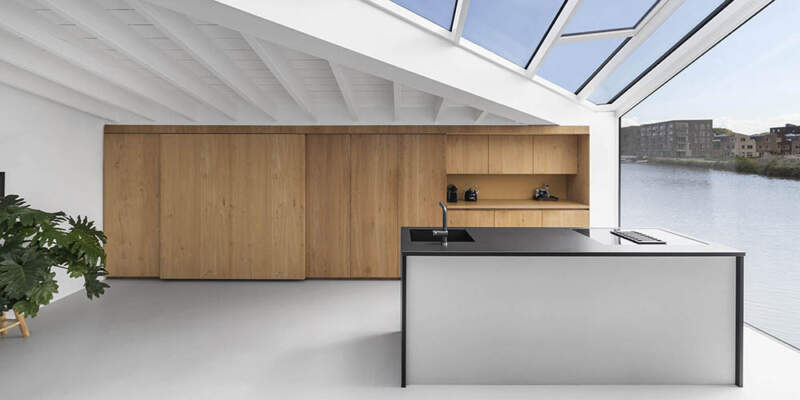 On the top floor, a cut out of the roof enables a loggia and open terrace with a view towards the harbor in the west.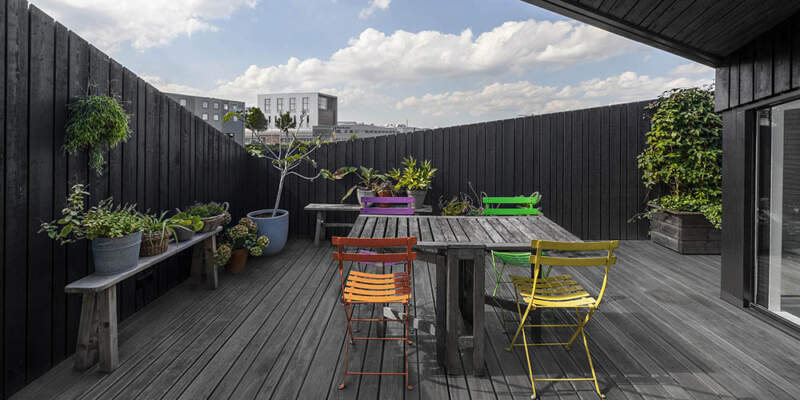 With simple yet smart interventions this is realized on a tight budget but still has a unified architecture and interior design that leaves a strong impression.
At the same time the floating home is extremely energy efficient, eco-friendly, and built with a small footprint.
Sustainability goes even to a higher level with the implementation in the smart grid of the floating village. Energy can be even more valuable when you share it.
Other 8 houseboats for 14 families had been designed by MTB Architecten, an architecture firm based in Apeldoorn and Amsterdam.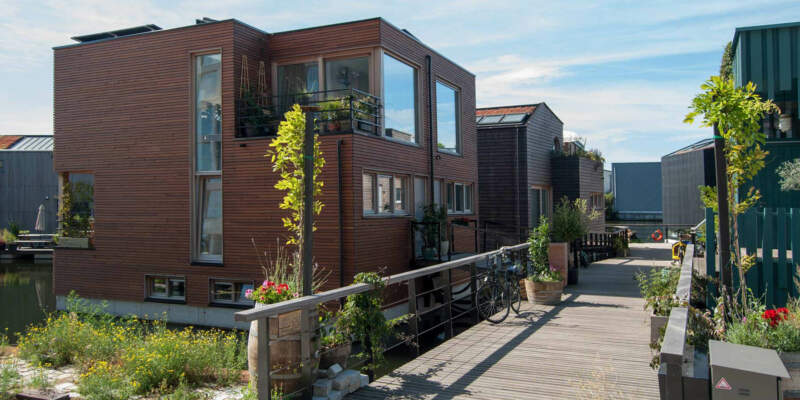 MTB Architecten | Photography: T. Poppe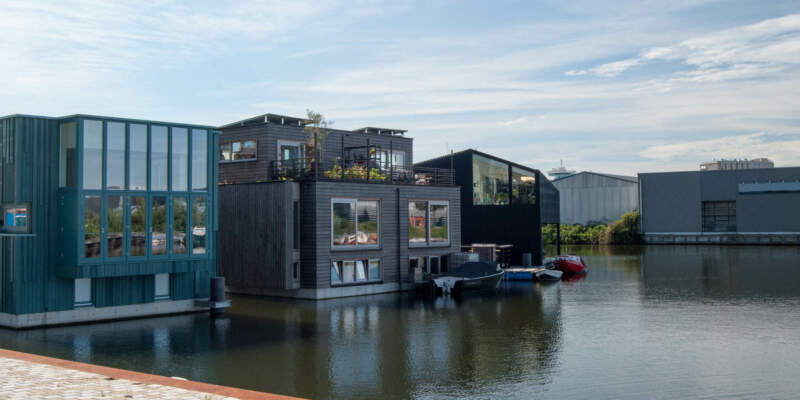 From the left, floating houses by : KPMV, MTB Architecten, i29 | Photography: T. Poppe
One other floating home has been designed by KPMV, a twenty years experienced design, refurbishment and renovation of homes and commercial buildings Dutch architecture practice.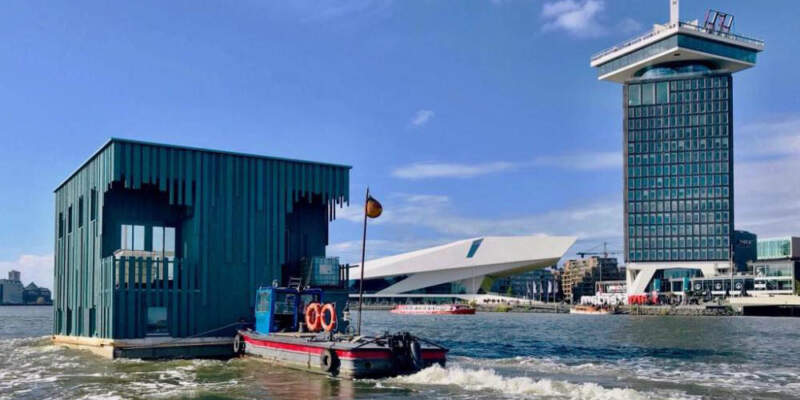 Courtesy: KPMV
Other Schoonship floating houses: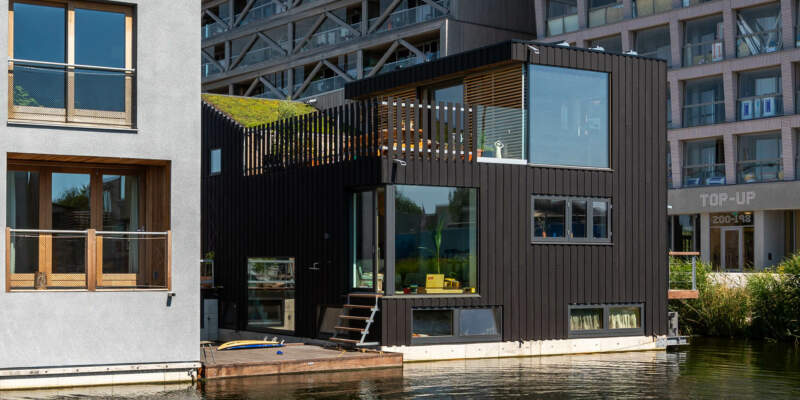 floating house 12 by Kuub Architects | Courtesy: Kuub Architects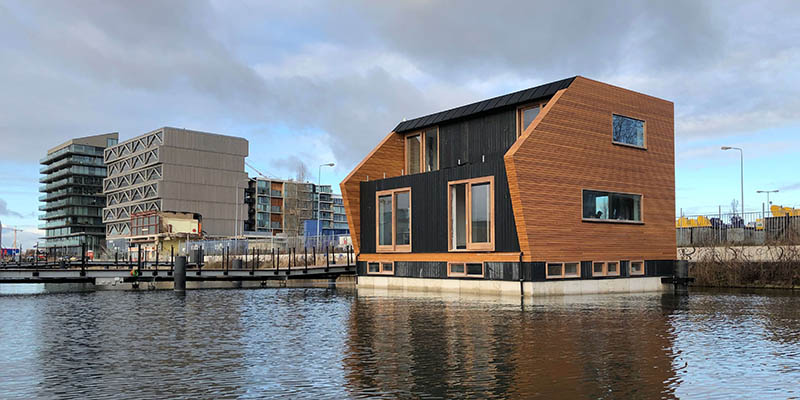 floating house 24 by Water Studio | Courtesy: Water Studio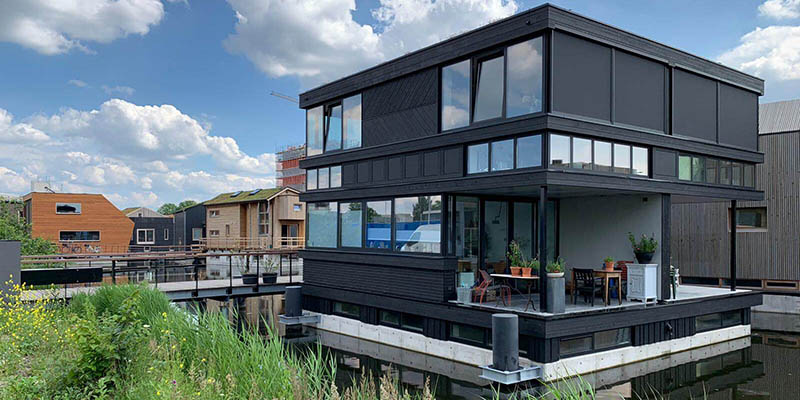 floating house 13 by Water Studio | Courtesy: Water Studio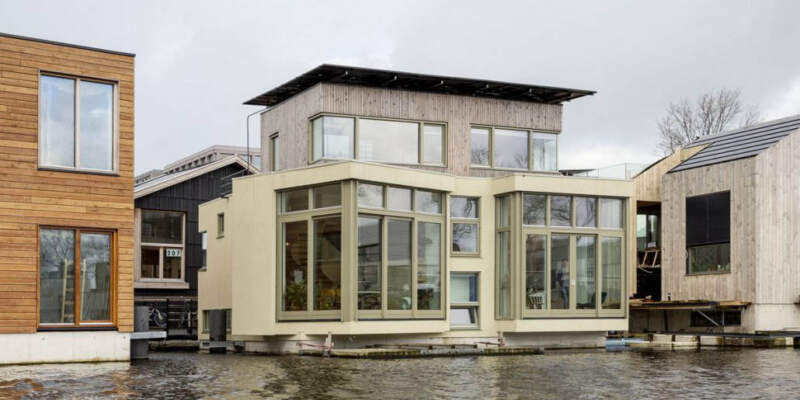 floating house by John Kusters | Photography: Arjan van de Vegt