After been recently nominated City of the year by the renowned Wallpaper magazine, Milan and its Salone del Mobile are ready to celebrate the 500th anniversary of the death of Leonardo da Vinci.
The Salone del Mobile.Milano 2019 is renewing its powerful links with the city of Milan at its 58th edition, from 9th to 14th April at, with an homage to its most brilliant and eclectic 'adopted son' in the form of two outstanding and hugely evocative installations – one in the city and one at the fairgrounds, guaranteed to provide a memorable cultural and emotional visitor experience.
Leonardo was born in the region of Florence, and he was educated in the studio of Florentine painter Andrea del Verrocchio. Much of his earlier working life was spent in the service of Ludovico il Moro in Milan. He later worked in Rome, Bologna, and Venice, and he spent his last years in France at the home awarded to him by Francis I of France. Milan is the only city to have had the privilege of hosting Leonardo for such a lengthy and fertile period, from 1482 until 1499.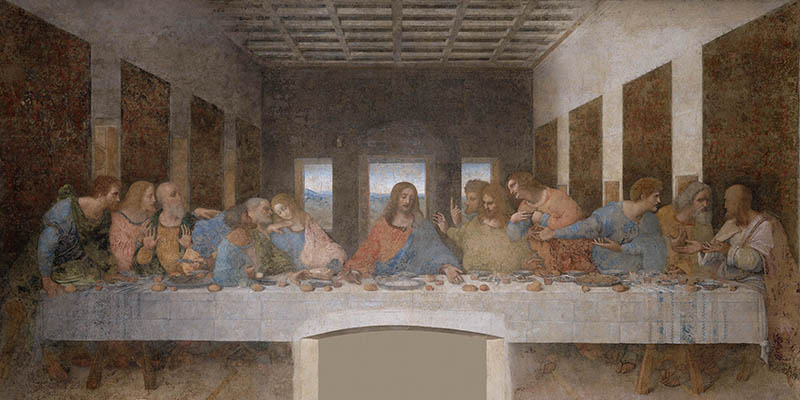 He was commissioned to paint the Virgin of the Rocks for the Confraternity of the Immaculate Conception (now exposed in The Louvre in Paris and the other in the National Gallery in London) and The Last Supper for the monastery of Santa Maria delle Grazie, now included in the UNESCO World Heritage Site. Leonardo was employed on many different projects for Ludovico, including the preparation of floats and pageants for special occasions, designs for a dome for Milan Cathedral and a model for a huge equestrian monument to Francesco Sforza, Ludovico's predecessor. Of the artist's many projects, his studies of water reveal just how greatly his eclectic and brilliant mind was gripped by this element, which he explored as an artist, an architect, a scientist and an engineer.
It is precisely because of this that the Salone del Mobile.Milano has chosen the Conca dell'Incoronata canal lock in the Brera Design District – where Leonardo is likely to have overseen the building work as well as designing the lock gates – and water as the protagonists of the traditional city event, which runs from 5th to 14th April. The Conca will be covered over with an architectural insert, conceived by Marco Balich and developed in partnership with Balich Worldwide Shows, in the form of a great expanse of water, on the edge of which a huge LED screen will become a window onto a future Milan, showing a skyline that changes according to the time of day. Beneath this structure, inside the canal itself, a wunderkammer will be created, where visitors can experience all the beauty, energy and shape of water, enfolded in image and sound thanks to the use of cutting- edge technology, in a totally self-contained environment. This site-specific immersive experience will narrates a tiny fragment of the Renaissance and the future of Milan.
Even today Milan is seeing an exciting renaissance witnessed by projects that are developing into key architecture and culture destinations like Fondazione Prada tower by OMA, Herzog & De Meuron's Porta Volta mixed-use development, Apple store by Foster + Partners,  Piuarch's Gucci Headquarter, One-Works City Life district comprehending Zaha Hadid Architects' Generali Tower, PwC Tower by Studio Libeskind and the Allianz Tower designed by the Japanese architect Arata Isozaki and Italian architect Andrea Maffei.  We look forward even to discover the under construction Bocconi campus by SANAA and the Museum of Etruscan Art by Mario Cucinella Architects.
[google_map_easy id="12″]
Conceived by Davide Rampello and designed by the architect Alessandro Colombo, the other Leonardo tribute installation will be showcased at Milan Rho fairground in pavilion 24 from 9th to 14th April. It will celebrates his work and especially his legacy to the art of design and craftsmanship, a theme that is more fundamental to the world of design than ever before.
DE-SIGNO. The art of Italian design before and after Leonardo is an atmospheric narration of Leonardo da Vinci's genius and his links to contemporary Italian design. It will be characterised by a monumental set, dominated by two portals 6 meters high and 3 wide, made entirely by hand in wood by master sculptors and painters and inspired by original drawings and original studies by Bramante, the most prestigious architect in Milan during Leonardo's time. 4 cinema-sized screens will project a show of music and light that will envelop the visitor.
The Salone del Mobile.Milano 2019, with more than 2000 companies provides an extraordinary opportunity to spread the culture of design, amongst other things. In Milan history melds with the contemporary, the cultural and artistic heritage inspires the creativity of the future. It is a chance for different forms of expression and different languages to meet and cross-pollinate, triggering extremely high- level events and happenings.