Seminar "Regenerative Buildings: the future of building construction is now" is organized by University of Malta Faculty for Built Environment, Department of Environmental Design and Living Future Institute Europe and takes place on October 15th .
The Built Environment sustainability agenda is currently focused on resource-efficiency (Water and Energy efficiency, conservation strategies, and Waste reduction) only.
In this fashion, the design of buildings and city developments aims no higher than minimising their environmental impact. Instead, we should shift from a narrow focus on building energy performance, mitigation strategies to broader frameworks to enrich places, people, ecology, culture, and climate.
Regenerative architecture or regenerative design is a process-oriented whole systems approach to design. The term "regenerative" describes processes that restore, renew or revitalize their own sources of energy and materials. Regenerative design uses whole systems thinking to create resilient and equitable systems that integrate the needs of society with the integrity of nature.
The Living Building Challenge (LBC) is recognized as the most stringent and progressive green building standard that can be applied to any building type around the world.
The goal is to create Living Buildings that incorporate regenerative architecture solutions that actually improve the local environment rather than simply reducing harm. LBC was created by Jason F. McLennan and administered by the non-profit International Living Future Institute (ILFI), a global network dedicated to creating a healthy future for all.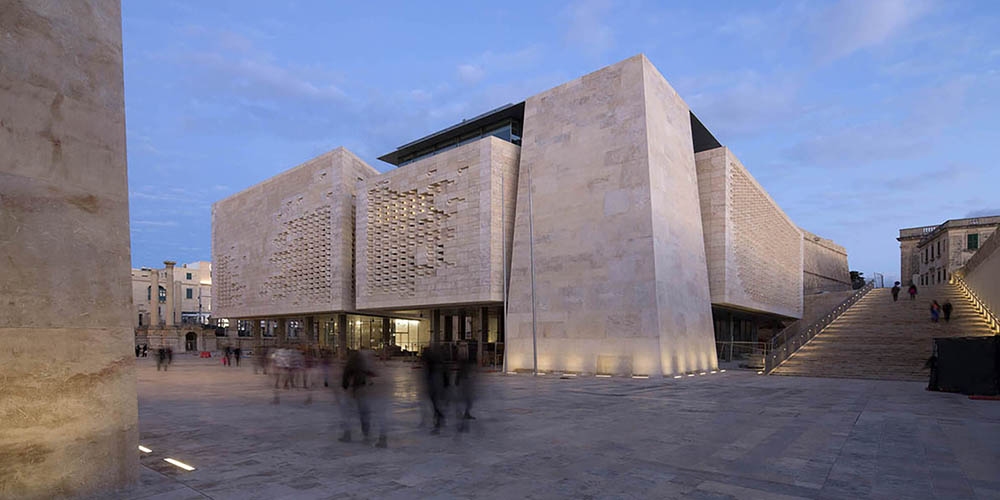 Valletta City Gate by RPBW Renzo Piano Building Workshop | Photography: Michel Denancé
In addition to the Living Building Challenge, ILFI runs the Living Community Challenge, Living Product Challenge, Net Zero Energy Certification, the Cascadia Green Building Council, Ecotone Publishing, Declare, JUST and other leading-edge programs.
In particular, a cultural shift is required since the EU's new Bauhaus strategy places the future of our built environment at the crossroads between art, culture, social inclusion, science and technology. Imaging future way of living in our cities must be a creative and interdisciplinary initiative.
The Regenerative Sustainability approach encompasses a solid scientific background when it comes to implement topics such as embodied carbon, biophilia, indoor acoustic, thermal, lighting comfort as well as indoor air quality just to mention a few.
For example, work environment can either mitigate indoor air pollutants or add to them, they can encourage or discourage physical activity. So, put simply, positive changes in our workplace environment can yield improved health outcomes.
Regenerative architecture goes a step further than sustainable architecture. In a regenerative system, feedback loops allow for adaptability, dynamism and emergence to create and develop resilient and flourishing eco-systems. A key distinction of regenerative architecture is the recognition and emphasis of the "co-evolutionary, partnered relationship between human and natural systems" and thus importance of project location and place.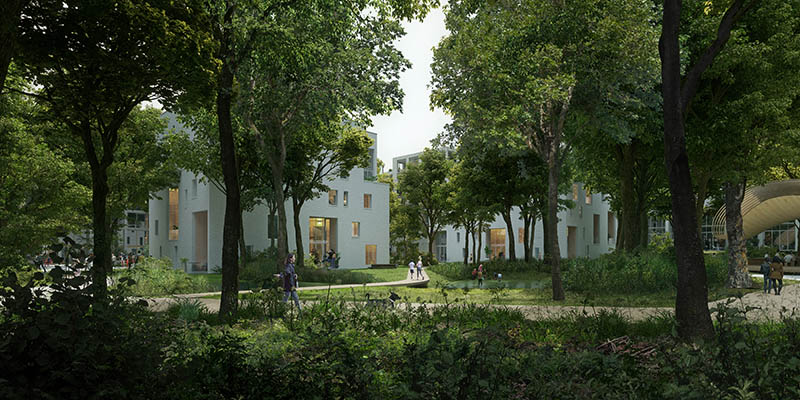 Powerhouse Compnay Houben/Van Mierlo, Vector-i and DELVA Landscape Architects and Urbanists design Holt in Groningen
The COVID-19 pandemic has put priority on stricter health and safety policies in indoor spaces. Besides this health crisis, understanding the drivers for health and wellbeing is an area of knowledge that it is poorly understood by most. End users, professionals, policymakers and the real estate industry at a large are still not aware of the overall benefits that it can enable.
This hybrid one-day seminar (15th October) will introduce the concept of regenerative architecture to a wider non-technical audience and the results of the four-year Horizon 2020 funded project called RESTORE, an acronym that stands for REthinking Sustainability TOwards a Regenerative Economy.
Attendees will be introduced by RESTORE Representatives to the current state-of-the-art researches about Regenerative buildings, local experts, exemplary case studies and the business case for health and wellbeing in real estate commercial development such as Alex Torpiano (Dean, Faculty for Built the Environment, UM), Vincent Buhagiar (Full Professor, Dept. Environmental Design, Faculty for the Built Environment, UM), Luca Caruso (University of Malta – MEDmeUp), Malcom Zammit (President, Chamber of Engineers), Beatrice Migneco (Malta Interior Design Association), Carlo Battisti (President, Living Future Europe), Andre Pizzuto (President, Kamra Tal Periti), Stefano Moncada (Senior Lecturer, University of Malta), Sergio Leone (Architect, Foundation for Medical Services), Daniel Micallef (Senior Lecturer, UM), Martin Brown (Fairsnape, Living Future Europe), Simon P. Borg (Head, Dept. Environmental Design, Faculty for the Built Environment, UM), Ruben P. Borg (Associate Professor, Faculty for the Built Environment, UM), Caldon Mercieca (Manager, Valletta Design Cluster), Charles Yousif (Secretary General, Malta Energy Efficiency and Renewable Energies Association), Daniele Prosdocimo (Head of Marketing at Valcucine), Amber Wismayer (AW Architecture and Design), Nika Levikov (Manager, EITClimate Kic-Hub Malta), Abigail Cutajar (Ing. and Advisor to the Minister at Ministry for Energy, Enterprise and Sustainable Development), Antoine Gatt (Landscape Architect, UM), Emanuele Naboni (KADK, Professor at University of Parma), Giulia Peretti (Architect, Real I.S.) and Charles Xuereb (CEO, Trident Estates plc).
After the presentation session RESTORE representative and local experts will join a round table where a gap analysis will be conducted to understand Malta's standpoint towards an ecological transition to a Regenerative Economy.
As a result of the round-table seminar proceedings will be shared to decision-makers, NGOs, and the real estate stakeholders.
Let's discover the new generation of designers that is applying ecologically inspired design to architecture, community planning, cities, enterprises, economics and ecosystem regeneration.
Regenerative Buildings seminar registration details
 Registration fee: EUR15 until Tuesday 12th October noon CET
The registration fee for University of Malta students will be free of charge but those attending would still need to register for the event online.
The Organisation team is monitoring the current pandemic situation. The event is subjected to the rules as mandated by the Health Authorities.
Cover image: Gábor Molnár | Bosco Verticale design by Bosco Verticale by Stefano Boeri Architetti