We are not so used to write about Overseas projects but a new tower in New York is really a notable event to be presented.
Kohn Pedersen Fox Associates (KPF), the renowned American architecture firm of which we visited the London office during one of our architecture firm visits, celebrated the opening of One Vanderbilt with a ribbon cutting ceremony.
One Vanderbilt is the first tower completed as part of New York City's East Midtown Rezoning, and with a direct connection to its metro and regional transit system, this new building symbolizes the city's resilience and looks to the future of its central business district with a number of public realm benefits, carefully crafted materiality, and a tapered form that establishes a striking skyline presence.
"The One Vanderbilt tower recalls the golden age of New York high rise architecture" said KPF President and Design Principal James von Klemperer.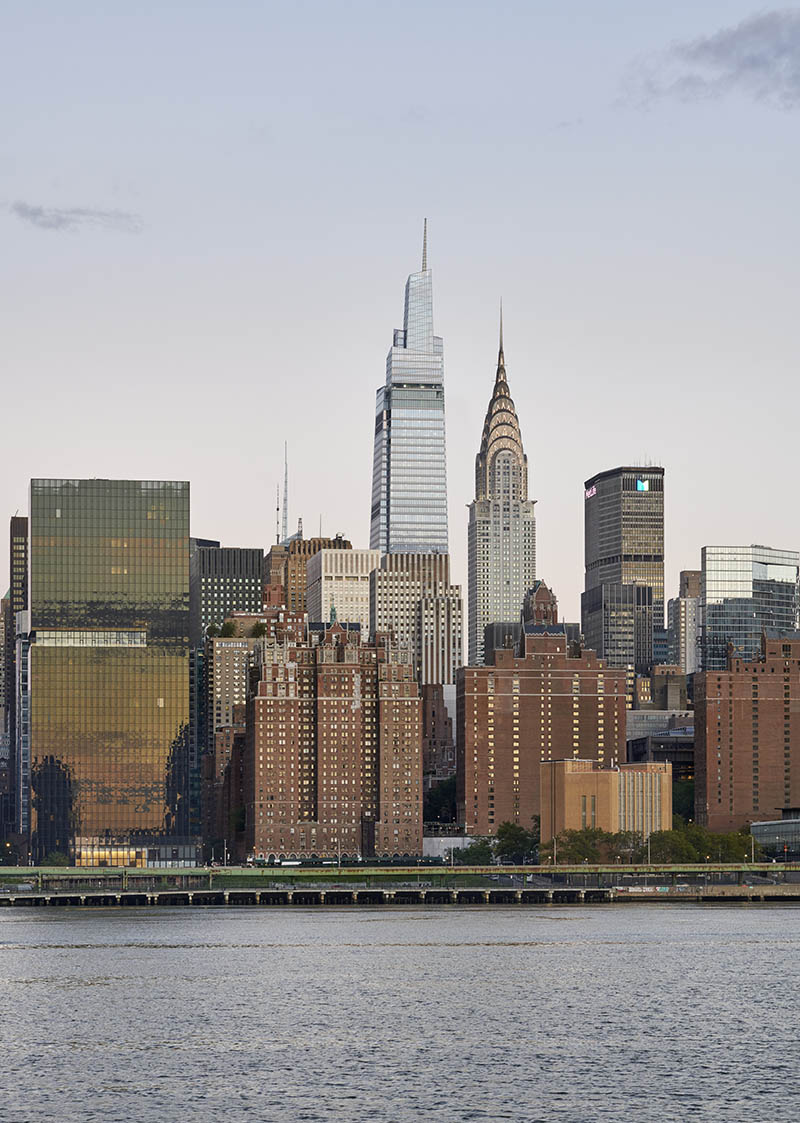 Reaching 427 meters in height, the new tower in New York is the tallest office tower in Midtown Manhattan, and transforms the civic experience of the Grand Central district, layering its architectural language and skillfully meeting market demands for cutting-edge, contemporary office space.
Expected to achieve LEED and WELL certifications, One Vanderbilt offers 1.7 million square feet of Class-A office space, featuring column-free expanses and stunning views through floor-to-ceiling windows. A 30,000 square-foot amenity floor with outdoor garden terraces, as well as world-class dining headed by esteemed, Michelin star-rated chef Daniel Boulud, will round out the building's offerings.
The One Vanderbilt design team chose terracotta for the building's lobby ceiling and fluted spandrels, which line the rising glass facade with natural, luminous texture and echo the color palette of the nearby station.
Jeffrey Kenoff, KPF Design Principal said "The authenticity and quality of these details are not only critical to their relationship within the tower itself, but also to the neighboring buildings including Grand Central and the Chrysler Building".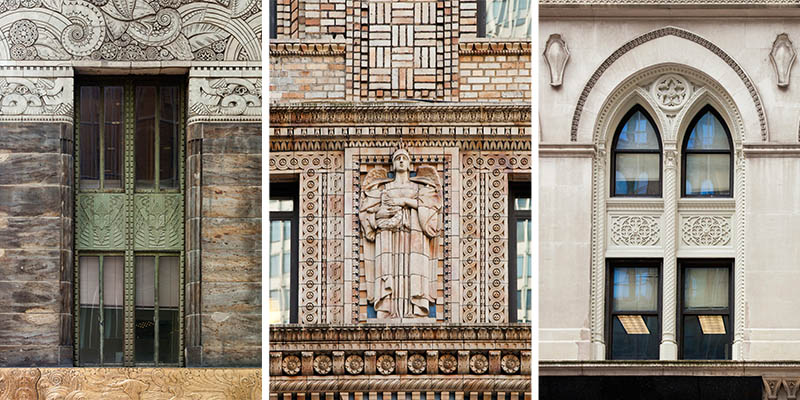 Photography: Sam Morgan
Over the course of five years, the design team collaborated closely with the Dutch glaze lab Studio Christine Jetten to create a coating that is contextual in nature yet modern enough to stand on its own. As a live material, terracotta exhibits variations in each batch, posing a significant challenge in determining an appropriate finish for its use on One Vanderbilt.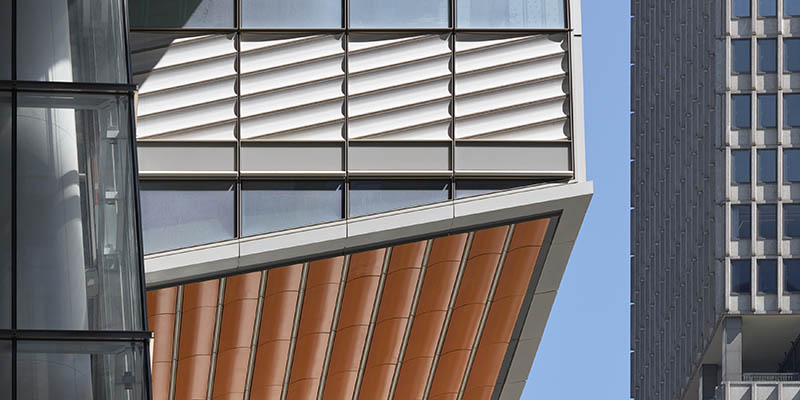 The Permasteelisa Group, a world leader in the "curtain wall" industry, has completed the architectural envelope. Permasteelisa through its subsidiary Permasteelisa North America has designed, engineered and produced 8,743 curtain wall panels, with 1,060 different configurations for a total of around 70,000 m2 (753,500 sq ft) of curtain wall. This includes 660 corner panels that were all different from each other as the tower is tapering from the bottom to the top, resulting in several unique panel modulations.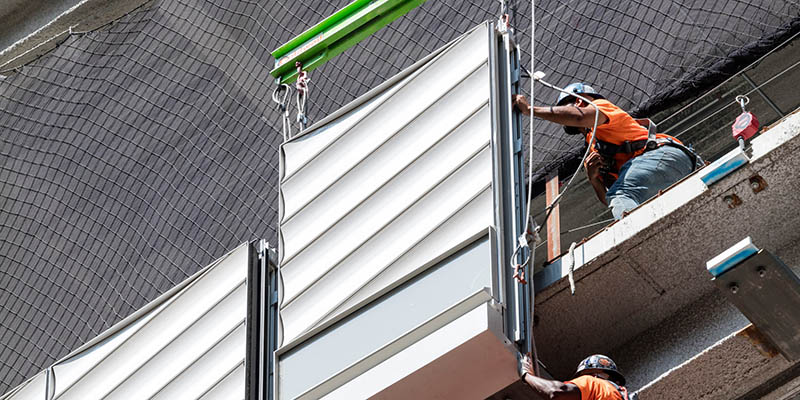 Working in collaboration with Boston Valley Terra Cotta, a series of mockups were field tested in real world conditions, which combined a number of shapes and glazes to create a design sympathetic to the warm tones of the train hall and other historic Manhattan buildings. Rising the full height of the supertall building, One Vanderbilt's terracotta panels are shaped as gentle scoops and rendered in a luminescent pearl tone.
The focal point of One Vanderbilt's lobby is a large-scale KPF-designed installation. Comprised of a variety of bronze elements arranged in a starburst-like spread, the installation is suspended on a series of integrated high-tension cables. Furthering the concept of materiality in the tower, each element is hand- textured, hand-polished, and features chamfered edges for additional depth. These pieces each have a unique shape, position, and rotation and are carefully lit to highlight their organic and varied effect.
Taken as a whole, Kohn Pedersen Fox Associates designed a new tower in New York City with Manhattan DNA, a new landmark in the city skyline.
Kohn Pedersen Fox Team:
Chairman                                                       A. Eugene Kohn, FAIA RIBA JIA
President and Design Principal                 James von Klemperer, FAIA RIBA
Managing Principal                                     Dominic Dunn, AIA
Design Principal                                            Jeffrey Kenoff, AIA
Managing Director                                      Andrew Cleary, AIA
Senior Designer                                            Darina Zlateva, AIA
Job Captain                                                    Nicole McGlinn-Morrison, AIA
Kohn Pedersen Fox Project Team and Contributors:
Charles Ippolito, Trent Tesch, Rachel Villalta, Katsunori Shigemi, Alessandro Boccacci, Steven Smolyn, Rebecca Kent
Matthew Acer, Christopher Allen, Laura Austin, Theodore Carpinelli, Gera Feigon, Javier Galindo, Anton Gladden, Susan Green, Younhak Jeong, Algis Kalvaitis, Jerrod Kennard, Soroush Khajegi, Kiyong Lee, Mark Long, Meghan Malone, Stephen Martinez, Meg Mayell, Joseph Michael, Brandon Mut, Muchan Park, Jennifer Pehr, Burgess Rice, Stephanie Rogowski, Ian Siegel, Maxwell Strauss, Justin Whiteford, Lucien Wilson, Xin Zhang
Photography: Raimund Koch