As part of the London Festival of Architecture 2019 we completed the second educational architecture practices and buildings tour within London Bridge area in collaboration with Kristalia.
15 curious architecture students, part 1 architects and architects joined our free educational tour to learn the architecture philosophy of the most influential architecture firms in London, and of course in the world, and to experience some awarded buildings in London guided by their creators.
As during the previous architecture firms tour we visited different architecture practices discovering and learning their distinct design approaches and views.
The first architecture firm we visited was tp bennett: this year at the 14th place in the AJ100 best Uk architecture firms by number of employees and fees. tp bennett is an independent architectural, design and planning practice, owned and managed in the UK and with a strong international presence.
Their ethos is to re-animate and adapt redundant historic buildings to reinforce a unique sense of place within each project.
One of the things that emerges most form the visit is their sensitivity to the employees. In fact they work in the spirit of cooperation, collaboration and fun, promoting Friday socials and an annual study trips.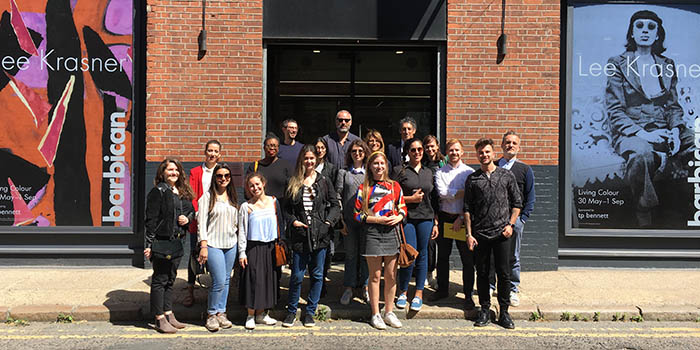 The second stop of London architecture practices and buildings tour was at dRMM a London-based, international studio of architects and designers founded in 1995 and led by Alex de Rijke, Philip Marsh, Sadie Morgan and Jonas Lencer renowned for creating architecture that is innovative, high quality and socially useful.
Steven Wallis introduced us dRMM's design principles which we can summarize with some keywords such as "to transform", "to inspire", "environmentally friendly", "culture" and "society" after that we had the chance to visit Trafalgar Place accompanied by Philip Marsh, one of the practice founder.
Trafalgar Place is the Stirling Prize shortlisted housing project delivered as part of the large-scale regeneration of Elephant and Castle. Comprising 235 high-quality homes, integrated within a vibrant landscape and mature trees, the Lendlease project transformed the built environment whilst referencing the historic fabric of the neighbourhood.
On the second day of the London architecture practices and buildings tour the first visit was at Kohn Pedersen Fox (KPF) a firm consisting of over 650 staff led by 30 principals, with offices also in New York, San Francisco, Shanghai, Hong Kong, Seoul, Abu Dhabi, Berlin, and Singapore. KPF is focused on the design of buildings of all types and scales, in all geographic regions. Their projects include the world's tallest towers such as the Heron Tower in London, Tour First in Paris, One Vanderbilt in New York (Set to become the tallest office tower in Midtown) and the International Commerce Centre in Hong Kong, but even residential projects such as Floral Court we visited with Alex Miller.
Before the visit Alex introduced us the evolutions of Covent Garden area in the history. Started as early as the 7th century as a Saxon settlement. It is believed that it was the supporting town, then called Lundenwic, of a nearby Saxon port. The monks of St. Peter's at Westminster used it as their "Convent Garden". In the years it became a fruit and vegetable market and then a mixture of restaurants and cafes, commercial premises and market stalls.
Floral Court is an assemblage of contemporary and historic buildings around a newly-created courtyard. It provides a refuge in a busy and colourful part of London. The mixed-use precinct to the northwest of the Covent Garden piazza adds a new layer of contemporary design to the historic urban fabric.
After visiting Covent Garden area we headed to Gensler's new offices in Moretown (formerly Thomas More Square). Moretown is a 560,000-square-foot redevelopment in the heart of Wapping that is now being transformed by Resolution Property into an inspiring design-led campus aimed at businesses operating in media, technology, finance and innovation. 
At Gensler, James Lawrence welcomed and lead us into their world. Gensler architectural, interior design and planning teams worked together to create a space that draws inspiration from the area's rich tapestry to enhance and visually add to the existing environment.
They wanted an environment to prototype concepts, objects, spaces, ideas and behaviors. Gensler London Office is a fluid, industrial and experimental space; a work in progress reflecting how they define themselves in terms of constant change.
At the end of the day, as final venue of the educational tour, we visited the recently awarded Architects Journal Building of the Year, RIBA London Award 2019, RIBA London Building of the Year Award 2019 and RIBA National Award 2019 London Bridge station with Stuart Grahn and Anna Nenasheva from Grimshaw Architects (7th place in the 2019 UK biggest architecture practices).
The London Bridge station is truly impressive. The railway lines now bridge the space dedicated to the passengers and are a significant feat in engineering. The concourse impressively recycles bricks from demolished arches, locating them in new walls within the station.
The most astonishing thing is that this skillful design was implemented in phases, allowing the project to be delivered on time and budget while minimising disruption to the passengers using the station during construction…in the end they projected and re-projected the station 9 times while refurbishing and restructuring it!
Once again, an inspiring architecture practices and buildings tour in London designed after a brainstorming idea of Daniele Prosdocimo and Daniel Gava came together again quickly!  
What makes us the happiest is the gratitude of our guests and partners!
Here below please find some of their messages:
Exceptionally well organized tour rich of inspiring information! So uplifting to see the motivation and energy involved. We all got the best out of it! To everyone who with pride and dedication took part in sharing their passion. I look forward to seeing you again.
Isabelle Posocco Kristalia Sales Manager
Thank you so much for the tour,it was brilliant, and lovely to meet you all
Davina
Hi guys! I would like to thank you for these two fantastic days! It was an amazing opportunity to visit many leading architectural studios, with international reputation. I'm delighted to have experienced the architectours! I hope to see you all in the near future!
Lorena
Tired but very happy now it's time to design the next educational tour! See you soon!