We have just returned from our Architecture firms and building tour part of the London Festival of Architecture and we still have in mind the images of the beautiful architecture studios and buildings we visited.
 "Architecture is about experience: not only visual but also what you can touch, what you can feel." Ma Yangson (founder of MAD Architects)
This is what our architecture students and architects learned most in these two days!
At the very beginning, when we visited Apt Architects. Robin Partington, the founder who led the design team for the Gherkin when at Foster and Partners, gave us a glimpse of his world. He told us about how to use and feel different materials in architecture. From concrete to iron, from Frank Lloyd Wright to the Romans and Leonardo, from his favorite project (the Johnson Wax Headquarters) to the British Museum library we had been lucky to hear to a passionate and inspiring person that gave us great and uplifting views.

Robin Partington said "It was good to meet so many enthusiastic students who had taken the initiative to find out more about the world that they will soon become a part of. They were hungry to learn and keen to explore what is involved, asking lots of insightful questions throughout their visit. I was delighted to be able to give them a glimpse of my world. I was fascinated to hear that Novamobili had taken a pro-active role in helping to organise the event, a brilliant way of making contact with the next generation of inspirational designers. They should be applauded for their initiative and insight. It would be good to meet in the future."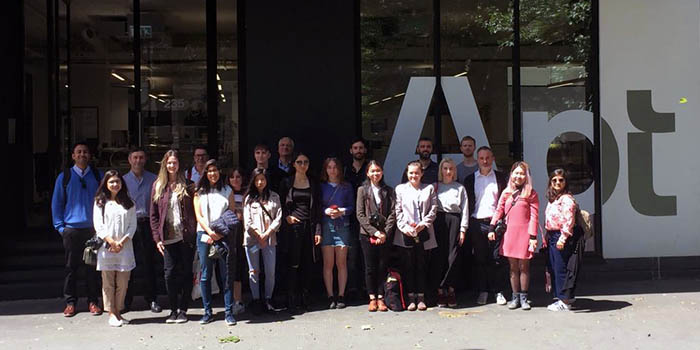 The second stop of the Architectours architecture firms and building tour was nothing less than the Bloomberg building where Kate Murphy form Foster + Partners who designed it and Kate Stirling where waiting for us.
The building's design is sympathetic to its surrounding context, an exemplar of sustainable design and uniquely of its place and time – a natural extension of the City that will endure and improve the surrounding public realm. The idea behind was to be "the good neighbor". In fact, form the outside it doesn't seem at all what you will find and feel inside!
During the visit we had even the chance to listen directly to the voice of Kate Stirling the history of the famous prize dedicated to his father, the Stirling Prize of course, and given to the Bloomberg building by The Royal Institute of British Architects (RIBA) in 2018.
The first day of the architecture educational tour ended with the astonishing view form the Leadenhall Building designed by Rogers Stirk Harbour + Partners and also home of the renowned studio.
The choice of a completely open plan office reflects the democratic beliefs of the practice. There are no individual offices; partners sit with their architectural teams, and every Monday a weekly meeting open to all employees is held to discuss competitions, on-going projects and more. As Jack Newton explained us Staff wellbeing is important, with a conscious focus on providing good working conditions for staff and ensuring a family-friendly environment.
During the second day of the tour we visited Grimshaw Architects where Paolo Vimercati, an Associate Principal at Grimshaw, told us about the design philosophy of the firm. The company's work is characterised by strong conceptual legibility, innovation and a rigorous approach to detailing, all underpinned by the principles of iconic, pragmatic, visionary, enduring and sustainable design.
At WilkinsonEyre we had probably the funniest and most interactive moment of our architecture firms and building tour.
After a presentation of the architecture studio and a short walk around with Giles Martin, Gabi Code and their team (Elliott Krause, Heidi Mergl and Kenji Tang) we were put literarily to the test: when back to the meting room we found 12 WilkinsonEyre's architecture buildings images and 12 different materials (joints, surfaces, inspirations, models…) to match.
A lot of fun and four studio books signed by Chris Wilkinson to the winners!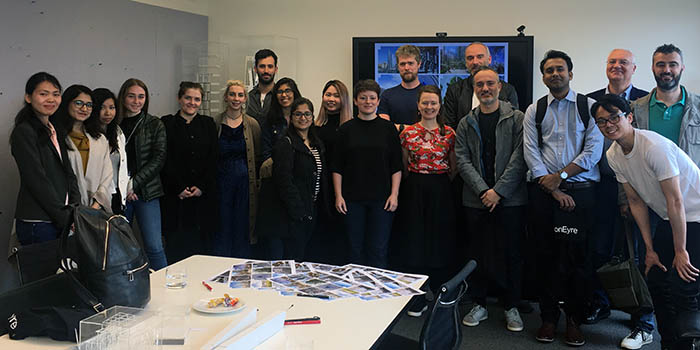 Last but not the list, the visit to One Fen Court building with architect Paul Barke-Asuni from Eric Parry Architects. Unfortunately, a typical English weather did welcome us at the rooftop garden. One Fen Court is located in the heart of London's insurance district. Situated near Aldgate, Fenchurch Street to the south of the site is a main thoroughfare in and out of the eastern edge of the City of London. The area is marked by its dense historic street plan. In fact from the roof garden, designed by German landscape architects Latz + Partner, we could enjoy a wonderful view.
This architecture experience designed after a brainstorming idea of Daniele Prosdocimo and Daniel Gava was free thanks to our valuable partner Novamobili, one of Italy's leading manufacturers in the production of furniture and systems, capable of creating elegant, comfortable home interiors but also to foster the educational growth of architecture students, young and professional architects.
What makes us the happiest is the gratitude of our guests and partners!
Here below please find some of their messages:
Thanks Daniele & Daniel and all. It was a wonderful tour with loads of fun and inspiration.
May (University of Nottingham)
Thanks for the wonderful tour! It was a great opportunity to visit these offices as well as meet with all these talented people! Can't thank the organizers enough!
Manjima (SCALE Architectural Consultants)
Thank you for the amazing tour, it was a pleasure to meet all these wonderful people! Looking forward the next one!
Matteo (University of Florence)
Let me just say thank you to Architectours for the great effort in getting this tour organized. I am a curious person by nature and like to learn a bit more every day.
I did learn a lot and taking back home a whole load of information. Thanks also to all the participants, I wish all the best for your bright careers!
Mauro Trevisan (Novamobili Sales Director)
A heartfelt thanks to all the collaborating architecture firms! 
See you at the end of June for our second tour part of the London Festival of Architecture 2019!!!