Novamobili partners with Architectours to foster the educational growth of architecture students, young and professional architects while visiting the most inspiring architecture firms in the World and architectures in London. Novamobili supports the London Festival of Architecture 2019 educational tour focused within the City of London (3 – 4 June 2019).
Novamobili is an Italian furniture brand owned by Battistella Company, one of Italy's leading manufacturers in the production of furniture and systems. The Italian brand is capable of creating elegant, comfortable home interiors, where modular systems are designed to bring together function and aesthetics.
It strives to meet the demands of contemporary lifestyles with its range of clean-lined designs and extensive choice of finishes, stemming from research into materials and texture and its application to interiors.
The cornerstone values of Novamobili philosophy are modularity, flexibility, cross-functionality and wide applicability, the expression of an artisan tradition that lives on in a technologically advanced company open to future challenges. From walk-in closets to beds and drawer units, from bookcases to sofas and even occasional furniture, Novamobili offers a comprehensive, flexible furniture system featuring a whole host of solutions designed to inject personality into every room.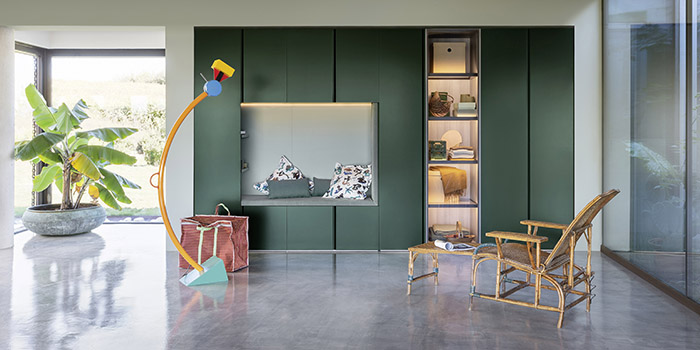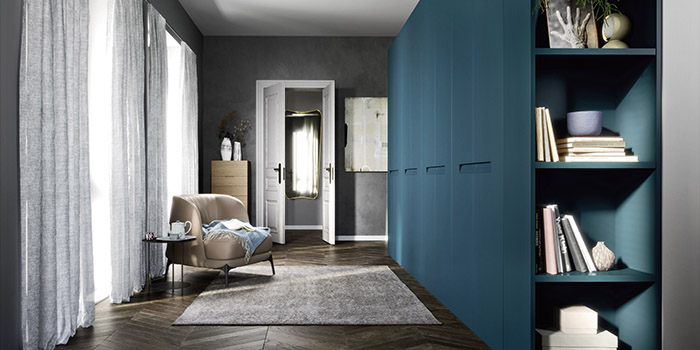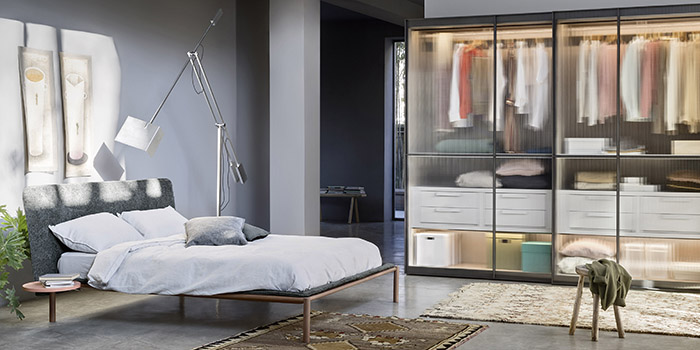 From production lines to warehouse management, Battistella Company employs cutting-edge technological solutions that combine an exceptional level of productivity and quality with precision execution. These abilities cater to the market's many and varied demands and enable them to produce custom-designed furniture tailored to individual requirements with fast turnaround times. Just to mention some numbers, Battistella Group, with its real estate value of 50M €, is able to handle 10.000 boxes every day in its 3 factories of 100.000 sqm.
Over the years, the group has successfully leveraged its versatility and experience to develop new projects for the contract market. Bespoke design, a modular approach to component parts and collaboration with various designers are the guidelines that the group follows to create its designer collections. That is why over 20% of the group's products are custom made to meet the customer's demands.
In line with its green policy and to reduce its environmental impact, the group has chosen to use environmentally compatible materials like recycled wood that doesn't involve felling trees, non-toxic panels with near-zero formaldehyde emissions that are rated E1 according to European standard EN 13986 and packaging systems that limit the use of oil-derived materials as much as possible. All the material used in the production process (rags, sandpaper, waste, packaging, etc.) is disposed of through a partner who specializes in recycling. We ensure the health and safety of workers and consumers alike are protected by employing processes that create little pollution and are low on toxins. They have chosen to adopt a water-based matt lacquering system as a strategic asset: Battistella was the first Italian company to believe in this finish, as far back as 2005. A choice that reflects their desire to promote environmental sustainability and our commitment to creating a product that is safe for people.
Despite advances in technology, attention to detail – a trait typically associated with the artisan tradition – has remained one of the group's key qualities to this day: expert operators still perform furniture painting and assembly by hand. The pursuit of quality in every aspect and attention to detail in the item's design and manufacture translate into the use of carefully selected materials and components – with top-brand hardware, mechanical parts given rust-inhibiting finishes, toughened glass and non-scratch edges – revealing the essence of the company know-how.
Our London Festival of Architecture 2019 educational architecture tour has different main features:
to be inspired by breaking-through architects while visiting the most renowned and inspiring architecture firms based in London
to learn the architecture philosophy of the most influential architecture firms in the world
to experience some of the most awarded buildings in London guided by their creators
Program:
Monday 3rd June 2019
Apt office
special participation and talk by Kate Stirling
Tuesday 4th June 2019
Only 15 lucky participants will be selected to join this free tour and contacted by the organisation with the details of the program and the meeting point.
If you are an architecture or interior design student after your subscription we will ask you to send your portfolio to info @ architectours .it.
Senior architects of each studio will choose their preferred. Don't miss the chance to be seen.