All the best architecture firms in Germany have to deal with a long, rich and diverse history. Every major European style from Roman to Post Modern is represented, including renowned examples of Carolingian, Romanesque, Gothic, Renaissance, Baroque, Classical, Modern and International Style architecture.
A heterogeneous and diverse architectural mix, with architectures differing from town to town. Home of the Bauhaus, the German art and architecture school became the most influential of the 20th century, especially in the field of modern furniture design.
Differently from other main European countries, the most renowned architecture firms in Germany are not concentrated in one or two main cities but are glocally distributed with many branches all over the country. Of course Berlin is the place to be, but you will find many headquarters based in other main cities such as Stuttgart, Hamburg, Frankfurt, Munich, Dusseldorf, Dortmund and Aachen…

 headquarters  

 offices
…and right from Aachen starts our clockwise journey through the best architecture firms in Germany.
Top architecture companies in Germany
Summary
Kadawittfeld Architektur
JSWD Architekten
HPP Architects
ingenhoven architects
RKW Architektur +
Gerber Architekten
Tchoban Voss Architekten
gmp Architekten von Gerkan, Marg und Partner
J. Mayer H. und Partner Architekten
Barkow Leibinger
GRAFT Architects
Eike Becker Architekten
Max Dudler
Sauerbruch Hutton
June14 Meyer-Grohbrügge Chermayeff
Staab Architekten
Allmann Sattler Wappner Architekten
Nickl Partner
Muck Petzet Architekten
HENN
wulf architekten
Bez + Kock Architekten
DIA Architekten
Steimle Architekten
Behnisch Architekten
Heinle, Wischer und Partner
Auer Weber Assoziierte
LAVA | Laboratory for Visionary Architecture
LRO Lederer Ragnarsdóttir Oei
SOMAA
schneider+schumacher architects
Franken Architekten
AS + P
Kadawittfeld Architektur
Originally founded in Aachen in 1999, Kadawittfeld Architektur today stands for more than just architectural design. The interdisciplinary approach of their work, linking architecture, interior and product design on the one hand and at the interface of town planning and urban projects, on the other hand, reflects the full range of our creative output. In a team of more than 160 persons, they create architecture with added value space for living, communication and work environments. In the way they deal with volumes, materials, structures and functions, they strive to integrate our schemes into their surroundings with the objective of creating contemporary and sustainable architecture and meeting the needs of both the users and the general public.
Aureliusstraße 2, d – 52064 Aachen, Germany
Alexanderstraße 7, d – 10178 Berlin, Germany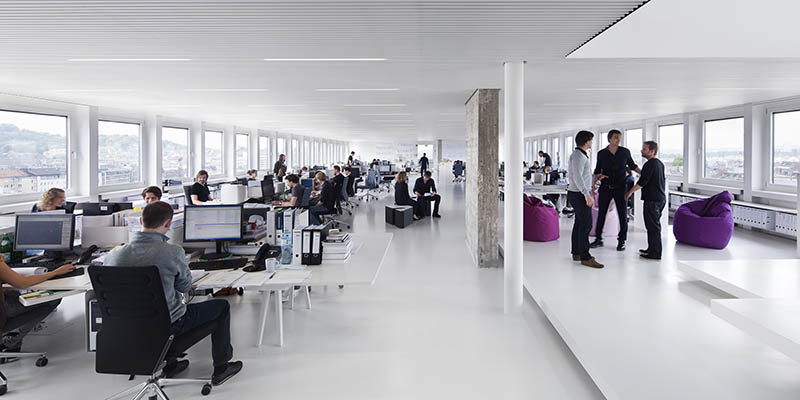 kadawittfeldarchitektur Aaechen office  | Photography: Jens Kirchner
JSWD Architekten
Amongst the top architecture firms in Germany, we have to quote the Cologne-based firm JSWD Architekten. The four partners Jürgen Steffens, Olaf Drehsen and the brothers Konstantin and Frederik Jaspert founded the architecture practice in 2000, they are now leading an office with more than 140 employees from 30 nations. Their architecture is characterized by a dense synthesis of shapes, functionality and select materials. These three elements are inseparable and assume an equal, playful bond with all other requirements of the construction task. The resulting buildings reveal the continuous pursuit of conceptual formal clarity. JSWD finds further architectural, technical and intellectual inspiration in cooperative ventures with other architectural firms in France and Luxembourg, in the USA and in China while maintaining a collaborative exchange in the realization of joint construction projects.
Maternusplatz 11, 50996 Köln, Germany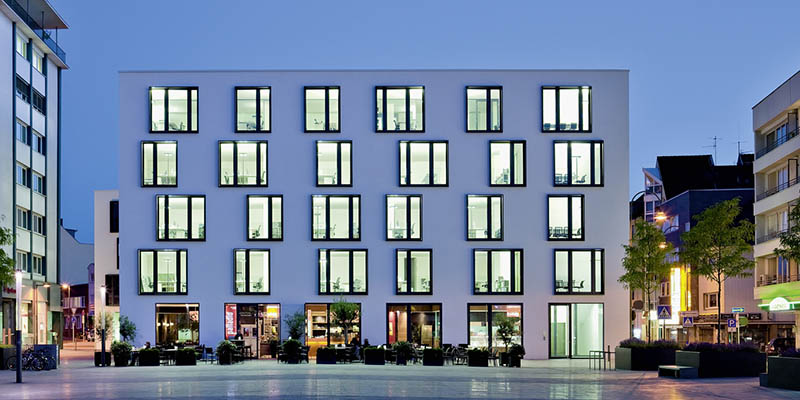 Courtesy: JSWD | Photography: Jens Willebrand
HPP Architects
HPP Architects is one of Europe's leading architectural partnerships with a full range of architectural and master planning services. Since its foundation by Professor Hentrich, the 4th generation of HPP partnership today includes a global team of more than 25 nationalities and 480 architects, engineers, urban designers and specialists. Today it comprises 13 offices including 8 regional offices in Germany and 5 international branches in Turkey, China and Netherlands. HPP Architects' headquarter is located in the Düsseldorf Media Harbor, further offices are located in Amsterdam, Beijing, Berlin, Cologne, Frankfurt, Hamburg, Istanbul, Leipzig, Munich, Shanghai, Shenzhen and Stuttgart. Amongst the largest architecture firms in Germany, they specialize in the design of corporate headquarters and campus, sports facilities, education and culture, refurbishment and listed building projects.
Zollhof 26, 40221 Düsseldorf, Germany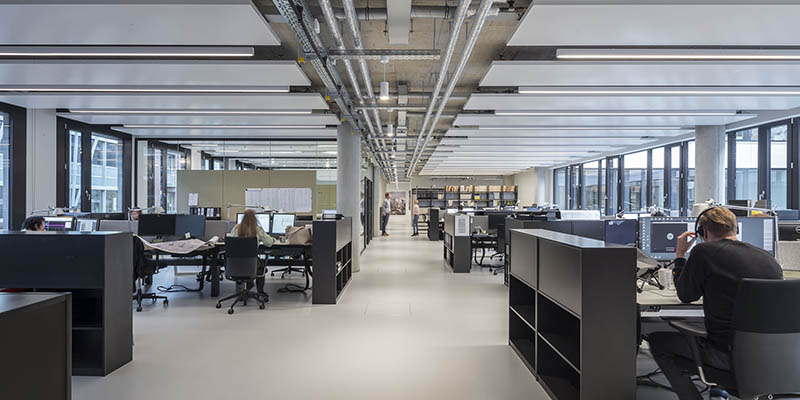 Courtesy: HPP Architects | Photography: Ralph Richter
ingenhoven architects
In 1985, Christoph Ingenhoven founded ingenhoven architects, a practice that is one of the pioneers of sustainable architecture. The team consists of about 100 members of staff of different disciplines and aims to create architecture that responds to each respective location in a specific way and, at the same time, tries to find architectural answers to urgent questions of the present and near future. ingenhoven architects has won numerous competitions and awards. One of the practice's core competences is the design and implementation of highrise buildings. The head office of ingenhoven architects is located in the Düsseldorf Media Harbor precinct. In addition, the firm is represented internationally at St. Moritz, Sydney and Singapore.
Plange Mühle 1 40221 Düsseldorf, Germany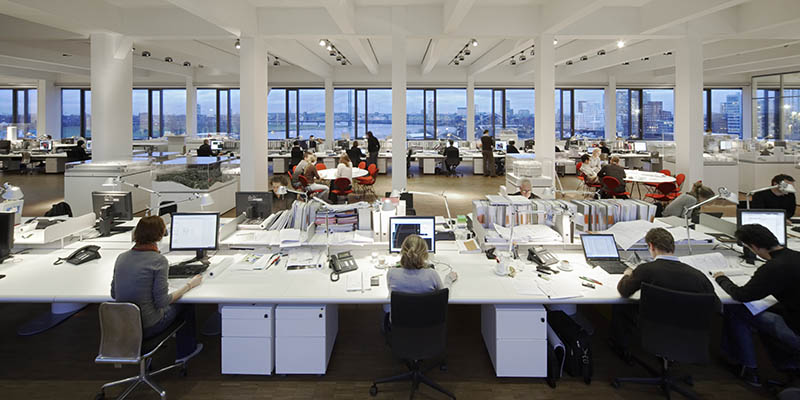 Courtesy: ingenhoven architects | Photography: HGEsch
RKW Architektur +
Based in Düsseldorf, RKW Architektur +, as one of the best architecture firms in Germany, has been shaping contemporary living and working environments since 1950. This makes RKW a pioneer amongst German architectural firms that, in the course of its long, unparalleled success story, has created and still creates iconic designs. Together with around 400 employees from 25 nations, RKW offers private and public builders a comprehensive range of services in all classic services phases including general planning, building and quality management, BIM-planing as well as project development, moderation and consulting services.
Tersteegenstraße 30, 40474 Düsseldorf, Germany
Lehrter Straße 57, Haus 9 10557 Berlin, Germany
Grimmaische Straße 13–15 Hansa-Haus 04109 Leipzig, Germany
Erphostraße 56, Erpho-Haus 48145 Münster, Germany
Leopoldstraße 21 80802 München, Germany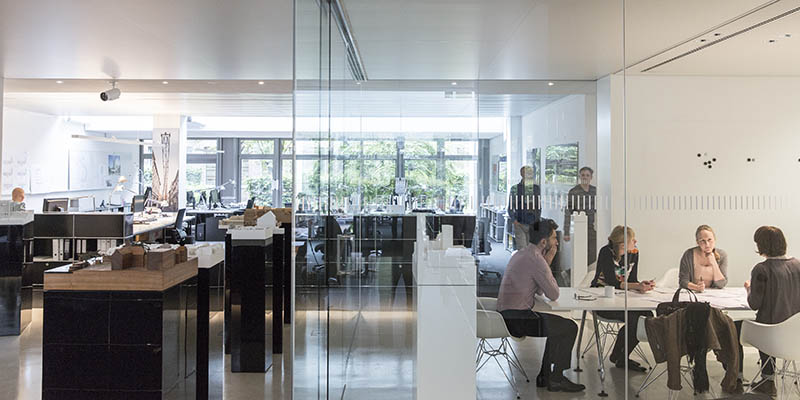 RKW Architektur + Düsseldorf | Courtesy: RKW Architektur
Gerber Architekten
Based in Dortmund and founded in 1979 by Eckhard Gerber, Gerber Architekten is another one of the top architecture firms in Germany. Their goal as a team of architects, urban and landscape designers, engineers and interior designers is to create a built environment that touches people, awakens their desires, where people like to go and enjoy themselves, spaces that make themselves understood and of course. With 50 years of experience, they can offer a wealth of expertise, competence and excellence. Gerber Architekten currently employs 170 staff organized in project teams consisting of architects, interior designers, landscape designers, engineers and surveyors in our offices in Dortmund, Hamburg, Berlin, Riyadh and Shanghai. Over the years they have delivered projects in almost all fields of architecture, including laboratories, schools and universities, residential projects, railway stations, high-rise office towers, schools, universities, science and research facilities as well as cultural buildings.
Tönnishof 9–13 44149 Dortmund, Germany
Sprinkenhof Burchardstraße 14 20095 Hamburg, Germany
Haus zur Berolina Hausvogteiplatz 12 10117 Berlin, Germany
Tchoban Voss Architekten
Since its foundation in 1970 by Alf M. Prasch, Wolfgang Nietz and Peter Sigl in Hamburg, Tchoban Voss has stood for the successful development and implementation of contemporary buildings. Following the opening of additional locations in Dresden and Berlin, the partnership was expanded in 1995 by Ekkehard Voss and Sergei Tchoban. With many years of experience, excellent project teams, efficient administration and a wide range of planning tools, they offer architecturally and functionally sustainable solutions for almost every construction task at home and abroad. They design, plan and build for regional and international clients in the public and private sectors in throughout Germany, as well as in Russia and its neighbor states, Turkey, Central Asia and the Arab states. In addition to residential and commercial buildings, their emphasis is on the planning of hotels, office and industrial complexes, leisure, educational and social facilities, as well as the conversion and revitalisation of listed buildings. For this purpose, they have always undertaken all architectural services up to general planning.
Bäckerbreitergang 75, 20355 Hamburg, Germany
Rosenthaler Straße 40-41, 10178 Berlin, Germany
Leipziger Straße 51a, 01127 Dresden, Germany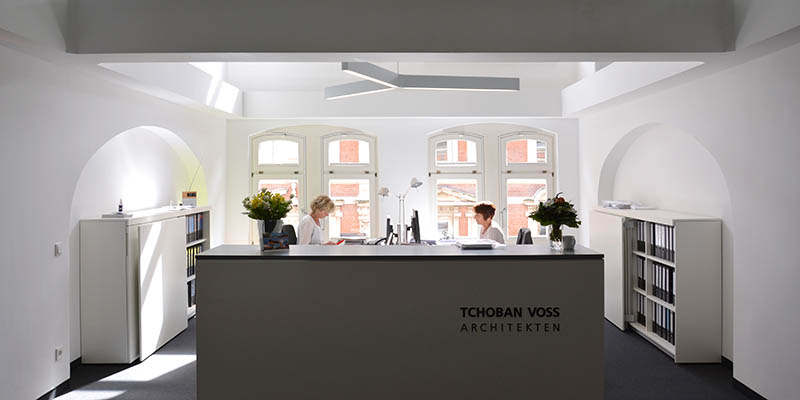 Tchoban Voss Hamburg | Courtesy: Tchoban Voss | Photography: Axel Neubauer
gmp Architekten von Gerkan, Marg und Partner
The architectural practice von Gerkan, Marg and Partners was founded by Meinhard von Gerkan and Volkwin Marg in 1965. gmp is one of the few practices with a generalist position, which takes responsibility for a project from the design idea and its realization right through to the interior design. They have designed small scale homes, hotels, museums, theaters and concert halls, office buildings, commercial centers, and hospitals as well as research, educational and sports facilities, buildings for transportation, trade and industry buildings and master plans. gmp has succeeded in winning more than 590 prizes in national and international competitions, among them more than 310 first prizes and a large number of awards for exemplary architecture. More than 370 buildings have been constructed by gmp worldwide.
Elbchaussee 139 22763 Hamburg, Germany 
J. Mayer H. und Partner Architekten
J. Mayer H. und Partner Architekten is an international award-winning architecture office with projects at the intersection of architecture, communication, and new technology. From urban planning schemes and buildings, to installation work and objects with new materials, the relationship between the human body, technology, and nature form the background for a new production of space. Among best architecture firms in Germany, J. Mayer H. has a wide array of completed national and international projects. National and international awards include the Mies van der Rohe Award, emerging architect, special mention 2003; Holcim Award, winner Europe bronze 2005 and Audi Urban Future Award, winner 2010.
Knesebeckstraße 30, 10623 Berlin, Germany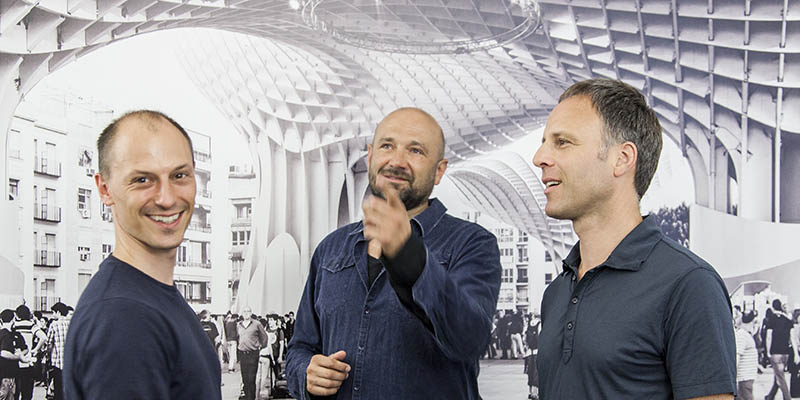 Courtesy: J. Mayer H. und Partner Architekten | Photography: Patricia Parinejad
Barkow Leibinger
Barkow Leibinger is an American/German architectural practice based in Berlin and New York, founded in 1993 by Frank Barkow and Regine Leibinger. Their discursive research-based approach to architecture and design allows Barkow Leibinger's work to respond to advancing knowledge and technology. Their work is realized over a wide range of scales and building types including building for workplace (industry, office, and master planning), cultural, housing, event spaces, as well as exhibitions and installations in the public realm internationally. Recently completed buildings include the Trumpf Smart Factory in Chicago, the Fellows Pavilion for the American Academy in Berlin, the HAWE Factory Kaufbeuren, the Tour Total office high-rise in Berlin and the Harvard ArtLab. They have won five National AIA Honor Awards for Architecture and a Global Holcim Innovation Award for sustainability as well as various German architecture awards.
Schillerstraße 94, 10625 Berlin, Germany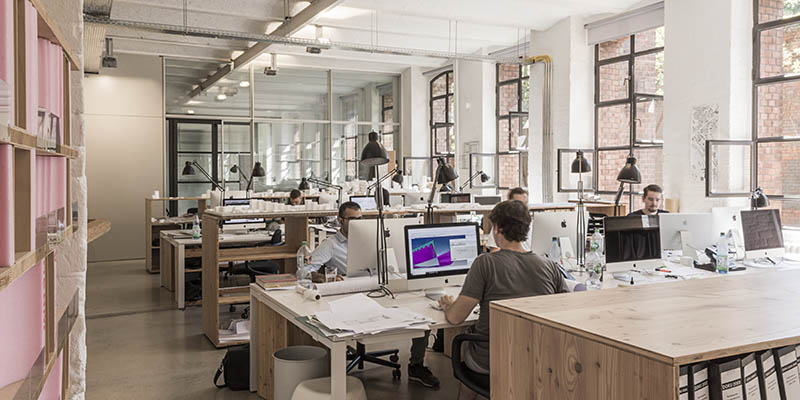 Courtesy: Barkow Leibinger
GRAFT
GRAFT was established in 1998 in Los Angeles, California by Lars Krückeberg, Wolfram Putz, and Thomas Willemeit. Further offices followed in Berlin, Germany, in 2001 and Beijing, China, in 2004. GRAFT was conceived as a Label for Architecture, Urban Planning, Design, Music and the pursuit of happiness. With the core of the firm's enterprises gravitating around the field of architecture and the built environment, GRAFT has always maintained an interest in crossing the boundaries between disciplines and grafting the creative potentials and methodologies of different realities. This is reflected in the firm's expansion into the fields of exhibition design and product design, art installations, academic projects and »events« as well as in the variety of project locations in Germany, China, UAE, Russia, Georgia, in the U.S. and Mexico, to name a few.
Heidestraße 50 10557 Berlin, Germany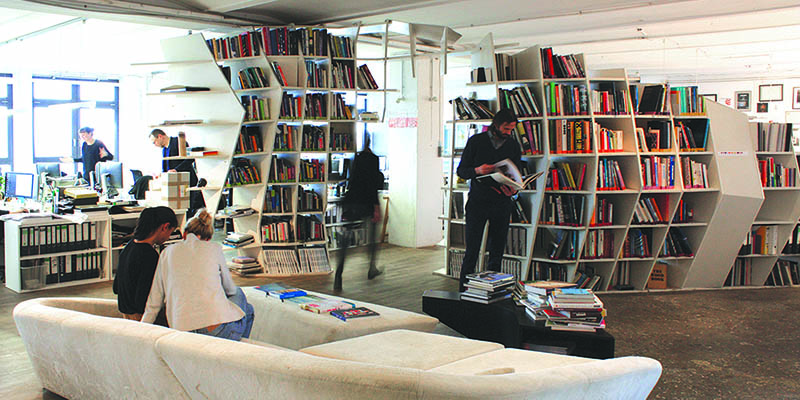 Courtesy: GRAFT
Eike Becker Architekten
Founded in 1999 by Eike Becker and Helge Schmidt, Eike Becker Architekten is headquartered in Berlin. International projects and awards have since then confirmed that they are ranking amongst the best architecture firms in Germany and in Europe. Eike Becker Architekten is working at the interface between architecture and urban planning, using innovative materials and living up to our social responsibility. The range of their services includes interior design, planning and implementation of office building, high-rise building, hotel, residential and urban planning projects.
Jean-Monnet-Straße 2, 10557 Berlin, Germany
Max Dudler
Max Dudler was born in Altenrhein in Switzerland. After completing his studies in architecture at the Städelschu­le in Frankfurt am Main and at the Hochschule der Küns­te Berlin, he has headed his own practice, with branches in Berlin, Zürich, Frankfurt and Munich, since 1992. Over the past two decades, the practice's focus has expanded beyond traditional architectural tasks. In ever changing contexts, Max Dudler has transposed his con­ceptual approach onto areas as diverse as urban planning, transportation structures, conversions, historic preservation, exhibition design and even furniture de­sign.
Oranienplatz 4 10999 Berlin, Germany
Ulmenstr. 37 – 39 60325 Frankfurt, Germany
Leopoldstraße 158 80804 München, Germany
Sauerbruch Hutton
Sauerbruch Hutton is an international agency for architecture, urbanism and design, founded in 1989. Architects, interior and product designers, engineers and modelmakers are working in their office in Berlin. The team is led by the partners Matthias Sauerbruch, Louisa Hutton, Juan Lucas Young and the associates Jürgen Bartenschlag, Andrew Kiel, Tom Geister and David Wegener. They realise individual and sustainable solutions to a wide range of programmes. The enjoyment of the sensuality of space and material, as well as the mastery of up-to-date technology and the intelligent use of existing resources of every kind are the focus of their work.
Lehrter Straße 57, Haus 2 10557 Berlin, Germany
June14 Meyer-Grohbrügge & Chermayeff
The studio is a collaborative practice based in Berlin and New York: Johanna Meyer-Grohbrügge from Germany and Sam Chermayeff from New York.  The two met at SANAA in Tokyo where they worked from 2005 to 2010. Their new venture, June14 Meyer-Grohbrügge&Chermayeff, begins with a desire to make things, places and atmospheres for people.  The office and work aims to have people relate to architecture, for architecture to relate to people and for people to relate to themselves. June14 searches for an understanding of different ways of living and working in the contemporary world. The work stems from a belief that architecture can make things happen and that things can happen to architecture. The office is an exchange with its users. It is open to new ideas.
Spandauer Str. 2/15/20, 10178 Berlin, Germany
Brunnenstrasse 9, 10119 Berlin, Germany
Staab Architekten
The founding of Staab Architekten dates back to the competition for the Neues Museum in Nuremberg in 1991. Several successful public building projects from different areas such as cultural buildings, scientific research and teaching buildings, office and administrative buildings as well as educational buildings have been planned and realised in recent years. An essential concern of their work is to condense the complex conditions of architecture into a simple, surprisingly plausible form. Here contextual, economic, functional and technical conditions play just as important a role as the formal condition that develops from the respective logic of the building. Focusing on the essential is the focus of their work. This attitude is followed in every detail. So Staab Architekten architectural work is characterized by the careful, conceptual use of form, material and color.
Schlesische Str. 27 10997 Berlin, Germany
Allmann Sattler Wappner Architekten
Allmann Sattler Wappner Architekten is an internationally-operating office based in Munich. The architects' practice currently employs 140 members of staff from 20 countries working in a variety of teams under the leadership of the three founding partners, Prof. Markus Allmann, Amandus Samsøe Sattler and Prof. Ludwig Wappner. The practice's assignments encompass the entire range of architectural activity. In urban planning, public, residential and commercial buildings and work in the field of product design, the holistic design methodology embraces the whole process from draft to detail. The most well-known projects are Dornier Museum in Friedrichshafen, Herz Jesu Church and Haus der Gegenwart in Munich as well as the administration building for Südwestmetall in Reutlingen. The master planning for the new corporate architecture of Audi has been implemented in 1200 projects worldwide.
Nymphenburger Str. 125  80636 Munich, Germany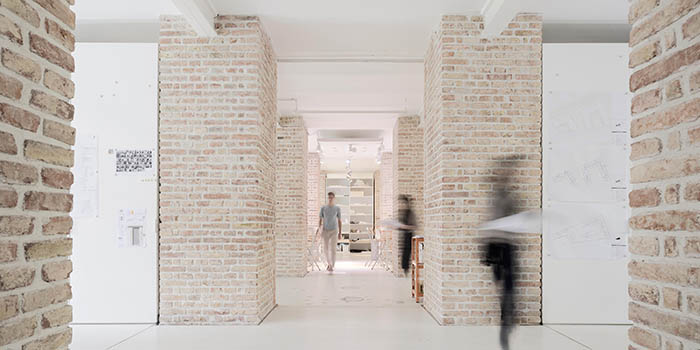 Photography: Brigida González
Nickl & Partner
Since the founding of Nickl & Partner in 1979 in Munich, the team has grown to approximately 180 members with offices in Berlin, Frankfurt, Zurich, Peking and Jakarta. National and international clients from all areas of healthcare, research and urban development have entrusted us with planning and implementation. They rank among the best architecture firms in Germany in the fields of medical facilities, clinics and research institutes. Their specialist expertise in the fields of technology and building materials is very extensive and our innovative concepts have proved themselves over a period of more than 3 decades. Designs by Nickl & Partner are strongly based on the behaviour and requirements of the people who live, work and are medically treated in the buildings
Nickl Architekten Deutschland Lindberghstraße 19 80939, Munich, Germany
N&P Design Lab Architekten Lindberghstraße 19 80939, Munich, Germany
Nickl Architekten Deutschland  Wikingerufer 7 10555 Berlin, Germany
N&P Baumanagement Wolfsgangstraße 68 60322 Frankfurt, Germany
Muck Petzet Architekten
Muck Petzet Architects is an architectural practice run by Muck Petzet. He was born in Munich in 1964 as the son of the art historian and monument conservationist Michael Petze. Since 1993 he has been working independently in changing partnerships (with Josef Peter Meier-Scupin, Andreas Ferstl and others) in Munich. In 2015, he moves his activities beyond Munich to Berlin. They offer a comprehensive portfolio of architectural services. Besides designing, constructing and realizing interiors and buildings, they also research, program and develop on an urban scale under the ethos: "respect for the existing is the best precondition for any new development".
Landwehrstrasse 37  80336 München, Germany
HENN
HENN is an international architecture office in Munich, Berlin and Beijing with more than 70 years of expertise in the fields of work space, culture, health, education and research as well as production and master planning. The office is led by Gunter Henn and twenty-two partners. 350 employees – architects, designers, planners and engineers – from 30 countries are able to draw upon a wealth of knowledge collected over three generations of building experience in addition to a worldwide network of partners and experts in a variety of disciplines. This continuity, coupled with progressive design approaches and methods and interdisciplinary research projects, forms the basis for a continual examination of current issues and for a consistent design philosophy. Forms and spaces are no mere objective, they are developed from the processes, demands and cultural contexts of each project. As a general contractor HENN is able to satisfy this principle at every stage of project planning and implementation.
Augustenstraße 54 8033 München, Germany
Alexanderstraße 7 10178 Berlin, Germany
wulf architekten
The wulf architekten office was founded by Tobias Wulf in 1987. Approximately 150 employees from 20 nations are employed in the planning teams of their offices in Stuttgart, Berlin and Basel (CH). Currently, the office is managed by Tobias Wulf, Jan-Michael Kallfaß, Ingmar Menzer and Steffen Vogt. wulf architekten's work spectrum embraces a variety of sophisticated building assignments. Their architecture is characterized by clarity and comprehensiveness. In addition to their office activity, they are also involved in instruction, in professional organizations, as specialist judges and in design committees. In the past years, wulf architekten projects have been honored with more than 100 awards.
Breitscheidstraße 8 70174 Stuttgart, Germany
Wiener Straße 18 10999 Berlin, Germany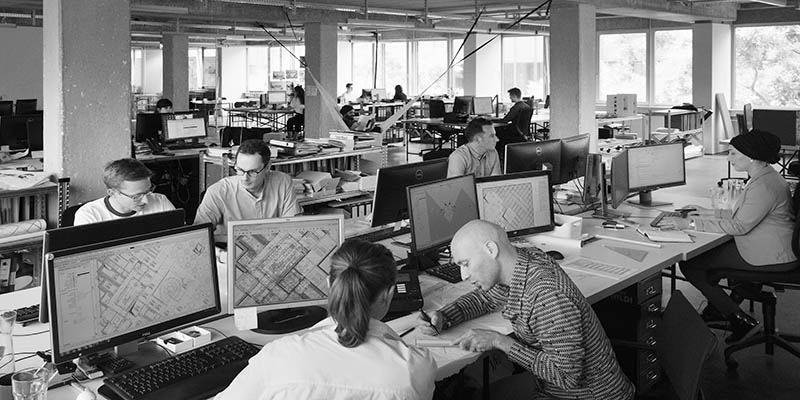 Courtesy: wulf architekten | Photography: Göran Gnaudschun
Bez + Kock Architekten
Based in Stuttgart, Bez + Kock Architekten was founded in 2001 by Martin Bez and Thorsten Kock. They are a constantly growing team of about 40 architects. Each construction project is unique. It follows that the appropriate architectural solution can only be found on an individual, task-specific basis. Their goal is to develop distinctive and harmonious architecture based on the existing parameters of location, function and budget. Just as diverse as the design problems, the structures they build are always unique. They say "we welcome this heterogeneity". Concert hall or library, town hall or university, dormitory or city hall – an autonomous contribution to architecture can emerge from each task.
Kronenstraße 36 70174 Stuttgart, Germany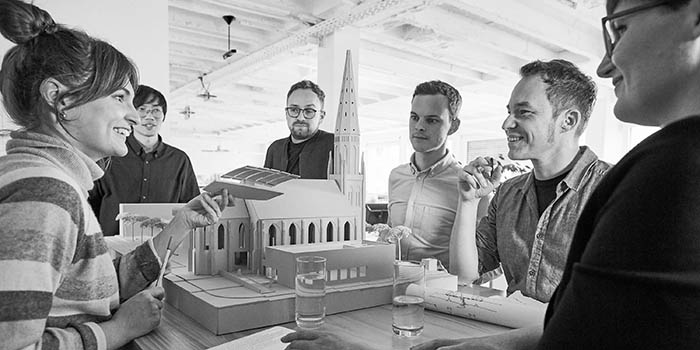 Courtesy: Bez + Kock Architekten | Photographer: Arne Hartenburg
DIA Architekten
Dittel Architekten is an architecture and design office based in Stuttgart and was founded in 2005 by architect Frank Dittel. The 30-strong office is characterized by its forward-looking view of social change, which has been reflected in the conceptual designs of its projects from the very beginning. In the development of innovative multifunctional concepts, the interdisciplinary office benefits from its expertise in four main areas: Hotel & restaurant, office, retail and the public sector. DIA's range of architectural services is rounded out by its associated innovation consulting company called 7places.
Hölderlinstraße 38, 70174 Stuttgart, Germany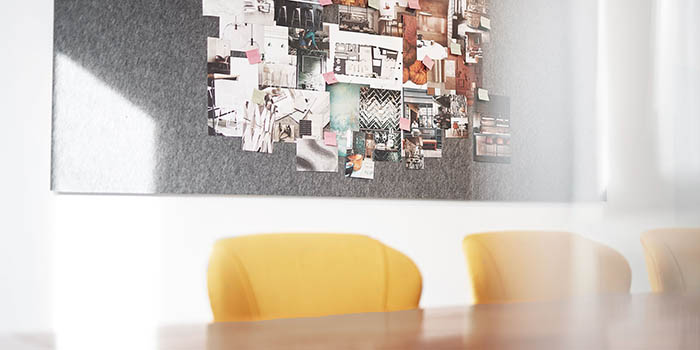 Courtesy: DIA | Dittel Architekten
Steimle Architekten
Right in the center of Stuttgart Steimle Architekten BDA was founded in 2009. Meanwhile the young architectural duo Christine and Thomas Steimle opened a second studio located at Lake Constance. Well trained in design and typological questions the studio moves within the span of competitions, private and public buildings. Together with their team of about 25 architects they see the challenge of their work in their openness to a wide range of building tasks. The comparison of the projects quickly reveals that the working method does not follow a strictly formulated architecture philosophy. Every new planning task has the potential to create a built space that can set new impulses for further development and change exactly this location with its characteristics.
Marktplatz 6 70173 Stuttgart, Germany
Hafenstraße 10, 88662 Überlingen, Germany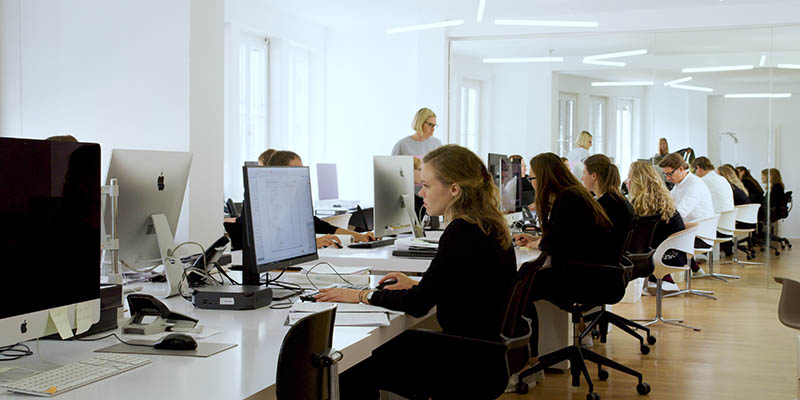 Courtesy: Steimle Architekten
Behnisch Architekten
Behnisch Architekten was founded in 1989 and works out of three offices – Stuttgart, Munich, and Boston. These offices are directed by Stefan Behnisch and his partners Robert Hösle (Munich), Robert Matthew Noblett (Boston), Stefan Rappold and Jörg Usinger (Stuttgart).Behnisch Architekten, amongst the best architecture firms in Germany and worldwide, enjoys a global reputation for high-quality architecture that integrates environmental responsibility, creativity, and public purpose. The firm provides services ranging from building, interior, product and landscape design to programming, space and layout planning, feasibility studies, project management and general planning, including cost consulting and on-site management.
Rotebühlstraße 163A 70197 Stuttgart, Germany
Blumenstraße 17 80331 München, Germany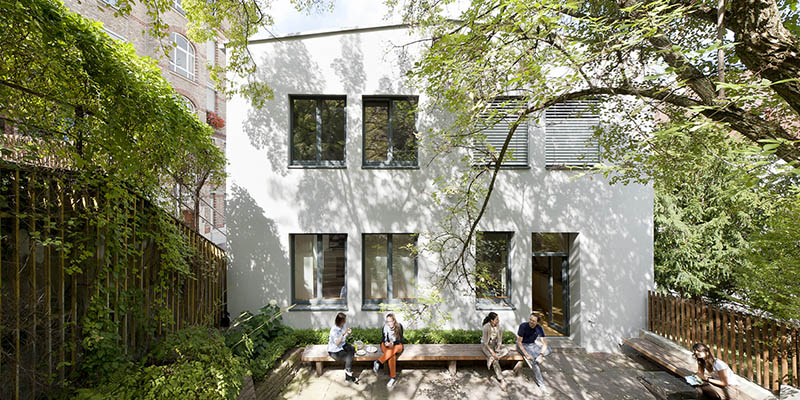 Courtesy: Behnisch Architekten | Photography: David Matthiessen
Heinle, Wischer und Partner
Founded in 1962 by Erwin Heinle and Robert Wischer, Heinle, Wischer und Partner is a German architecture firm headquartered in Stuttgart with offices in Berlin, Cologne, Dresden, Wroclaw and Erlangen. With around 300 employees, their works emerge in creative and open dialogue with the aim of maximum client satisfaction. From the outset, the field of activity was broad; the specialisation lay in the resolution of creatively, functionally and technically complex tasks. For the tasks of tomorrow, they look for comrades-in-arms who value conceptual thinking, the diversity of our profession and collaboration in a team.
Leuschnerstraße 12, 70174 Stuttgart, Germany
Gutenbergstraße 4, 10587 Berlin, Germany
Bismarckstraße 9, 91054 Erlangen, Germany
Altmarkt 25, 01067 Dresden, Germany
Stolkgasse 25, 50667 Köln, Germany
Auer Weber Assoziierte
Auer+Weber+Assoziierte can't miss amongst the best German architecture firms. The studio was founded by Fritz Auer and Carlo Weber in 1980. Headquartered in Stuttgart and Munich today the office has about 80 employees. Their architecture draws its respective form from the intense dialog regarding the construction task as well as the conditions and possibilities of the site upon which it will be created. The results are architectural concepts which range from the sculptural formed volumes to the structurally defined landscape. The common denominators of the resulting work are the openness and the plausibility for the senses as well as the intellect.
Haußmannstr. 103A 70188 Stuttgart, Germany
Sandstraße 33 80335 München, Germany
LAVA
LAVA stands for Laboratory for Visionary Architecture! Chris Bosse, Tobias Wallisser and Alexander Rieck founded LAVA in 2007. It was established as a network with offices in Sydney, Stuttgart and Berlin. LAVA merges future technologies with the patterns of organisation found in nature to build a smarter, friendlier, more socially and environmentally responsible future. LAVA uses naturally evolving structural systems, such as snowflakes, spider webs and soap bubbles, for new building typologies and structures – the geometries in nature generate both efficiency and beauty. But above all the human is the centre of their investigations. LAVA designs everything from master-plans and urban centres, to homes made out of PET bottles to 'reskinning' aging 60s icons, from furniture to hotels, houses and airports of the future.
Wolframstraße 20B, 70191 Stuttgart, Germany
Saarbrücker Strasse 24 – Haus 10405 Berlin, Germany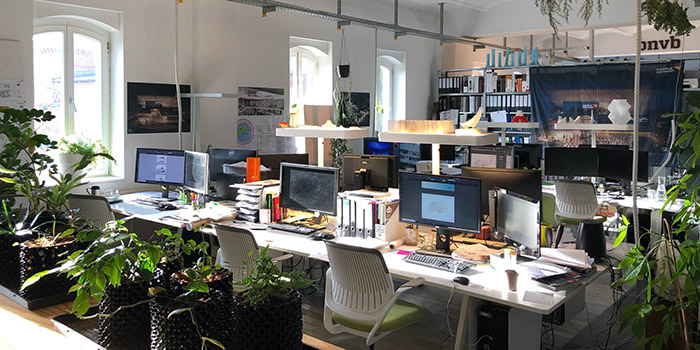 Courtesy: LAVA
LRO Lederer Ragnarsdóttir Oei 
Founded in 1979 LRO currently has about 50 employees. For the entire duration of the work process, they work in small teams to generate a high level of intensity and identification with our projects. Besides dealing with ongoing projects, regular participation in competitions is essential to their work. Aside from being a chance for a new commission, it is an occasion for a stimulating and profound examination of a present-day challenge. Among the competitions won in recent years are the Historical Museum in Frankfurt a.M., the Office and Business House Kaiserkarree in Karlsruhe and the Municipal Museum in Stuttgart.
Kornbergstraße 36 70176 Stuttgart, Germany
SOMAA
SOMAA is an architecture and interior design office. Based in Stuttgart, the office was founded in 2007 by partners Tobias Bochmann and Hadi A Tandawardaja. Somaa's conceptional work and built projects provide a poetic quality to thoughtful, pragmatic solutions, thus adding value and a clear identity to each client's unique circumstances. The way we live, shop and work is quickly changing and SOMAA is faced with the task of finding flexible solutions that can respond to these rapid changes. "As our society changes – they say – so does the emotional need for continuity and authenticity. We combine these two diametrically opposed parameters by creating authentic solutions that are both sustainable and flexible. SOMAA is synonymous with intelligent concepts and authentic design"
Bismarckstraße 63 70197 Stuttgart, Germany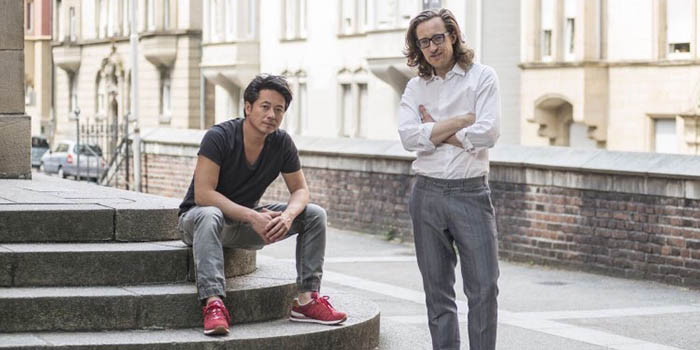 courtesy: SOMAA
schneider+schumacher
schneider+schumacher is a German architecture firm based in Frankfurt am Main.  Founded in 1988 by the architects Till Schneider and Michael Schumacher, the office is mainly active in the fields of architecture, construction and project management as well as urban planning. Their architectural approach is characterized by the enjoyment they have in finding solutions to the complex demands of today's buildings. schneider+schumacher adapts buildings to fit into their surroundings, yet they also create landmarks. Pragmatic poetry, nurtured not only by design clarity and a conscientious attitude towards the task in hand, but also by a delight in fine details. This design process is constantly informed by the dialogue that takes place on a daily basis between the various professional disciplines in all their departments and offices. The office designs art and cultural, social and residential buildings, office and administrative buildings as well as commercial and industrial buildings. Schneider+Schumacher has three more branches in Vienna, Austria, Shenzhen and Tianjin, China.
Poststraße 20 A 60329 Frankfurt am Main, Germany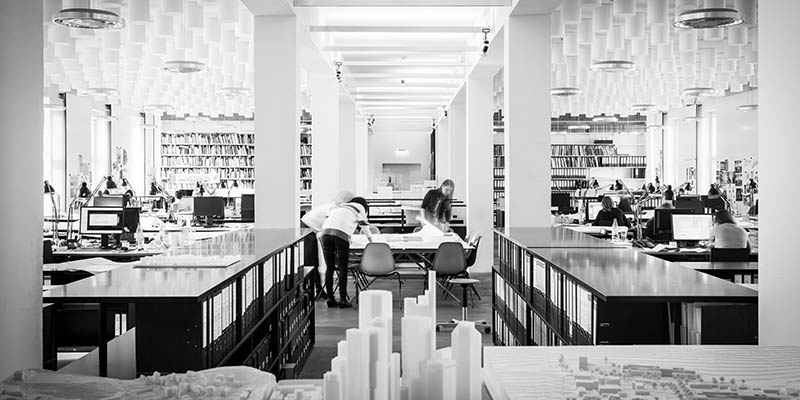 Courtesy: schneider + schumacher | Photography: Rainer Taepper
Franken Architekten
Based in Frankfurt, the Franken Architekten Group combines architectural practice with the opportunities for communication within a space, be it in the design for a temporary trade fair presentation or classic building construction. The environments created by Franken Architekten Group use insights into the virtual world and go far beyond functionality: They create narrative spaces. Amongst the best architecture firms in Germany, Franken Architekten provides a full range of services from concept development and implementation planning to site supervision in the fields of architecture, brand space and consulting. The architecture firm is involved in the realization of corporate architecture, office buildings, retail, hotels and gastronomy, urban planning, residential buildings, museums, exhibitions, trade fair presentations, corporate design, installations, theme and brand worlds.
Niddastraße 84, 60329 Frankfurt am Main, Germany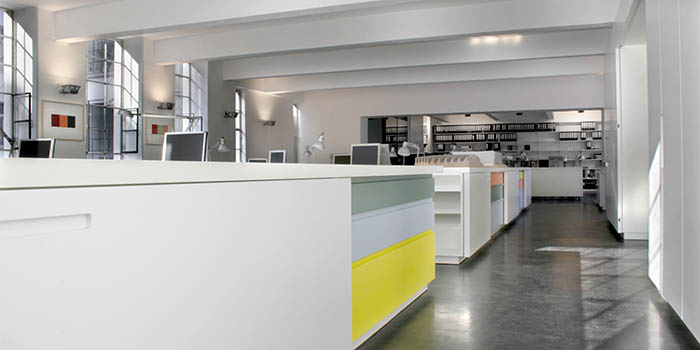 Courtesy: Franken Architekten
AS+P
In a world in which planning and building projects are becoming ever more complex, AS+P consciously opts for a comprehensive and interdisciplinary approach. Their team of 200 architects and urban planners, landscape architects and transport engineers develops and plans projects of all sizes from regional planning through to small architectural details – with support from geographers, interior designers, and project managers. From their offices in Frankfurt and Shanghai, they are active on projects all over the world. AS+P develops office and residential buildings, design hotels and shopping complexes. Their core expertise is in architecture, urban planning, transport and landscape planning, but they are also specialized in the fields of cultural and education buildings, sports venues, airport and trade-fair planning, and concepts for mega-events.
Hedderichstraße 108-110 60596 Frankfurt am Main, Germany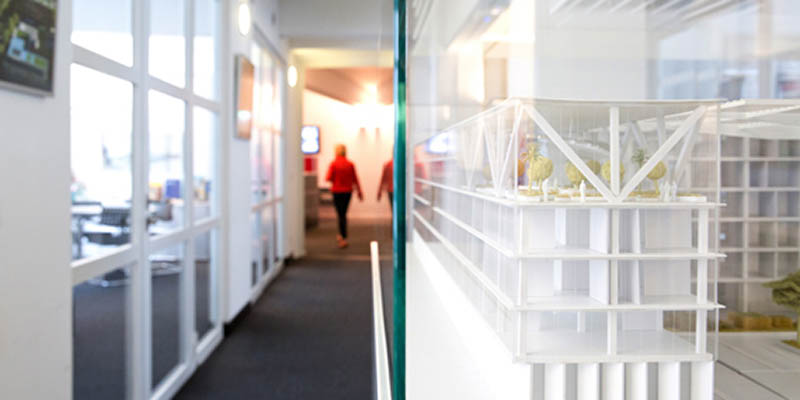 Courtesy AS+P
We hope you enjoyed this journey through our selection of the best architecture firms in Germany!
This virtual tour is based on our knowledge and research. If you want to suggest someone that is missing, and we are sorry for that, feel free to contact us at info(at)archivibe.com
Are you curious about our other selection of architecture firms in Europe and Worldwide?
Here below you can find all our other selections of top architecture companies around the World:
Updated on June 2022
[/fusion_text][/fusion_builder_column][/fusion_builder_row][/fusion_builder_container]