Dubbeldam Architecture + Design, a multi-disciplinary design studio committed to creating thoughtful projects that embody sustainable approaches, has recently acquired a century-old, three-storey brick building, and transformed it into a mixed-use creative hub in Toronto.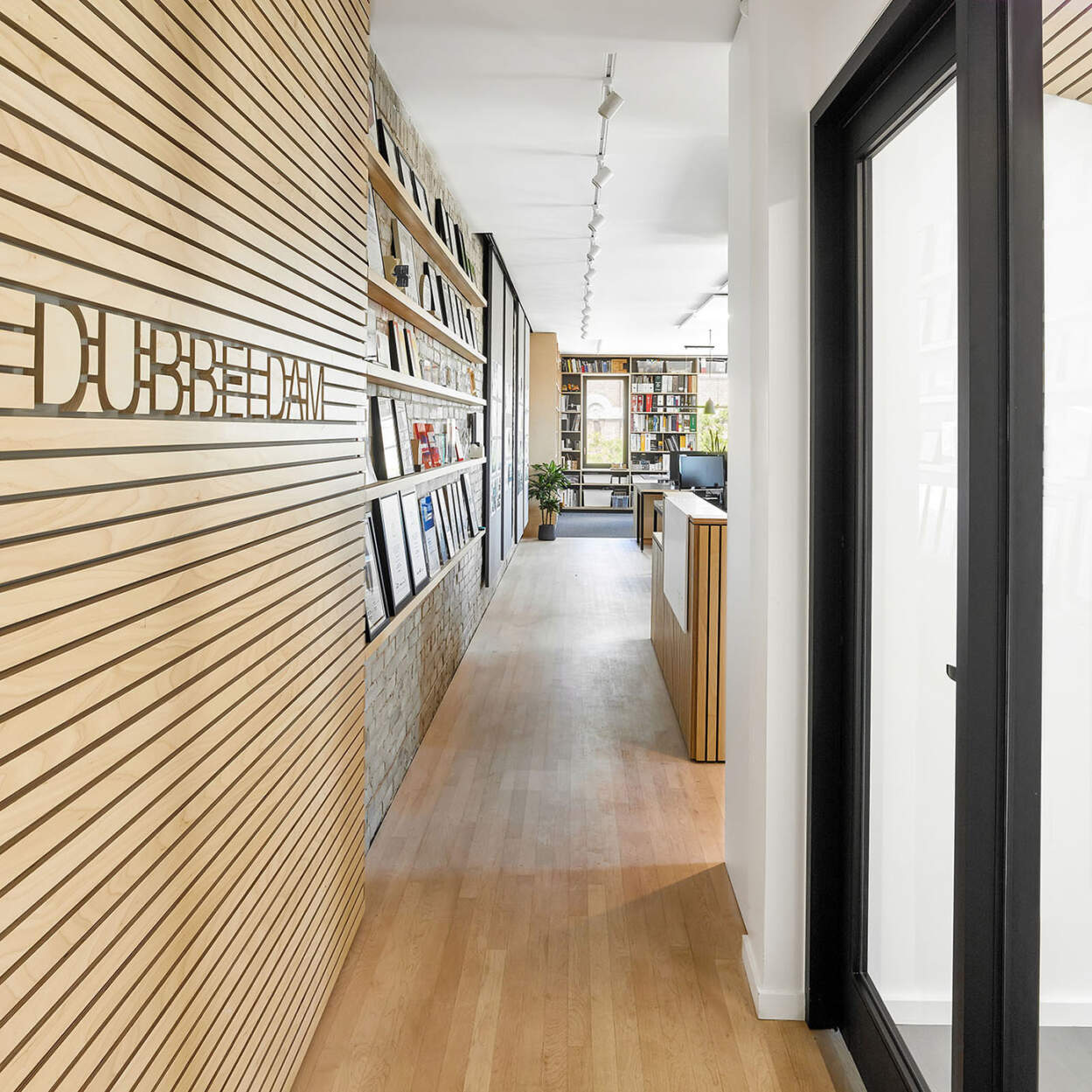 The building serves as their new studio and has undergone a major renovation to not only provide a customized workspace for the firm but also foster a creative and entrepreneurial community by integrating complementary businesses under one roof.
This project exemplifies Dubbeldam Architecture + Design's belief in the power of well-designed architecture to catalyze positive change within a community.
Located on the corner site of St. Clair West, at the edge of Corso Italia, the building had fallen into decline and disrepair after years of neglect. However, the Canadian practice saw its potential and embarked on a transformational journey.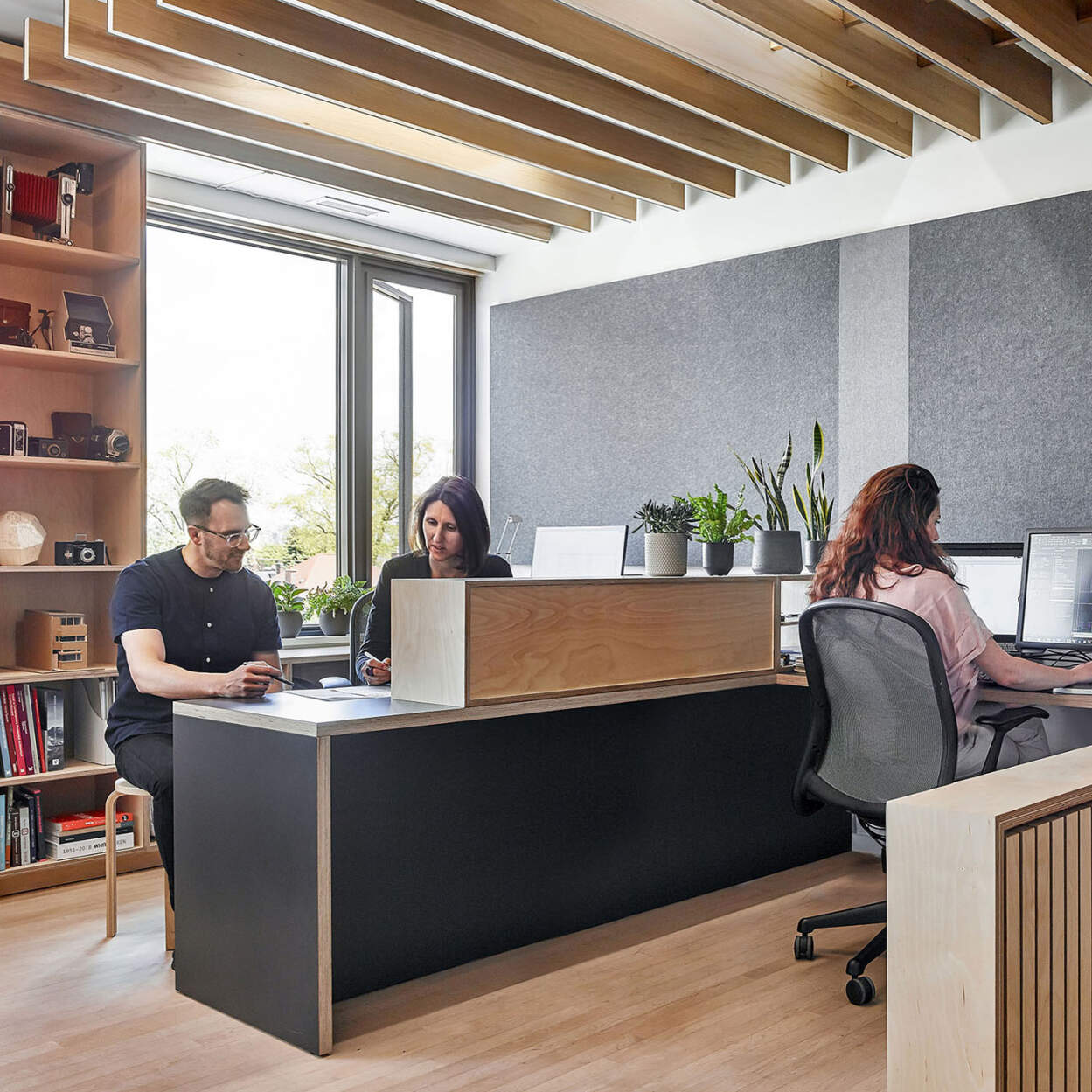 The firm's studio now occupies the top floor, while the second floor houses Lokaal, a collegial and inclusive co-working space for creatives. The ground floor accommodates a marketing agency and an indie coffee shop, acting as vital retail anchors that not only serve the building's occupants but also benefit the surrounding community. Additionally, a residential unit in the raised basement provides much-needed rental accommodation.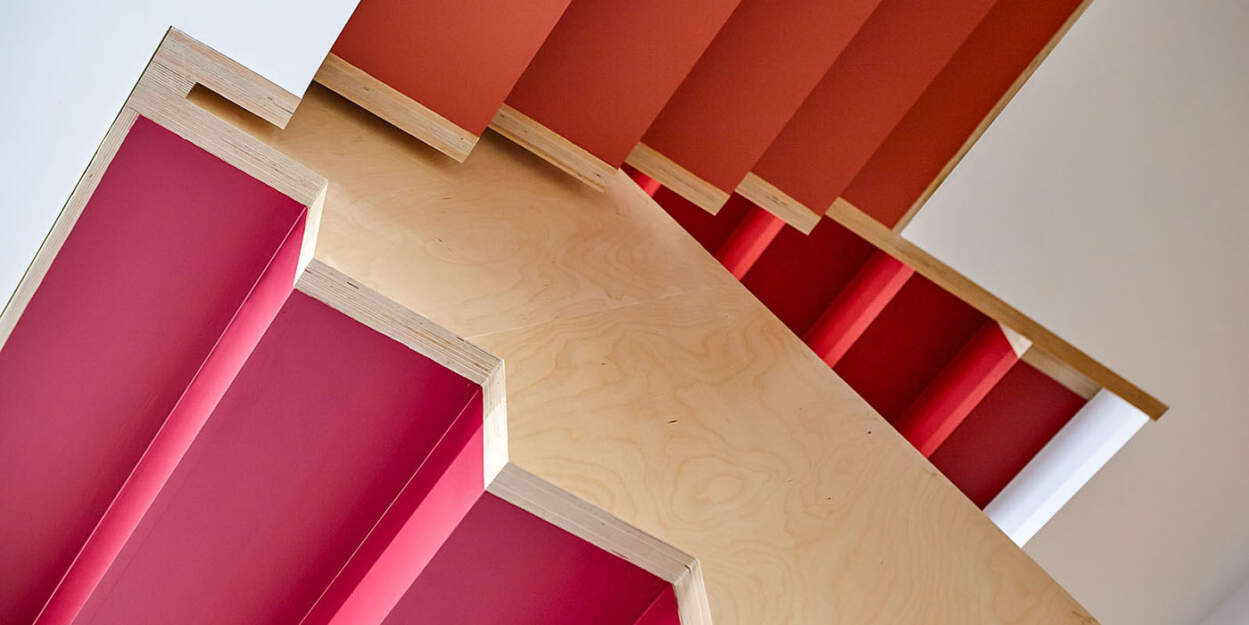 Views of the angular Baltic birch staircase upon entry. A gradient of reddish hues provides a colourful journey to the building's upper floors, transforming an economic material and setting the tone for the building's interior character.
Prior to the renovation, the building's façades were a testament to decades of neglect, with mismatched bricks, delaminated stucco, and inadequate, randomly positioned windows.
The introduction of enlarged openings has not only brought in ample natural light but also enhanced the building's transparency, creating a more welcoming and inviting presence on the corner.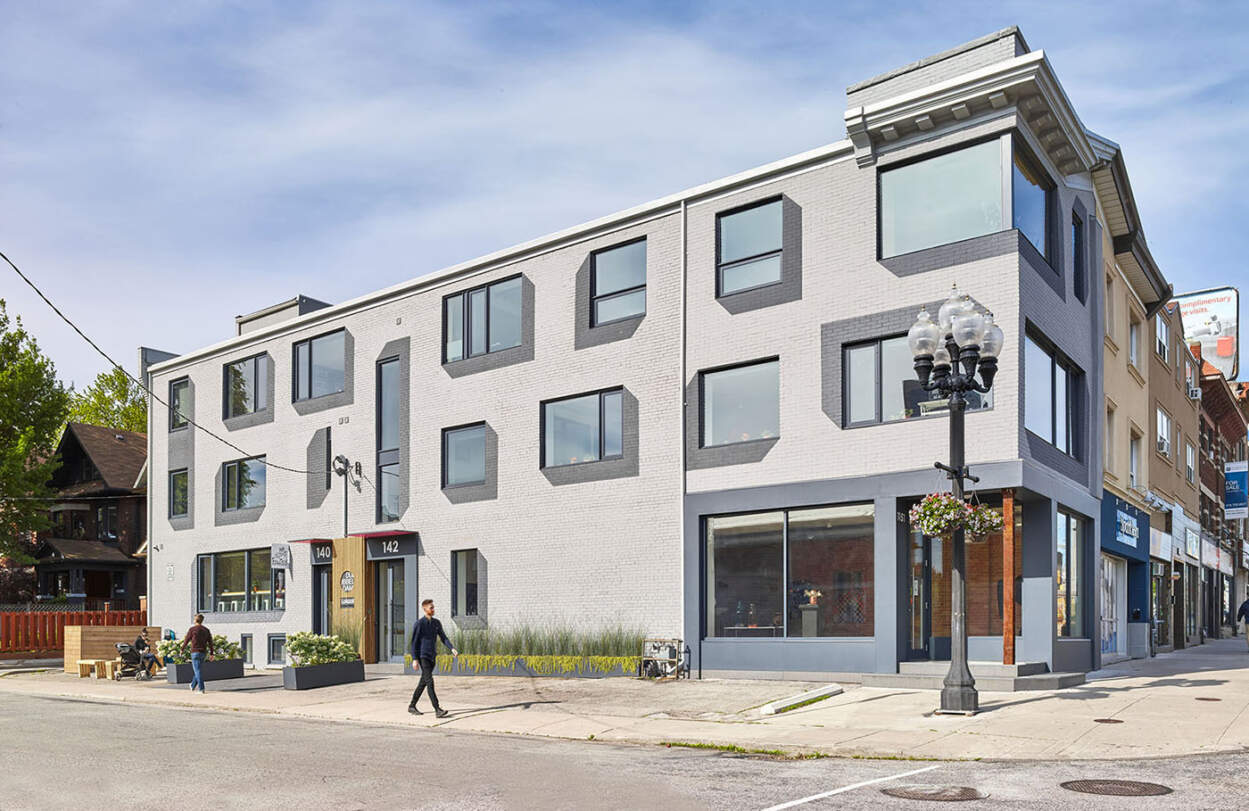 Two public-facing elevations now activate the streetscape with bold and playful graphic elements. Painted drop shadows surrounding the windows create a captivating three-dimensional trompe l'oeil effect that catches the attention of passersby. These striking exterior graphics continue throughout the project, from the eye-catching signage at the entrance to the material-rich wayfinding on all three floors of the interior.
For instance, a custom Baltic birch pegboard panel on the first-floor landing serves as both a directory for the building's businesses and a thriving green wall adorned with lush plants in fragrant cedar boxes. To add vibrancy and energy, lipstick pink and terra cotta paint accentuate the underside of the stair.
Aligned with Dubbeldam Architecture + Design's vision, the design of the studio reflects the firm's philosophy, working methodology, and commitment to sustainability.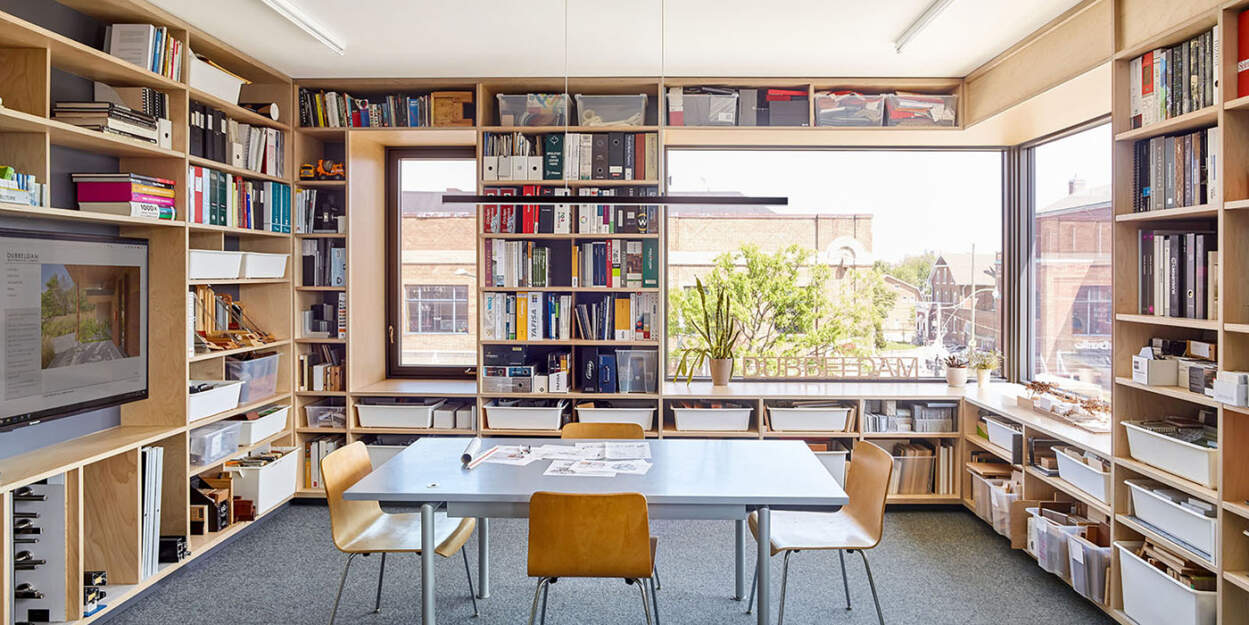 A collaboration space doubles as a library of reference books and material samples on perimeter shelving with natural light pouring in from the expansive corner window cut out of the north and east façades. Transparency in both directions speaks of a connection with the community, with seemingly limitless views east down St. Clair Avenue.
Principal Heather Dubbeldam, known for her advocacy of design excellence and innovation, ensured that the studio and co-working spaces embodied these principles. The design promotes the exchange of ideas on architecture and design among staff, clients, and visitors, while also showcasing sustainable and adaptive reuse practices.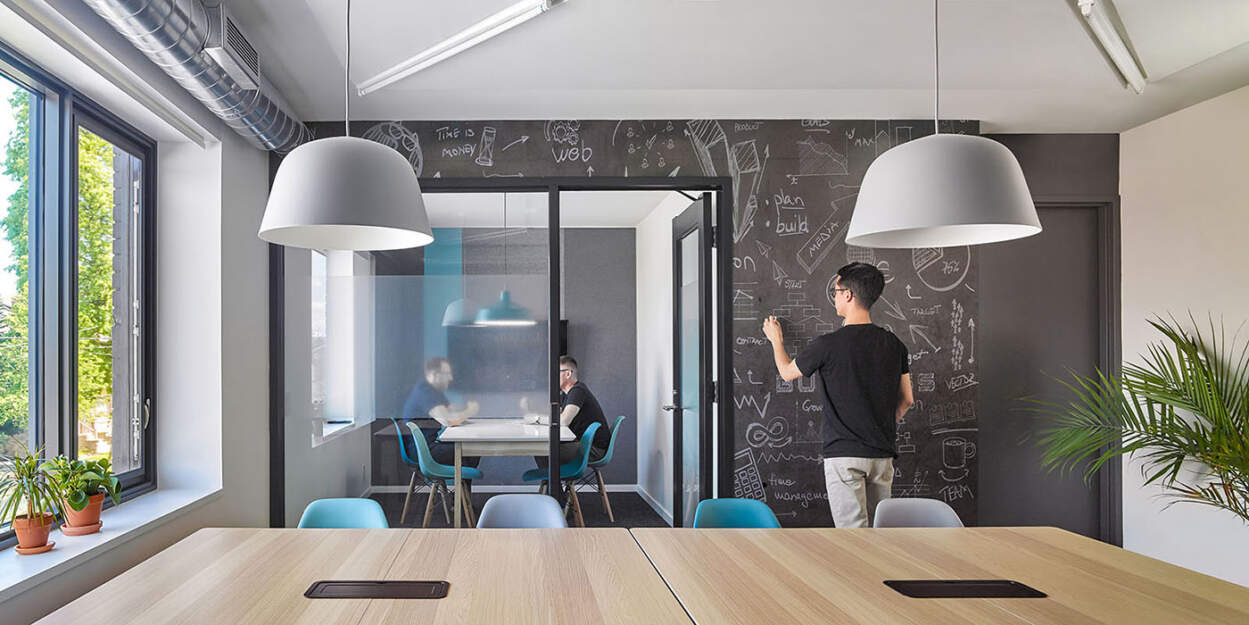 High ceilings and eco-felt sliding walls in the studio provide a dual purpose of acoustic attenuation and ample room for pinup, essential for sharing and exchanging ideas during the design process.
Open workstations dominate the office space, fostering collaboration, and a breakout area with a large table facilitates group work and discussions.
This space also functions as a library housing reference books and material samples, with natural daylight streaming in through the expansive corner window on the north and east façades.
In addition, the boardroom and light-filled kitchen/lunchroom offer additional spaces for discussions, while high ceilings and sliding walls in the studio provide ample room for sharing and exchanging ideas through pinups. The attention to detail in the interior matches the thoughtful approach taken for the building's exterior.
A Scandinavian-inspired palette featuring natural materials such as exposed brick, maple floors, Baltic birch slats, and millwork creates a timeless, textured, and warm ambiance, complemented by darker accents like charcoal-grey doors and furniture. A white Corian waterfall panel greets visitors at the reception desk with a friendly "hello" inscription, and wall and ceiling-mounted eco-felt panels contribute to acoustic benefits.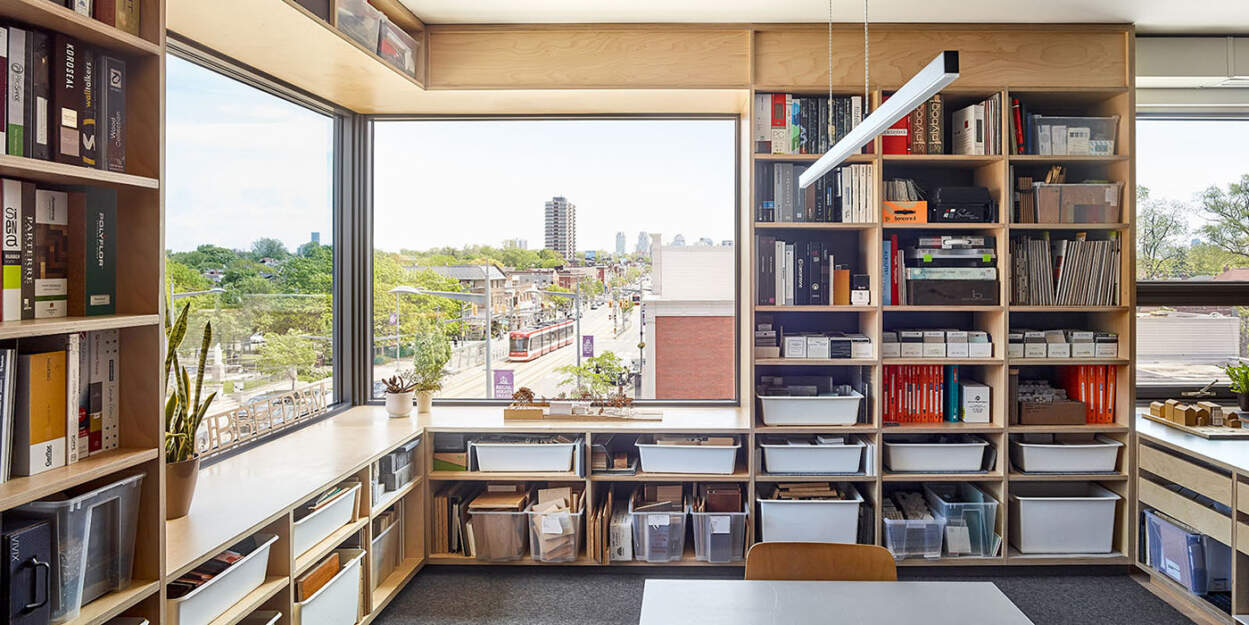 Local designers and fabricators played an integral role in the project, with locally sourced light fixtures, furniture, workstations, and textiles. A strong emphasis was placed on sustainable practices and supporting independent local businesses, with 80% of materials obtained from retailers.
The building has established itself as a landmark, and has become a creative hub and kick-starter of local business and a catalyst for other neighbouring renewal. A prime example of urban revitalization, it has dramatically improved the local urban fabric, bringing a new kind vibrancy and diversity to the neighbourhood.
Photography: Scott Norsworthy