The jury panel of the international competition co-organized by Pujiang County Planning Bureau and Urban Construction Investment Co., Ltd. has selected Henning Larsen Architects as one of the the winning architects out of the five finalist entries along with Zaha Hadid Architects, gmp Architekten, MVRDV and Swooding Architects.
During the past 25 years, China has seen a large influx of imported foreign architecture: in 2001, the Shanghai government declared to build 'one city and nine towns' in its suburban areas and planned to introduce the European townscapes of Britain, Italy, the Netherlands, Germany, Spain and Scandinavia in the new towns, using conceptual designers from the respective countries.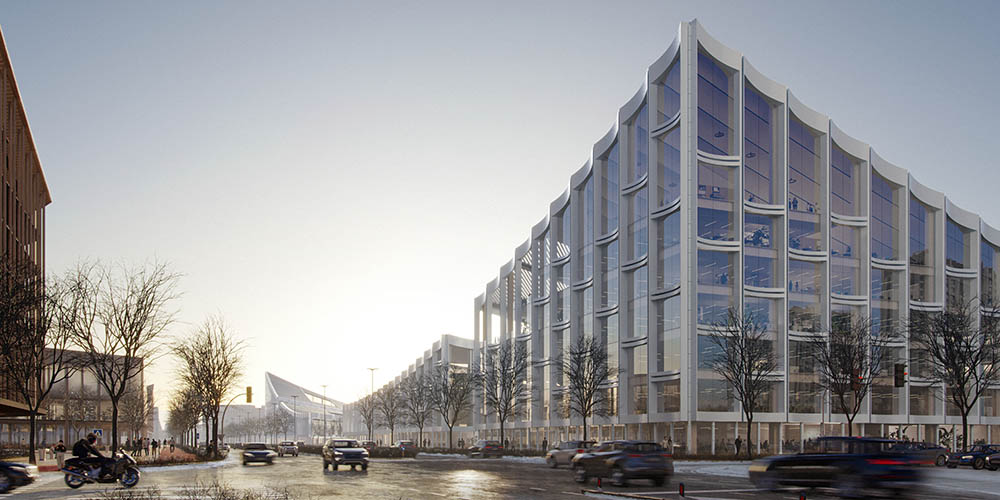 Pujiang is a town in Minhang District, Shanghai, China. It contains Pujiang New Town, which is a new town with an Italian architectural theme, sometimes referred to as Città di Pujiang. It also contains Zhaojialou, an old water town which is undergoing restoration, Caohejing Pujiang Hi-Tech Park and Shanghai National Civil Aerospace Industrial Base.
The scheme of Gregotti Associati International was selected for its merits of rational planning, connection with the city planning context, compact and unique building types and encouragement of public life.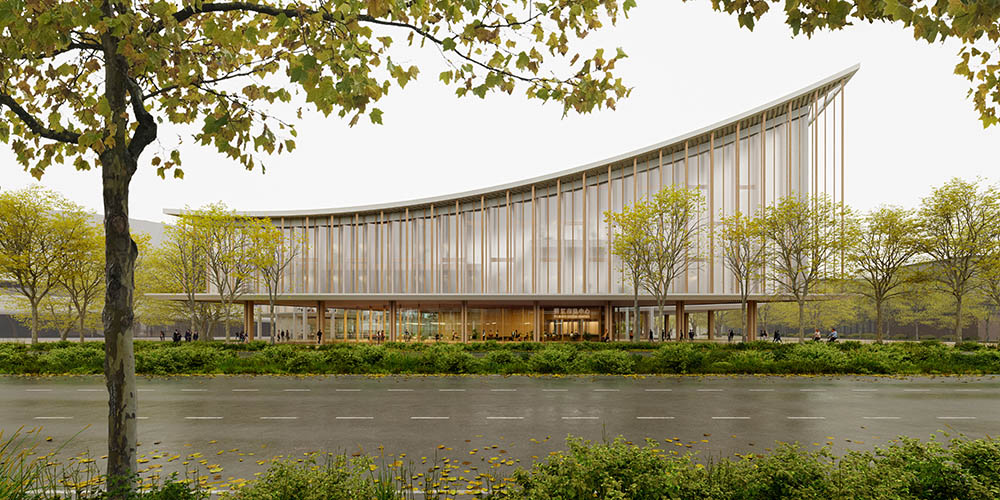 With China's carbon peaking and carbon neutrality targets in place, Henning Larsen believes the Pujiang project owners' goal of building a carbon neutral park is a visionary decision that promotes low carbon sustainable design.
This project aims to achieve a holistic sustainability design, using ten planning and design strategies to meet energy saving and zero carbon goals. This pioneering project has defined a new spatial, aesthetic, and perception standards for future architectural development.
It seamlessly merges Northern European design sensibilities with sustainability concepts in China, while also making zero carbon the hallmark of a vibrant Pujiang.
"The Pujiang International Convention Centre is a unique opportunity to create a vibrant city center for the county. Its residents need human-scale public spaces, which includes pedestrian zones, a lively 24/7 street life, food stalls, arts and crafts shops, and an array of ever-changing cultural activities. It is part of Chinese culture and Pujiang culture, and the success of this new city depends on such urban initiatives." says Claude Godefroy, Design Director and Partner at Henning Larsen Architects.
The Pujiang International Conference Center sits on the main axis of the Pujiang New Town and has a distinctive circular design, symbolizing perfection and completion.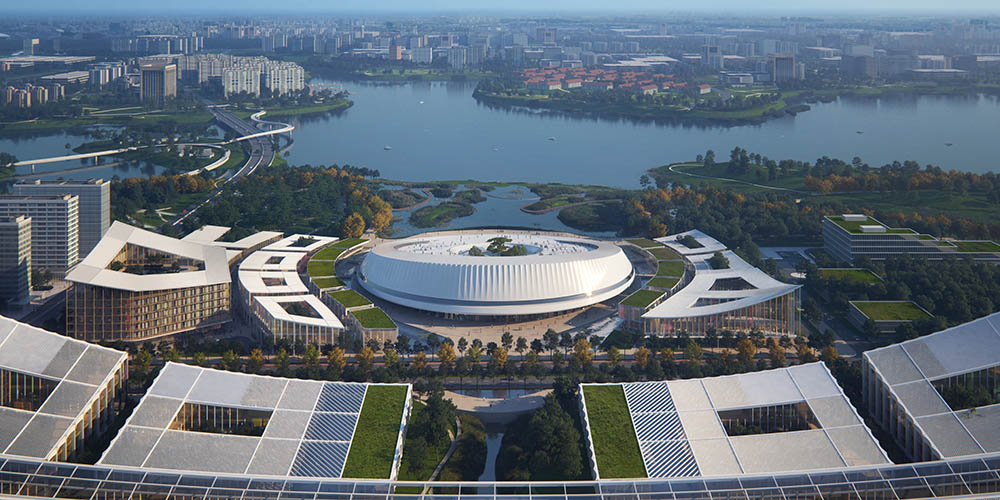 As a circular structure, it saves more building materials than a square structure and its non-angular shape is more conducive to natural ventilation. With a sculptural form that also fittingly embodies zero carbon architecture, the conference center will surely become a model zero energy architecture in the region.
Raising the users' awareness and perception of sustainability is also a key aim of this design. The sloping roof of the conference center, which faces the Guangding Lake, is a unique platform that highlights zero carbon living. Here, citizens can directly experience the benefits of various low carbon, environmentally friendly building materials and sustainable technologies. The central courtyard is an ecological park with elements of scientific education, where a water purification system and a diverse flora and fauna will be part of its three-dimensional landscape. By enveloping the structure with a waterscape, the site and the Guangding Lake merge together to form a seamless visual experience.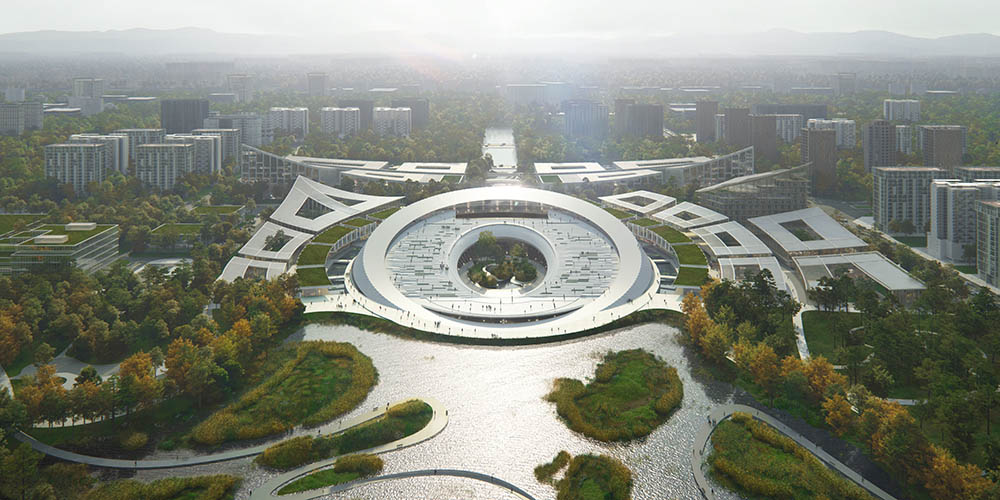 Next to the iconic conference center is a range of small- to medium-sized buildings, designed with the human scale in mind. Porous and pleasant streets reflect the congenial urban fabrics of Chengdu's traditional linpan settlements and form ventilation corridors that effectively alleviate the urban heat island effect.
With wellness being of paramount importance to us, meeting health and wellbeing standards will be pertinent for the next generation of green buildings. The southside office block consists of eight low-rise courtyard buildings. They are connected by a central pedestrian lobby that facilitates foot traffic and provides an interactive shared space that encourages communication.
A holistic sustainable architecture should also be human-centric, which is why we hope to create a vibrant community space fitting for all occasions. While the conference center serves as the core of this design, it is surrounded by architectural features that serve a diverse range of functionalities, instilling a vitality for the entire site. Located at the southeast corner, the civic center welcomes citizens with its iconic soft curves while offering 24-hour amenities that add much convenience to the community.
By incorporating sustainability concepts early on in the architectural design process, we can achieve the maximum return with the minimal investment.
Therefore, we have set design goals that achieve zero carbon emission and zero water consumption, as well as raise sustainability awareness for the Pujiang New Urban Civic Center from the very beginning. A pleasant microclimate has also been created by running intelligent simulations that consider the climate conditions of the Pujiang region, which typically has hot summers and cold winters.
Attaining sustainability is not merely based on tracking carbon emission measurements, but also relies on a holistic, viable integrated design that has a continuous and reliable operation. The foundation of this viable sustainable design does not rest on expensive technical measures—fundamentally it is about the creation of affordable and efficient sustainable buildings.
Henning Larsen Architects hope to start a new chapter of sustainability for Pujiang through this project, paving the way for a vibrant Pujiang through zero carbon living.