+ Studio architetti with Mediapolis Engineering has just completed a new residential complex, with an unusual language for Turin, alternating exposed concrete, steel, raw wood strips and glass.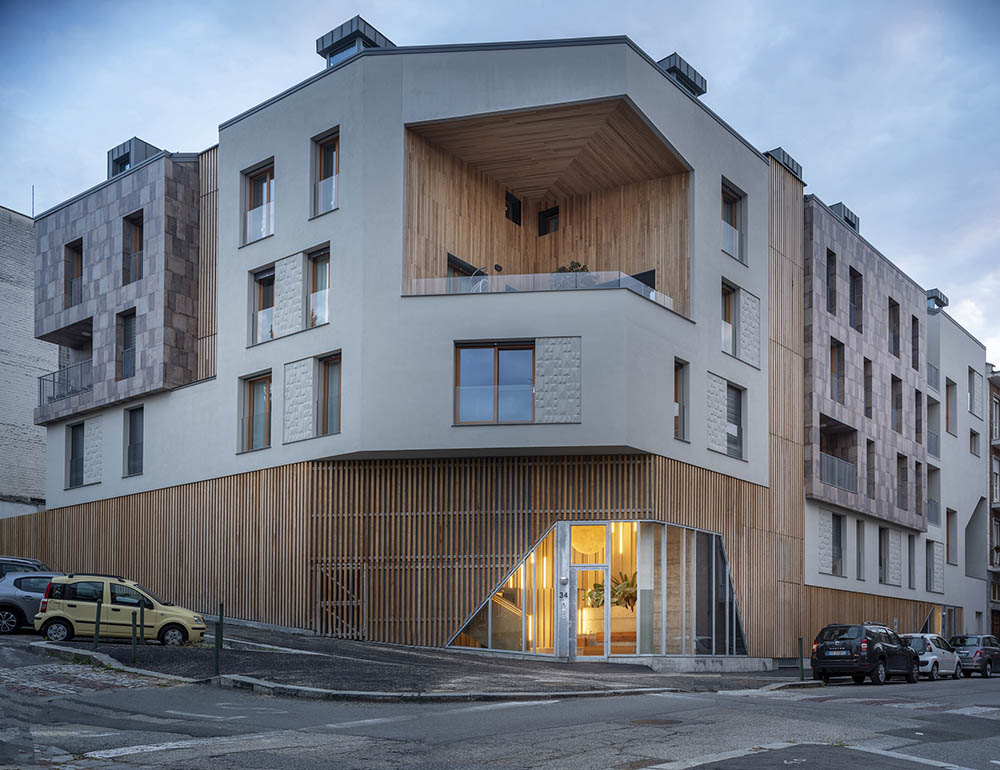 The new residential complex comprises single-family houses of 2 or 3 floors lined up along the streets that thin out towards the hill.
Preserving the two underground floors of the existing garage, the project reconstructs the missing piece in the building curtain.
Articulated in a corner volume of four floors above ground with a pitched roof with dormer windows, the new building, in the alternation of materials and full and empty spaces, looks to the deconstructivist architecture of the west-coast.
It even wink at Scandinavian architecture with rigorous and odd shape, exposed natural materials, neutral color scheme and common spaces.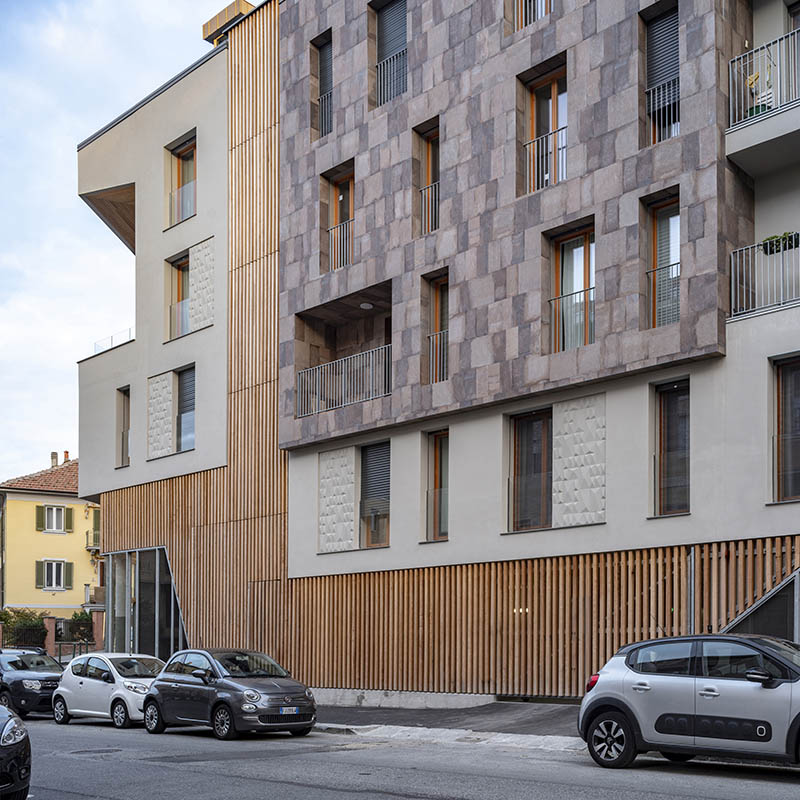 The basement is a reinterpretation of the surrounding buildings of the '50s, in which the building is often raised from the ground by a pilotis floor: the apartments are therefore "suspended", going to rest and set on the wooden slats from which the basement is made, light and transparent.
The project thus outlines a house "on stilts" with a simple and bright design that with a clever play of staggered floors adapts to the slope of the hill.
The corner lot is characterized by two distinct facades. The urban facade, oriented north and west, is hybrid and vertically marked by different elements. The edges of the lot and the central corner block recall the pre-collinear urban fabric, characterized by single-family houses.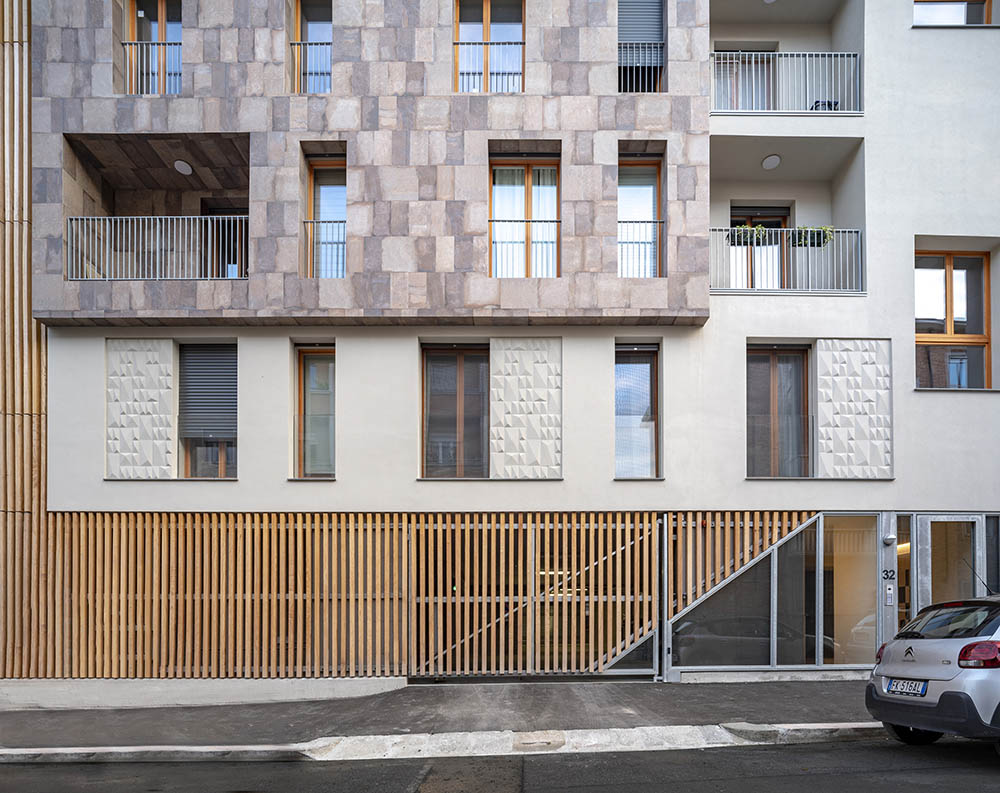 These volumes are covered with rough plaster and play with the staggering of the openings and the alternation of full and empty spaces obtained by subtraction, culminating in the corner loggia on two levels.
The protruding bow-window volumes, on the other hand, dialogue with the elegant 1950s residential architecture of the context, in the scanning of the terraces closed by metal rod railings and in the use of porcelain stoneware modulated in shades of purple red.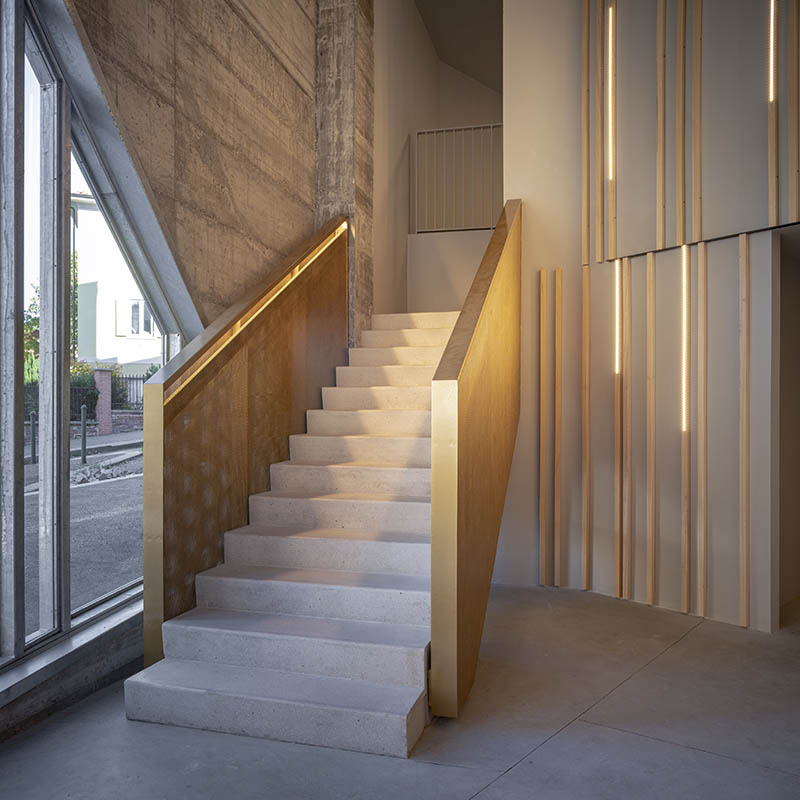 The entrance on the corner is marked by a clear cut in the wooden planking basement that opens on a double height hall, a scenographic chronotope that through a series of oculi introduces to the common spaces and to the internal garden.
The facade towards the court, facing south and east, is an enfilade of large continuous balconies with a regular pattern in galvanized steel and concrete slabs.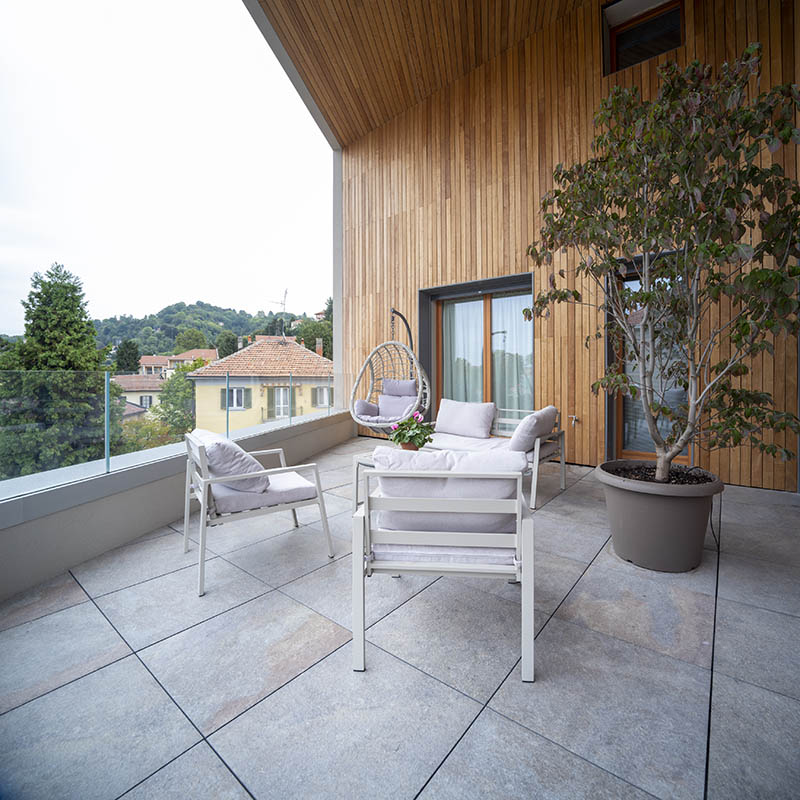 Conceived as a real extension of the interior space, they open on the green hill and on the new internal garden constituting the foundation of the balconies.
The courtyard has a vocation of common space, in which are located functions for collective use: a garden, seats and a play area dedicated to children.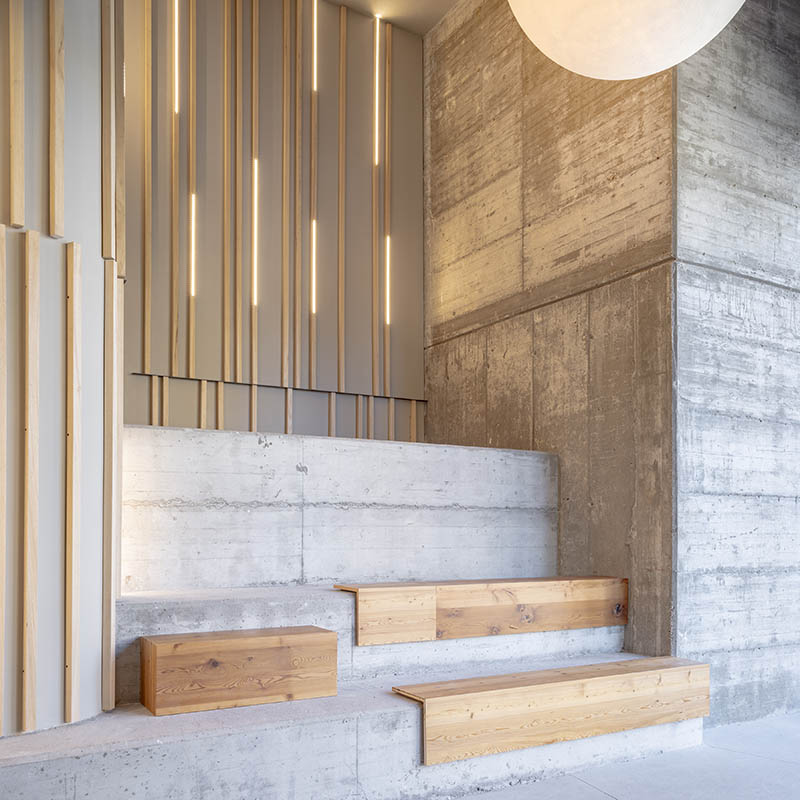 This new residential complex renews the urban imaginary proposing a new way of living with wide spaces of common life, which has conquered a heterogeneous set of families in search of a new sense of community.
Photography: Fabio Oggero