Henning Larsen Architects design 105 Victoria Street, an active community hub located just a short walk from Buckingham Palace in London.
105 Victoria Street is being developed by BentallGreenOak on behalf of the Welput Fund and is designed in collaboration with Adamson Associates Architects and Kohn Pedersen Fox Associates (KPF). Construction is expected to begin in August 2022.
The new project contains not just office space, but a reinterpretation of the typical commercial foyer as an urban plaza. A menu of indoor and outdoor amenities enables a more active workday, from start to finish.
After nearly 18 months of in-flux working conditions, many have questioned the future of the office. But while many have found successes in working from home, the lack of activity and social interaction have posed huge challenges on mental and physical health.
105 Victoria Street, Henning Larsen's first project in London, is a prototype for what the active and social office of the future can be.
Located in the heart of Westminster, just a short walk from Buckingham Palace, the 470,000 sq. ft. building is not only a mixed-use office building, but also aims to become a community destination with spaces for collaboration, celebration, and relaxation.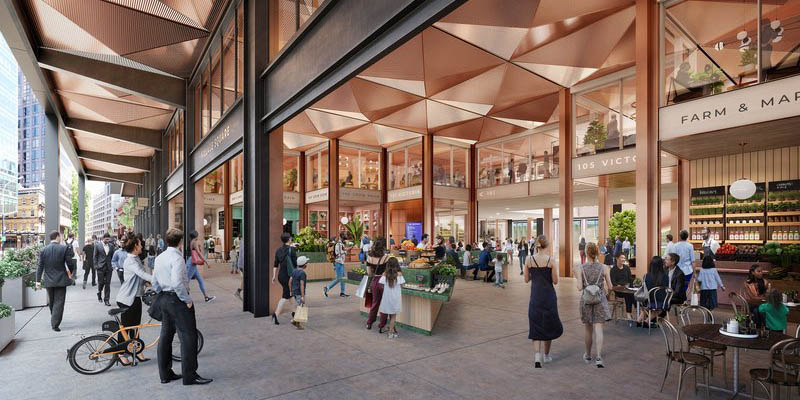 "Our ambition for the project is to create an active urban destination in the heart of London, a pocket of public space equal in energy and diversity to the city itself," says Jacob Kurek, Partner-In-Charge at Henning Larsen Architects.
With 105 Victoria Street's central location and vast pedestrian flow, the project has a unique opportunity to become a public destination that enhances the urban settings. Instead of a traditional office foyer and reception area on the ground floor, Henning Larsen Architects propose a covered public plaza —the Village Square — a large community hall that angles through the ground level, flexibly outfitted with stalls to allow it to adapt for various building and city-wide events.
The Village Square is designed to be a vibrant market hall; a natural short cut through the city where informal meetings can take place outside the urban rush on Victoria Street.
With the ability to accommodate music events, fashion shows, art exhibitions, and sports, in addition to the habitual market, retail stores, and co-working spaces, 105 Victoria Street expands who and what the office entrance is designed for.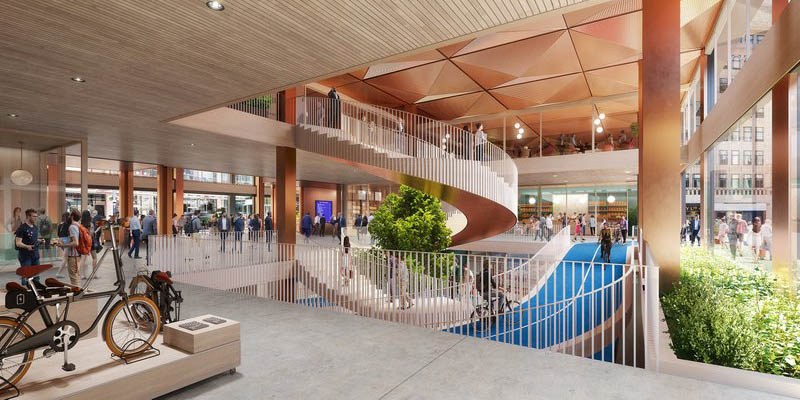 Supporting opportunities for health and wellness throughout the building were key drivers in the design of amenity spaces.
Connecting the Village Square with the underground bicycle parking and workshop, gym, and multi-purpose event and conference hall, is a winding staircase and bicycle ramp wrapping around a small pocket of indoor greenery.
On the 10th floor, a looped indoor and outdoor walk and talk track connects a range of amenities and functions with landscaped terraces to enjoy the London skyline while getting a moment of fresh air.
"Sometimes the smallest things can have the biggest impact. When designing 105 Victoria Street, we thought not just about our goals for a sustainable and active office building, but what stops people from making those healthy choices now," explains Kurek. "By focusing on solving those problems, we are giving agency to the tenants and community around the building."
The design also takes a macro view of sustainability and is designed to meet BREEAM 'Outstanding' standards and reach net zero embodied carbon by 2026 – all setting high standard for future development in Westminster and London at large.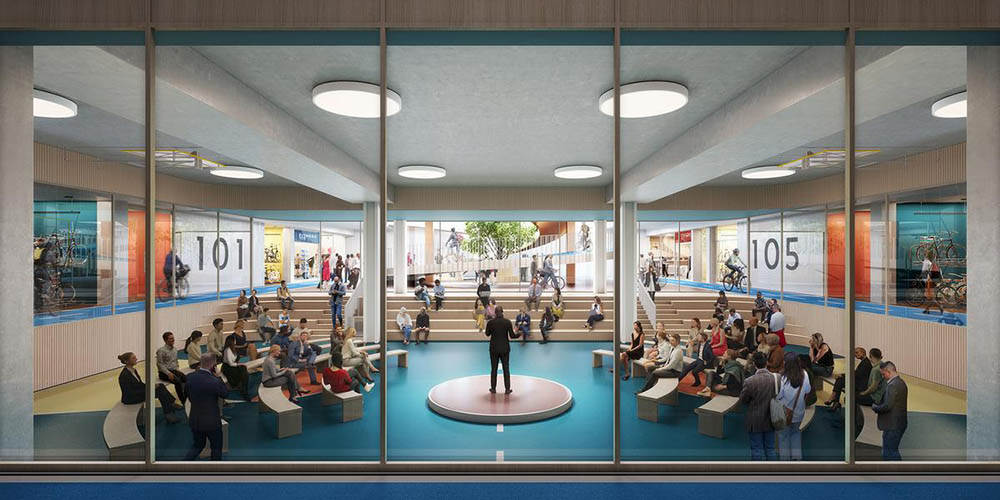 The rigorous sustainability agenda of 105 Victoria Street takes a holistic view of environmental and human wellness. A process of microclimate, wind, and acoustic analyses create an environment that is as comfortable and healthy as it is energy and resource efficient.
Renders by DBOX