On Friday 28th June 2019 during our second free educational tour part of London Festival of Architecture we are going to visit the global design and architecture firm Gensler.
Gensler is a collaborative team of creative individuals who bring a constructive, strategic and inclusive approach to design.
Art Gensler, along with his wife Drue Gensler and their associate James Follett, founded the firm in 1965. They originally focused on corporate interiors, pioneering interiors for newly constructed office buildings, including the Alcoa Building (1967) and the Bank of America Building (1969), both in San Francisco. The firm has since diversified into numerous forms of architecture and design, including commercial office buildings, retail centers, airports, education facilities, entertainment complexes, planning and urban design, mission-critical facilities, consulting, brand design, and other areas
Gensler grew rapidly with offices opening around the U.S. in the 1970s and 1980s and then overseas in the 1980s and 1990s. In 1972, the firm established an office in Houston to provide interior design services for Pennzoil Company's 600,000-sq-ft corporate headquarters. In 1979, the firm opened its New York office to provide interior design and production services for Mobil Oil Corporation's corporate headquarters in Fairfax, Virginia.
In 1988, the firm launched its first overseas office in London, followed by new offices in Tokyo and Hong Kong in 1993. In 2002, Gensler opened an office in Shanghai, establishing a permanent presence in China. By the early 2000s, Gensler was the largest architecture and design company headquartered in the U.S.
They are now a global architecture, design, and strategic planning firm with over 6,000 professionals in 48 locations throughout Europe, Asia, the Middle East, and the Americas.
They strongly believe that design is about people. Every day, millions of people around the world experience the spaces and places that Gensler creates. With that impact comes great responsibility. That's why using design to improve the human experience is the highest calling of our work. Our clients look to us to change their businesses—and the world—for the better.
Gensler recognized as top architecture-only firm for ninth consecutive year on ENR's 2019 Top 500 Design Firms list and ranks at first position in the Interior Design's annual survey of the top 100 Giants firms and Most Admired Firm.
Amongst their latest projects: Adobe London (that won a London Design Award), Hearst UK headquarter, the Storey Club (a 10,000-square-foot club space includes an-all day cafe and a lounge area for informal meetings over coffee or lunch as well as a swanky music room, an urban retreat that oozes relaxed sophistication, and a beautifully designed kitchen area, all available for corporate functions and events) and the Pixel Factory (an environment that encourages people to connect with people, in a comfortable, flexible, and intuitive fashion)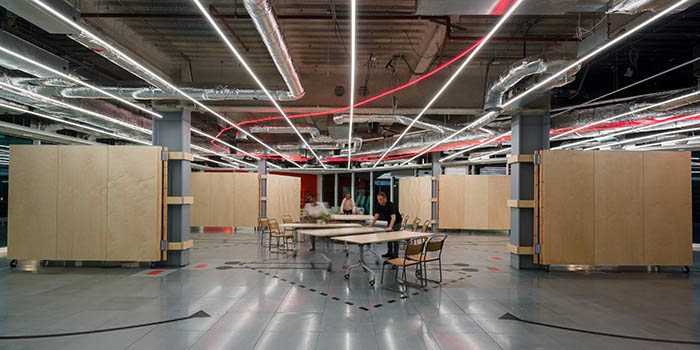 The visit of the architecture firm will be led by James Lawrence, Senior Associate in Gensler's Europe consulting team.
With over 10 years of interior; product design and consulting experience James is uniquely positioned to create design concepts and strategies from the inception of a project that deliver high-quality results.
Among his current areas of research is the development of the empathetic workplace – spaces where staff feel supported and comfortable, effective and productive, enabling them to work stress free to be as productive as possible.
Whether James is designing a piece of furniture or a new workplace, he believes that the success of a project lies in the careful attention to the smallest element and observations, creating innovative design solutions for the workplace and beyond.
The educational architecture tour has different main features:
to be inspired by breaking-through architects while visiting the most renowned and inspiring architecture firms based in London
to learn the architecture philosophy of the most influential architecture firms in the world
to experience some of the most awarded buildings in London guided by their creators
Program tour B: London Bridge
Thursday 27th June 2019
tp bennett office
dRMM de Rijke Marsh Morgan Architects office
Trafalgar Place with dRMM
Friday 28th June 2019
KPF Kohn Pedersen Fox office
Gensler office
London Bridge Station with Grimshaw Architects