As cultural partner of Brera Design Days 2019 we organized the visit of some of the most inspiring architecture firms in Milan.
Juhani Pallasmaa said "The complex phenomenon of architecture consists of too many irreconcilable and conflicting categories of thought, intention, emotion, interaction and action to be condensed into the framework of a single theory of architecture"
We focused on an architecture experience made of emotion and interaction dealing with the main theme of the Brera Design Days 2019.
The theme was "Grand'Italia(?)". While abroad design is no longer just a product but more and more an intangible project, thought and process, in Italy design is struggling to renew its self-generation ability and that of exchange between visionary designers and illuminated entrepreneurs, as well as to develop a design culture shared at national level, with subsequent difficulties standing out as nation-system in some of today's key sectors such as A.I., Sustainability, Service Design and Design for All. Is our country a "Grand'Italia" then? Could it be so again? When and at what price?
The first study we visited on Wednesday 9, one of the biggest in Italy, third in the ranking by revenue, was Lombardini22 where CEO Franco Guidi with Martina Mongiardino and Lucia Matti presented us their philosophy and led us through the different offices and spaces of the firm. Lombardini22, in contrast to the current Italian trend, is a firm comparable with major international design firms where different business units – L22 Urban & Building, L22 Retail, L22 Engineering & Sustainability, DEGW, FUD, CAP DC, Eclettico and Atmos – all share the same value added approach. As Franco Guidi said "big firms attracts big clients" and this is actually the dimension of Lombardini22.
The second architecture firm we visited was completely different, probably the opposite approach from the previous one: CZA Cino Zucchi Architetti office is a "world of inspirations", a museum of objects collected by the founder, a space constantly evolving with pieces of art, design, puppets, rulers, books, common things and tools.
The architecture practice is always searching new spatial solutions in the diverse and layered character of contemporary human territories.
Architects Alberto Brezigia and Giulia Novati presented us the practice defining it as an atelier capable of responding to complex programs at any scale.
Visiting Design Group International we discovered a different way of designing spaces. The practice was founded 50 years ago as a product and industrial design studio. Over the years the work has extended to cover a wide variety of projects ranging from products, interiors, brands and food to UX, service and strategic design. Creative director Chris Miller presented some of their best case studies (Blue Lagoon one of the most popular travel destinations in the world, The Perfect Match for Pepsico in the occasion of UEFA Champions League Final Kiev 2018) to demonstrate how they combine their expertise in interactive technology, interiors, service design, graphics and behavioural design and Francesca Vittori led us through the studio.
Last but not the least, the first day ended with the visit to Park Associati. After a warm welcome by Luciana Rappo, architects Francesca Moroni and Davide Viganò introduced us studio ethos and some of their most famous projects as the Salewa Headquarter, Engie Headquarter, La Serenissima Building and other main projects realized in Italy where Park Associati pays particular attention to the intangible and concealed dimensions such as the clients' identity values, the users' wishes and requirements, the urban, social, and political context.
And often the political and bureaucratic contexts are not helpful to boost growth and development…
The second day of the architecture firms in Milan educational tour was organized in collaboration with Novamobili, an Italian furniture brand owned by Battistella Company, one of Italy's leading manufacturers in the production of furniture and systems. The meeting point was at their showroom in Milan, housed in the basement of the iconic Gioia8 building, completed in 1973 after a design by Marco Zanuso and Pietro Crescini and restyled by the Park Associati in 2014. They offered us a welcome coffee while marketing manager Christian Giomo presented the company, their values and some of the showcased products.
The hospitality was so enjoyable but we had respect our schedule…Piuarch were waiting for us!
A short walk from the Novamobili showroom across the Brera Design District led us to Piuarch office in via Palermo 1.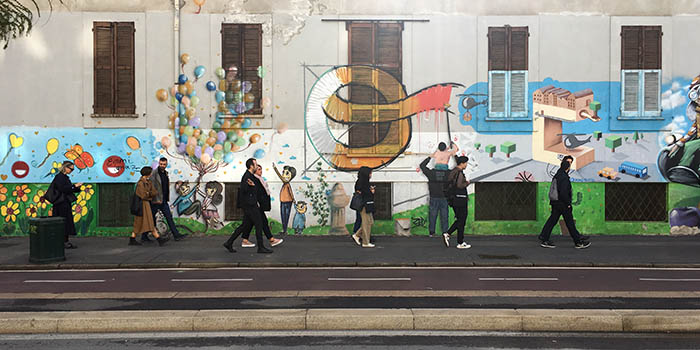 Piuarch is a group made up of architects with different backgrounds and different identities, who live in the awareness of these differences and consider them as a source of wealth for comparison, dialogue and the exchanging of ideas.
Architect Alessandro Leanti witnessed this idea of architecture presenting us some of their most interesting buildings all over the world and demonstrated how it is possible to be a "Grand Italia". He even joined the chorus that describe Italy's enormous heritage as a huge asset but even as a constraint.
The visit ended visiting, with Anna Premoli, their famous rooftop converted into a permanent vegetable garden, an "open air pharmacy" which redeveloped the building also from an energy and functional perspective.
We then headed to North of Milan, to Sesto San Giovanni where Architect Andrea Peschiera, founder of Tectoo was waiting for us. Tectoo is based inside the historical entrance building of the former factory Ex Falck which used to produce steel for a worldwide market. The area is among those major requalification of brown field in Europe and they are part of this important process. A passionate Andrea Peschiera presented us the studio and some of their latest works in detail: VP22 building and the reconversion of Angst Hotel in residential units.
Last stop of our architecture firms in Milan educational tour was at Design International, as the name implies, the most International of the architecture practices we visited during these days. Design International, headquartered in London, has offices in Milan, Shanghai and opened its newest office in Dubai's Design District (d3) in early 2018. Design International Deputy Director Eduardo Vazquez Talavera presented their philosophy that seeks to shape local stories to provide unique experiences for every visitor. He presented their main works in Italy such as Ferrari Centro Stile in Maranello, Aura Valley in Rome and MaxiMall in Pompei, Naples.  
Thanks to the educational tour, a fairly complete picture has emerged given the different nature of the Italian architecture firm we visited: Italy has great potential given the high quality and skills of architectural firms.  The practices in Italy are quite small, compared with the biggest firms worldwide. They represent a niche capable of collaborating with the most successful world architecture firms but even able of carrying out important projects in Italy and Worldwide.
Unfortunately, the main problem that they face every day in Italy is the high bureaucratisation that slows down the development and modernization of the country.
As the organization of Brera Design Days 2019 said "today more than ever it is essential do networking, trying not to isolate the country in anti-economic, poorly productive and – let's face it – extremely boring dynamics. Let's have some fun at least"
And yes…we did it! See you soon for another educational tour!