As part of our architecture educational tour in Milan during Brera Design Days 2019, on Thursday 10th October,  we are going to visit the renowned architecture firm Tectoo.
The educational tour is free thanks to our valuable partner Novamobili, one of Italy's leading manufacturers in the production of furniture and systems, capable of creating elegant, comfortable home interiors, where modular systems are designed to bring together function and aesthetics. Novamobili strives to meet the demands of contemporary lifestyles with its range of clean-lined designs and extensive choice of finishes, stemming from research into materials and texture and its application to interiors.
Tectoo is an architectural design firm established by the Architect Susanna Scarabicchi, former partner of Renzo Piano Building Workshop (RPBW). Her expertise, sensitivity and competence have been highly recognized around the world throughout the projects she led and designed over the past 30 years. She developed a commendable portfolio of projects that prompted community regeneration, sense of place and design quality.
Tectoo's cutting-edge approach is also enhanced by the expertise of Architect Andrea Peschiera, with whom Architect Scarabicchi has had a close and productive collaboration during the last five years at RPBW and who joined the firm as partner and director since the early stages, sharing the common focus on technical excellence and experimentation developed through his international experience.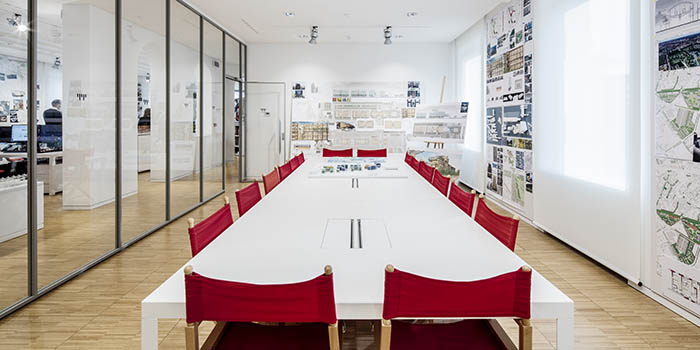 Tectoo is deeply rooted by architectural, environmental and social convictions for what designing for the future means. Creating something new in a world everyday more fragile requires the profound awareness that the best building concepts grow by means of a rigorous and innovative approach.
Their view is that creating good architecture involves developing and implementing competencies in collaboration with an extensive network of experts from many fields and disciplines whilst engaging in a strong relationship with our clients in order to define common goals.
Their office is located at the outskirt of Milan in the northern part of the city. This area was known as one of the most productive industrial area in Europe.
Tectoo is based inside the historical entrance building of the former factory Ex Falck which used to produce steel for a worldwide market. The area is among those major requalification of brown field in Europe and they are part of this important process!
On Thursday 10th October 2019 we are goin to visit other main architecture firms in Milan such as Piuarch and design international.
*Only 15 lucky participants will be selected to join this free tours and contacted by the organisation with a "on board" e-mail and the request to join the Whatsapp group, the details of the program and the meeting points.