As part of our free architecture educational tour in Milan on 9th – 10th October, during Brera Design Days 2019, we give you the chance to visit Lombardini22 one of the biggest architecture firms in Italy, ranked 3rd in Italy in terms of turnover.
Lombardini22 was born in 2007, when six professionals came together from different backgrounds, united by a shared vision and mutual values of respect, esteem and client-focus. The name "Lombardini22" comes from the address of our headquarter, reflecting a link with one of the most characteristic areas of Milan, the Navigli, or canal district, an important part of the city's entrepreneurial and industrial heart. Lombardini22 is the result of a desire to design together, drawing upon the relationships between people: the members of our group, our clients, specialists, suppliers, allies time and time again – we seek out the ideal combination to achieve the optimum end result, through partnership and mutual support.
The founding members' positioning choice was clear – in contrast to the current Italian trend, Lombardini22 would establish and manage itself as a large, structured agency, inspired by major international design firms, focussing on the markets in which their skills and capabilities would add value to client projects.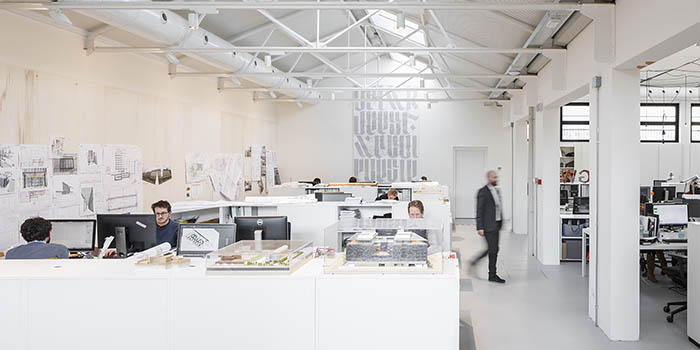 The headquarter is an industrial space rebuilt according to the key values of transparency, authenticity, cleanliness, candour.
The interior is punctuated by columns of different heights, lighting fixtures and desks: all white, open, bright. For focus and for meetings, we have created a series of more enriched environments, more intimate, warmer, more welcoming spaces. These spaces have been developed for today's working dynamics, for tomorrow's dreams, for meetings with customers and suppliers. Light plays a key role: the opening of the skylights brings zenithal light to all workstations, while direct and indirect illumination is delivered by suspended luminaires, managed by a sophisticated control system.
The practice is growing, strong and consistent. For over 10 years they have focused on Italy, valuing our young people, paying particular attention to the city of Milan and its dynamics. Lombardini22 is now a workshop employing over 250 people.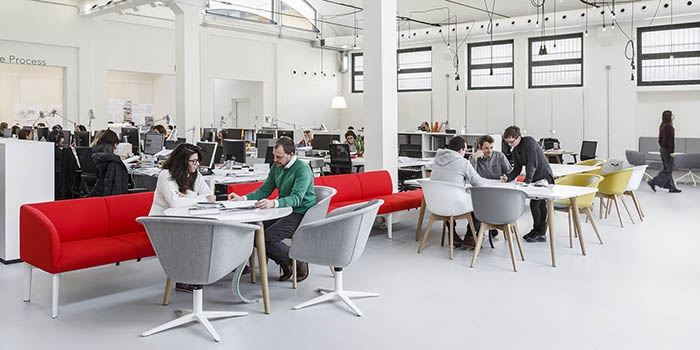 Lombardini22 has seven shareholders, senior and junior. Every single member of their team brings a different personality, strong and creative, an alternative language, a diverse thought-process: a richness born from reciprocal values and a shared vision. Their business units – L22 Urban & Building, L22 Retail, L22 Engineering & Sustainability, DEGW, FUD, CAP DC, Eclettico and Atmos- all share the same Value Added approach to their target markets.
The added values of our architecture educational tour in Milan are:
to be inspired by breaking-through architects while visiting the most renewed and inspiring architecture firms based in Milan
to learn their architecture philosophy and ethos
to experience Brera Design Days 2019 main theme "Grand'Italia (?)" through the eyes of the Italian leading architects.
On Thursday 9th October 2019 we are goin to visit other main architecture firms such as Park Associati, Cino Zucchi Associati and Design Group Italia while, on Thursday 10th, the programme of the architecture educational tour in Milan comprehends the visits to Piuarch, Tectoo and design international.
Don't miss the chance to learn, to be seen and to experience architecture.
*Only 15 lucky participants will be selected to join this free tours and contacted by the organisation with a "on board" e-mail and the request to join the Whatsapp group, the details of the program and the meeting points.
Images courtesy: Lombardini22