Before listing all the largest and best architecture firms in London, we should understand why we can consider London as the architecture capital city in the World. Quite all the best architecture firms with their world's foremost architects, interior designers, engineers, and urban planners have their headquarters or at least a representative office in London.
During the Second World War, many parts of London were bombed. In an effort to rebuilt it quickly and efficiently, high rise blocks were introduced to London. The United Kingdom capital has long served as a canvas for pioneering architects from all over the world. It is home to a variety of bold buildings from brutalist and art-deco estates to the modern-day glass architectures.
Although not all of them are based there, London has now the highest concentration of architectural practices of any city in the world and is regarded as a global hub of architectural thinking and teaching: the United Kingdom is home to three out of the top 10 universities for architecture in the world and London is the ideal meeting place between East and West of the World.
Amongst the largest architectural companies headquartered in London you will find:
Foster + Partners
Zaha Hadid Architects
Allford Hall Monaghan Morris
WilkinsonEyre
DCA David Chipperfield Architects
Grimshaw
PLP Architects

Scott Brownrigg

Rogers Stirk Harbour + Partners
Allies and Morrison
tp bennett
Jestico + Whiles
Sheppard Robson

Hawkins\Brown Architects

Heatherwick Studio
Atkins
Feilden Clegg Bradley Studios
Squire & Partners
Purcell
Benoy
Apt
AHR
EPR Architects

Weston Williamson + Partners

Broadway Malyan
PRP Architects
Stiff+Trevillion

Architects

Darling Associates
dRMM
Stokckwool
Pollard Thomas Edwards
Foster + Partners
The largest architecture firms in the UK is Foster + Partners, a global studio for architecture, urbanism and design, rooted in sustainability. The practice was founded over fifty years ago in 1967 by Norman Foster. Since then, he and the team around him have established an international practice with a worldwide reputation for thoughtful and pioneering design, working as a single studio that is both ethnically and culturally diverse. The studio integrates the skills of architecture with engineering, both structural and environmental, urbanism, interior and industrial design, model and film making, aeronautics and many more – their collegiate working environment is similar to a compact university. These diverse skills make Foster + Partners capable of tackling a wide range of projects, particularly those of considerable complexity and scale. Design is at the core of everything that they do. 
Riverside, 22 Hester Road, London, SW11 4AN, United Kingdom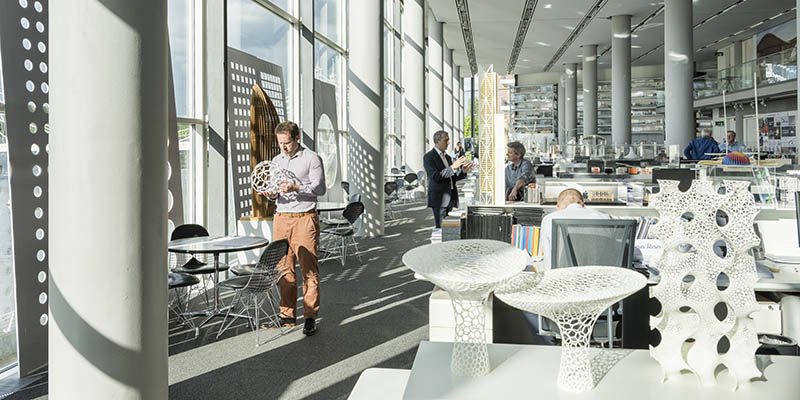 Courtesy: Foster + Partners
Zaha Hadid Architects
Working with clients that have global reputations for excellence, Zaha Hadid Architects hugely talented and dedicated teams of over 400 experienced professionals work with passion and commitment to honour Zaha Hadid's legacy and deliver transformational projects on six continents. Zaha Hadid Architects has redefined architecture for the 21st century with a repertoire of projects that have captured imaginations across the globe. Form and space are woven within the structure of buildings that evolve from their surroundings and tie disparate programmes together. Receiving the highest honours from civic, professional and academic institutions worldwide, ZHA is one of the world's most consistently inventive architectural studios—and has been for four decades. The ideology embedded within each design is applied with a light touch as well as principled discipline; engaging the city with an act of attraction rather than imposition. Zaha Hadid Architects is a global leader in the application of Building Information Modelling (BIM) in the design, construction and operations of buildings to increase efficiencies as well as significantly reduce energy consumption and emissions. Marrying innovative digital design methods with ecologically sound materials and sustainable construction practices, ZHA does not look at the disparate parts, but works to understand them as a whole; delivering practical solutions to the defining challenges of our era.
10 Bowling Green Ln, Farringdon, London EC1R 0BQ, United Kingdom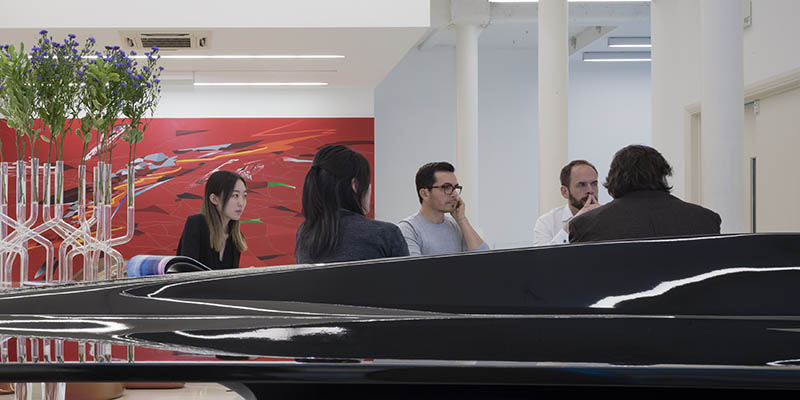 Courtesy: Zaha Hadid Architects | Photography: Archmospheres
Allford Hall Monaghan Morris
Founded in 1989 by Simon Allford, Jonathan Hall, Paul Monaghan and Peter Morris, Allford Hall Monaghan Morris is a prestigious architecture practice based in London, Clerkenwell with offices in Bristol and Oklahoma. AHMM makes buildings that are satisfying and enjoyable to use, beautiful to look at and easy to understand. The practice designs very different buildings for very different people to use in very different ways, making places as well as buildings that work over time and have lasting qualities intrinsic to their architecture. Winner of the RIBA Stirling Prize in 2015 and many other awards for architecture and design, Allford Hall Monaghan Morris has received public and media acclaim for its work on education, commercial, residential, arts and masterplanning projects in London, around the UK and internationally. In 2017, it became majority employee-owned through an Employee Ownership Trust
Morelands 5-23 Old Street, London EC1V 9HL, United Kingdom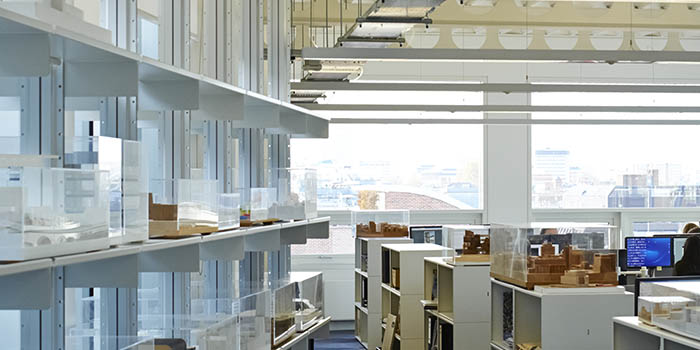 Courtesy: Allford Hall Monaghan Morris
Grimshaw
Grimshaw was founded by Sir Nicholas Grimshaw in 1980. The practice became a Partnership in 2007 and operates worldwide with offices in Los Angeles, New York, London, Paris, Dubai, Melbourne, and Sydney, employing over 650 staff. Everything they produce, from buildings to master plans to industrial design, is the culmination of an evolutionary process that derives beauty from form, economy and efficiency. With each project Grimshaw learns more about creating forms and places, serving processes and people, and respecting the fragility and resources of our planet. The results of this accumulated expertise are comfortable, healthy environments that instill wonder and delight while simultaneously attending to the functional and social needs and aspirations of the individuals they serve
57 Clerkenwell Road London EC1M 5NG United Kingdom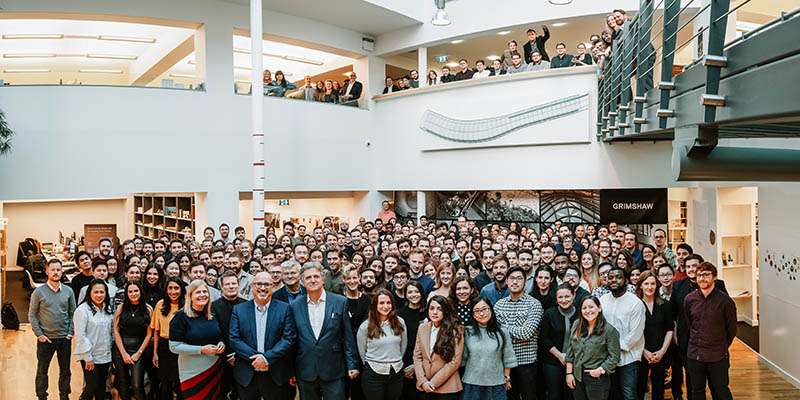 Courtesy: Grimshaw
David Chipperfield Architects
Worldwide renowned architecture firm David Chipperfield Architects was founded in London by David Chipperfield in 1985. The practice has since won numerous international competitions and built over 100 projects. Its diverse international body of work includes cultural, residential, commercial and educational buildings and spaces for both the private and public sectors, as well as civic projects and urban masterplans. Offices in London, Berlin, Milan and Shanghai, contribute to the wide range of projects and typologies. Together, the four offices drive common architectural ambitions and share a commitment to the collaborative aspect of creating architecture. David Chipperfield Architects's work is characterised by meticulous attention to the concept and details of every project, and a relentless focus on refining design ideas to arrive at a solution which is architecturally, socially, and intellectually coherent.
1 Surrey Street, London WC2R 2ND, United Kingdom
WilkinsonEyre
WilkinsonEyre is one of the world's leading architectural practices with a portfolio of national and international award-winning projects. Since their inception in 1983, they have built a portfolio of bold, beautiful, intelligent architecture in sectors as diverse as culture, sport and leisure, education, infrastructure, residential, office and large-scale masterplanning. Their work is based on an informed use of technology and materials and combines a commitment to the spirit of the new with an awareness of context. This approach has won the practice numerous awards, including the prestigious RIBA Lubetkin Prize for both the Guangzhou International Finance Center and the cooled conservatories at Gardens by the Bay, and the RIBA Stirling Prize for Architecture for the Gateshead Millennium Bridge and Magna.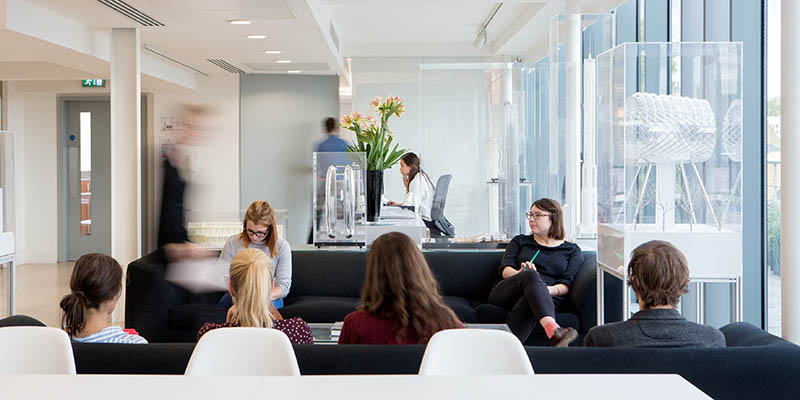 Courtesy: WilkinsonEyre | Photography: Agnese Sanvito
PLP Architecture
PLP Architecture is a dynamic collective of architects, designers and researchers with a diverse portfolio of more than 500 projects. It has produced some of the world's greenest, most intelligent and ground-breaking designs through a profound commitment to social, economic and environmental values. The studio works across typologies and beyond the traditional boundaries of architecture and master planning services, providing branding and positioning research, engagement strategies, and graphic, interior, product and furniture design.
Ibex House, 42-47 Minories, London EC3N 1DY, United Kingdom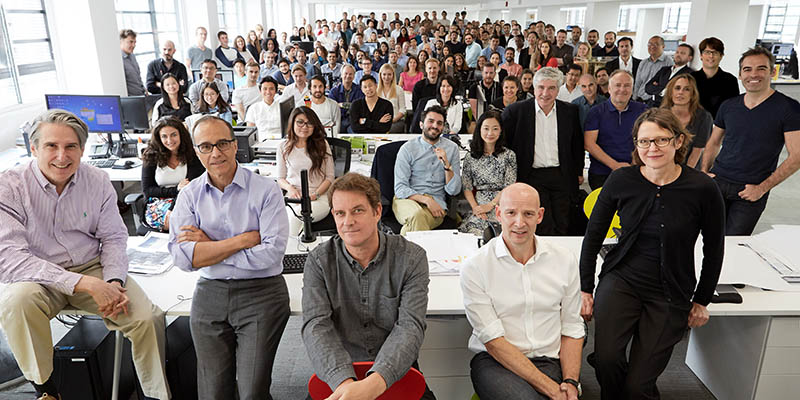 Courtesy: PLP Architecture | Photography: Cat Garcia
Scott Brownrigg
Scott Brownrigg have a heritage that spans 110 years. They are one of the largest and best architecture firms in the London and are in the Global Top 100, with studios across the UK and in New York, Singapore and Amsterdam, together with strategic alliances in the Middle East and Hong Kong. They have a vision to transform the industry and to enrich lives through the built environment to create a better world; living for opportunities to push themselves creatively, in business and as a team. Scott Brownrigg undertake projects of all scale from the creation of mega masterplans and the urban design of communities, to the design of individual buildings, their space planning and interior fit outs. They are a RIBA Role Model and are owned by 70+employee shareholders.  With a relentless desire to make things better, they also want to make the creative journey an enjoyable one.
77 Endell Street London, WC2H 9DZ United Kingdom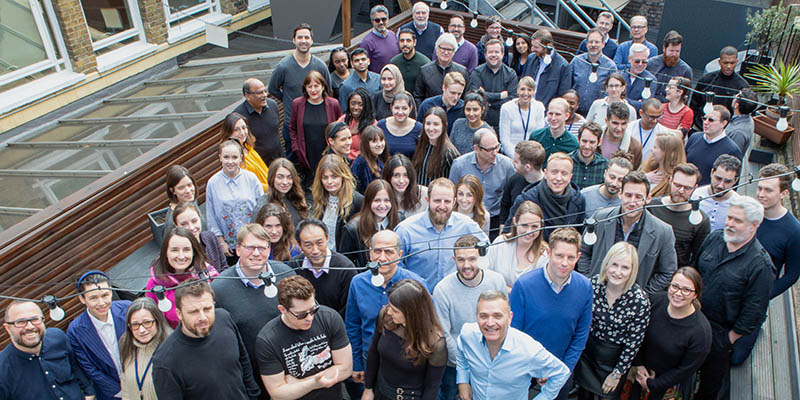 Courtesy:
Scott Brownrigg
Rogers Stirk Harbour + Partners
Rogers Stirk Harbour + Partners is an international architectural practice based in London. Over the past four decades, RSHP has attracted critical acclaim and awards with built projects across Europe, the Americas, Asia and Australia. Since the early days of the Lloyd's building in the 1970s the practice has produced innovative, beautiful, sustainable, and practical architecture which creatively solves problems for clients. The practice is experienced in designing a wide range of building types including: office, residential, transport, education, culture, leisure, retail, civic and healthcare. The quality of its designs has been recognised with some of architecture's highest awards, including two RIBA Stirling Prizes, one in 2006 for Terminal 4, Madrid Barajas Airport and the other in 2009 for Maggie's West London Centre.
The Leadenhall Building, 122 Leadenhall Street, London, EC3V 4AB, United Kingdom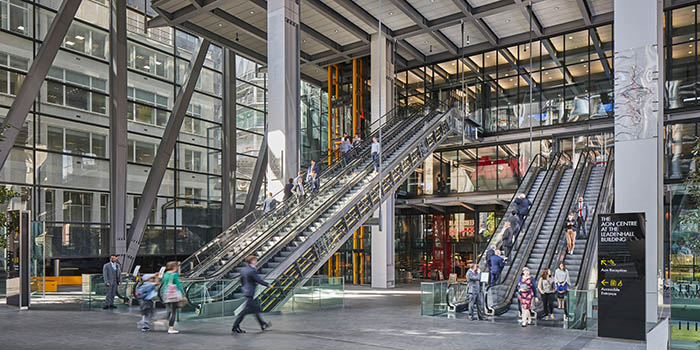 Photography: Paul Raftery
Allies and Morrison
Allies and Morrison is an architecture and urban planning practice based in London, Cambridge, Liverpool and Dublin. Since their founding in 1984, they have developed a reputation for well-crafted buildings and thoughtful place making. With more than 300 employees, the work of the practice ranges from architecture, interior design and conservation to planning, consultation and research. 41 of their completed projects have won a RIBA Award and they have twice been shortlisted for the Stirling Prize – for the revitalisation of the Royal Festival Hall in 2008 and for New Court Rothschilds Bank in collaboration with OMA in 2012.
85 Southwark Street London SE1 0HX, United Kingdom
Jestico + Whiles
Jestico + Whiles is an employee-owned international architecture and interior design practice based in London and Prague. Their talented team of over 100 people has completed major projects throughout the UK and across the world. They have proven expertise in excellent, sustainable design across a wide range of sectors: housing, hotels, education, offices, retail, research, transport, and cultural facilities. Many of these are within schemes involving major urban regeneration, refurbishment of historic buildings or low energy designs. Whether the project is big or small, old or new, home or away, the diversity of our experience brings a natural richness to their work.
Sutton Yard, 65 Goswell Road, London EC1V 7EN, United Kingdom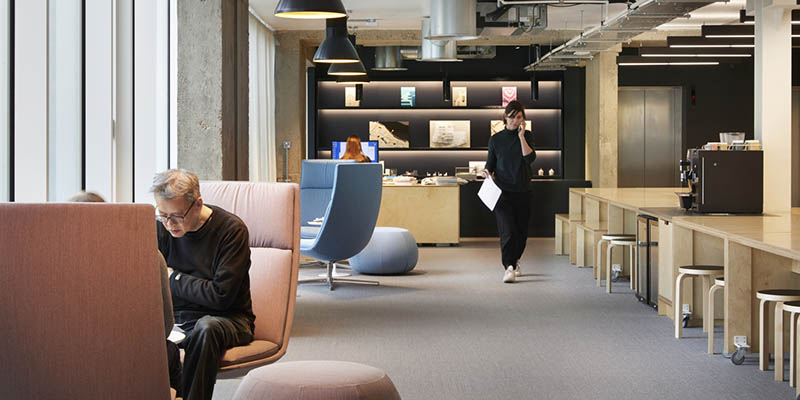 Courtesy: Jestico + Whiles | Photography: Jack Hobbhouse
tp bennett
With more than 100 years, tp bennett is an independent architectural, design and planning practice of 320 staff working in the UK and internationally. tp bennett is headquartered in London with a Manchester office serving the North of England. They are part of a global network, which includes 30 affiliate offices across EMEA, Americas and APAC region. Their expertise spans every aspect of architectural design including planning, strategy and interiors, and they have enormous resilience to match their passion. They value diversity in every sense: in their workforce, company culture, client-base and projects – and in freedom of thought.
One America Street, London SE1 0NE, United Kingdom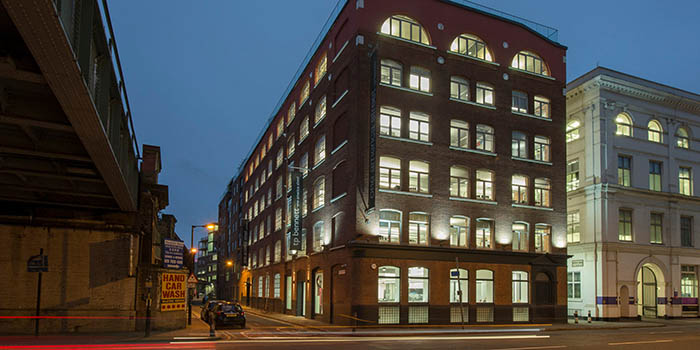 Courtesy: tp bennett
Sheppard Robson
Sheppard Robson is one of the largest architectural practices in London, with a reputation for thoughtful and responsible designs. The practice was founded in 1938 by Sir Richard Sheppard and Jean Shufflebottom, Geoffrey Robson became a named partner in the 1950s. In the first 80 years, Sheppard Robson has designed award-winning architecture, interior design and masterplanning projects around the world, building a strong reputation across numerous typologies— including office, education, residential, healthcare, science and retail projects.  From their offices in London, Manchester and Glasgow, the founding principles of innovation and sustainability continue to shape the work of Sheppard Robson and its interior design group (ID:SR), reinterpreted and enlivened by the creative talent of their designers.
77 Parkway London NW1 7PU, United Kingdom
Hawkins\Brown
Founded over 30 years ago by Partners Russell Brown and Roger Hawkins, Hawkins\Brown is one of the best architecture firms based in London. They have also offices in Manchester, Edinburgh and Los Angeles. The architecture firm brings a collaborative approach to projects across a range of types and scale in five main sectors: civic, community & culture; education; workplace; transport & infrastructure and residential. Alongside its work in architecture, design and planning, Hawkins\Brown conducts industry leading research, with outputs that include H\B:ERT an open-source and free-to-use plug-in for BIM models that enables teams across the industry to analyse the whole-life carbon impact of their design choices. Hawkins\Brown's awards in 2019 include: an RIBA National Award for the Beecroft Building for the University of Oxford and Sustainability Prize & Overall Winner in the New London Awards for Agar Grove, the largest development of Passivhaus homes in the UK, designed for the London Borough of Camden.
159 St John Street, London EC1V 4QJ United Kingdom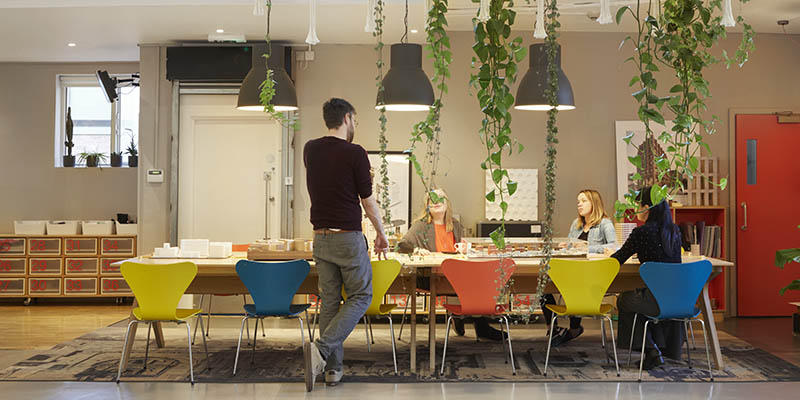 Courtesy:
Hawkins\Brown | Photography: 

Jack Hobhouse
Heatherwick Studio
Based out of their combined workshop and design studio in Central London, Heatherwick Studio creates buildings, spaces, master-plans, objects and infrastructure. Focusing on large scale projects in cities all over the world, they prioritise those with the greatest positive social impact. Working as practical inventors with no signature style, Heatherwick Studio motivation is to design soulful and interesting places which embrace and celebrate the complexities of the real world. The approach driving everything is to lead from human experience rather than any fixed design dogma. Heatherwick Studio employees over 200, as they call, problem solvers dedicated to making the physical world around us better for everyone.
356 – 364 Gray's Inn Road, London, United Kingdom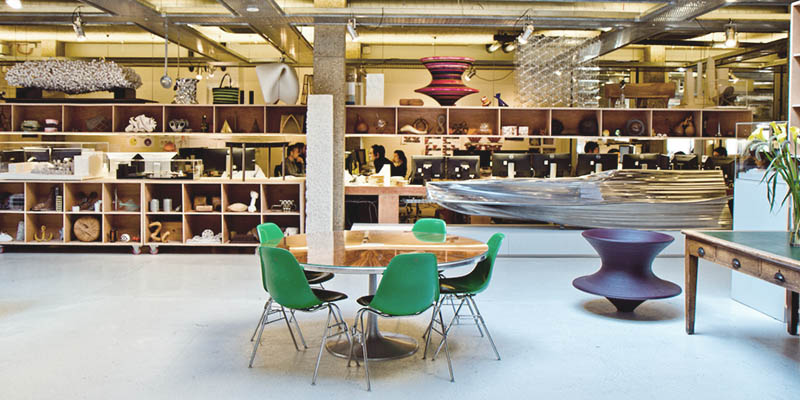 Courtesy: Heatherwick Studio
Atkins
Atkins is one of the world's most respected design, engineering and project management consultancies. Together with SNC-Lavalin, Atkins helps clients plan, design and enable major capital projects, and provides expert consultancy that covers the full project lifecycle. By building strong relationships with clients and understanding the challenges they face, Atkins helps transform potential into reality. Its world-class expertise at scale delivers value to clients, and the depth and breadth of capabilities sets Atkins apart from the competition. Across the UK and Europe, Atkins advises and supports both public and private sector clients with the delivery of complex, outcome-focused projects, building relationships based on understanding, integrity and collaboration. With over 350 architects across the business, Atkins has one of the largest architecture practices in the UK, working across a diverse range of sectors including defence, aviation, flood defences and schools. Thanks to the team's expertise, Atkins is designing places where people can live, work and play better, helping to deliver real social value that impacts everyday lives and delivers a brighter future for everyone.
Nova North 11 Bressenden Place Westminster London SW1E 5BY, United Kingdom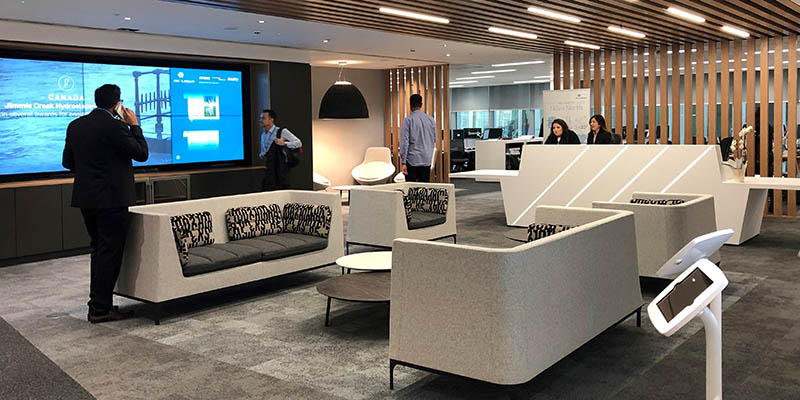 Feilden Clegg Bradley Studios
Feilden Clegg Bradley Studios is an architectural and urban design practice with an international reputation for design quality, for pioneering environmental expertise and a progressive architectural approach. Rooted in a humane modernism that is socially progressive and environmentally responsible, Feilden Clegg Bradley Studios has experience in designing for education, housing, masterplanning and urban design as well as places for art and the creative reuse of historic buildings. Founded 40 years ago, they have grown to over 200 staff.  They won the RIBA Stirling Prize for Accordia, a scheme which is widely regarded as setting a new benchmark for housing in the UK. They believe excellence in design can facilitate change, improvement and transformation in society.
Twenty Tottenham Street, London, W1T 4RG, United Kingdom
Squire & Partners
Amongst the best architecture firms in the London, Squire & Partners is an architecture and design practice with experience spanning four decades, earning it an international reputation for architecture informed by the history and culture of where it is placed. Their award winning portfolio, for some of the world's leading developers, includes masterplans, private and affordable residential, workspace, retail, education and public buildings. Squire & Partners' approach responds to the unique heritage and context of each site, considering established street patterns, scale and proportions, to create timeless architecture rooted in its location. Embracing traditional and emerging technologies in craft and construction, the practice is renowned for delivering a rigorously detailed product. As both designers and developers of workplaces, hotels and residences, the practice has a unique commercial sensibility and the skills to create value through good design.
248 Ferndale Rd, Ferndale, London SW9 8FR, United Kingdom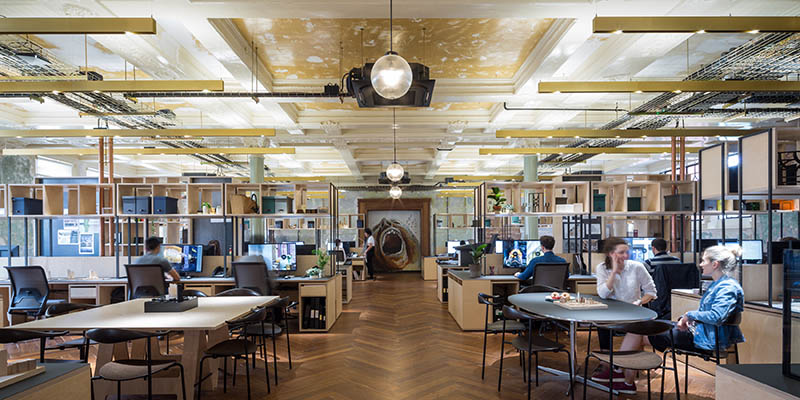 Courtesy: Squire & Partners | Photography: James Jones
Purcell
Purcell started life in the 1940s as an architectural practice founded by conservation expert Donovan Purcell. After many years restoring churches and army buildings in East Anglia, Purcell was appointed as Surveyor to the Fabric of Ely Cathedral in 1950. They have continued to work at Ely to this day, but now take Purcell's ethos for excellent conservation architecture all over the world. Partnering with architect Peter Miller and graphic designer  William "Bill" Tritton in 1965, Purcell developed a strong core of architecture, heritage consultancy and masterplanning. This has evolved into working in sectors as varied as public, residential and culture. The thread that ties their projects together is bringing contemporary design solutions to historic environments. Purcell employ a talented workforce of 250 people across the UK and around the world. They have grown to have UK studios in Bristol, Cambridge, Canterbury, Cardiff, Colchester, London, Manchester, Norwich, Oxford, York and Leeds, and overseas in Hong Kong, Sydney and Hobart.
15 Bermondsey Square, London, SE1 3UN, United Kingdom
Benoy
Benoy began in 1947 as a three-man architect firm designing cowsheds in rural Nottinghamshire. Over the last 70 years they have grown rapidly, but they have always remained true to their business roots and family mindset. Since the very beginning, Benoy have retained a strong belief in the importance of intimacy, honesty and dedication in their work and client relationships. Today Benoy is a global company with a presence in China, Hong Kong, Singapore, Mumbai, Dubai, LA and the UK. They positively impact individuals and communities by improving social spaces, places and facilities and enhancing sense of place and belonging.

1 Monkwell Square London EC2Y 5BL United Kingdom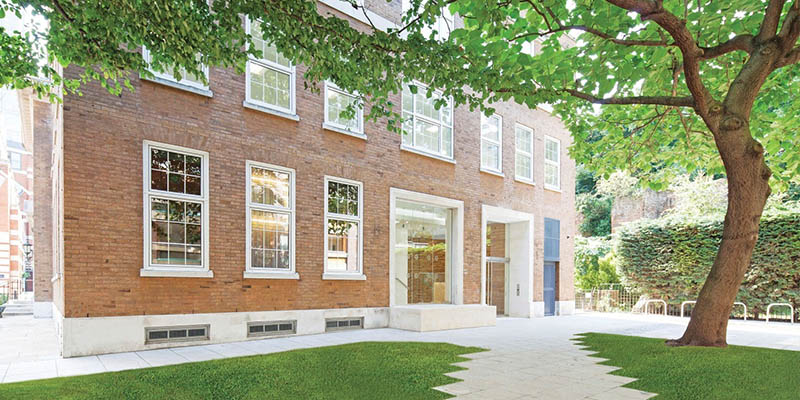 Courtesy: Benoy
Apt
Apt is an architectural practice underpinned by a creative and collaborative approach. They create architecture that inspires through great design, innovation and craftsmanship. They work as a collective in a transparent and logical way. At Apt, they look at every project afresh; creating desirable places to live and work that are richly detailed and diverse in character, celebrating the culture, customs and heritage of their setting, reinforcing a sense of identity and place. From their studio in the heart of London's design district Apt work across several sectors including housing, commercial, heritage, arts and community projects of all shapes and sizes across London and the UK.
235 St John St, Clerkenwell, London EC1V 4NG, United Kingdom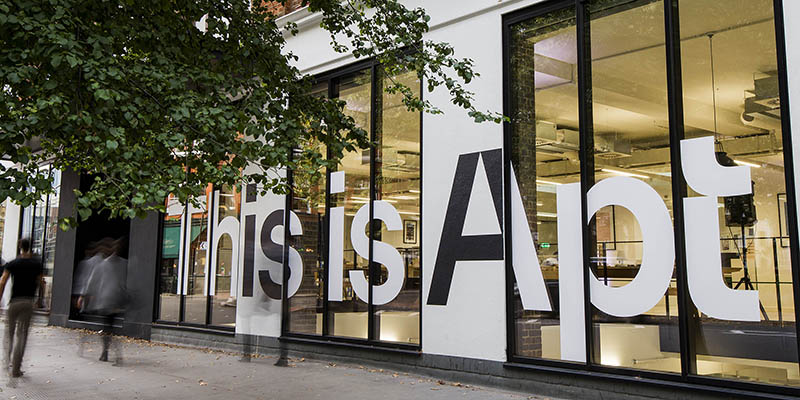 Courtesy: Apt
AHR
Founded in 1835, AHR is a multi award-winning architectural and building consultancy practice working across the UK and Internationally. Their multi-service approach, offering architecture, building consultancy, masterplanning, geomatic consultancy, interiors, landscape, BIM consultancy and principal designer services, creates an expansive knowledge pool that is available to every subdivision of the business across any project. Purcell sees all projects throughout their entire life cycle, providing services across the timeline and glean rare perspective into how each inform the other. Their individual services thrive from a connected outlook, utilising this shared knowledge across the practice to collaborate and build their expertise on the latest market techniques.
5-8 Hardwick St London EC1R 4RG United Kingdom
EPR Architects
EPR Architects is an award-winning practice with a well-established reputation for quality architecture, masterplanning and interior design thanks to our extensive experience delivering an array of building typologies across workplace, lifestyle and leisure sectors. EPR Architects employee over 200 talented people in their London, Manchester and Wrocław studios. They are committed to delivering sustainable, stimulating environments – often collaborating with renowned artists and interior designers to push brief boundaries with bold, bespoke design solutions whilst championing the need for public art.
30 Millbank London SW1P 4DU, United Kingdom
Weston Williamson + Partners
Weston Williamson + Partners (WW+P) is an award-winning architectural and urban design practice specialising in infrastructure, regeneration and place making, with studios in Toronto, London, Sydney and Melbourne. A team of 150 professionals work flexibly and collaboratively with clients including HS2, Crossrail, London Underground Limited, Docklands Light Railway and Tideway along with many residential and mixed use developers. Over the last 30 plus years, they have designed and delivered some of the largest and most ambitious infrastructure projects in the UK including the Jubilee Line extension, Crossrail and High Speed 2. Their ambition is simple but expansive, shaping cities for the future. People are at the heart of everything they do. WW+P design buildings and places that are a pleasure to use and create civilised beautiful environments that enrich lives.
12 Valentine Place London, SE1 8QH United Kingdom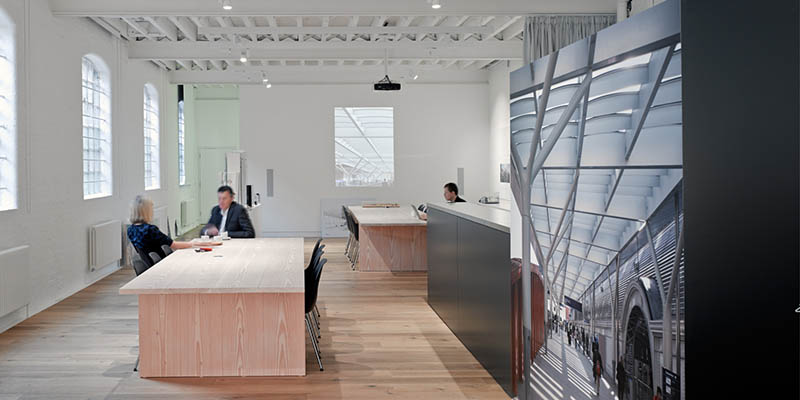 Courtesy: Weston Williamson Studio
Broadway Malyan
Broadway Malyan is a global architecture, masterplanning and urban design practice with more than 60 years' experience in delivering world-class projects for its clients. Headquartered in London, the practice has a network of 12 studios across three continents and has live projects in 40 countries around the world from South America to the Far East. It specialises in a range of a key sectors including residential, hospitality & leisure, workplace, education and masterplanning and works with a host of key global brands including Marriott, Ikea and Petronas. Its diverse range of landmark projects include a new cruise liner terminal for Royal Caribbean in Miami, London's tallest residential tower and a new Chinese campus for the school that inspired Harry Potter's Hogwarts.
Holmes House 4 Pear Place London  SE1 8BT United Kingdom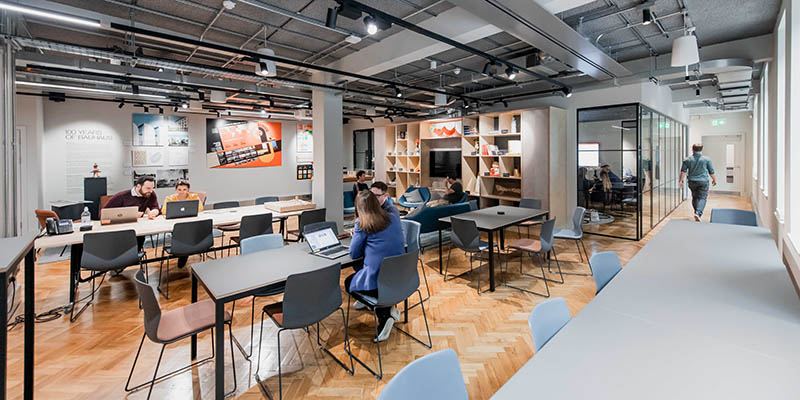 Courtesy: Broadway Malyan
Stiff+Trevillion
Stiff+Trevillion are a well established architectural practice based in West London working exclusively in the private sector and principally in the central London Boroughs. They employ around 60 people with an in-house CGI team and a fully manned and equipped model shop. As well as architects they employ interior designers and furniture designers as they believe this gives them the ability to design the architecture and interiors of our projects in a thoughtful and coordinated way. Stiff+Trevillion are committed to using their design skills to tackle the issues of climate change, they were early signatories to Architects Declare and they work closely with their fellow professionals to find solutions that impact our environment minimally, whilst creating stimulating, healthy and flexible spaces for people to live and work.  They carry this ethos into their studio environment and have a dedicated "green team". Sustainability is at the heart of what they do.
16 Woodfield Road London, W9 2BE United Kingdom
Courtesy: Stiff+Trevillion
PRP
PRP cannot miss in this list of best architecture firms in the London. The British architecture firm is a long-established one with over 100 awards to its name. An interdisciplinary practice, PRP offers a full range of design and building services including masterplanning, urban design, landscape and development consultancy. Few know as much about housing design and urban regeneration as PRP. With over 55 years' experience to draw on, PRP has established an exemplary track record in the design and delivery of homes and places of varying scale, complexity and diversity. PRP employs more than 250 staff across its London, Manchester and Surrey studios.
10 Lindsey Street Smithfield London EC1A 9HP, United Kingdom
Darling Associates
Darling Associates is a multi-award-winning RIBA chartered architecture practice with studios in London and Manchester. Established by Chris Darling in 2003, their approach begins and ends with the objective of creating beautiful places to live, work and relax. Their multi-disciplinary team works across multiple sectors, including affordable to luxury residential developments, offices, hotels, leisure and retail schemes. Each team brings with them a wealth of skills and expertise to deliver minor to major projects across the world. As well as architectural design, the Manchester studio is home to Darling Associates' award-winning interior design practice, offering interior design services for the residential, leisure and hotel sectors.
1 Greencoat Row, Westminster, London SW1P 1PQ, United Kingdom
Courtesy: Darling Associates
dRMM
dRMM is a London-based, international studio of architects and designers founded in 1995 and led by Alex de Rijke, Philip Marsh, Sadie Morgan and Jonas Lencer. They are renowned for creating architecture that is innovative, high quality and socially useful. For this, they have won awards including Britain's top architecture award the RIBA Stirling Prize 2017, Building Design (BD) Architect Of The Year 2014 and Building Design (BD) Housing Architect of the Year 2015. They are committed to outstanding architecture that transforms and inspires, always taking care about environment and people when making places.
Magdalen House 136-148 Tooley St London SE1 2TU United Kingdom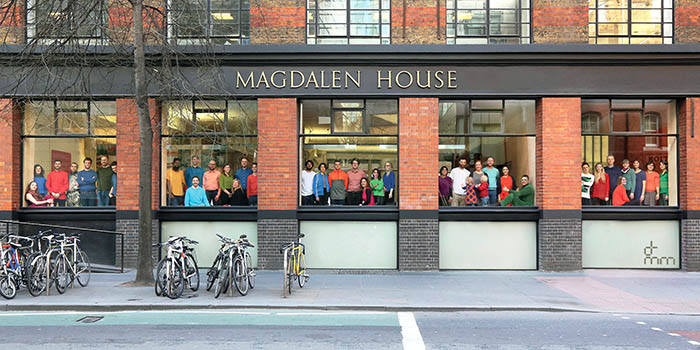 Courtesy: dRMM
Stockwool
Stokckwool, with more than 30 years of experience, is a London based leading practice for urban regeneration. They design buildings and spaces that are well-considered and imaginative. Their work is commercially astute, context-led and prioritises townscape quality. Their team of architects and urbanists feel passionately that architecture can and does make a positive difference to the world we live in. Embracing modern thinking, they pursue design excellence from the detail of a door handle to the scale of an entire neighbourhood.
The Pump House, 19 Hooper Street, London E1 8BU United Kingdom
Pollard Thomas Edwards
Pollard Thomas Edwards is an architecture practice specialising in the design of homes, neighbourhoods, public and mixed-use buildings throughout the United Kingdom. The architecture firm is based in London, at Diespeker Wharf, a converted factory in Islington, which provides their team with a great working environment and serves as both a local landmark and a visible expression of their ethos. Over the past five decades they have built up an enviable track-record working with communities, local authorities and commercial clients to create buildings and places people want to live in. From architectural and urban design to masterplanning, property development and community engagement, their team of 150-plus professionals are dedicated to enhancing the towns, cities and villages in which they work. Pollard Thomas Edwards's approach is founded on placing people first, understanding their needs and designing to suit, emphasising not only the way the buildings and places look, but also on how they are made, how they are used and how they age too. They've earned the respect of our peers too, winning more than 250 awards over the years, with recent wins including BD Housing Architect of the Year 2017 and AJ Sustainable Practice of the year in 2018.
Diespeker Wharf, 38 Graham Street, London N1 8JX, United Kingdom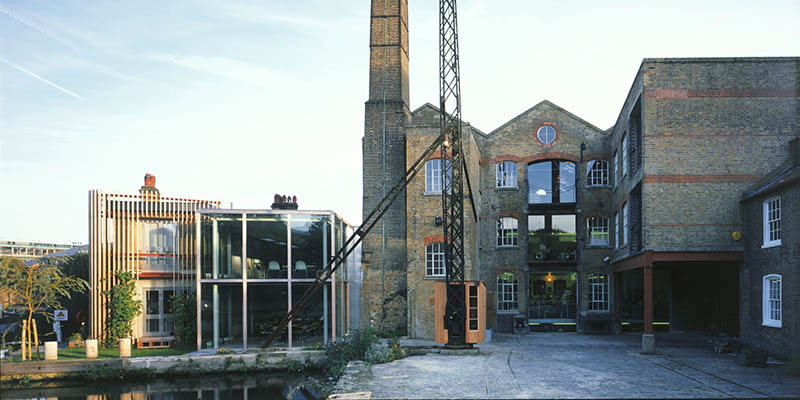 Courtesy: Pollard Thomas Edwards
This is our selection of best architecture firms in London based on turnover and awareness. If you want to suggest someone that is missing, and we are sorry for that, feel free to contact us at info @ archivibe.com!
Here below you can find all our other selections of top architecture offices in Europe: