A visionary team made up of sa_partners – Zurich-based urban planners, TAMassociati – the Italian design practice and former curator of the Italian Pavilion at the 15th Venice Architecture Biennale, and Franco Giorgetta Landscape Architect, redesigns the future of the historical town of Bellinzona in Switzerland.
Bellinzona, the capital of Canton Ticino, lies east of the river Ticino, at the foot of the Alps. In the heart of the town Officine, a huge and historic industrial complex, will soon be moved to the outer city leaving a huge void that will have to be reinvented.
An international competition saw unanimous support for the innovative project Porta del Ticino – Urban Living Lab, which lays out the path to follow for the future planning of the large site (120,000 sqm) in Bellinzona. The project's hallmarks are sustainability, environmental and social resilience, and the introduction of 'living buildings'.
In the vision proposed, everything will revolve around a large central park, a gigantic green impulse articulated as agricultural and woodland areas and accompanied by links for soft mobility. Around it will be a crown of public buildings for administration, education and welfare, an important cluster of vertical greenery, green roofs and roof farming, and an open residential system capable of accommodating innovative and hybrid housing (cohousing, senior cohousing, temporary + affordable housing, mixed use lofts etc.).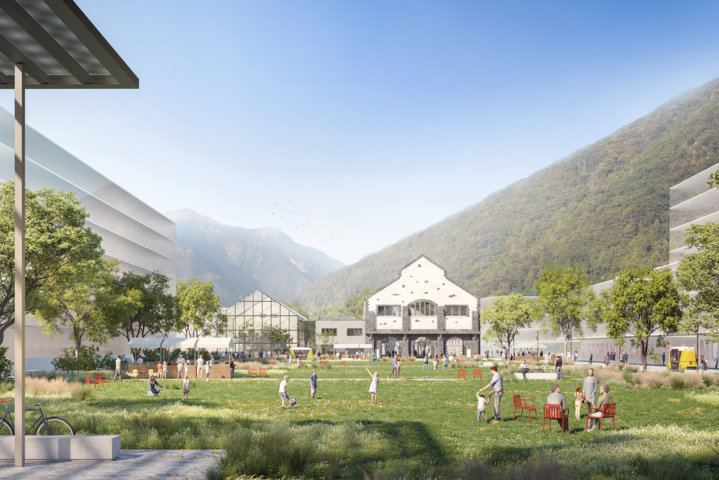 All in a smart and green key, for the creation of a symbiotic relationship between buildings and nature and between the productive whole and the community, stimulating the emergence of a circular economy made up of collaborative consumption and distributed energy production. Extensive use is to be made of cutting-edge techniques and technologies to produce, monitor and increase the use of natural energy and water sources. With the aim of creating a huge zero-emission area over time.
The whole area has been designed to give the best active contribution to climate vulnerability, building on the experiences gained in some of the most inhospitable regions on the planet and enhanced by the best technologies now available.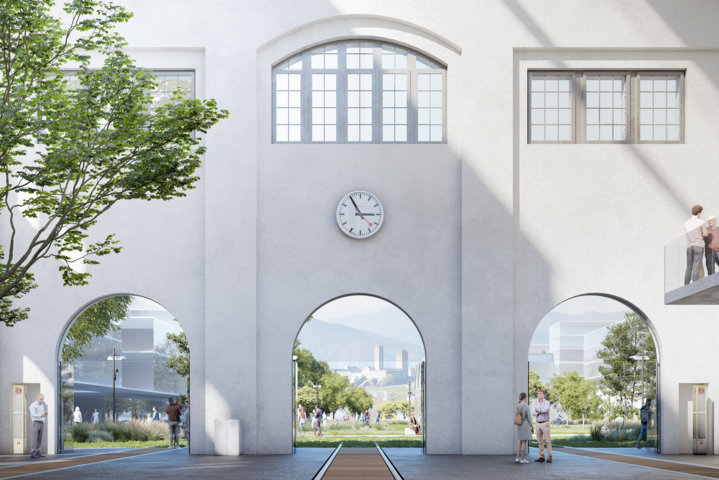 The masterplan provides for a decades-long urban transformation in the name of resilience: to changing situations (environmental, economic, social, productive, welfare, health…), it includes phases of verification and 'plans B' and 'C', to give answers to various scenarios of future uncertainty.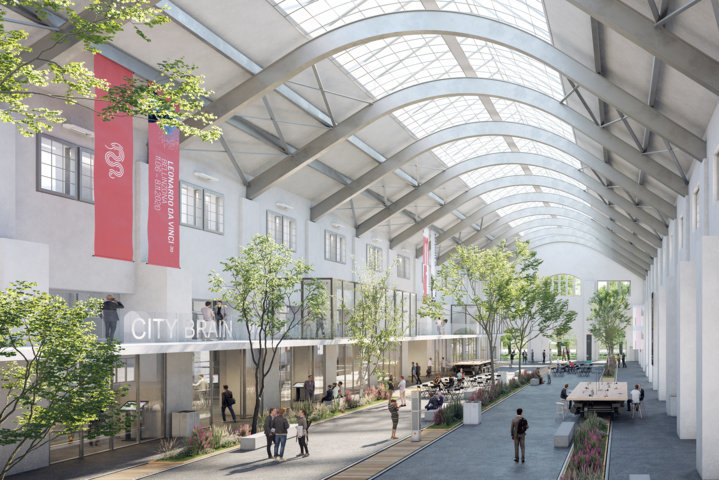 Thanks to research and experiments in progress for years, the team is able to provide for new productive approaches, tapping into new generations of microbial technologies that will regulate the generation of energy and treatment of water and waste.
This is not all. Experimentation is continuing on new generations of living and engineered construction materials, powered by clean energy, capable of keeping environments healthy and resilient through microbial processes and influencing the microbiome through the design of buildings and human interaction.
"The context of great climatic, economic and social volatility that we are experiencing," comment TAMassociati, "raises issues that have never before emerged in the management of complexities at a global level. The design vision will pass from the linear (cause/effect) to the systemic approach to scenarios and verificatory feedback. The city of the future will be like a living, flexible organism capable of adapting to the changes that rapidly evolving societies and contexts will impose on regions and urban communities."