From 12 January to 2 April 2018 La Triennale di Milano, the most important museum in Italy that is always changing, attentive to the history and the entire system of design, presents 999: A Collection of Questions on Contemporary Living, an exhibition conceived and curated by Stefano Mirti.
999 A collection of Questions on Contemporary Living consists of a series of questions on the places of our lives, and it illustrates the theme of housing as we have never seen it before. The exhibition is a sweeping investigation of the concept of house and home, living and dwelling, on the borderline between the physical and digital worlds. It is a journey through new realms of the imagination, which are transforming our lives. It is an innovative, wide ranging, collaborative, and ever-changing exhibition, which evolves in space and time.
To be viewed as an authentic interweaving, the exhibition contains a range of content generated by communities, companies, activists, schools, multinational corporations, informal groups, research centres, designers, and artists. The visitor is taken through material and immaterial worlds, and through the third sector, into tradition and innovation, always with the idea of "community" as its focus. It is in every sense a story, where everyone involved presents their own view of the idea of home and housing.
The question asked by Architectours is "Where do Italian design brands live?" and there are so many others like "Don't you think that the only real room is the bathroom?", "Which is the weight of your home?", "How do I find a balance between the other people living in my home and myself?" "How would houses look if made upside down?" or "Is it possible to live an idea?" Let's find the answers next 12 January.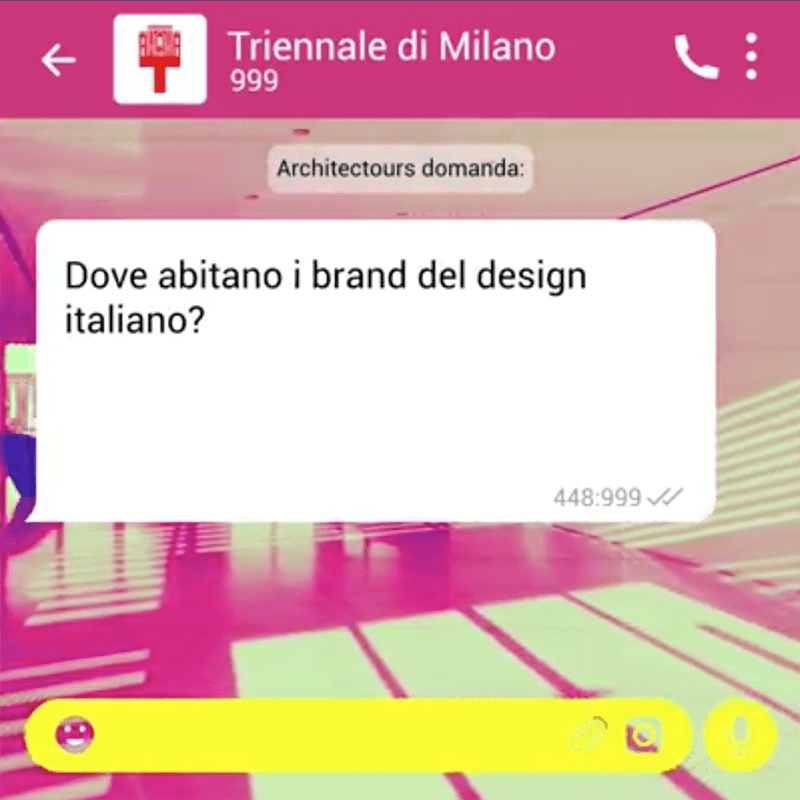 "It's a vision of important Italian experiences, and it will be accompanied by a series of international guests, who will involve the public interactively, taking part in a series of physical, digital and social settings. An exhibition where 'do not touch' will be forbidden, and a place of conversation, mutual enrichment, and exchange. Here, the ancient Chinese proverb "I hear and I forget. I see and I remember. I do and I understand" is turned into an exhibition. The home is therefore not seen as a place, so much as an experience. And this exhibition intends to show these new – and ancient – experiences of the home." (Stefano Mirti)
999 A collection of Questions on Contemporary Living
Entrance: 9 Euro
When: Tuesday – Sunday  10.30 am – 8.30 pm
Where: Palazzo della Triennale, Milan
www.triennale.org