Exceptionally, for this year, instead of our usual educational architecture firm visits programme, we presented the contest "The power of architecture to impact my life".
In partnership with the London Festival of Architecture and Bowerbird, and supported by Tom Dixon and TRJ, we asked the people in London which building has impacted their lives the most.
As we know, architecture shapes our cities and places, our social and cultural values, and our daily lives. Architecture changes the skyline or the views around us, buildings are shaping our daily routine or have helped a place or community for the better. Architecture can change the fortunes of a place or it can just make our skin crawl.
During the 2020 London Festival of Architecture in June, we collected people's votes here.
Surprisingly very different projects get on the podium: a museum, a mixed-use high rise building, and a station.
The final winner of our first contest is Pitzhanger Manor and Gallery by Jestico + Whiles with Julian Harrap Architects. The nationally important Grade-I-listed building, designed by Sir John Soane and George Dance the Younger, has been sensitively restored and transformed into a world-class museum. The restoration has revealed one of West London's supreme heritage gems, and has created a country manor in the urban setting of Ealing town centre.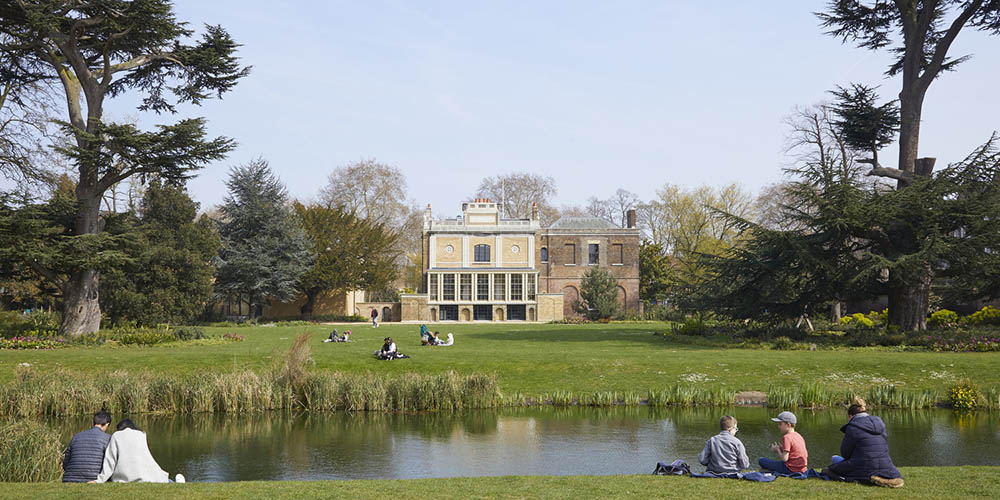 Pitzhanger Manor and Gallery by Jestico + Whiles with Julian Harrap Architects | Photography: Andy Stagg
"Jestico + Whiles are absolutely delighted that Pitzhanger Manor & Gallery has triumphed in Archivibe's London Festival of Architecture public vote contest – "The power of architecture to impact my life". It was a real honour to have taken part on behalf of Pitzhanger Manor & Gallery and this welcome success is testament to what the project means to so many who are familiar with Soane's masterpiece and how its recent transformation has breathed new life into the building, Walpole Park and the surrounding area of Ealing's heritage quarter. Jestico + Whiles worked collaboratively with Pitzhanger Manor & Gallery Trust and the London Borough of Ealing – alongside Julian Harrap Architects – for over a decade to bring this truly special building back to life. After so many years of closure during restoration, refurbishment and extension, it has been a difficult time for the Gallery being closed again, having only recently re-opened to the public in 2019. Success in this contest is a welcome tonic and will hopefully encourage others to visit this exceptional gem in West London when it reopens shortly!" says Alex Gordon, Associate Director at Jestico + Whiles.
In second place, we find The Stratford by Skidmore Owings & Merrill (SOM) a residential and hotel tower in London that represents a new model for high-rise living. The building, which is positioned as a gateway to Stratford, is among the first in a recent wave of high-rise residential towers throughout London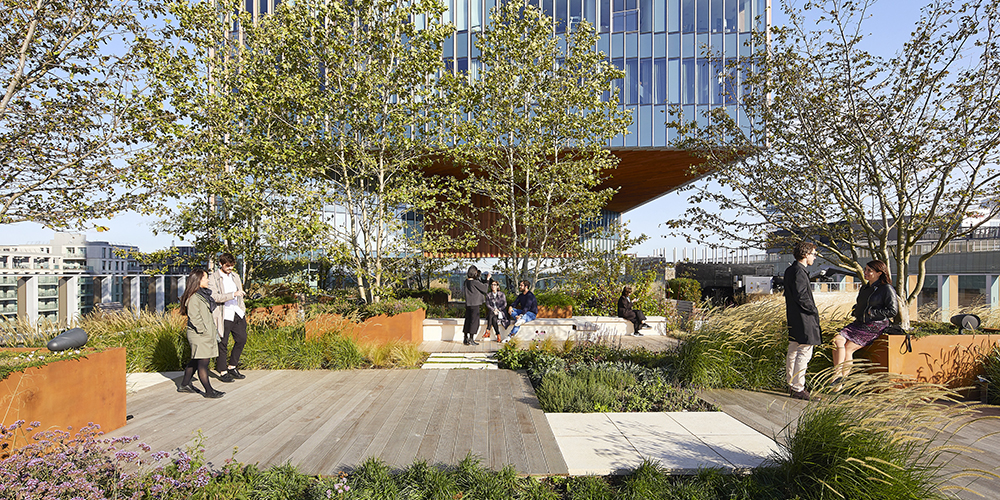 The Stratford by Skidmore Owings & Merrill (SOM) | Photography: Hufton+Crow
On the podium, in third place, the London Bridge Station redevelopment by Grimshaw Architects, the culmination of six years of major work including wholesale complex multi-staged infrastructure realignment, setting a new benchmark of achievement.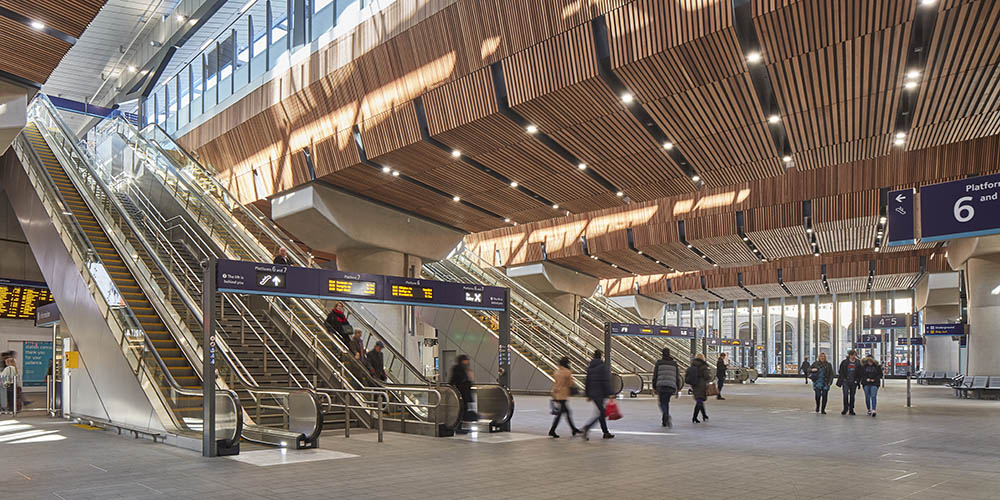 The London Bridge Station redevelopment by Grimshaw Architects | Photography: Paul Raftery
Giovanna Dunmall, freelance writer on design and architecture, says "The choice of projects for this competition was spread across culture, transport, hospitality, office and residential and includes some of the most influential buildings of the past couple of decades. It comes as no surprise however, at least to me, that a country house in a leafy West London suburb has topped the list over the more famous and flashier Shard or 30 St Mary Axe buildings given its architectural pedigree, inventiveness and the 'world' it allows visitors to immerse themselves in. The home of renowned British architect John Soane from 1800 to 1804, and built and designed by him, it had been reduced to a shadow of itself before a recent painstaking restoration by Jestico & Whiles and Julian Harrap. The Grade I listed house that has emerged is filled with colour, patterns, archaeology and art and clever touches that make the spaces look larger, lighter and more monumental.
In second position – continues Giovanna –  is new East London landmark The Stratford and in third Grimshaw's London Bridge station redevelopment, a deserved result given the airiness and clarity it achieves on a tight and complicated site. My only surprise is that two other Foster + Partners' projects didn't fare better. The British Museum's sweeping Great Court and sculptural but streamlined Millennium Bridge are firmly imprinted in the psyche of Londoners and visitors alike"
Rosa Rogina, Head of Programme, London Festival of Architecture says "We're delighted to have been able to feature Archivibe's 'The Power of Architecture to impact my life' contest, supported by Bowerbird, as part of LFA Digital 2020 this month. It's been brilliant to see so many practices get involved by putting forward such a diverse variety of projects, each demonstrating power in architecture in a different way. 
Archivibe shares our mission to democratise the conversation around the architecture that shapes our cities, and this public vote contest has been a great way for everyone to join the conversation and share the impact that architecture has on their daily lives. We'd like to say a huge congratulations to the winner, Pitzhanger Manor by Jestico+Whiles in collaboration with Julian Harrap Architects, and the runners-up, The Stratford by Skidmore Owings & Merrill (SOM) and Grimshaw Architects' London Bridge Station. Pitzhanger Manor is an awe-inspiring project, with the practice's work on this carefully restored manor – originally by Sir John Soane – returning the space to the wider community to enjoy and opening up the heritage of the site to a much wider audience".
Massimiliano Troja, founder at TRJ says: "One cannot fail to love good architecture and good design. We are all aware of the social role that these disciplines play, I believe this is the right privileged point of view from which to observe them. This is why TRJ has supported this digital contest in one of the most renowned design and architecture capital of the World"
"Architecture has a profound impact on our lives; we are shaped by the cities and places we live in and the London Festival of Architecture is an excellent celebration of the joy London brings to so many residents and visitors alike. At BowerBird, we're proud to partner with the LFA & ARCHIVIBE in celebrating the public's favourite buildings and places and congratulate the winners of this year's public vote competition" Celeste Bolte, communications specialist at BowerBird UK.
I personally want to send a very big thank you to every architecture firm that attended this contest (Renzo Piano Building Workshop, Foster + Partners, WilkinsonEyre, Conrad and Partners, Brady Mallalieu Architects and Hawkins/Brown not mentioned above), to our partners at LFA and BowerBird, our supporters at Tom Dixon and TRJ, and to everyone who participated in our contest and helped make it a success!