The latest spectacular celebration of the world's best contract kitchens, multi-unit residential developments  and interiors by prominent architects featuring Valcucine kitchens. 
From a luxury residential development in Dubai designed by RCR Arquitectes to Jean Nouvel's "vision machine" in New York, form a residential complex, London, to the private luxury houses of Sentosa Cove, Singapore, Valcucine and architecture fans can here discover World's best architectures featuring our sustainable and innovative kitchens.
The modern idea of ​​a residence as a "vision machine" goes back at least to Le Corbusier, whose 1930's Beistegui penthouse along the Champs-Elysées had a periscope through which the client could look out over Paris.
Amongst the World's best architectures and interiors featuring Valcucine kitchens, 100 Eleventh Avenue in New York designed by Ateliers Jean Nouvel is an example of "vision machine".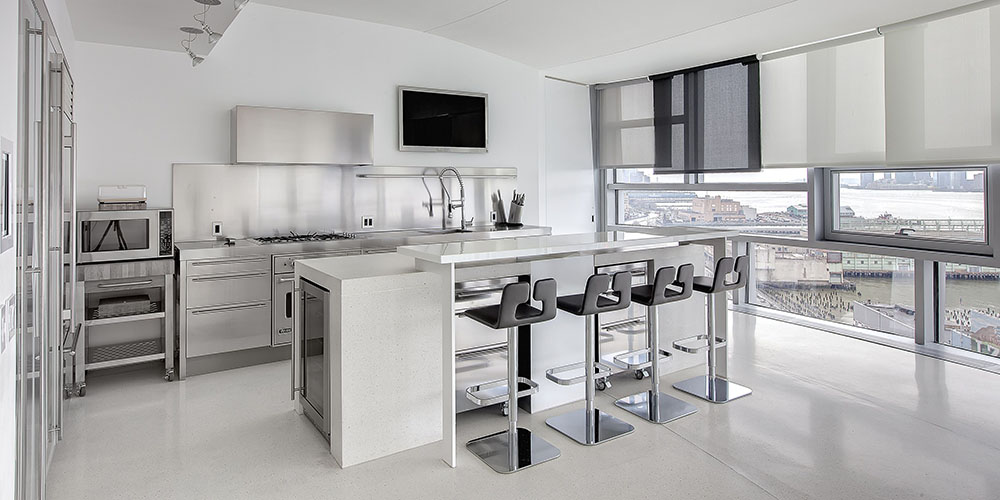 Photography: Manhattan Renovations
The spectacular architecture is comprised of approximately 1,647 completely different colorless windowpanes organized within enormous steel-framed "megapanels" that range from 11 to 16 feet tall and as wide as 37 feet across. Each windowpane inside these megapanels is tilted at a different angle and in a different direction.
Custom Steel Artematica kitchens flow spatially into open living areas, and are designed with luxury fixtures custom designed by Ateliers Jean Nouvel to achieve the highest level of design excellence and to compliment art and furniture.
Amongst the World's best contract kitchens, the Cherry Orchard residential complex in Moscow has a composite design with 8 buildings and its part of a major urban redevelopment project designed by the British architecture firms John McAslan + Partners.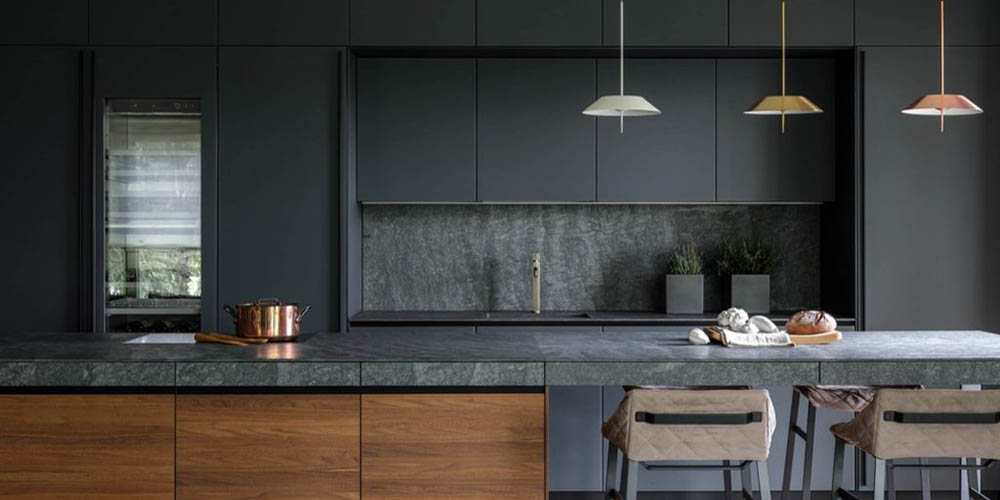 The interiors of the apartment have been designed by the interior design studio Fortyfour. Genius Loci and Artematica kitchens have been chosen by the interior designer for their timeless design, ergonomics, premium materials and sustainable features.
Another amazing architecture featuring Valcucine kitchens is the B' Tower in Rotterdam, designed by Wiel Arets Architects (featured amongst our best architecture firms in the Netherlands).
Located in the center of Rotterdam, immediately adjacent to the Bijenkorf department store by Marcel Breuer, the tower comprises a hybrid of urban programs disposed in three volumes of similar height but varying width.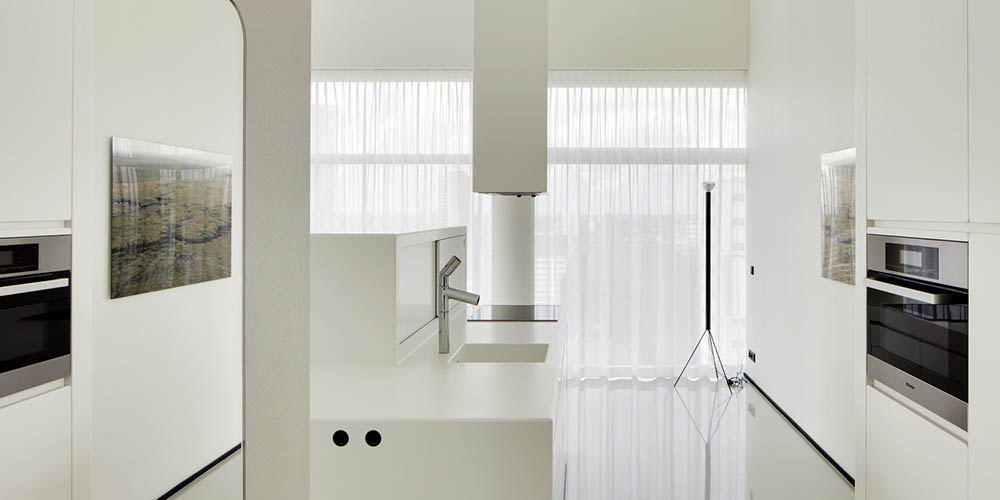 Photography: Jan Bitter
The volume that meets the ground, which rises to the height of the Bijenkorf store, houses a fashion store and parking garage, while the two upper volumes that rise above the department store contain apartments.
Research on materials, customization and attention to details are values that define this project of Egidio Panzera in this private residence, designed by the architect at the renowned Bosco Verticale in Milan designed by Stefano Boeri Architetti with Barreca & La Varra (amongst the largest architecture firms in Italy).
The wise use of materials weaves a dialogue between interior and exterior to give life to a domestic oasis in the heart of the Italian metropolis.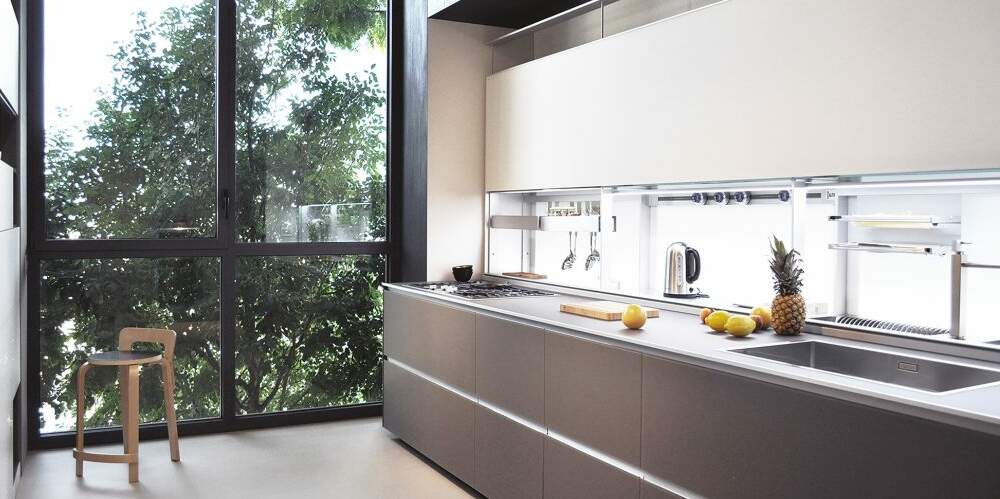 Artematica with New Logica | Photography and interior design project by Egidio Panzera
A complete change of scenery in the elegant  Muraba Residences designed by the winners of the 2017 Pritzker Prize RCR Arquitectes – Rafael Aranda, Carme Pigem and Ramon Vilalta (Spanish practice featured in our best architecture firms in Spain).
The multi-unit development rise on the artificial island of Palm Jumeirah, like the subject of a painting, at the centre of an exclusive panorama.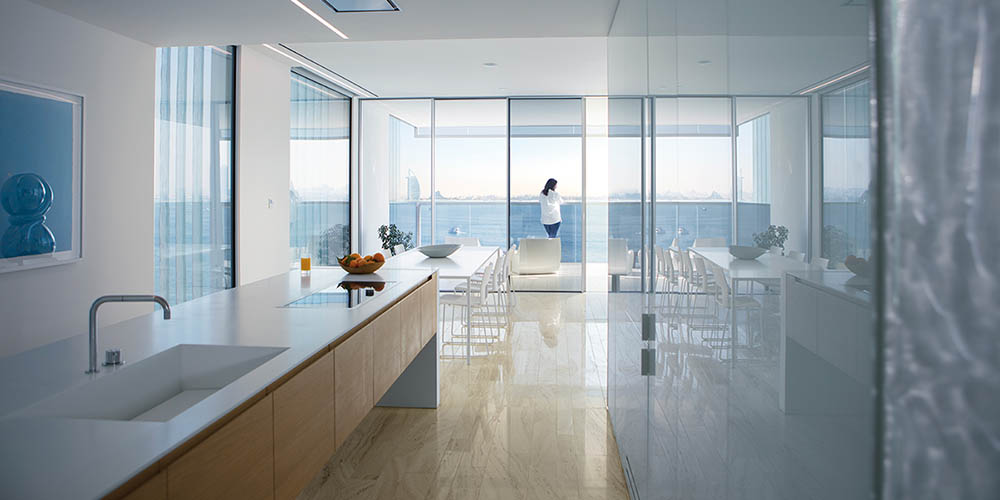 Photography: Muraba Residence
This high rise residential development features 46 apartments and 4 penthouses, each offering subliminally excellent interiors, where not a single detail has been overlooked. All fittings, fixtures and appliances have been hand-picked to perfectly compliment the overall concept. 
As these projects testify, for Valcucine, "contract kitchen" or "multi-unit contract" refers to supplies to the high-end residential building market.
Thanks to the industrialisation capacity of its design, to product technology, to the vast range and modularity of its products, to the company's flexibility and to its network of local partners, Valcucine is capable of offering a contract service dedicated to the high-end residential building market.
Discover all the other best contract kitchens, architecture projects and interiors featuring Valcucine kitchens from their

architect's page

.