In the meanwhile we where running our Top Kitchens and Bathrooms tour among the Milanese showroom in collaboration with Fuorisalone.it, the Diner, a collaboration between American magazine Surface, architect David Rockwell with the LAB at Rockwell Group and creative studio 2×4 received the Milan Design Award for Best Engagement.
Based in downtown New York with a satellite office in Madrid, Rockwell Group specializes in a wide array of work from luxury hospitality, cultural, and healthcare projects, to educational, product, and set design. Founded in 1984 by David Rockwell, Rockwell Group takes a cross-disciplinary approach to its inventive array of immersive projects. A strong commitment to explore and experiment resulted in the formation of the LAB at Rockwell Group, a design innovation studio that blends interactive technology, architecture, strategy, and storytelling. Crafting a unique and individual narrative concept for each project is fundamental to Rockwell Group's successful design approach. From the big picture to the last detail, the story informs and drives the design.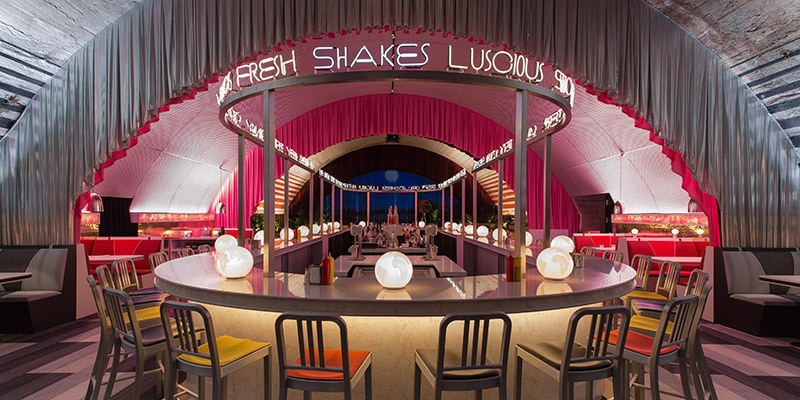 The Diner which was part of the Ventura Centrale design event, was chosen from more than 1,500 of Fuorisalone's design exhibitions that were open to the public during Milan Design Week. The fully operational pop-up restaurant immersed visitors in Rockwell Group's vision of a coast-to-coast journey through the United States, where four distinct environments—the Roadside Diner, East Coast Luncheonette, Midwest Diner, and West Coast Diner— celebrated American design now. The visual identity, created by 2×4, juxtaposed contemporary design with iconic U.S. cultural references of the diner.
Jacob Peres of strategic agency Jacob Peres Office and Eli Peer of NYC based, Allenby Concept House originally brought The Diner concept to Surface Magazine for their 25th anniversary. Together with Surface, Rockwell, 2×4 and other talents they developed, executed and communicated this award-winning project.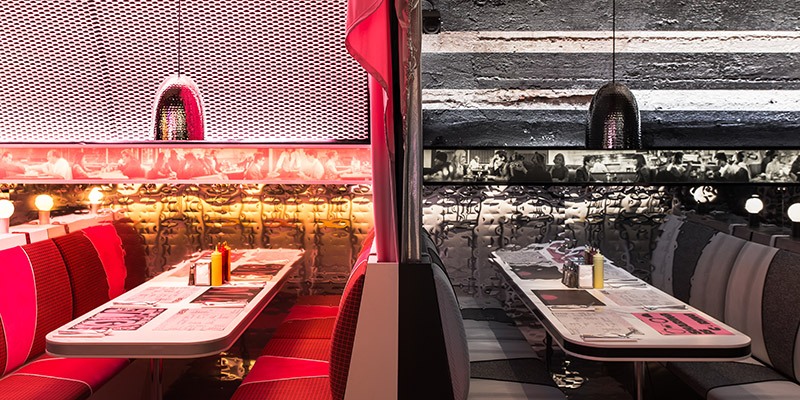 "It takes a village." says Marc Lotenberg, Surface CEO. "Experiential events are radically changing, the guests aren't the guests anymore, they are the participants, they engage with the concept and have the potential to instantaneously create massive waves of awareness through their own content feeds. As a media group today our role is to create new platforms for people to experience and engage; The Diner was booked solid for lunch and dinner and made for spectacular social content, our web traffic was up double digit growth, our social channels and email signups each gained five digits in new supporters".
The Diner held daily programming including private events, designer karaoke, and late-night entertainment throughout the week. The restaurant featured a contemporary menu for breakfast, lunch and dinner, executed by renowned New York –based specialty food purveyor Murray's Cheese.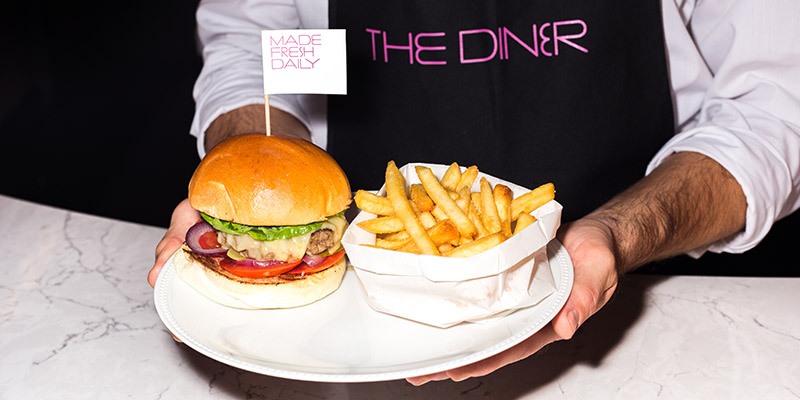 Some of the world's most celebrated design brands contributed to the project. Spanish surfaces company Cosentino Group provided its products to construct the 14-meter-long central bar and banquet tables. Modern furniture company Design Within Reach, through its DWR Contract division, supported the project with its furniture. Other brands included Shaw Contract Carpet Tile, Maharam, Kohler, Chemetal, Pure + FreeForm, Nasser Nishaburi, Bisazza, Tina Frey Designs, L'Objet, Wallpaper Projects, and Electrolux.