On Tuesday November 15th we held an architectural educational tour in Madrid dedicated to eco-design and sustainable architecture.
Valcucine, the Italian design brand that has been standing out for the design and production of sustainable and innovative high-end kitchens, was the protagonist together with some renowned Spanish architecture firms such as Rafael de la Hoz, Morph Estudio and Cuarto Interior.
Meeting point and first appointment of the tour was the Valcucine flagship store in Madrid, a kitchen shop located in P. de la Castellana, one of the main boulevard of the Spanish capital.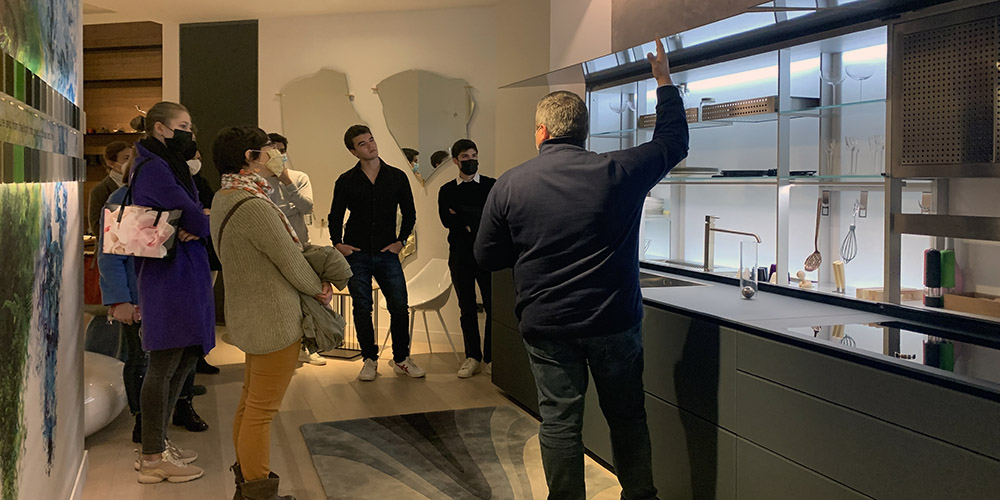 Students from some renowned Spanish architecture and interior design universities such as ETSAM and AI and some young architects joined us for the welcome coffee.
After our presentation of the programme, Valcucine representatives presented to the group of architecture students and young architects ethos, corporate commitment towards sustainability and their innovative and sustainable kitchens.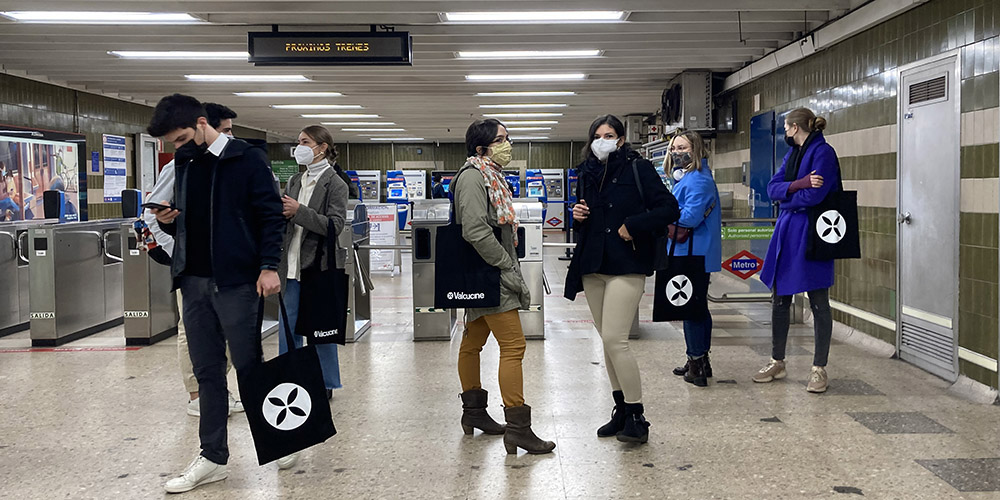 From a design company we went to visit an interior design studio and reached the Manzanares area where Cuarto Interior is based.
The Spanish interior design practice is specialized in the construction of hotels, restaurants and luxury residences.
The practice is headquartered in a typical house on several floors on the outskirts of Madrid. Carmen Gijon welcomed us. She told us how an interior design project of a studio is managed and how Cuarto Interior offer to their customers a complete service ranging from the initial concept to the overall realization of each project.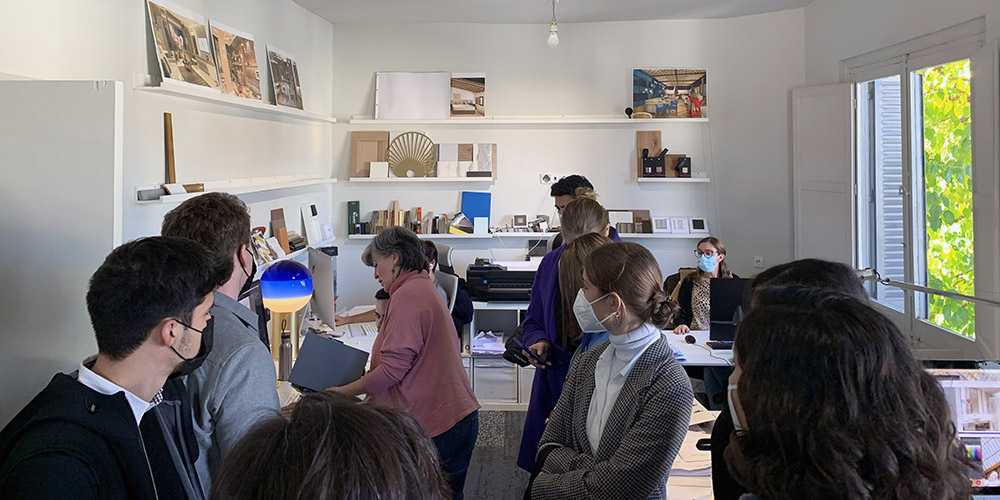 The visit to the materials library reveals the taste of the studio for noble materials, such as wood and steel, natural and high quality fabrics, handcrafted finishes.
Other characteristic elements are the use of natural light and artificial lighting systems, as well as the design of unique pieces of furniture that give each project a personal character and define the contemporary, warm and timeless style of Cuarto Interior.
After the visit to the interior studio, we moved to the center of Madrid to visit the emerging and innovative architecture firm Morph Estudio: a multidisciplinary team of architects and engineers led by founders César Frías Enciso, Raquel Dueñas and Miguel Pradillo Cendón.
The studio is arranged over several floors within a building on Calle de O'Donnell, the commercial area known for its numerous contemporary design and furniture shops.
Morph Estudio has received public and media recognition for the design of multi-family homes, towers, mixed-use buildings, single-family homes, hotels and interior design projects.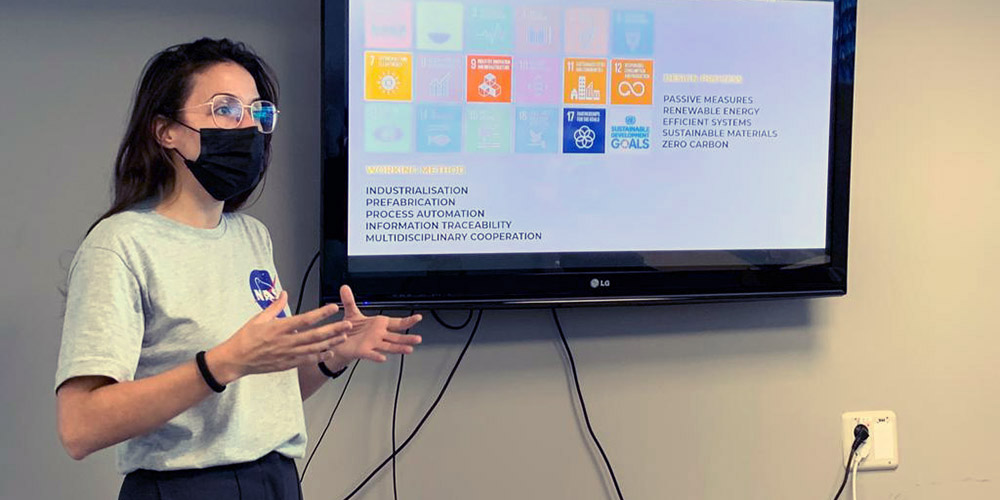 An energetic Érika Sánchez introduced and lead us through their offices, told about main environmental and well-being certifications and presented main sustainable buildings of their portfolio.
Morph Estudio offers advice in several certifications such as BREEAM Housing, BREEAM New Construction, LEED, GREEN Certifier, WELL, WELL Health and Safety and PASSIVHAUS.
The educational tour was a continuous escalation of emotions. After Cuarto Interior and Morph Estudio it was the turn of Rafael de la Hoz Arquitectos, the famous architecture firm founded in 1920.
The philosophy of Rafael de la Hoz Arquitectos can be summarized in three key words: excellence, glass innovation and sustainability.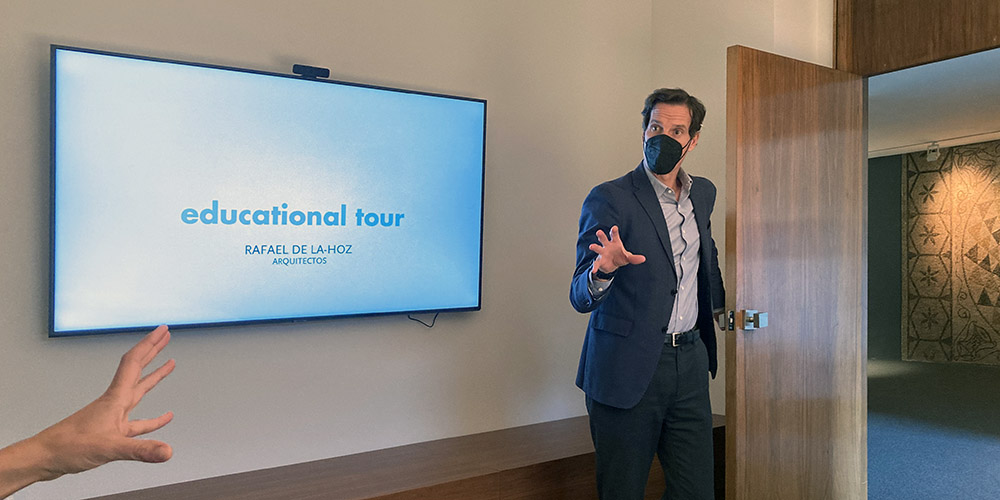 Gerardo Mingo, Carolina Fernandez, Zaloa Mayor Rueda were testimony to the quality and dedication of the studio and did not spare themselves by dedicating more than two hours to the presentation of their ethos, their main projects with a focus on their most sustainable architectures.
At Rafael de la Hoz they think that architecture has a direct impact on people's lives and are committed to designing buildings that provide value to their clients by creating vibrant and sustainable places.
Over the years the studio has carried out numerous projects distinguishing itself in the construction of offices, hospitals, residential buildings, homes and skyscrapers.
According to the architects themselves, the demand for sustainable buildings in Spain is lower than in the rest of Europe, however sustainable architecture practices are increasingly becoming a common design driver of the architectural community.
It was a rewarding experience. We had the opportunity to visit three talented studios and we learned from their experiences. Archivibe organized it perfectly and the people of Valcucine Madrid received us with their hands open. I recommend it. Geovanna (Architect)
I think it is an original business activity, elegantly subtle and contains all the premises to be effective. In short, I believe that it is a coherent approach with the high market positioning of Valcucine. Francisco Alonso (Valcucine Madrid)
I had the opportunity to participate in a tour organised by Archivibe and visit three important practices in Madrid. I also got to know the world of Valcucine and its future-oriented design. I believe that initiatives of this kind are extremely useful for architecture students, as they allow them to get closer to professional practice and observe the working world directly. In addition, professional architects can also take the opportunity to network and learn about the organisation methods of important firms. A sincere thanks to Daniele for the opportunity.

Giovanni Zanin (Università Iuav di Venezia)