Designer Enzo Mari passed away in Milan at the age of 88.
"Design is dead", provocatively, is one of his favourite quotes. Enzo mary was a blazing man of many incendiary proclamations. Like when he wrote "25 methods to drive a nail" or "Atuoprogettazione", a manual to making easy to assemble furniture using rough boards and nails, a book to enhance critical skills, or when he said "It is written about me that I made some exceptional objects. If this is true, it is perhaps because I never went to school".
For Enzo Mari, true quality comes from fatigue, from work. From the constant and sensitive application of experiences, which are not the result of who knows what intuition, of the so-called creativity, but of a method that is assimilated over time.
Several times winner of the renowned Italian design award Compasso d'Oro, he is unanimously known as one of the greatest theorists of Italian and world design. He was born in Cerano, Novara, in 1932, and has always lived in Milan.
His works are exhibited in the main art and design museums around the World, the National Gallery of Modern Art in Rome, or the Museum of Modern Art in New York or the Triennale Design Museum in Milan to name a few.
Enzo Mari designed more than 1500 objects, manufactured by the main furniture and design companies, such as Olivetti, Danese, Driade, Artek, Alessi, Artemide, and Flou.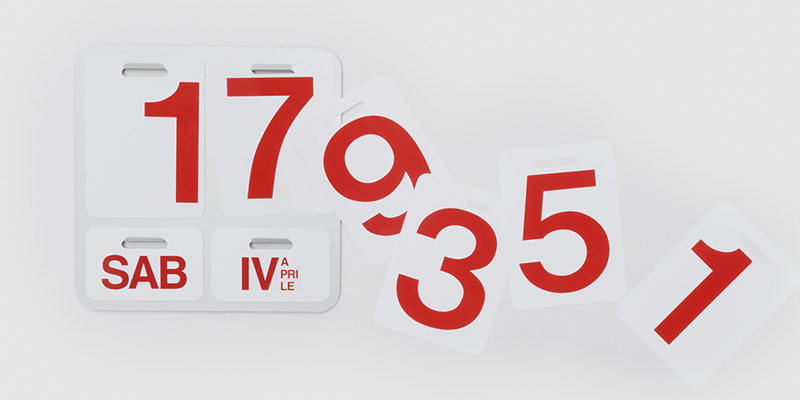 Formosa perpetual calendar by Enzo Mari for Danese
Considered one of the most innovative designers of the second half of the twentieth century, he profoundly influenced the work of his contemporaries, in Italy and abroad. His theoretical research, even more than the products he studied, left an important mark on industrial design in the last century.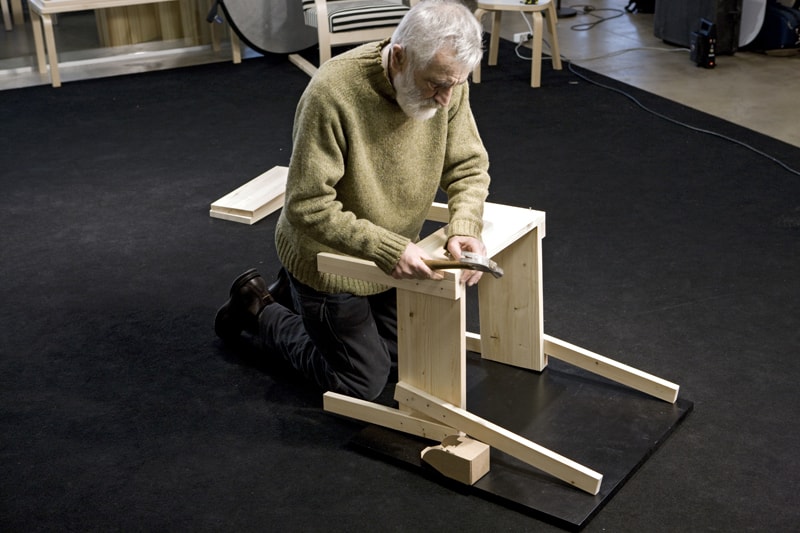 Sedia 1 by Enzo Mari for Artek
Triennale in Milan has recently dedicated an exhibition to his work "Enzo Mari curated by Hans Ulrich Obrist with Francesca Giacomelli" – October 17, 2020 – April 18, 2021.
The exhibition examines over 60 years of activity of one of Italy's greatest masters and theorists of design. The exhibition consists of a historical section and a series of contributions from international artists and designers – Adelita Husni-Bey, Tacita Dean, Dominique Gonzalez-Foerster, Mimmo Jodice, Dozie Kanu, Adrian Paci, Barbara Stauffacher Solomon, Rirkrit Tiravanija, Danh Vō, Nanda Vigo, and Virgil Abloh for the merchandising project – who have been invited to pay tribute to Mari with site-specific installations and new, specially commissioned works. One contribution in particular is that of Nanda Vigo, whose work, made specially for the exhibition shortly before her death and never shown previously, uses light to reinterpret 16 animali and 16 pesci, two of Mari's most famous works.
At the same time, nineteen Research Platforms, specially created for the Triennale exhibition, give insights into the individual projects that have given rise to the key themes of Mari's artistic vision and practice. The exhibition also includes a series of video interviews by Hans Ulrich Obrist that illustrate Mari's constant ethical tensions, the depth of his theoretical understanding, and his extraordinary design skills with which he has given shape to the essential.