Manni Group, an historical industrial organisation based in Verona, leader in pre-manufactured steel elements and structural components and systems for the building industry, launched a competition of ideas for design of New Xi'An Train Station.
In a China with a millenary history and extremely rapid technological evolution, the participating architects (teams must have at least one team member aged 18 to 35) will have to design the new train station of the city of 8 million people, the nerve center of the new hub dedicated to the world of innovation and R&D, which will cover over 17 sq km of surface by 2023. The project of the International Town of Xi'An is an initiative of the central government of Beijing aimed at supporting the rise of the metropolis as an international exchange and meeting point for relations between China and Western world.
A new rail terminal will define the meeting point be- tween East and West. It will be located at the end of the Silk Road. For centuries, generations of geographers and merchants had considered this place the most re- mote destination. This new rail terminal will be at the crossroads of the old and the new, the Yin and the Yang of the opposite poles that generate the future of human society on a daily basis.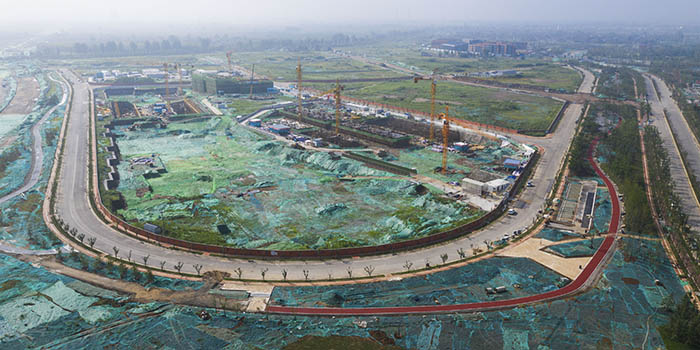 Each Xi'An Train Station submitted project must be inspired by the most widespread principles of energy sustainability and environmental compatibility. The use of virtuous technical solutions and integration of architectural and natural elements will provide projects with intrinsic added value; the choice of dry construction technologies favours the use of materials such as steel, universally recognized as a 100% recyclable element that ensures maximum expressive freedom.
To support the participating architects, the brief of the "Xi'An Train Station" competition is accompanied by a Construction Materials Option that suggests possible technological solutions for some of the structure's design nodes.
A remarkable jury composed of top-level archistars such as Patrik Schumacher (Zaha Hadid Architects), Ben Van Berkel (UNStudio), Stefano Boeri (Stefano Boeri Architetti), Antonio Cruz (Cruz y Ortiz Arquitectos), Giovanni De Niederhausern (Pininfarina) and Francesco Fresa (Piuarch) will judge the Xi'An Train Station submitted projects.
The main sponsors include Dow, which will give a mention to the projects that are of particular interest in terms of energy efficiency performance of the building; Renolit, on the other hand, will assign it to those who better value the use of cool roofs related to a smart city planning; and ROCKWOOL, finally, will assign it to projects that recognize particular value to the life cycle of the building and its safety standards. Tata Steel has also joined the contest as a sponsor.
CALENDAR
23/09/2019 "early bird" registration – start > submission cost 60 €/ team *
20/10/2019 (h 11.59 pm GMT) "early bird" registration – end
21/10/2019 "standard" registration – start > submission cost  80 €/ team *
17/11/2019 (h 11.59 pm GMT) "standard" registration – end
18/11/2019 "late" registration – start > submission cost 110 €/ team *
15/12/2019 (h 11.59 pm GMT) "late" registration – end
19/12/2019 (h 12.00 pm – midday – GMT) material submission deadline
07/01/2020 jury summoning 10/02/2020 results announcement
Fulfilling an "early bird", "standard" or "late" registration does not affect the submission deadline, which is uniquely set on 19/12/2019.