This is Denmark, a design playlist, will express the essence of Danish design with an immersive exhibition within Alcova' space during Milan Design Week 2023, 17-23 April.
Danish design refers to a design movement that originated in the early 20th century and is characterized by its functionalism, simplicity, and minimalism. It emerged as a response to the ornamental and elaborate designs of the Art Nouveau movement and was heavily influenced by the Bauhaus school in Germany. It is known for its clean lines, use of natural materials such as wood and leather, and emphasis on craftsmanship and quality.
Danish design has had a significant impact on the global design industry and is recognized for its timeless and enduring aesthetic. It is also closely associated with the concept of "hygge," a Danish word that roughly translates to "coziness" or "comfort," which is reflected in the warm and inviting qualities of Danish design and life style of Danish people.
At This is Denmark exhibition a wooden path will emerge from the water. Through sound captions, the archipelago of islets will let visitors discover, the products of the 15 companies that embody the founding values of Danish design: simplicity, quality and craftsmanship.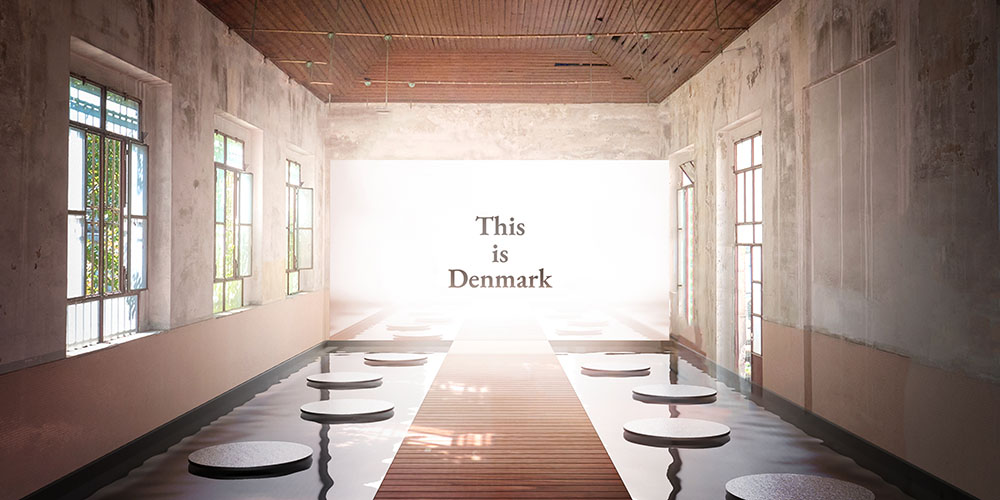 This is Denmark, render:  Matteo Ragni Studio
The 15 pieces have all been chosen based on the story they are able to tell, each one representing a different way of relating to the core of Danish design. Each of the 15 featured products has its own very personal way of respecting tradition while innovating: the heritage, the search for circularity, the ever-changing way of living, the creation of settings with highly emotional impact.
Walking along the "infinite bridge" of This is Denmark, inspired by the eponymous in Aarhus, means discovering them all.
Leitmotifs of the entire This is Denmark exhibition 'playlist' are landscape and sound.
The concept of 'playlist' comes from the wish to stage 15 different elements that, together, offer a unique perspective on what Danish design is today. In the same way as Spotify gives you the opportunity to explore an artist by presenting you with a compilation of their most representative songs. It's the artist's essence told through a plurality of narrative voices.
The exhibition will also be accompanied by a soundtrack composed by sound designer Alessandro Pedretti and created using the production sounds of objects together with a self-generating software.
This is Denmark, a design playlist, is a project of the Royal Danish Embassy in Italy in collaboration with The Confederation of Danish Industry and Creative Denmark. The exhibition is curated by design journalists Elena Cattaneo and Laura Traldi and
designed by Matteo Ragni Studio.
This in Denmark. 15 companies, 15 valuable stories:
&TRADITION Founded in 2010, &Tradition combines tradition and innovation: it exists to keep the icons of the past alive and to produce the ones of the future, thanks to collaborations with contemporary designers.
101 COPENHAGEN A young company born from the desire to merge art and design, east and west, brutalism and poetry: in its portfolio we find furnishings, accessories and lamps – all strictly black and white – with a sculptural image but made with respect for comfort thanks to a craftsmanship of the highest level.
ASTEP A Danish lighting company that produces everything in Italy; it recovers historical projects (including Gino Sarfatti, Vittoriano Viganò and Franco Albini) and entrusts contemporary designers with research aimed at taking the design of light one step further.
AYTM A company strongly rooted in the territory and that offers an unexpected twist on Danish design: disruptive colors, precious details, multifunctional solutions. To achieve a non- intrusive surprise effect, inspired by what one feels when one allows oneself to truly listen to nature.
CARLSBERG Since 2020, the Danish beer company has been engaged in a creative recycling operation for its DraughtMaster kegs, which it transforms into street furniture seats. In one year, the project has allowed the recovery of over 2300 kg of plastic collected by Ho.Re.Ca customers in the Milan area alone.
FREDERICIA A historic brand, transformed in the mid-1950s by the arrival of a visionary entrepreneur and designer: forever synonymous of the cosmopolitan gaze of Danish design and its ability to interpret international behavioral signals.
HOUE With its MyTrash brand, Houe does something that just a few companies in the world can do: use landfill plastic (and not simply production waste) to make outdoor furniture.
HOUSE OF FINN JUHL House of Finn Juhl is a historical Danish brand, established by an architect passionate about art. His "sculptor" approach led him to design furniture "for the living body": mini-architectures capable of responding to the real needs of human beings in their daily gestures.
KAY BOJESEN Although he preferred to call himself a craftsman, Kay Bojesen (1886-1958) was one of the most prolific Danish designers ever. His most cult collection (a set of cutlery built – for the first time in history – on the gestures of those who use them) was put back into production in 2011 by his granddaughter Sus, who also built a company with her grandfather name.
KVADRAT Kvadrat is the undisputed leader about environmental respect in the furnishing fabrics. Its investments in research and development, combined with a clear roadmap shared with all stakeholders, have given rise to many projects focused on circularity.
MERNØE From a personal project, born to create a convivial atmosphere around the dining table with light, in 2020 the engineer Morten Mernøe founded a small company together with his two sons: a jewel of local craftsmanship.
NOTES OF COLOUR Can a color be a design product? Yes, it can, according to Notes of Colors. The small Danish paint manufacturer, a team of creatives from the world of fashion, design and hospitality, has created a palette of 40 textured, eco-certified and locally produced colours, designed to capture the essence of the Scandinavian aesthetic tradition.
ROYAL COPENHAGEN The ancient palace-showroom of Royal Copenhagen has a secret access dedicated to the royals who have been choosing their porcelain here since 1775. In addition to the historical collections, however, Royal Copenhagen today also invests in research, working with leading authors such as Bjarke Ingels: its HAV collection is inspired by the blue of the Nordic sea and the marine creatures that inhabit it.
STUDIO ROSO  The art design studio of Sophie Nielsen and Rolf Knudsen deals with commissioned art installations but also designs products and interiors. Their hybrid practice represents the evolution of the Danish craft tradition in a collectibles key and its ability to always link itself to industry.
SKOVBY Design intelligence and technical invention come together in the production (local, artisanal, respectful of the environment and often patent-encumbered) of this company born 90 years ago from the intuition of a cabinetmaker.
This is Denmark, a design playlist
15 companies illustrate the essence of Danish design
17 – 23 April, 2023
Alcova – viale Molise, 62, Milan
Cover image: Christian Faber