Domus Academy, the first post-graduate school of design in Italy born in 1982, announces new bids for Masters scholarships grants departing in January 2018.
Domus Academy is a living laboratory. An incubator of talents and a springboard for interdisciplinary adventures. A place where stellar careers are launched.

Each bidding provides three scholarships to cover part of the 60%, 50% and 40%, and two special mentions of 20% on the total cost of the Master.
Always attentive to the academic world, once again, Magis supports the competition promoted by the prestigious Domus Academy.
"Iconic the chair" is the concept for the Master in Product Design, in partnership with Magis.
"For Magis, design isn't so much the conception of a chair, a table, a lamp, or a car as the thought process and business culture that guides a company through its own journey, earning it the distinctions that give it its strength."
Designed by Konstantin Grcic in 2003, Chair_One is a unique chair, whose shape is the result of long preliminary studies, using sketches, cardboard patterns and prototypes, before being able to go to the final stage.
Candidates will be required to design a new chair that is able to identify the iconic Magis identity through a project that tells the story of the object.
The basics for the design and production of the chair should be those of Integration Design, where technology, material (die-cast aluminum) and shape come to life.
The works must be mailed to Domus Academy by and not later than 15th September 2017.
Candidates will be informed about the results of the competition by e-mail on 6th October 2017.
Projects will be evaluated and selected by the Faculty of the Master in Product Design, Domus Academy.
For more information on all the competitions: www.domusacademy.com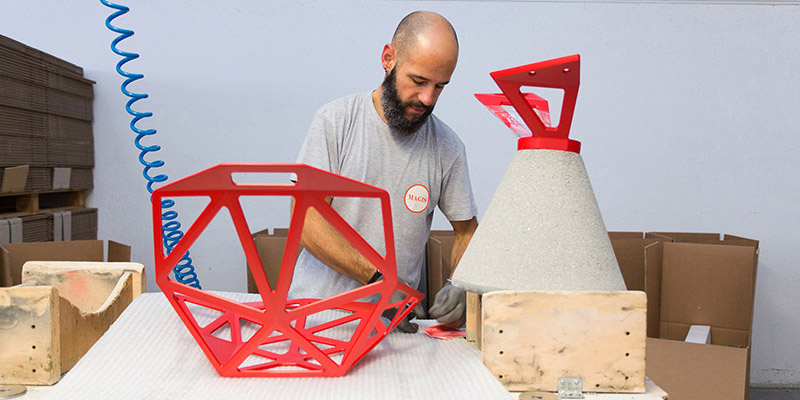 Chair One assembly  (ph: Francesco Dolfo)