AMA (Alexander Martin Architects) were appointed to design the Alma Hotel's concept within the L'Antic Colonial showroom at the Porcelanosa headquarters outside Valencia, Spain.
Alexander Martin Architects is a London based architecture and interior design studio with considerable experience in residential projects, and a developing portfolio of workspace and commercial work. The practice is currently involved in projects in the UK, Spain and the USA.
Alma Hotel's concept focuses on a sequence of spaces, in which the public functions of a hotel – reception, bar & restaurant are separated by two sensorial boxes, leading the visitor on a defined pathway.
Nature and innovation merge in a space that seeks to catch all glances with the reinforcement of the new company image.
The hall presided over by columns in natural stone and wood, welcomes visitors with a statement of love for nature.
Alma Hotel's concept is inspired by day and night. The first box is clad in polished white marble, and lined with ceramics chosen for their response to daylight in pattern and reflection.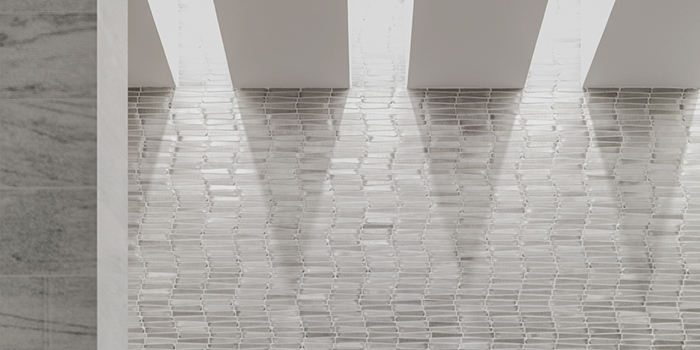 The second box is clad in black limestone, with an interior that employs a rich palette, where backlit onyx and gold evoke an atmosphere of opulence appropriate to a luxury hotel.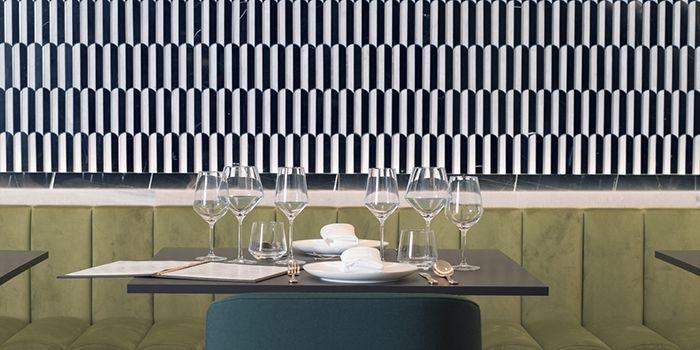 The showroom is encased by a translucent curtain, which alludes to the presence of the internal spaces without declaring them from the outside. The innovative, modern and bold style of this space is accompanied by neutral colors, while ambitious mosaics provide the striking touch.