After five years of business development and with three ongoing projects, Swedish architecture firm White Arkitekter are now taking a full step into the German market with a physical presence through a studio in Stuttgart, where are headquartered some of the largest architecture firms in Germany.
Thanks to well-developed digital tools, White Arkitekter have been able to expand their networks and number of projects in Germany, despite the pandemic. 
"Opening a studio in Germany has always been the goal of our commitment and now all pieces fell into place with a series of competition wins, ongoing projects and successful recruitments of Swedish- and German-speaking colleagues with long industry experience in the German market" says Barbara Vogt, Head of Business Development Germany at White Arkitekter.
Since 2016, White Arkitekter have built up a solid network in Germany with Barbara Vogt and Max Zinnecker at the helm, both with German roots and the language as their mother tongue. After a sustained and committed work, White Arkitekter has now been able to hire two new employees who work operationally in the assignments on site in Stuttgart.
With the vision that all their architecture will be climate neutral from 2030, they look forward to creating innovative and sustainable architecture that contributes to the global goals and the European Green Deal. White Arkitekter are also looking forward to a mutual exchange of knowledge.
"Our leading knowledge in climate neutrality, wood construction, digitalisation and transformation is appreciated among our German customers. On the other hand, we have a lot to learn from the German industry in terms of material knowledge, engineering, design management and how the architect can take a broader responsibility in the projects. Competences that in turn can benefit our position in Sweden," says Max Zinnecker, Lead Architect at White Arkitekter.
Both Swedish and German cities are grappling with the challenge of how to best transform homogeneous districts and buildings into more diversified environments with low climate impact.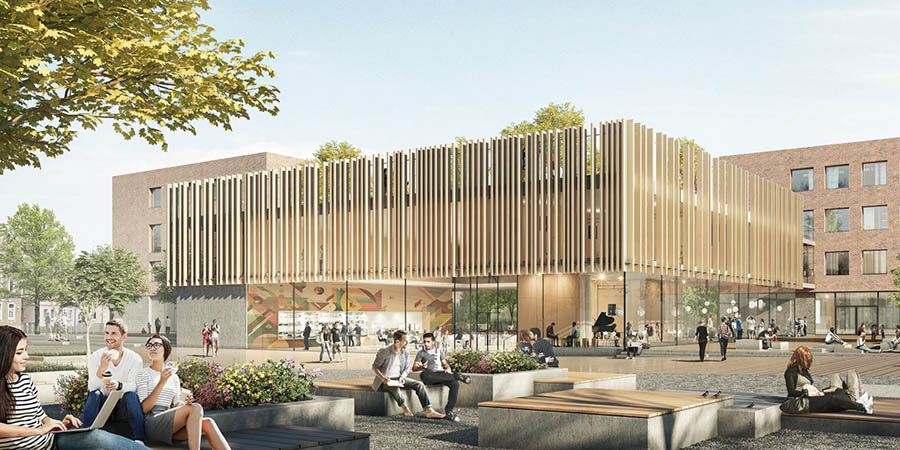 Campus Feuerbach by White Arkitekter
In Reutlingen, White Arkitekter are transforming an industrial area into a vibrant city district, where housing are mixed with co-working and offices.
In parallel with that, the Campus Feuerbach project is underway together with Günther Hermann Architekten, where Stuttgart's largest secondary school is being renovated and several new school buildings and a new sports hall are optimally integrated into the area.
Courtesy: White Arkitekter