The Deutsches Architekturmuseum has awarded the 2021 DAM Preis, best 2021 new building in Germany, to WERK12 by the Dutch architecture firm MVRDV.
WERK12 is a mixed-use building that serves as the focal point in Munich's Werksviertel district. As the winner of the award WERK12 is the highlight of the DAM Preis exhibition, which will open as soon as Covid-19 restrictions will allow, and headlines the German Architecture Yearbook 2021.
"If architecture can and should speak, it cannot all be just background noise", says Anne Femmer, jury member for the 2021 DAM Preis. "WERK 12 shouts out – but it has important things to say: If you really want, you can be flexible, universal, robust, open, sculpted, and still be cheerful."
The DAM Preis für Architektur in Deutschland is the most prestigious architecture award in Germany. Since 2007, the Deutsches Architekturmuseum has awarded the prize annually to the best new building in Germany.
"It's an honour to receive the DAM Preis, especially for a building like WERK12 which presents itself in such a light-hearted way", says MVRDV Founding Partner Jacob van Rijs. "The architecture world can be quite serious, even dull sometimes, so it's reassuring that the jury was able to appreciate the value of WERK12's fun addition to Werksviertel-Mitte. Not only that, but I'm proud they were able to see beyond the project's façade to understand that it is also deals with some very relevant topics in architecture underneath, with a very deliberate approach to making a long-term contribution to the city."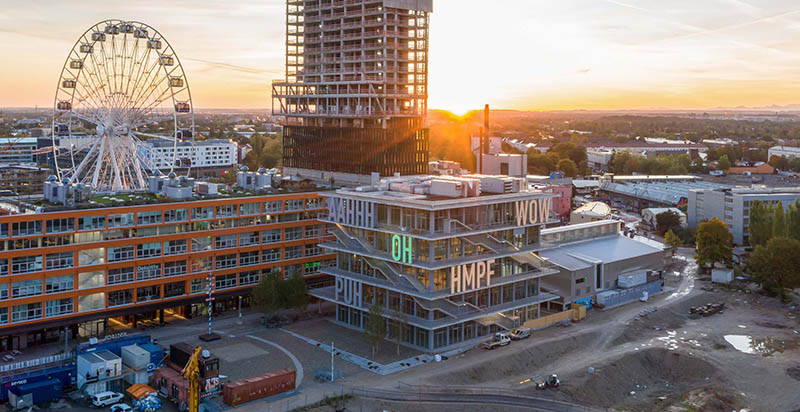 Completed in 2019 with co-architects N-V-O Nuyken von Oefele Architekten, WERK12 forms the nucleus of Werksviertel-Mitte, a formerly industrial area close to Munich's East Station that is regenerating into a key district for creative industries, leisure, and more.
The mixed-use building containing restaurants and bars, offices, and a three-storey gym with a pool, stands out thanks to its bold and expressive façade featuring five-metre-tall lettering.
This urban art piece was developed in tandem with local artists Engl&Engelmann who, expanding on MVRDV's proposal to add lettering to the façade, selected verbal expressions found in German comics to give the project a playful attitude.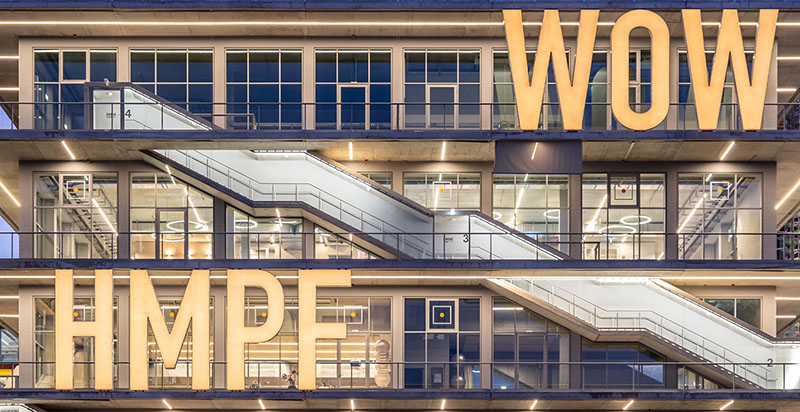 The best 2021 new building in Germany combines a simple form, honest materials, and transparent façades.
Users can move around the building in multiple ways: the design's external circulation core on the building's north-eastern side is supplemented by 3.25-metre-wide terraces that surround each floor of the building.
These are connected by external staircases curling around the building to connect these generous open spaces (a playful reference to one of MVRDV's most famous early projects, the Dutch Pavilion at the Expo2000 in Hanover).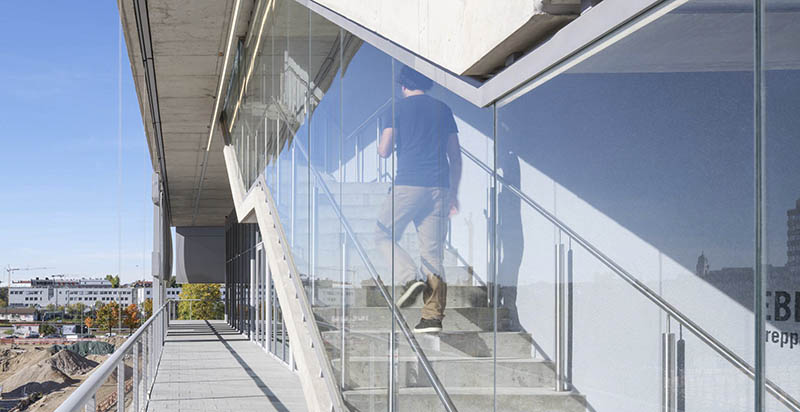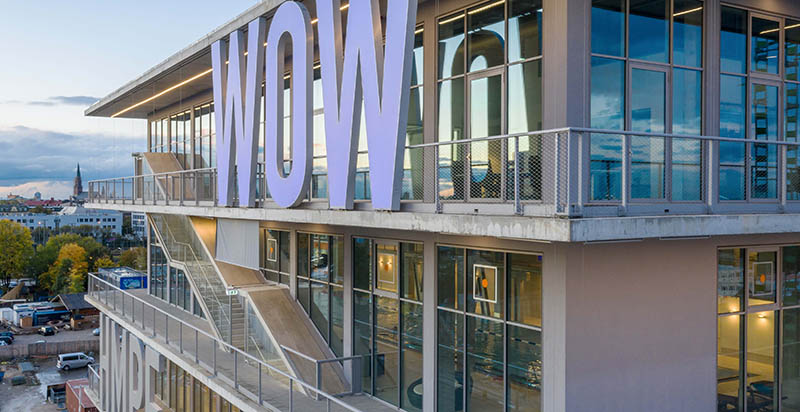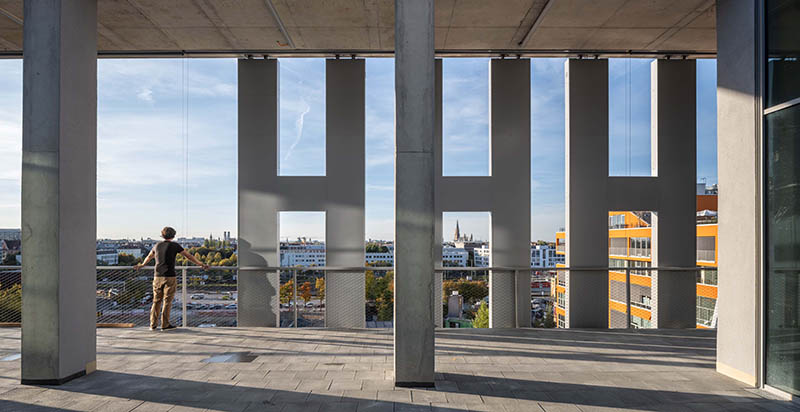 These features create a building that is extremely flexible in its use and can be adapted to future uses with different layouts. With 5.5 metres between storeys, the building can even accommodate the addition of mezzanine levels if they are required for future uses.
This design for longevity is a key part of the building's strategy to make a long-term, sustainable contribution to the Werksviertel-Mitte district.
Architect: MVRDV
Founding Partner in charge: Jacob van Rijs
Partner/Director: Fokke Moerel
Design Team: Markus Nagler, Roy Sieljes, Jonathan Schuster, Sven Thorissen Visualisations: Antonio Luca Coco, Kirill Emelianov, Pavlos Ventouris Strategy and Development: Jan Knikker
Images: Ossip van Duivenbode
Copyright: MVRDV 2018 – (Winy Maas, Jacob van Rijs, Nathalie de Vries)
Partners
Co-Architects: N-V-O Nuyken von Oefele Architekten BDA, Munich
Artwork commission: Christian Engelmann and Beate Engl
Structural Engineering: Wolf+
MEP: Teuber + Viel
Photography: Ossip