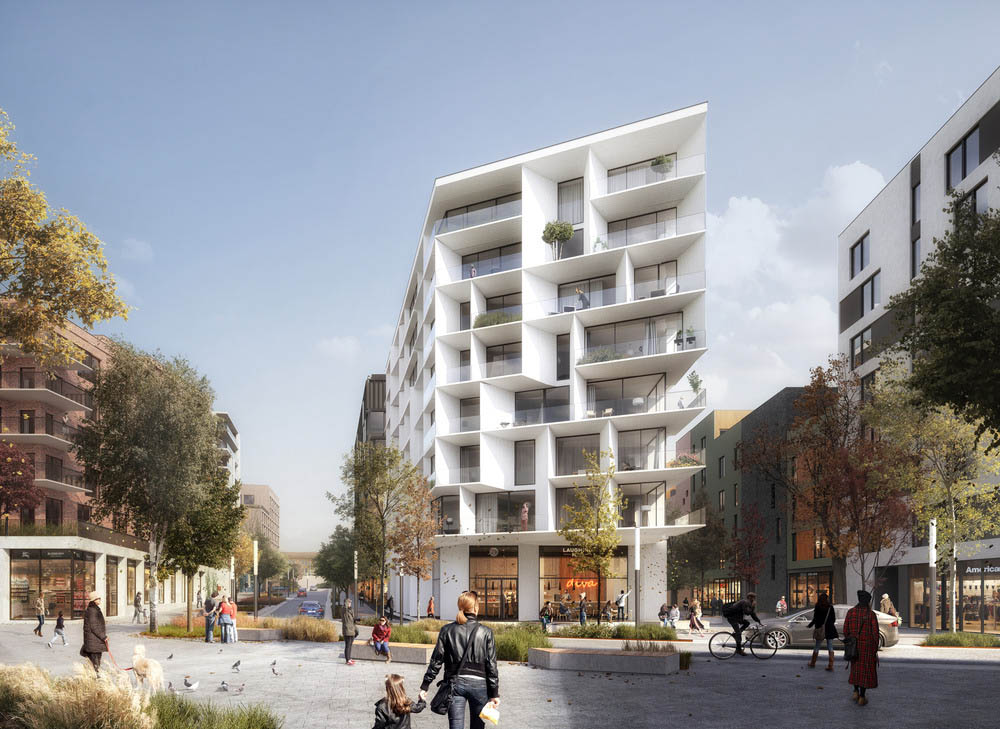 AART, the Scandinavian architecture firm amongst our "best architecture firms in Denmark" has, together with Höegh Eiendom, designed The Paper House, a new landmark building for the new district of Verket in Moss, Norway.
In the local culture, the town of Moss is famous for the popular proverb "høyvekta på Moss" (=the hay scale at Moss). It means "something that you can not trust".
Unlike, we trust that the new landmark building, in continuation of the social and aesthetical ambitions, has been designed with the environment in mind. In fact, it has been designed to meet the sustainable BREEAM standard 'very good'.
The paper-like architecture building pays homage to the papermaking history of the area. The Paper House has also been shaped and folded to take full advantage of the daylight and view of the deep-blue fjord surrounding the district.
"The bright façades with their sharp lines evoke images of the folds and origami of paper. The result is an almost paper-thin architecture. Together with the retracted glass facade, this gives the house a light and floating expression, where the protruding floor and flat separations give each home an individual identity and the whole house an expressive identity without a clear direction or back" architect Solveig Lee Folling Larsen says.
'The Paper House' is developed for Höegh Eiendom and is situated in the new district of Verket – a former industrial area by the fjord of Mossesundet.
With the scenic fjord in mind, the building has been shaped, so that it creates the best possible views of the surrounding area towards the fjord from all flats, while at the same time, creating retracted glass facades that shield the homes from unwanted exposure.
The Paper House will have 34 flats ranging from 46-119 square meters. The flats are distributed on the six upper floors, while the ground floor will have cafés and shops so that the house will become an integrated part of the district of Verket. However, life will not only be lived at street level, but also above street level, where the private balconies and the shared roof garden with a greenhouse, kitchen garden, and lounge area.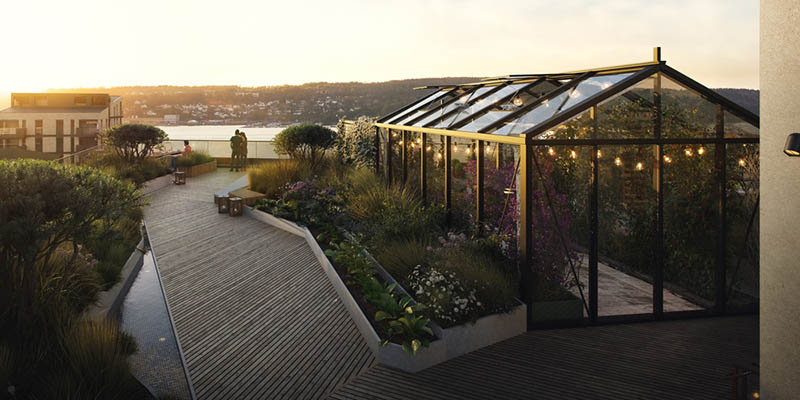 "The roof garden will become a gathering point for all residents, where they can grow vegetables and hangout together high above the city which will create a strong sense of community" Solveig Lee Folling Larsen says.
Cover image: AART courtesy
Photography: Eve Images