Treetop cabins are a growing trend in Norway. Even if We will be never tired of telling you about the newest architectures or technological solutions, sometimes a return to nature, seems more than necessary…
So, close your eyes and imagine of waking up with the birds in the top of a tree. Imagine sleeping in a comfortable bed surrounded by calmness in one of the many cool and cosy treetop cabins and tree houses.
When it will be possible to travel again, it would be lovely to choose between gorgeous designer cabins and rambling buildings that will make our childhood tree house dream come true.
The cabins are situated in good hiking and skiing terrain, often by a fishing lake where you can go canoeing in summer. And the views are always breathtaking.
The nature experiences by the cabins are up close, personal and intense. In addition to squirrels and songbirds, you may also spot other Norwegian animals, like moose, deer, beaver and grouse. Here you can really enjoy the silence and disconnect from everyday life. The silence is only broken by the wind in the treetops, and the starry sky is overwhelmingly beautiful. So is the six o'clock morning sun.
The perfect way to start your day and experience the benefits of Norwegian friluftsliv (outdoor life) and kos (the unique Norwegian word for having a good time.)
Visit Norway has gathered a sample of some great cabins that are spread all over the country. Some of them are already well-known and popular, while others have just opened up over the last couple of years or will open up in summer 2021.
Woodnest in Odda, Hardangerfjord
Woodnest treehouse cabin is designed by architects Helen & Hard, one of the most renowned architecture firms in Norway.
These house in Fjord Norway brings you the adventure of Norwegian nature without having to forgo luxury and comfort. Nestled in nature, Woodnest is a luxury tree house experience, where each tree house offers heated floor, wi-fi, a small kitchenette, bathroom, bedroom. And a stunning view over the Hardangerfjord.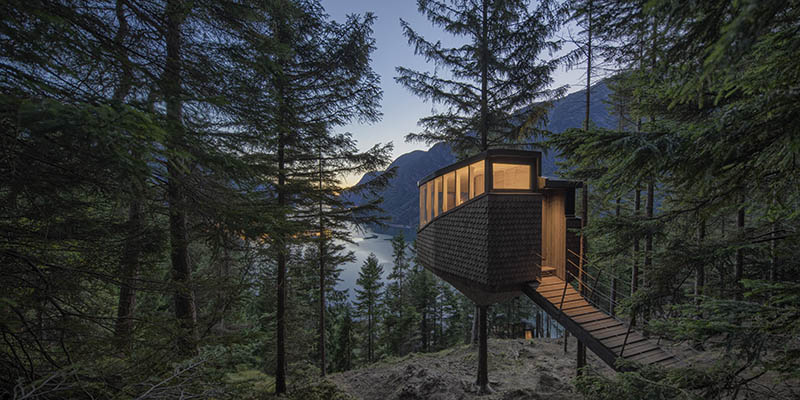 Treetop houses Oslofjord
Tretopphytter Oslofjord offers five cabins, all nested more than 100 metres above sea level with a spectacular view over the fjord. Each fully furnished cabin can accommodate from seven to ten people. These cabins are located just one hour south of Oslo, in the county of Vestfold.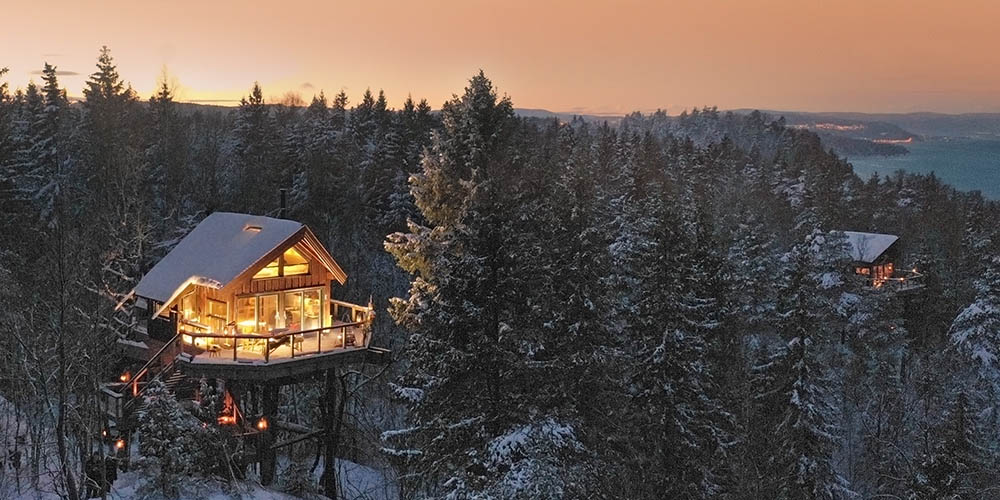 Engeset, Sandane, Nordfjord
Engeset Tree Houses is a new and unique accommodation offer situated in Sandane in Nordfjord, Norway. The cabins are organically built and integrated into nature. They move with the wind and birds build their nests in bird-crates in the decking. The cabins have spectacular views of the fjord and are excellent starting points for both winter and summer activities.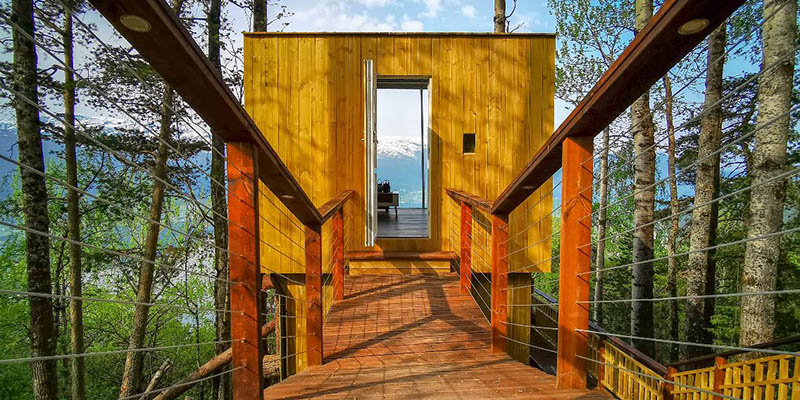 Courtesy: Engeset
PAN Tretopphytter
The award winning PAN Treetop Cabins are located in Finnskogen, a two-hour drive from Oslo. The cabins designed by the architecture practice Espen Surnevik, can accommodate up to six people and are built eight metres above ground. Guests can enjoy many activities in the area, such as yoga, biking, fishing, hiking, bird watching, and even wolf safaris.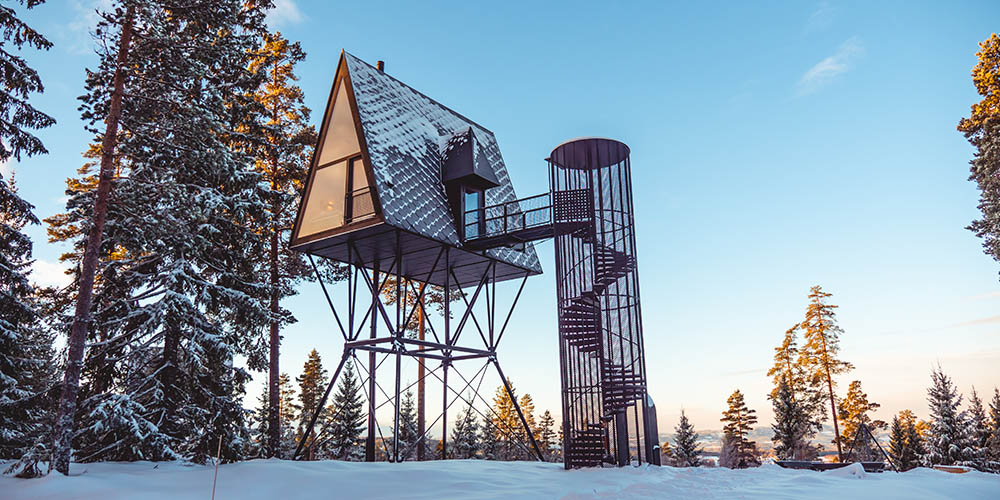 Photography: Fredrik Bye
Hardanger Fjordtun
At Hardanger Fjordtun in Fjord Norway the guests can choose between a romantic stay in a treetop cabin or a stay in a funky panoramic cabin with space for families or groups of friends. These architect designed wooden cabins offer great sleeping and living quarters with large glass surfaces to let the nature in.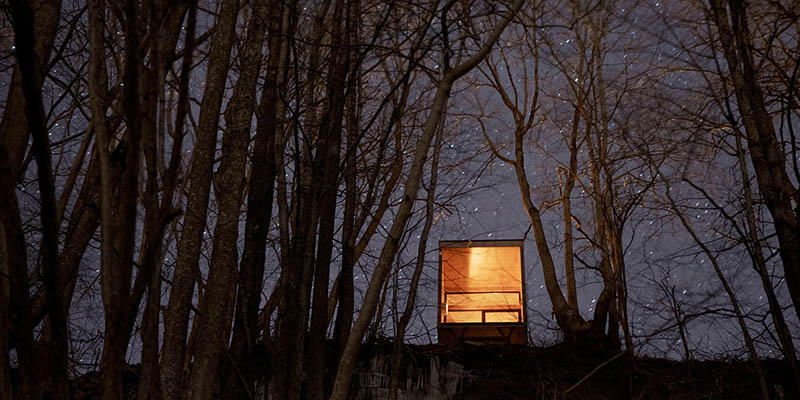 Photography: Paul S. Amundsen
Å Auge Treetop House, Tinn, Telemark
Å auge means "River Eye" in Norwegian and the place offers a spectacular experience in the Norwegian forest. Its location makes it easily reachable, but the place is still hidden away and 100% off the grid. In addition to the treetop cabin, Å Camp offers glamping, hammocks, bush baths and activities in the Norwegian wilderness.

Courtesy: Å Auge camp
Fosstopp
The owners of the luxury treetop cabins at Vassfaret in Valdres (two hours from Oslo) are local enthusiasts who are passionate about the development of the local area. These genuine treetop cabins are surrounded by the forest, a waterfall, and mountains. Fosstopp has three unique wooden cabins with high standard and practical design, situated eight metres above ground and attached to pine trees.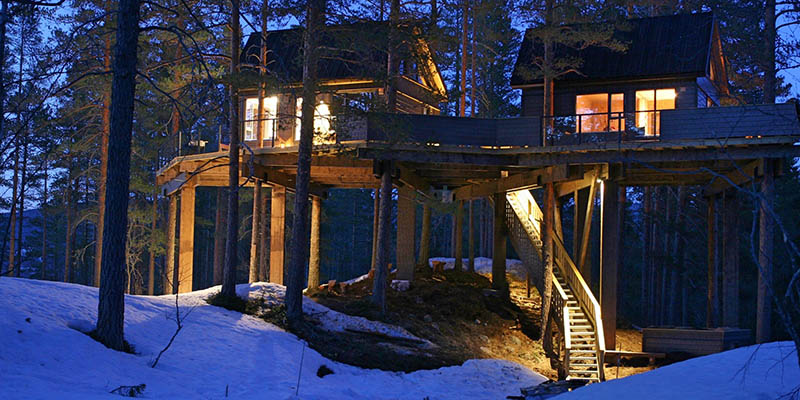 Courtesy: Fosstopp
Trekronå, Ogna, Stavanger region
Designed by architect Manuela Hardy these new cabins will open in summer 2021. Trekronå treetop cabins are located in Ogna, near one of the most beautiful beaches on the west coast of Norway. These three cabins are on steel legs in the middle of a small pine forest next to a golf course. Nearby you can find Holmasanden beach, which is a great place to enjoy sunny days of swimming and surfing as well as hikes all year round.

Illustration: Architect Manuela Hardy
The Treehouse Dome in Rakkestad
Just 90 minute's drive southwest of Oslo, at Rakkestad, in the deep forest. The unique construction of The Treehouse Dome differs from many other similar treetop cabin, as the sleeping room is situated on a loft and with ceiling windows allowing guests to be amazed by starry nights. The house includes bathroom, kitchen and living room with fireplace.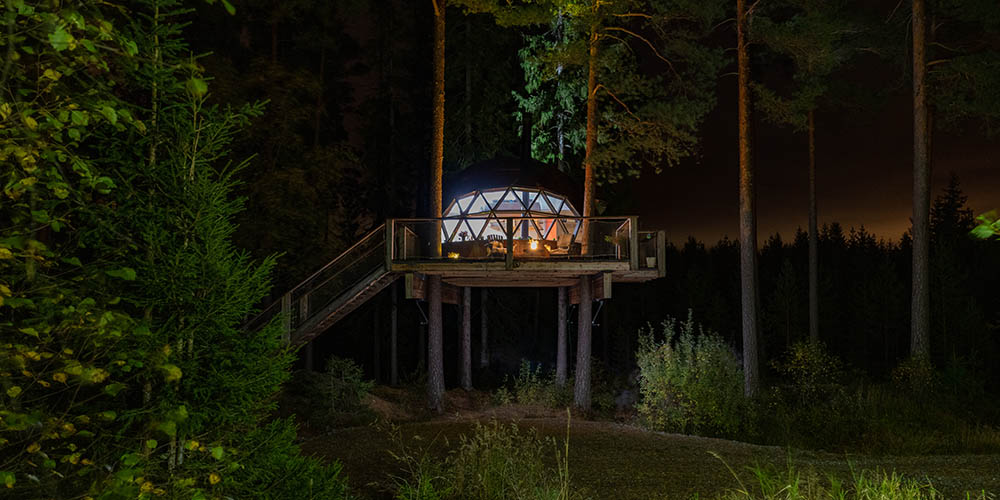 Photography: Paul Hughson
Trehyttene in Gjerstad
Trehyttene are treetop cabins located in Gjerstad in Southern Norway, between Oslo and Kristiansand. They offer three different tree houses: Kråkeslottet ("the crow castle"), Gjøkeredet ("the cuckoo's nest") and Flåklypa. The surrounding area is great for family activities like fishing, hiking, swimming, and also hosts a climbing park.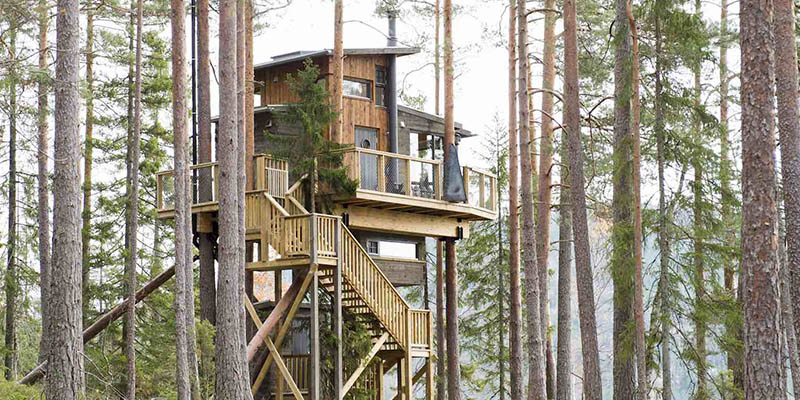 Courtesy: Trehyttene