Haptic Architects and Ramboll join forces to push boundaries of timber architecture in Oslo, Norway, with the Regenerative Highrise project.
A bold and ambitious design concept exploring the future of timber high-rise construction and vertical urbanism has been revealed by the Scandinavian inspired architecture firm, Haptic Architects, and the global architecture, engineering and consultancy company founded in Denmark, Ramboll.
The collaboration project is designed to push boundaries in sustainable, adaptable high-rise architecture, and the universal design concept could be commissioned for any city in the world.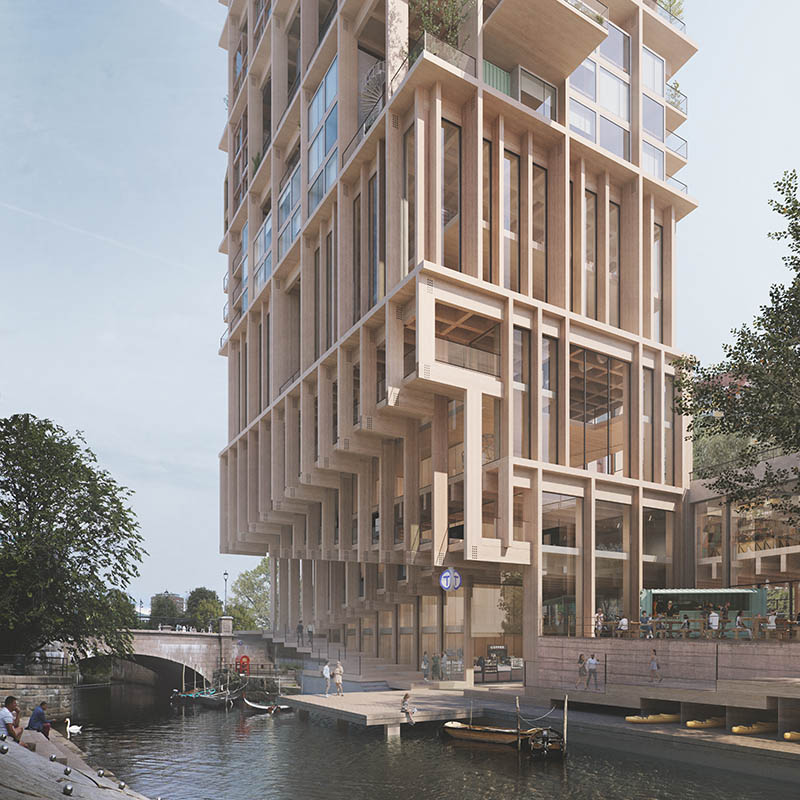 The timber architecture, called Regenerative Highrise, proposes the use of vertical development as a solution to unlocking complex sites in inner-city neighbourhoods, especially those in need of enhancement and repair.
Haptic and Ramboll have applied the concept to a tight urban site in the centre of Oslo to model its regenerative potential – providing a window into how our cities of tomorrow could look.
The Regenerative Highrise is designed and engineered for maximum flexibility and longevity. Its superstructure consists of fixed three-storey structural decks.
Each of these primary floors can support up to three intermediate floorplates, or three levels of adaptable pods. This system allows the creation of single, double, or triple height spaces – for residential, office, hotel, leisure, or production use.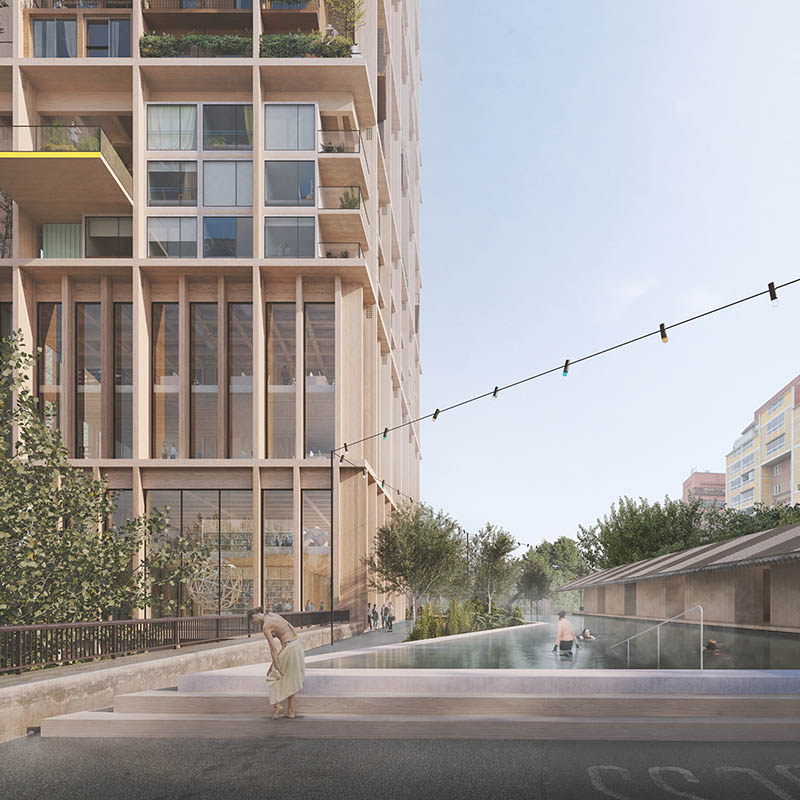 The main structural frame is envisioned as a timber-composite structure and the building core will support a maintenance unit at its top, capable of lifting the pods and intermediate floors, both during installation, and as they are slotted in and out of the structure over time.
This will allow the tower to be efficiently reprogrammed over time in line with the changing needs of the city.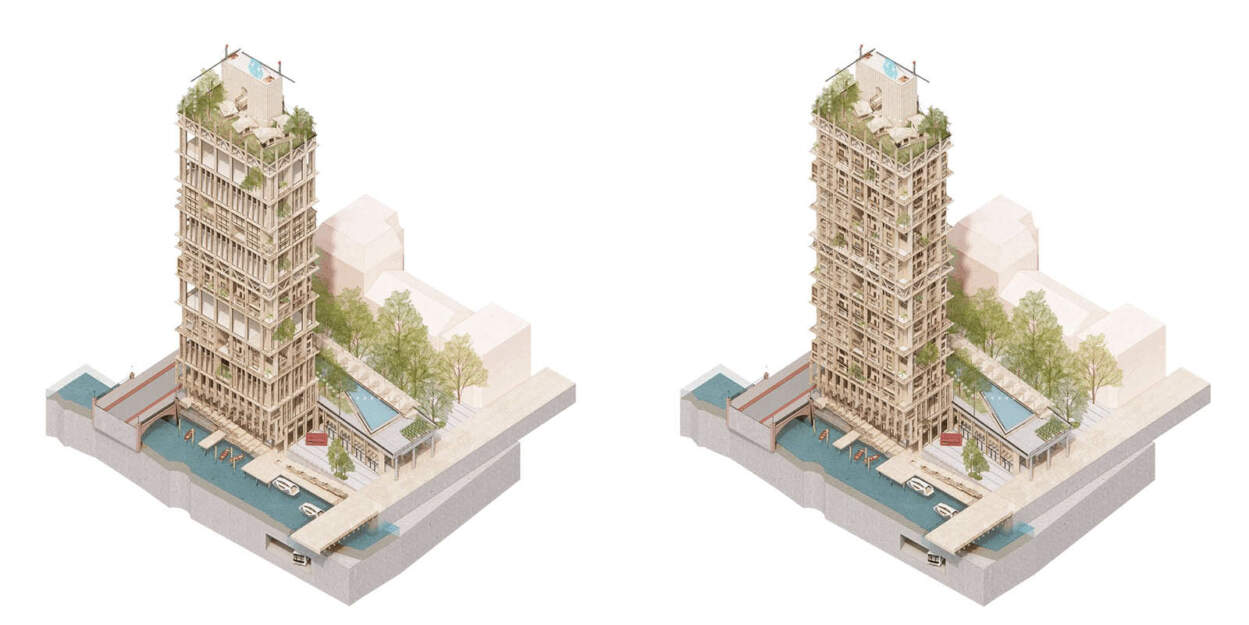 The design concept addresses today's challenge of retrofitting high-rise buildings for change of use. It is designed to eradicate the need for demolition, future-proofing the building for centuries to come.
This concept embodies cutting-edge innovations in the use of timber and modular construction systems, combining them in a creative and compelling way. Both initiatives contribute to lifecycle carbon management of the building.
Haptic brings a distinctively Scandinavian approach with a warm and natural aesthetic to the high-rise typology, more commonly associated with industrial materials such as concrete or glass.
The triple-height sky villages are modelled on the latest fire safety regulations and supported by a hierarchy of centralised and decentralised building systems to ensure energy is delivered efficiently and on demand, while the pods themselves are designed to be upcycled and reused throughout the building.
The concept is designed to bring compact, efficient vertical communities to city centre locations, where there is often a scarcity of residential provision. These would include proximity to flexible working spaces and community hubs and amenities, alongside hotel and visitor attractions.
The wooden architecture is designed to accommodate a diverse, and multi-generational community – something that traditionally forms in a city's suburbs, rather than its centre, and will carry a focus on nature and wellbeing.
Haptic and Ramboll have taken the new concept and looked at how it could be applied to an inner-city area of Oslo, Grønland, which has historically been challenging to build on.
The proposal takes a disused motorway viaduct, seen by the city as an obstacle to regeneration, into the very foundation of the project.
Tomas Stokke, Founding Director at Haptic Architects' Oslo office commented: "We believe that this concept holds so much potential for rejuvenating local communities and urban landscapes while raising the bar on sustainable high-rise structures. We're excited to continue this conversation with city makers around the globe about where the Regenerative Highrise could fit into their future development plans."
This demonstrates how, through sensitive reuse, existing road infrastructure that is unsympathetic to its context, can be reappropriated for leisure use and become a positive contribution to the city.
At its summit, the proposal features a 'hilltop in the sky' offering green space and viewpoints to rival Oslo's outer suburbs.
Shonn Mills, Global Director Ramboll High Rise added: "The most exciting component of the Regenerative Tower is the idea of vertical land creation. With the tower we are essentially producing volumes that can flex and change in use and character with the needs and requirements of the city. This makes sure the building stays competitive and relevant far longer than the normal building life cycle, which also makes it more sustainable".
Linking existing and developing transport networks which run through Grønland, including the city's metro, motorway and waterway, the tower for Oslo is designed as a multi-modal interchange, which would connect and rejuvenate the city, delivering residential and workspace alongside cultural, leisure and sports facilities.