cube berlin designed by the Danish architecture firm 3XN is a free-standing, sculptural and iconic building featuring pioneering smart office technologies.
It is situated in the heart of Berlin, on the historically compelling Washingtonplatz. As one of Berlin's new emerging public spaces, this site provides the ideal setting for this new landmark that showcases latest advances in sustainability, design, digitization, and comfort. cube berlin is an integral part of the Europacity masterplan – an emerging urban district right next the Berlin main train station and the Spreebogen waterside opposite the Federal Chancellery and the government district.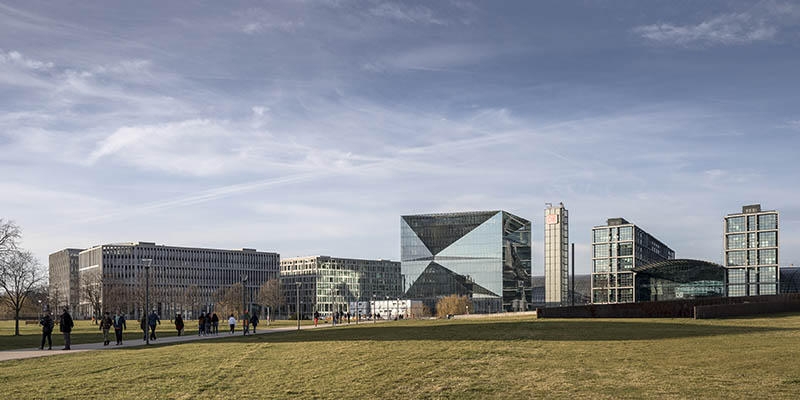 The ambition of 3XN, listed amongst our best architecture firms in Denmark, was to create a building that would contribute to the animation of the square. 3XN wanted to engage by-passers while providing top notch office spaces. This project offers new value to the Berlin skyline, while exploring new ways for buildings to interact with their surroundings.
The sides of the cube-shaped building measure 42.5 meters and resemble an abstract, modern sculpture from the outside. Given the conditions of the location, 3XN proposed a sculpted design approach that reflects the site's scale and honour its character as an important public space.
The building's appearance changes constantly depending on how the light falls, but cube berlin's surroundings are also being re-interpreted on an ongoing basis. 3XN has created deliberate geometric transformations that create a prismatic pattern of triangular surface reliefs. Dynamic recesses have been cut into the façade to create terraces for the building's tenants on the 10 upper floors.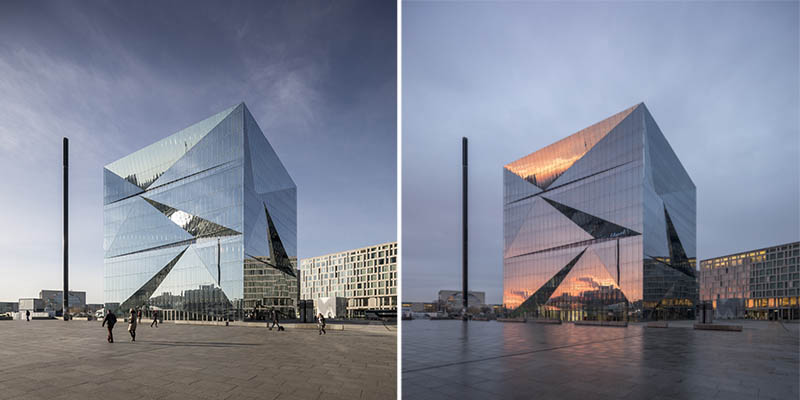 All of the recesses run along the entire side of the building, but the direction varies from floor to floor. That creates a dialogue-based relationship between the building and its environment. cube berlin is designed to be a catalyst for social experiences, both inside and outside.
Contrary to conventional wisdom, the fully glazed façade of cube berlin is highly energy efficient due to its osmotic skin and thoughtful design that includes a pioneering application of solar coatings on the outer skin of the double façade. The technical performance of the material allows for an energy performance and control that will allow the building to pursue a DNGB Gold certification.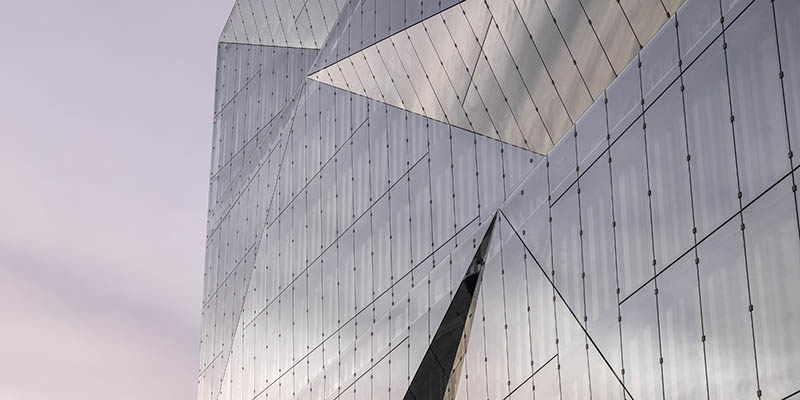 The roof terrace, which is also sculpturally formed, opens up additional usage possibilities for the building's tenants and gives them views across all of Berlin. While the top ten floors and the roof terrace of the building are reserved exclusively for the office tenants, cube berlin's ground floor is open to the public.
In the coming months, a sort of modern marketplace with numerous, diverse culinary offerings will unfold across a large portion of the area. Additionally, the ground floor houses a two-storey lobby for office users. Both tenants and visitors will enjoy stunning vistas of Berlin landmarks including Tiergarten, Kanzleramt, Reichstag; abundant natural daylight; natural ventilation via opening windows; external solar shading; and outdoor terraces on all floors.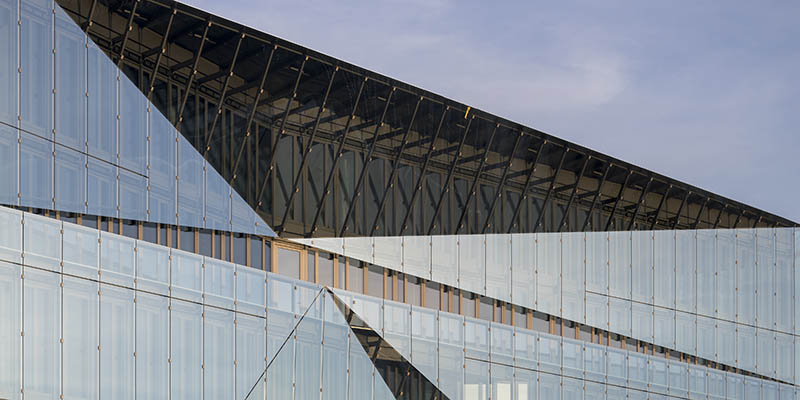 cube berlin offers 10 floors of flexible, multi-tenant office space; a ground-level food market and office lobby; underground parking & plant rooms, a rooftop terrace; and optional conference areas. In total, cube berlin spans 19.500 m² of highly flexible, modular above-ground space.
"We are honoured to share our design philosophy in such an important location. With cube berlin, we suggest that a new architectural path for commercial architecture is possible. An office building can actually look like a piece of art – and this is a notion that we knew was important for a city like Berlin. This project also creates new moments of interaction with the city. We can already see that pedestrians are attracted to the cube; they enjoy catching their reflections in the glass. At the same time, cube berlin showcases the smartest building advances in Germany. In combining cutting edge design with user comfort, we want to show that healthy, productive places to work can also be sustainable." says Kim Herforth Nielsen, Founder and Creative Director of 3XN.
cube berlin is even a next generation smart building that sets new standards for the integration of intelligent digital user interfaces. Users are invited to interact with the building through a "bring your own device" approach. This is achieved via an app that drives sustainable behaviour and increases energy efficiency while reducing unnecessary operational costs and maintenance irregularities.
With cube berlin, the last component of the southern area of Europacity has now been completed. In recent years, CA Immo, the Austrian real estate company, announced the opening ofhad developed the urban planning concept for five additional buildings here. CA Immo realised two of these buildings itself ("John F. Kennedy Haus" and the "IntercityHotel Hauptbahnhof") and incorporated these buildings into its portfolio. The other building plots were sold to investors, who have constructed two additional hotels and an office building.
Photo credit: Adam Mørk.