Oksenøya Care and Treatment Center by Arkitema, a sustainable cocoon where young and old meet.
On the former Fornebu Airport area south of Oslo, a peninsular area in the suburban municipality of Bærum in Norway, a brand new district called Oksenøya Care and Treatment Center focusing on sustainability and a vibrating local environment for all generations is being developed.
Arkitema, the architecture firm you can find amongst our best architecture firms in Denmark, has been in charge of the design of the architectural concept of the central part of the area and will also design the future living and treatment centre for 150 senior residents.
Oksenøya Care and Treatment Center will be some thing like a cocoon, a cozy retreat from which "escape the world", a place where young and old meet, can exchange experiences, have fun and thrive!
At the same time, Oksenøya center will be an innovative, energy-friendly, environmentally friendly and climate-wise project. In fact, the project meets all requirements as a pilot project for FutureBuilt, which ensures sustainable buildings of high quality.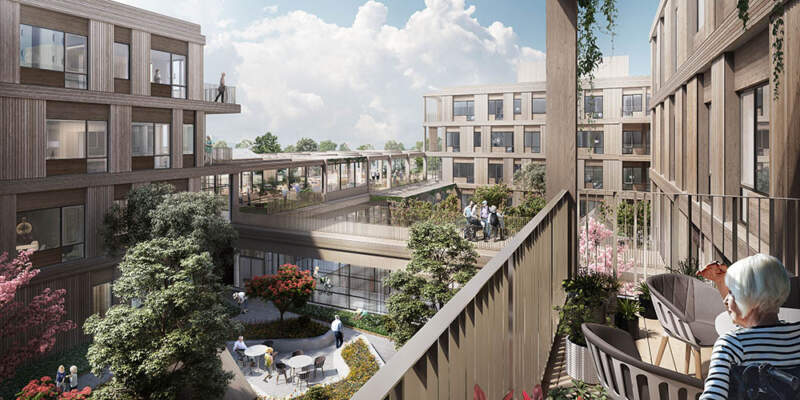 A 5-parallel primary school, a kindergarten for 300 children, a multi-purpose hall, a 9-a-side artificial turf football pitch, a local environmental facility and a living and treatment center with 150 residential units will be established.
This will be a place that provides the right settings for a good life for elderly people and for contact across generations; both by creating attractive and inviting outdoor spaces and by creating spaces for common activities.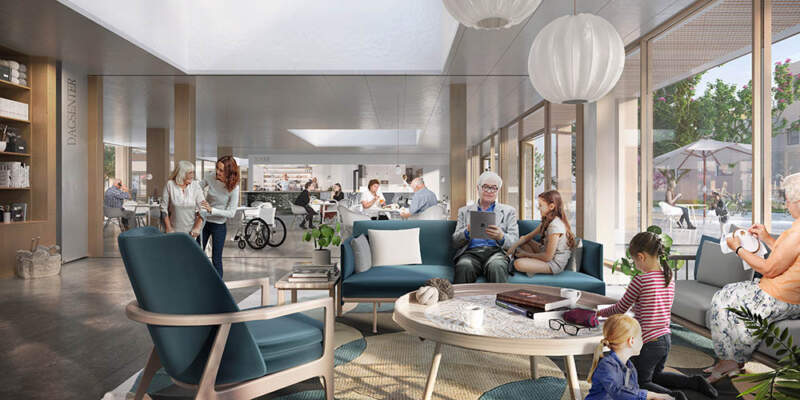 Each building has its own character, its own façade design and identity – and at the same time the whole gives a unifying expression.
The timber architecture scales down from five to three storeys towards the centre of the area.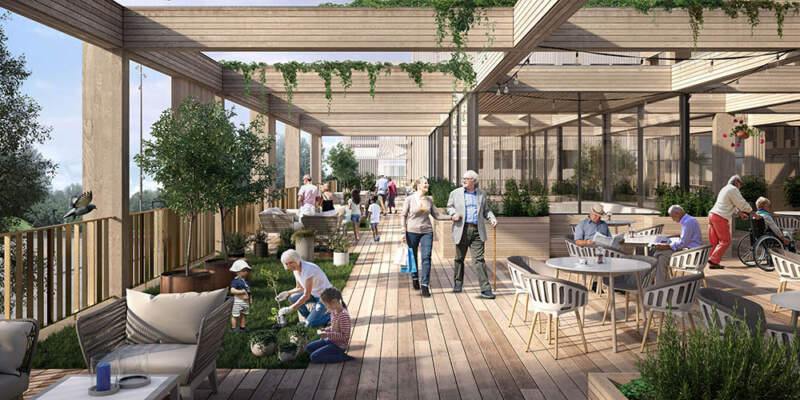 The bottom floor of the centre will hold several outgoing functions, including a cafe for the whole area. The top storeys will hold the residential flats and a large, green roof terrace with light, air and access to green plants.
Multi-purpose hall and parking with common functions are laid underground, so that the deck above these can be used as outdoor area.
The project creates the framework for the community of the central square and the "generation street" between the timber buildings, and provides access to the rooms and functions that can be used across institutions and in leisure time.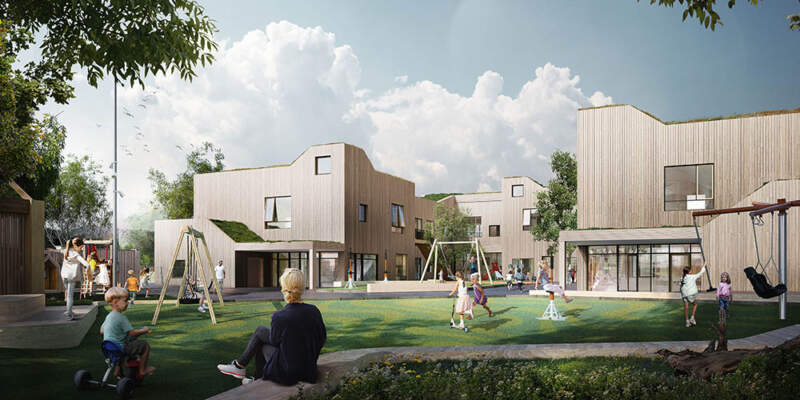 The café at the nursing home can be used as a town hall, the multi-purpose hall as a cinema, the assembly hall can be rented by parents, residents and relatives, and playgrounds can be used in leisure time.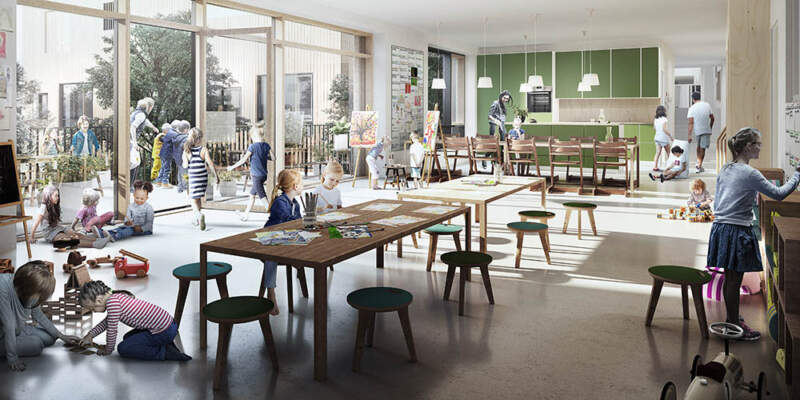 All three timber architectures are planned as near-zero energy buildings (nZEB) and will achieve BREEAM Outstanding certificate.
Oksenøya Care and Treatment Center sustainable features are:
Zero emission neighbourhood,
Reduction in energy consumption of approx. 65 percent compared to TEK17,
Use of timber structure,
Solar cells of approximately 2 550 m2,
BREEAM Outstanding,
Rubber granules are replaced by other types of artificial turf which safeguard the functionality,
Green mobility, facilitating the least possible car-based traffic through good and traffic-safe solutions for cyclists and pedestrians.
The school, kindergarten, multi-purpose hall and associated outdoor areas should be completed in May 2022 and will be ready for the start of school in 2022. The nursing home should be completed at the end of 2022 and is ready for occupancy at the beginning of 2023.
Images courtesy: Arkitema