Michael Green Architecture, one of the most internationally recognized architecture firms in Canada, completed two new mass timber buildings for the College of Forestry at Oregon State University, recognized leader that is transforming education, research and policy for managing and sustaining working forest ecosystems in the 21st century.
Their mission, as part of Oregon's Land, Sea and Space Grant University, is to educate and engage the next generation of scholars, practitioners and users of the world's forest resources, to conduct distinctive problem-solving and fundamental research on the nature and use of forests and related resources, and to share their discoveries and knowledge with others.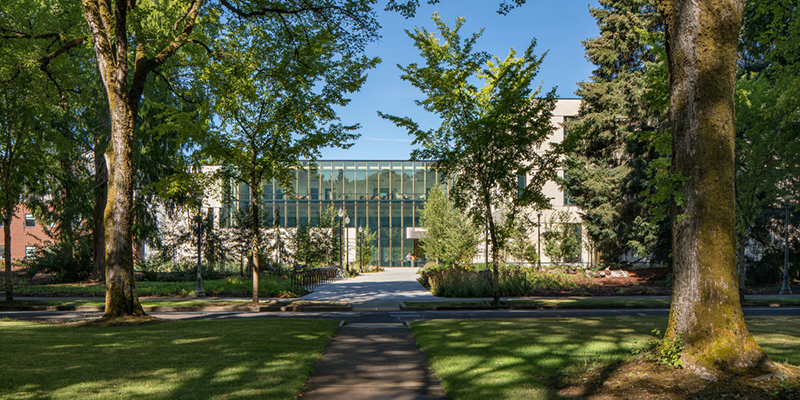 Photography: Josh Partee
Located on campus within the Oregon Forest Science Complex (OFSC), the two new timber buildings George W. Peavy Forest Science Center and the A.A. "Red" Emmerson Advanced Wood Products Laboratory (AWP) upholds the College of Forestry's vision to create a dynamic learning, collaboration, and research environment for managing and sustaining working forest ecosystems in the 21st Century.
The project design approach was created in collaboration with multiple College departments and user groups across various functions, including resource management, ecosystems and society, and science and engineering.
Engagement with these unique and diverse groups meant that the wooden architecture themselves were designed to be teachers and a living laboratory – something to interact with and to learn from.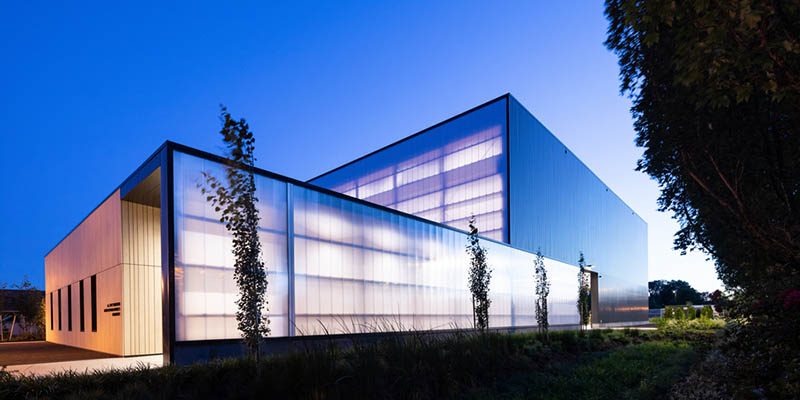 Photography: Ema Peter
George W. Peavy Forest Science Center
The new George W. Peavy Forest Science Center (83,000 sq. ft.) is connected to the complex natural layers, systems, and networks of a forest, from soil to sky. The timber structure is designed as two intersecting bars, connected to the existing Richardson Hall.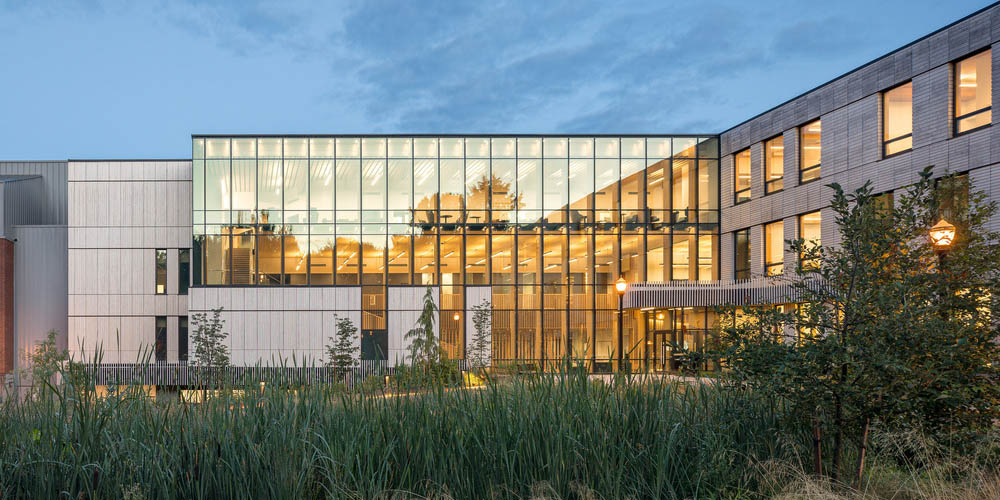 Photography: Josh Partee
The use of wood as the primary material was a major driver during the design of Peavy Hall, and it is evident on both the inside and outside of the building. The structure is built from Douglas fir sourced locally and fabricated less than 500 miles from the site.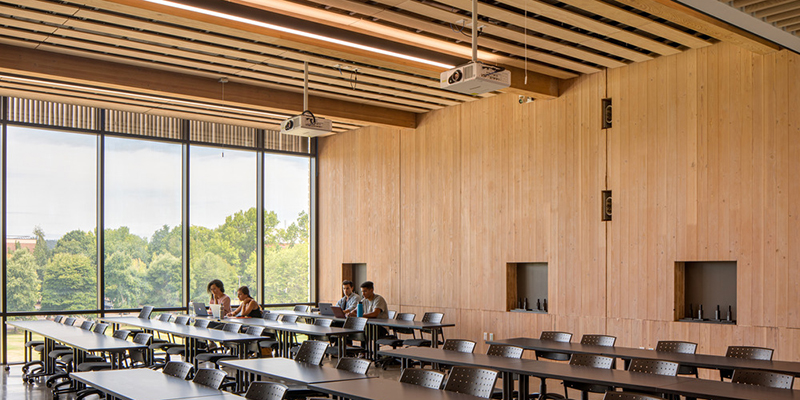 Photography: Josh Partee
A simple academic bar features 20 classrooms, computer rooms, and laboratories. Classroom and lab spaces range from small to large and interior to exterior, facilitating a range of teaching styles in an inspiring environment for students to study all aspects of the forest landscape.
Timber stairwells filled with natural light flank both ends of the academic corridor to connect the landscape and enhance intuitive wayfinding.
At the heart of Peavy is the Roseburg Forest Products Atrium. Shaped by towering two-storey Douglas fir columns, this expansive space captures the feeling of being in the forest.
The atrium is directly connected to the Peavy Arboretum, a curated collection of local plant species that acts as a living classroom for forestry students, community, and industry. The edge between the building and the adjacent arboretum is blurred to remind students and faculty of their unique and critical role as environmental stewards.
Peavy includes several informal learning spaces, including the third-floor area located outside of The Wollenberg Foundation Dean's Suite. This space provides opportunities for students, faculty, and staff to collaborate, study, and teach in a relaxed setting among the treetops.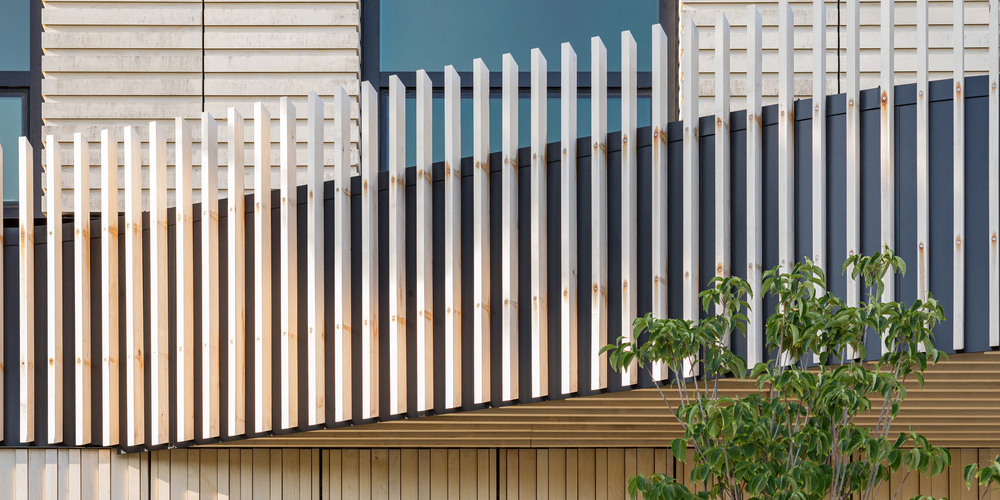 Photography: Josh Partee
The wood structure design is innovative in its response to the high seismic requirements of the site.
A CLT rocking wall system, the first of its kind in North America, was developed with shear walls composed of separate sections connected vertically by a post-tension system. This allows the walls to move and self-center during an event, and for components to be selectively replaced on an as-needed basis after the event occurs.
As part of the building as a teacher concept, the wood structure is monitored by over 200 sensors that have been installed throughout the structure to gather data on vertical and horizontal structural movement as well as moisture.
This data will be used for research into the performance of mass timber structures for the life of the building and will inform the future of good practice in building with mass timber.
The exterior of Peavy Hall is clad in Oregon Red Alder which has been modified through a process called acetylation to increase dimensional stability and resist rot, reducing maintenance and increasing service life.
Sustainable design choices will significantly reduce embodied carbon impacts over the building's life cycle.
Advanced Wood Products Laboratory (AWP)
The A.A. "Red" Emmerson Advanced Wood Products Laboratory (18,000 sq. ft.) is home to the TallWood Design Institute, which brings together industry and academia to advance knowledge about the use of wood products in buildings through applied research, product development, testing, and professional education.
The building provides dedicated research spaces for developing and testing innovative wood products and technologies while producing data that can be applied in research and industry.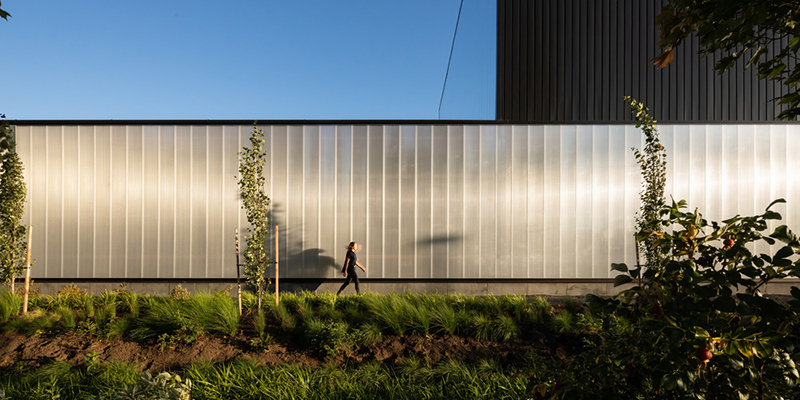 Photography: Ema Peter
The AWP program required an expansive space to allow for the flexibility to test and adapt to technologies as they emerged.
The building structure is a simple and elegant glulam and MPP system that works together to achieve the long span required.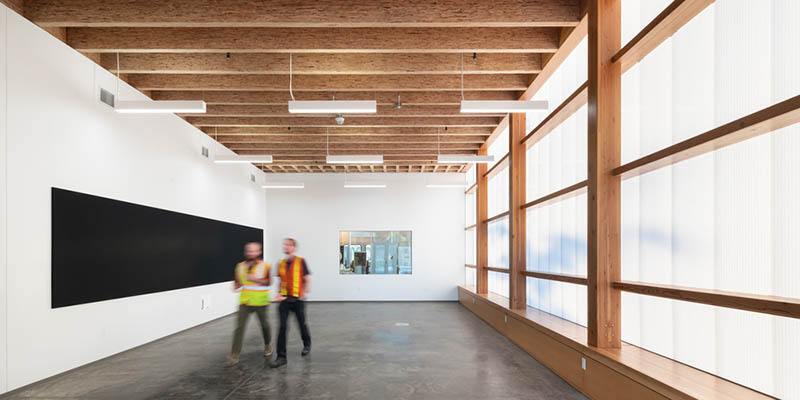 Photography: Ema Peter
The College of Forestry lab space is broken into two bays: the structural testing bay includes a reaction wall and strong floor to support the heavy structural work and testing of structures up to three-storeys high; the manufacturing bay is equipped with advanced robotics and fabrication equipment.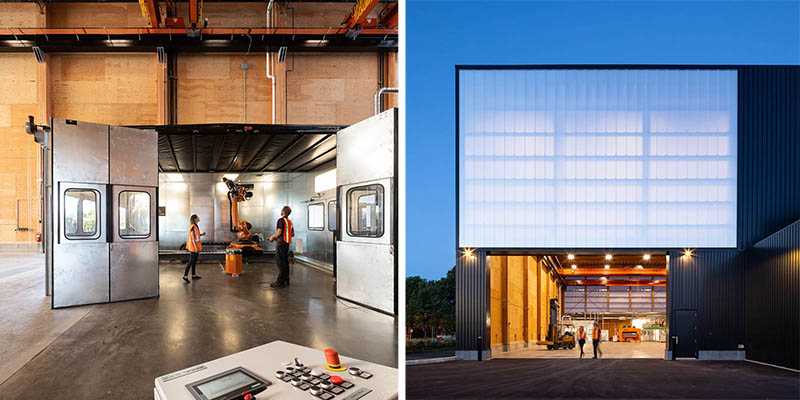 Photography: Ema Peter
These new College of Forestry buildings extend beyond forestry to include the entire ecosystem, the industries that engage it, and more importantly, the wide variety of people who will be environmental stewards of our future: the students.
The buildings' mass timber structures are composed of 2,130 cubic meters of wood, storing 1,884 metric tons of carbon dioxide.
The College of Forestry academic and office spaces in Peavy Hall enjoy views of the arboretum and adjacent greenspace and water feature, providing occupants with the benefits of direct access to nature. Indoor air quality has been prioritized through the specification of low-VOC interior materials,operable windows, and dedicated exhaust systems for laboratory environments.
Peavy Hall's unique Cross Laminated Timber rocking wall system will increase material efficiency over the building's life. A conventional wall system would typically require full replacement after an event, but with a rocking wall system, components can be selectively replaced, reducing the quantity of materials needed for replacements should damage occur.
Both Peavy Hall and AWP have used energy modeling throughout the design process to inform design decisions related to energy efficiency. The upgraded glazing to View Glass in Peavy Hall means that a balance can be struck between daylighting and solar heat gain, improving the overall energy efficiency of the building. Radiant flooring was used at perimeter areas to efficiently provide comfortable indoor temperatures. The buildings were also designed to be PV-ready, with conduit and infrastructure in place to easily adapt to the use of solar photovoltaic panels in the future.
The featuring of local vegetation is a significant aspect of the project's educational story-telling. All vegetation on-site and in the arboretum are native to Oregon. The existing arboretum was cordoned off and protected throughout construction to maintain plant and habitat health. Stormwater is collected on-site and retained in a water feature adjacent to the arboretum and the buildings. The pond is populated with grasses and other plants, which filter the water sufficiently so that it can be slowly released into the ground to recharge the local aquifer, rather than being discharged to a stormwater system and wastewater treatment facility elsewhere.