NCC Head office, an environmentally certified wooden architecture designed by White Arkitekter.
When Swedish construction company NCC, one of the largest construction companies in Europe, planned its new head office in Solna, Sweden, the company wanted to invest in an environment that enhances the health and wellbeing of its employees whilst also making a positive contribution to social development through high sustainability goals.
The large lobby serves as the building's hub. The most striking feature is the stairs, or "the vertical spine", in the centre of the wooden architecture.
The bridging sections on alternate levels, which are subject to higher loads, are supported by LVL beams in beech. The elements were prefabricated and lightly pigmented to reduce the yellowing of the wood, and were lowered into place through the roof, with a tolerance of 1 millimetre.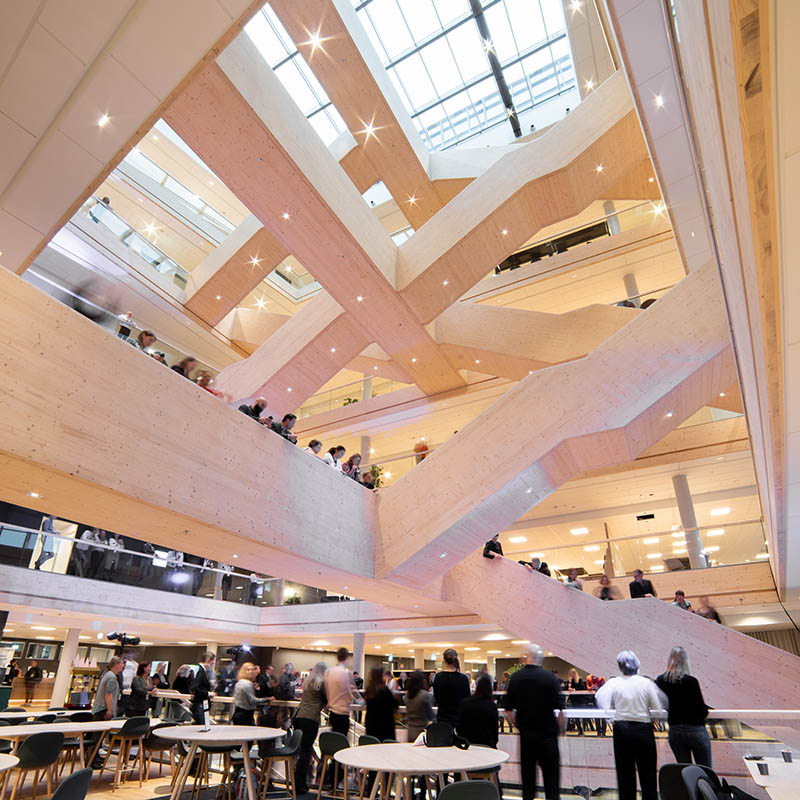 The flow of daylight contribute to a warmer and more human environment that encourages movement and spontaneous encounters between people.
The openness of the timber building contributes to ease of orientation, a sense of security and an overview of the entire space.
Each floor has double stairways with walkways in between to facilitate movement. The aim is to make it easy and enjoyable to move around in the building.
The results have been positive in terms of the number of steps measured with pedometers at the workplace has been doubled in many cases.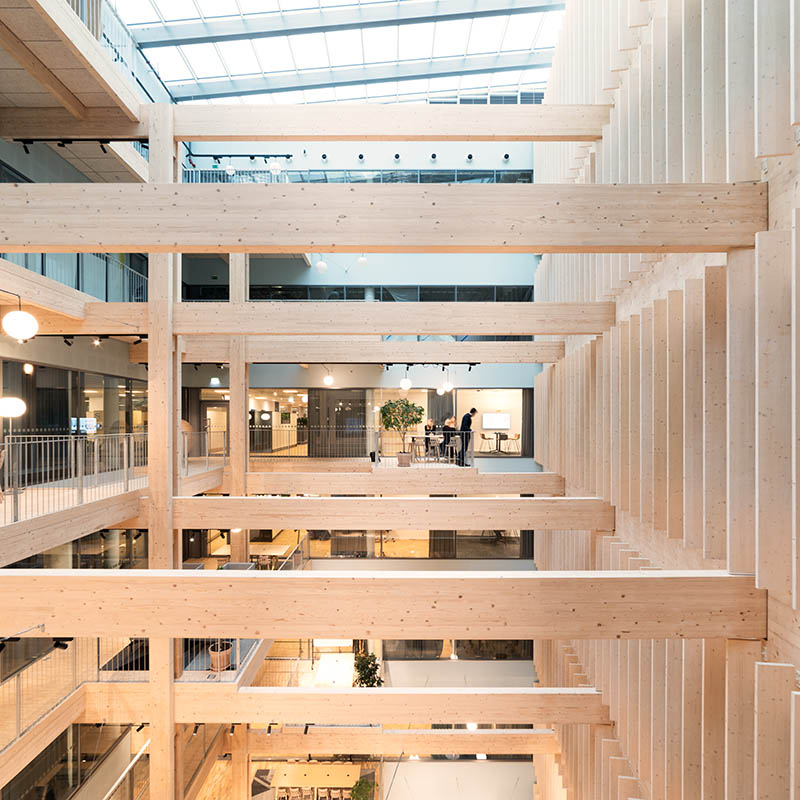 The ground floor, in glass and oak, houses a restaurant and a lounge open to everyone.  There is also a gym and a cycle parking facility with showers and drying cabinets.
By the main entrance to the south, the work with an inviting outdoor seating area has been important. By limiting a traffic lane at Enköpingsvägen, it is now possible to frame the sunken outdoor seating terrace with trees and greenery.
The smaller light well has a more intimate atmosphere with seating areas and calmer rest areas on balconies in the solid wood construction.
There is a slightly sacred atmosphere here, which creates a much-needed contrast to the more active office floor designed for a mobile and project-based way of working.
Many of the NCC's employees spend a lot of time out in the field or at client premises, but they are now being attracted to the head office to a greater extent than before.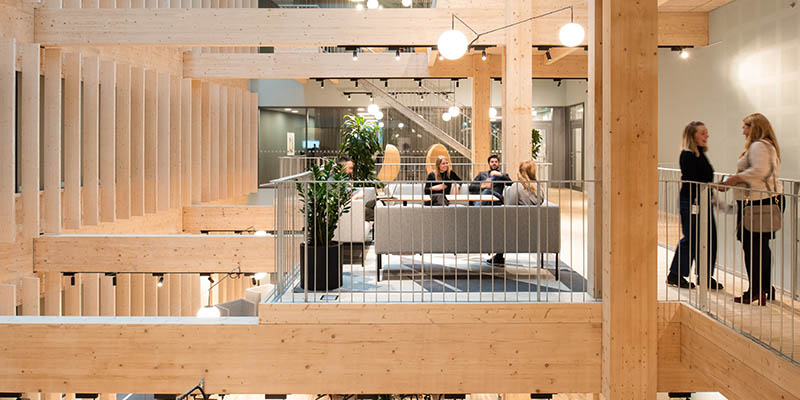 The NCC head office is certified as BREEAM "Excellent", meaning that it has been subject to stringent requirements regarding energy, materials, the indoor environment and outdoor areas.
Following one of the circular economy principles the concrete structure from NCC's previous office has been recycled, crushed and reused as filling material.
The timber used has been produced in a sustainable manner, and the interior follows the emission requirements in BREEAM. The roof terraces also include greenery, bat boxes and a bee hotel.
Photography: Anders Bobert