Who are the biggest construction companies in Europe?
Every architecture firm and every project needs a construction company and a general contractor responsible of the construction site, management of vendors and trades, and the communication of information to all involved parties throughout the course of a building project. A general contractor is the construction manager employed by a client responsible for the overall coordination of a project, general contractors may also act as building designer, constructor and foreman.
To get you familiar with the major players in the constructions industry, we've compiled a list of the largest and most renowned construction companies and contractors in Europe based on the information available from the various online and media sources. From the best contractors in United Kingdom, Spain, Sweden, France and Italy to the leading constructors in Austria, Belgium, Denmark, Finland, Portugal, Norway, Netherlands and Switzerland lets discover who are the leading companies.
Top construction companies and contractors in Austria
Strabag
Strabag SE is an Austrian construction company based in Spittal an der Drau, Austria, with its headquarters in Vienna. It is the largest construction company in Austria and one of the largest construction companies in Europe. The company is active in its home markets Austria and Germany and in all countries of Central, Eastern and South-East Europe, in selected markets in Western Europe, on the Arabian Peninsula, as well as in Canada, Chile, China and India. In these markets Strabag has subsidiaries or operates on a project-basis.
Porr
As a European construction company with strong Austrian roots, Porr today focuses on its strong domestic markets of Austria, Germany, Switzerland, Poland and the Czech Republic. The aim is to promote robust, low-risk internationalisation and thus ensure healthy and sustainable "intelligent growth" in the long term. PORR is currently expanding its presence in Scandinavia and the United Kingdom, often in cooperation with local partners. Germany is now the Group's second most important market – Porr is acquiring several companies in the country and expanding the range of services it offers in specialist civil engineering and road construction.
Swietelsky
Swietelsky is an international construction company based in Linz in Austria. The company's activities extend to all sectors of the construction industry, especially building construction and civil engineering. In 2018/19, Swietelsky had an average of around 10,300 employees and had sales of around 2.8 billion euros. The turnover was split equally between Austria and other countries. In addition to the headquarters in Linz, Austria has branches and subsidiaries in all federal states. Foreign core markets are Germany, Hungary and the Czech Republic, there are also branches in 15 other countries (Australia, Bosnia and Herzegovina, Denmark, France, Great Britain, Italy, Croatia, Luxembourg, Netherlands, Norway, Poland, Romania, Switzerland, Slovakia, Slovenia)
Habau
Habau is an international construction compnay in the areas of building construction, underground engineering, pipeline construction, construction of prefabricated units and tunnel construction. The company, still privatly owned, has developed from a local building construction company in Perg to an international full service provider during the last 100 years. Through this partnership structure the HABAU GROUP has always fostered values that are geared towards sustainable management and responsible interaction with people and the environment. An organic growth and  strategic acquisitions helped to achieve a continouse success. So Habau takes its economic, ecological andsocial responsibility serious.
Largest construction companies and contractors in Belgium
Jan De Nul Group
Founded in 1938, in Hofstade near Aalst, Belgium, Jan De Nul started as a construction company specialised in civil works and maritime construction. It was only in 1951 that the company entered into the dredging business. At the end of 2012, Jan De Nul had 6000 employees and a yearly turnover of 2 billion euro. Other major dredging companies are Dutch companies Royal Boskalis Westminster and Van Oord, and the Belgian DEME.  Jan De Nul Group can be an all-in partner for clients. They do more than contracting alone, Jan De Nul Group acts as 'unburdening' partner: from responsibility for the design through quality monitoring of all suppliers and subcontractors up to all-in concession contracts or financing programmes. Jan De Nul Group can offer a comprehensive portfolio for every activity in whatever form.
CFE
CFE, founded in 1880, is one of the largest contruction companies in Belgium and active in three different divisions. The first, Dredging, Environment, Offshore and Infra, is carried out by its wholly owned subsidiary DEME, one of the world leaders in the field. DEME has a modern fleet of multipurpose vessels equipped with the latest technologies. The second, Contracting, encompasses the group's construction, multitechnics and rail activities in Belgium, Luxembourg, Poland and Tunisia. The third, Real Estate Development, covers the real estate projects developed by BPI in Belgium, Luxembourg and Poland. The CFE group currently employs more than 8,000 people and is active on every continent.
DEME
Dredging, Environmental and Marine Engineering NV (DEME) is an international group of specialised companies in the field of capital and maintenance dredging, land reclamation, port infrastructure development, offshore related services for the oil & gas industry, farshore windfarm installation, environmental remediation a.o. The group is based in Zwijndrecht, Belgium, and has current operations on the five continents. The roots of the group date back to the mid 19th century. DEME is committed to the practice of sustainable development. In 2009, the Flemish government agency Flanders Investment and Trade awarded the Export Lion 2009 to DEME for what was called its 'sustainable strategy of internationalization' and 'the many prestigious assignments carried out worldwide'.
Besix
Since first going into action in 1909, the Besix Group has over the years grown into a multidisciplinary company with a leading position in its markets: construction, property development and concessions. Besix Contracting specializes in construction, infrastructure and marine works, often in contracts with a high level of complexity. In Benelux and France, the Group's regional affiliates Besix Infra, Cobelba, Jacques Delens, Vanhout, Wust and Lux TP ensure a strong presence and a local approach. With Franki Foundations, Socogetra, Besix Environment and Van den Berg, the Group offers specialist niche solutions for the building market like deep foundations, geo-engineering, road construction, water treatment and cable and pipeline construction.
Largest construction companies and contractors in Denmark
Mt Hojgaard
MT Højgaard Group is one of the top construction companies in the Nordic countries. As a full-service provider, they have the skills and size to take on major and complex construction projects from concept to operation. The Group works with customers throughout Denmark and in multiple countries overseas. The company was founded in 2001, when Højgaard & Schultz and Monberg & Thorsen merged to form MT Højgaard. The Group consists of MT Højgaard as well as a number of specialized wholly and partly owned subsidiaries. MT Højgaard Group solves all needs within construction and civil engineering from designing to building bridges, housing and business property. The Group also works offshore and has installed the offshore wind turbine foundations.
Per Aarsleff
Per Aarsleff is a Danish civil engineering and construction company. It is one of Europe's main civil engineering companies. Their expertise is to devise, plan and implement large-scale projects within infrastructure, climate change adaptation, the environment, energy and construction – from design to handing-over. Aarsleff point of departure is a strong position in Denmark and the Baltic Sea region. They work in most parts of the world.
Top construction companies and contractors in Finland
Yit Corp.
YIT Oyj is the largest Finnish construction company. Headquartered in Helsinki, YIT develops and builds apartments, business premises and entire areas. YIT is also specialised in demanding infrastructure construction and paving. YIT operates in 11 countries: Finland, Russia, Scandinavia, the Baltic States, the Czech Republic, Slovakia and Poland. Lemminkäinen Group was a Finnish company that operated in the construction industry, it merged with YIT in February 2018.
Hartela Oy
Hartela is a Finnish construction company founded in 1942. The company is one of the largest construction companies in Finland. Hartela originated in Turku when Emil Hartela and Vilho Heinonen founded a store called Urakoitsijat Oy. Over the years, the store's operations expanded throughout Finland.
Top construction companies and contractors in France
Vinci
Vinci is the largest construction company in France founded in 1899 as Société Générale d'Enterprises. Its head office is in Rueil-Malmaison, in the western suburbs of Paris. Vinci Construction's business model is based on three complementary pillars to provide long-term support for customers on projects spanning a wide spectrum of technical features, scales and geographies. With more than 30,000 projects in progress, Vinci Construction is committed across all eight of its businesses to supporting major transformational change worldwide.
Bouygues Construction
Bouygues S.A. is an industrial group headquartered in the 8th arrondissement of Paris, France. The company was founded in 1952 by Francis Bouygues and since 1989 has been led by his son Martin Bouygues. The Bouygues group, whose subsidiaries Bouygues Construction, Bouygues Immobilier and Colas are present in more than 90, is one of the leading firms in the construction sector in both France and worldwide. With operations in nearly 60 countries, Bouygues Construction and its 58,149 employees develop long-term relationships with their customers in order to help them shape a better life. Listening to customers enables Bouygues Construction to build relations of trust with them and support them in their projects, within the context of its sustainable development policy.
Eiffage
Eiffage Construction is a major player in the building sector, offering complete synergy between its various business lines and a unique standard of integrated expertise. It specialises in the creation of new neighbourhoods, city-centre restructuring, property developments, construction and renovation projects, and is able to tackle anything from maintenance operations to major projects. Eiffage Construction specialises in four complementary business lines—urban planning, property development, construction, and maintenance and services—enabling a comprehensive and proven offering. The company has handled some of the most challenging projects in France and elsewhere in Europe, priding itself on remaining one step ahead and fully in tune with market needs.
Spie Batignolles
Spie Batignolles is a French construction company based in Neuilly-sur-Seine. The company provides building and infrastructure construction in France, Germany, the United Kingdom, Spain, Portugal and Switzerland. Spie Batignolles is resolutely committed, innovative and open to the world. This vision is at the heart of their identity and their daily lives. The compnay want to give meaning and create lasting value for their customers, employees and shareholders.
Fayat
The Fayat Group, founded in 1957 in France, operating in 170 countries thanks to the dedication of its 22,150 employees, provides innovative and sustainable solutions to its customers all over the world in the seven major activities where it has developed: Civil Works, Foundations, Building, Energy Networks, Metal, Pressure Vessels and Road Equipment. Involved via both their products and projects in smart housing, connected cities, 5th-generation mobility, energy transition, water management, the environment, safety, and also in health and well-being as well as culture, sports and leisure activities, Fayat Group meets the challenges of society and the expectations of everyone.
NGE
With 13 Multi-expertise regions to provide a local presence close to public-sector and private-sector customers, NGE coordinates 7 core business sectors of construction and public-sector expertise with a single department in ways that benefit customers and projects: urban infrastructures, pipeline and underground networks, civil engeenering, road building, geothecnical solutions, rail infrastructures and building construction. Through its property development core business, NGE offers a new, inventive approach that creates value for the regions by combining its expertise in financial engineering and construction. Its ultimate goal is to offer a global solution tailored to the precise needs of major property projects and local development schemes.
Demathieu & Bard
Founded in 1861 in Lorraine, Demathieu & Bard is one of the main French companies in the construction sector. It works in road and rail infrastructures, industrial civil engineering and building industry. In France, a network of branches and operational subsidiaries covers the whole country, in order to respond quickly to customers needs relative to design and execution of their projects while respecting quality requirements, deadlines and costs. Abroad, the same spirit drives the subsidiaries which have completed prestigious projects in Luxembourg, Germany and North America.
Rabot Dutilleul
Rabot Dutilleul has 1,500 employees who are deeply convinced that it is possible to build a better, more humane and more sustainable world by daring to think and create differently in cooperation with partners. For close to a hundred years, the Group has committed itself with good will and relevance to uniting, inspiring and implementing everybody's projects to the full by pushing them to their limits. By mastering the property and construction value chain, Rabot Dutilleul provides the best solutions for companies and local areas, as well as for the women and men who occupy its buildings. Present in France, Belgium, Germany and Poland, this independent family business is one of the top players in the French building and construction sector.
Leon Grosse
Léon Grosse is one of the largest French construction firm with a turnover of € 720 million and nearly 2,300 employees working in metropolitan France and the French overseas departments and territories. The company was founded by Léon Grosse in 1881 in Aix-Les-Bains and has remained a family-owned company since.
Gagneraud Group
A major player in construction in the public works and public works sector, the Gagneraud Group is a network of independent companies made up of 28 companies, the most emblematic of which are Gagneraud Construction, Marc S.A and Cathelain. Employing more than 2,700 people spread around 5 regional offices. The Group is characterized by the great diversity of its activities in the construction trades but also in energy and service work.
Ramery
Nearly 50 years later, Ramery supported by 3,000 employees, is now one of the top 15 French construction companies and has a turnover of over 535 million euros. The Group offers a tailor-made service for public and private clients in general contractor, primary contractor or on specific services in the national territory: Hauts de France, Ile de France, Normandy, Pays de Loire and Nouvelle Aquitaine. By making its diversified expertise available to public or private sector clients, Ramery works on road works, industrial infrastructures, urban planning, sanitation, miscellaneous networks and civil engineering.
Largest construction companies and contractors in Germany
Hochtief
Amongst the biggest construction companies in Europe, Hochtief offers services for design, construction and reconstruction of buildings throughout the world. These include office buildings, healthcare properties, sports and cultural facilities. Thanks to regional presence, lean structures and effective processes, we work efficiently and in conformity with the market. The core of Hochtief competency is construction business and includes services such as, design, consulting, project controlling, concessions and operation. The constructor realizes innovative projects all over the world for both private investors and for the public sector—and these are virtually always unique schemes
Max Boegl
With more than 6,500 highly qualified employees at 35 locations worldwide and annual sales of around 1.7 billion euros, Max Bögl is one of the largest construction, technology and service companies in the German construction industry. Since its foundation in 1929, the company's history has been characterised by innovative strength in research and technology – from tailor-made individual solutions to high-quality, sustainable overall solutions in construction technology and ecology. With forward-looking in-house developments on topics of our time such as renewable energies, urbanization, mobility and infrastructure, the Group is already realizing solutions for the megatrends of our globalized world.
Goldbeck
Goldbeck is is a family business in the second generation. They builds future-oriented commercial properties in Europe. The company sees buildings as products, which it realizes efficiently by serving as a one-stop shop: from design and construction to services during operation. In line with the aspiration "building excellence", the family-owned company carries out real estate projects fast, reliably and cost-effectively, with perfectly fitting functionality. As a market-leading general contractor, Goldbeck assists their clients from planning to construction, right through to operation.
Leonhard Weiss
The structures of the family-run Leonhard Weiss Group have been developing since 1900 and have served to maintain the principle of short decision paths and independence from the banks up to the present day, now in its fourth generation. The close interpersonal relations among the more than 5,800 people working with each other has significantly influenced the group to this day and is an important trademark in our customer communications.  With a well-thought-out European network, the group is composed of the following business areas: road and network construction, railway construction, engineering and turnkey construction, stonework restoration and preservation of monuments and flooring technology. Special products such as cable ducts and services related to modern utilities and telecommunications networks round out its portfolio.
Bunte
Bunte is one of the leading German construction companies in Germany. Over the past 148 years, the company has developed from a small transport company into a comprehensive general provider of construction services. This successful development of the fifth generation family-owned company is characterized by the implementation of complex and demanding large-scale projects as well as a large number of medium-sized regional projects by around 1,700 committed and highly qualified employees.
Largest construction companies and contractors in Italy
Webuild (formerly Salini Impregilo)
Amongst the largest construction companies in Italy, Webuild, is the new group born in 2020 from Salini Impregilo. Webuild is a leading global player in the construction of large, complex projectsfor sustainable mobility, clean hydro energy, clean water, green buildings, supporting clients in achieving sustainable development goals (SDGs). Webuild is the expression of 114 years of applied engineering experience in five continents thanks to the talent of 70,000 people from over 100 nationalities. The works built, both in Italy and in the world, tell the story of a group guided by the passion for building and the pursuit of excellence, which renewed its commitment to building a sustainable future by applying its know-how to build innovative and valuable works.
Astaldi
Astaldi (recently acquired by Wegroup) is one of the leading contractors in Italy, as well as at worldwide level. The Group has more than 95 years of international experience and operates in a wide range of sectors, delivering complex and integrated projects. It designs, develops and operates public infrastructure and large-scale civil engineering works, and has unrivalled experience in Transport Infrastructure, Energy Production Plants, Civil and Industrial Construction, Plant Design and Engineering and Operation and Maintenance.
Pizzarotti Group
Impresa Pizzarotti & C. S.p.A. has a history stretching back 100 years. It was founded in 1910 by Gino Pizzarotti as a sole trader, since when it has undergone process of evolution that has never stopped. The company's main objective has always been a steady development in the construction of civil works for thermal and nuclear power plants, highways and road infrastructure, civil and military airports, irrigation and hydraulic arrangement, dams, industrial infrastructure, railway construction prison building. The Pizzarotti Group, which has always retained its head office in Parma, today consists of a number of companies operating in total synergy in the infrastructure, hydraulic engineering, civil and military airport, building and construction sectors.
CMB
ICM Group
The ICM Group includes industrial companies, mainly operating in the construction sector. The ICM Group comes forward as a General Contractor for the execution of significant works, in terms of both value and technical contents, for public bodies and private clients both within Italy and abroad. ICM Group is currently active in large civil, industrial and infrastructural engineering projects and is one of the top ten national companies in Italy in terms of turnover, number of employees and order backlog, as well as one of the top two hundred and fifty international companies, according to the ENR classification. Besides being active in the construction sector, the Group operates in the fields of solutions for environmental issues, real estate and finance.
Rizzani De Eccher
Rizzani de Eccher S.p.A. is an Italian general contractor in the international construction market with headquarters in Udine in northeastern Italy, bringing together a number of operating units in the areas of civil engineering, infrastructure and building construction. The Group operates in the construction sector in three distinct areas: general contracting of buildings and infrastructure; design, engineering and special equipment and technologies for bridge construction; real estate development. By 2005, through its established presence in many countries (Russia and other CIS countries, Middle East, Mediterranean Basin and North and Central America), the share of overseas revenues tops 70%.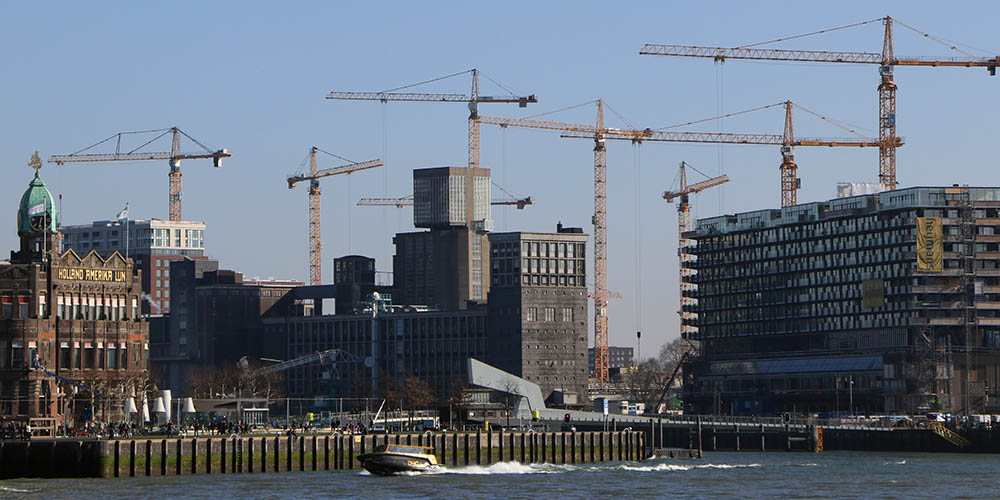 Biggest construction companies and contractors in the Netherlands
Koninklijke BAM Groep
Koninklijke BAM Groep is a Dutch construction-services business with headquarters in Bunnik, Netherlands. It is the largest construction company based on revenue in the Netherlands. BAM Bouw en Vastgoed unites the activities of BAM Bouw en Techniek (which, until 2014, operated separately as: BAM Utiliteitsbouw and BAM Techniek), BAM Wonen and AM. BAM Bouw en Techniek focuses on commercial and technical development, preparation and realisation of non-residential construction projects in the Netherlands and also offers an extensive range of services for technical facilities. BAM Wonen is the market leader in the Dutch residential construction market and offers a full service package (advice, development, construction, service and maintenance as well as renovation). The company has its own successful housing concepts for both new build and renovation projects.
Volker Wessels Group
VolkerWessels is a leading international company that operates according to the 'think global, act local' principle. VolkerWessels is a construction firm active in the Netherlands, the United Kingdom, North America and Germany and has over 120 local operating companies. VolkerWessels plays a key role in society with projects and services that contribute sustainably to the living environment. VolkerWessels is active in many different areas: construction, real estate development, telecom, mechanical and electrical installations, supply, road construction, energy networks, civil engineering, railway construction, mobility & engineering.
Heijmans
Heijmans is one of the largest construction firms in the Netherlands that combines activities related to property development, construction & technical services and infrastructure in the fields of Living, Working and Connecting. Heijmans realises projects for home buyers, companies and government entities. They focus on the end user and learn more about the wishes and welfare of residents, consumers and road users. Not just in the development and construction phases, as they say, but especially in the management phase.
Tbi Holdings
TBI is a group of companies that renew, furnish and maintain our living environment in a sustainable way. The group is characterized as an agile organization. The TBI companies have high-quality, specialist expertise in the field of Technology, Construction and Infrastructure and join forces with the ultimate goal: a leading result. "We are big when possible, compact when necessary. From small initiatives to large and high-profile projects that make the Netherlands a little more beautiful, sustainable and innovative".
Ballast Nedam
Ballast Nedam is a Dutch-based construction and engineering company headquartered in Nieuwegein. The company resulted from a merger between Amsterdamse Ballast Maatschappij and Nederlandse Aannemingsmaatschappij. For more than 140 years we have been creating unique landscape icons with this goal: from small-scale assignments to large infrastructural works or high-rise buildings under extremely complex circumstances at home and abroad.
Dura Vermeer
Dura Vermeer is active in construction, infrastructure, engineering and services. Projects are developed, realized and operated on behalf of third parties and at our own risk. Dura Vermeer is distinctive and works innovatively. Together with our partners, we offer leading, integrated and sustainable solutions for a variety of construction tasks. Dura Vermeer is aware of its social influence and takes social responsibility for granted. They see this reflected in everything they do: in their projects, in their organization, both directly and indirectly.
Largest constructors and contractors in Norway
Veidekke
Veidekke is the largest Norwegian construction and civil engineering company and the fourth largest in Scandinavia. Veidekke's business involves a network of Scandinavia construction and engineering operations, rehabilitation work, major heavy construction contracts and development of dwellings for the company's own account as well as buildings for public use. They recently acquired Reinertsen's civil engineering arm. Other business segments are asphalt operations, production of crushed stone and gravel(aggregates) and maintenance of public roads. Veidekke's contracts include construction of residential and non-residential buildings, schoolsand other public buildings and renovation of buildings in addition to heavy construction projects such as roads, railways and industrial development projects. Construction operations in Norway are the responsibility of Veidekke Entreprenør AS. In Denmark, Veidekke's construction operations are looked after by Hoffmann A/S, and in Sweden, construction operations are undertaken by Veidekke Sverige AB.
Af Gruppen
AF Gruppen is a leading contracting and industrial group. The real estate division is responsible for developing the housing business and manages a number of properties in Eastern Norway and Western Sweden. The building division of AF supplies new constructions, including residential buildings, office buildings, schools and cultural and institutional buildings. Civil engineering is the largest division in the AF Group. It is divided into three business units: AF Civil Engineering, AF Harbour, AF Oil & Energy and has projects all over Norway, and western Sweden.
Largest constructors and contractors in Portugal
Mota Engil
Teixeira Duarte
Having started its activity in 1921, Teixeira Duarte Group is one of the largest construction compnaies in Portugal. It currently has about 11,000 employees operating in 20 countries on four continents and doing business in seven different sectors such as Construction, Concessions and Services, Real Estate, Hospitality, Distribution, and Automobile. Nowadays, Teixeira Duarte takes responsibility for its great value and pioneering in the construction sector, where their teams and structures are interconnected to one end result of recognized ability in design, innovation, building and managing large projects and ventures. From large-scale infrastructures such as bridges, dams, hospitals, roads and other public works, to the great buildings that mark our history, speaking about Teixeira Duarte means great know-how and constant presence in our daily lives.
Soares Da Costa
The group is headed by Soares da Costa Construção, SGPS, SA, a holding company in the construction area, with participations in several companies dedicated to the execution of civil construction works, infrastructures and industrial activities related with the construction sector. The technical expertise and capacity of Soares da Costa Construction and its subsidiaries can be divided into three main strands: Civil Construction Namely residential buildings, offices, hotels and tourism, restoration and refurbishment of buildings; Infrastructures, Including structures for education, sports & culture, industrial, health care & assistance (hospitals, health centres, clinical facilities), airports, roads, motorways, bridges, tunnels, railways, hydro, environment and other urban infrastructures (car parks, pedestrian bridges, etc.);  Technical installations and solutions, Electricity, telecommunications, technical management, heating, ventilation, air conditioning, sewage, water treatment, design, manufacture and assembly of steel structures.
Zagope
Founded in 1967 as a company specialized in public works Zagope currently has a prominent place in the engineering and construction scenario developing structuring projects in the public and private sector both national and internationally. With head office in Portugal Zagope operates in the markets of Europe Africa and Asia having developed different iconic project works throughout its successful journey. Developing construction projects with discipline innovation safety respect for the environment and fully complying with the legislations in force for each market where we operate enables Zagope to accomplish major projects that improve the quality of life of millions of people.
Grupo NOV Engenharia e Construção
Grupo NOV Engenharia e Construção is a business unit that operates at national – Portugal mainland and islands – and international levels being present in the European continent (Bulgaria and Romania) SouthAmerica (Brazil, Bolivia, Colombia, Mexico and Venezuela) and Africa (Algeria, Angola, Morocco and Mozambique).Specialized in the design construction and management of Public and Private Works this sector acts in several domains namely: communication routes engineering and special structures environment hydraulic works and other infrastructures Residential Buildings Non-residential Buildings Rehabilitation of Buildings Dams and maritime works other areas.This NOV Group business unit accumulates a know-how of more than 70 years with several works of national and international relevance which allow it to face the challenges with a high degree of professionalism. Grupo NOV Imobiliária is the NOV Group business unit that integrates all real estate companies and projects.
Top construction companies and contractors in Spain
ACS Group
The ACS Group is a worldwide reference in the construction and services activities. A group taking part in the development of key sectors for the economy such as infrastructure and energy. A company committed to the social and economic progress of the countries in which it is present. A worldwide reference in the industry of infrastructure development both civil and industrial engineering projects. A Group which participates in the development of sectors that are fundamental for the economy.
FCC
Fomento de Construcciones y Contratas S.A. (Spanish pronunciation: [foˈmento ðe konstɾukˈθjones i konˈtɾatas]) or FCC is a Spanish construction company based in Barcelona. The activities of the construction area of the FCC Group cover all areas of engineering and construction, and is a benchmark in the execution of civil works (roads, railways, airports, hydraulic works, maritime, tunnels, bridges, underground, stations purifiers) and building (residential and non-residential: hospitals, football stadiums, museums, offices).
Ferrovial
Ferrovial S.A. previously Grupo Ferrovial is a Spanish multinational company involved in the design construction financing operation and maintenance of transport infrastructure and urban services. The company is headquartered in Madrid. Ferrovial operates through four divisions in over 5 countries. Its Highway division finances and operates toll roads including 407 ETR North Tarrant Express LBJ Express Euroscut Azores and Ausol I. The Airport sector has developed and produced airports in Heathrow Glasgow Aberdeen and Southampton. Its Construction business designs and constructs public and private works such as roads highways airports and buildings. The company's Services sector oversees the maintenance and conservation of infrastructure facilities and buildings the collection and treatment of waste and other types of public services.
Acciona
Acciona is a global group that develops and manages sustainable infrastructure solutions, especially in renewable energy. Its business spans the entire value chain from design and construction through to operation and maintenance. The company was founded in 1997 through the merger of Entrecanales y Tavora and Cubiertas y MZOV. The company's headquarters is in the Alcobendas Community of Madrid, Spain. The company's U.S. operations are headquartered in Chicago Illinois. The Company employs 30000 professionals and it is to be found in 30 countries on five continents.
OHL
Obrascón Huarte Lain S.A. or OHL is a Spanish-based multinational construction and civil engineering company. More than 100 years of experience guarantee OHL as a global infrastructure group; experience that extends to the five continents and that includes, among others, actions on roads, railways, ports and hospitals. The company is involved in infrastructure and commercial property construction homebuilding and the operation of toll road and other transport concessions. In the latter, the group is particularly active in Brazil through its majority-owned subsidiary OHL Brasil and in Mexico with OHL México. OHL also has a majority-owned American subsidiary called Tower-OHL Group which is based in Miami Florida.
Sacyr
Sacyr is a diverse group, whose objectives are innovation and international expansion in all its areas: engineering and infrastructures, concessions, services and industrial. Sacyr operates in more than twenty countries across the five continents, working through our subsidiaries. The company was founded in 1986 as Sociedad Anónima Caminos y Regadíos and was renamed Sacyr in 1991. In 2002 it acquired 24.5% of Vallehermoso, a leading Spanish housing business founded in 1921. Sacyr's international expansion enables the company to operate in 29 countries on five continents. Most of the group's overseas activities are in Latin America, though it also boasts a considerable presence in Africa, Europe, Asia and Oceania.
Aldesa
Aldesa is one of the largest construction groups in Spain and Mexico, dedicated to the development of civil engineering projects and building infrastructures, operating also in the industrial sector and carrying out investments activities, such as concessions, real estate and renewable energy. Through the Construction, Industrial, Concessions and Aldesa Home divisions, Aldesa provides comprehensive solutions tailored to its clients' needs, with responsibility, reliability, solvency, integrity and creating value in every project.
Largest construction companies and contractors in Sweden
Skanska
Based in Sweden, Skanska AB is on of the largest construction and development company not only in Europe, but in the World. The company is active in the fields of construction, residential development, commercial property development and infrastructure development. Notable Skanska projects include renovation of the United Nations Headquarters, the World Trade Center Transportation Hubproject, Moynihan Station, 30 St Mary Axe, MetLife Stadium, Mater Dei Hospital, among others.
NCC
NCC AB is Swedish construction company, one of the largest construction companies in the Nordic region. The constructor has five business areas: NCC Infrastructure, NCC Building Sweden, NCC Building Nordics, NCC Industry and NCC Property Development. They develops and builds residential and commercial properties, industrial facilities and public buildings, roads, civil engineering structures and other types of infrastructure. NCC also offers input materials used in construction, such as aggregates and asphalt, and conducts paving and road services. NCC primarily conducts operations in the Nordic region.
Peab
Peab is a leading Nordic construction and civil engineering company. The Group has strategically placed offices in Sweden, Norway, Finland and Denmark. Company headquarters are in Förslöv on Bjäre Peninsula in southern Sweden. They are organized into four business areas, serving both external customers and internally, to other units in the company: Construction — Performs contract work for new construction, renovation and maintenance; Civil Engineering — Offers civil engineering on infrastructure projects, as well as maintenance of roads; Industry — Delivers material and equipment; Project Development — Offers housing and commercial property development services.
Biggest construction companies and contractors in Switzerland
Implenia
Implenia is Switzerland's leading construction and real estate services company. It has significant building construction  and Civil Engineering  operations in Switzerland, Germany and Austria, as well as strong positions in the infrastructure sectors of all its home markets: Switzerland, Germany, Austria, France, Sweden and Norway. Implenia is also a successful real estate developer in Switzerland and Germany. Working with and for people, Implenia creates and builds sustainable solutions for tomorrow's living, working and mobility needs.
Allreal
Amongst the largest constructor in Switzerland, Allreal combines a stable-income real estate portfolio with activities of development and realisation proper of a general contractor. The construction company is based in Zurich, Basel and Berne. Allreal's operational headquarters are located at Glattpark and the company operates in Switzerland only. Allreal offers the entire services range from a single source: starting with the idea for sites, grounds and properties to be developed through to projects ready for construction with market-oriented yield and optimal value creation.
Walo Bertschinger
Walo Bertschinger AG is an internationally active Swiss construction, general contractor and real estate company based in Dietikon. The company is owned by the Bertschinger family in the third and fourth generation. The Walo group of companies is mainly active in the construction industry and includes the fields of road construction, civil engineering, building construction, dam and landfill construction, mastic asphalt, noise protection, floor and sports surfaces, underground construction, track construction, railway technology, concrete renovation, technical infrastructure and hydraulic engineering.
Frutiger
Steiner
Steiner is on of the one of the leading real estate providers in Switzerland. As developer, total or general contractor, Steiner AG support the life cycle of real estate: from development to completion and all the way to refurbishment and renovation. Since May 2010, Steiner AG is part of the Hindustan Construction Company Ltd. (HCC), headquartered in Mumbai.
Largest contractors and construction companies in the UK
Balfour Beatty
Balfour Beatty is a leading international infrastructure group. They finance, develop, build and maintain innovative and efficient infrastructure that underpins daily life, supports communities and enables economic growth. Balfour Beatty teams operate across the full infrastructure life cycle, combining world-class investments capability and leading construction and support services to deliver large, nationally critical complex infrastructure through to local and regional projects right at the heart of local communities.
Morgan Sindall
Morgan Sindall Group plc is on of the largest construction companies in the UK. They are headquartered in London employing around 6,700 employees and operating in the public, regulated and private sectors. Morgan Sindall Group is a construction company and regeneration group operating in the public and commercial sectors. It operates through six divisions of construction and infrastructure, fit out, property services, partnership housing, urban regeneration and investments.
Galliford Try
Galliford Try is a leading UK construction business employing 3,000 people across the country. The company was created in 2000 through a merger of Try Group plc, founded in 1908 in London, and Galliford plc, founded in 1916. They are focused on the building, highways and environment markets.
Kier
Kier Group is a leading UK construction and infrastructure services company. Its purpose is to sustainably deliver infrastructure which is vital to the UK. The Group invests, builds and maintains the UK's essential assets and infrastructure with c.85% of Group revenue from Government, quasi-Government or regulated industries. The Construction segment delivers for both the public and private sectors through local bases and offers national coverage for our clients and customers. The key sectors served include education, health, justice and defence.
Mitie
Mitie Group PLC (standing for Management Incentive Through Investment Equity) is a British strategic outsourcing and energy services company. It provides infrastructure consultancy, facilities management, property management, energy and healthcare services. It has a head office at The Shard in London and more than 200 smaller offices throughout the United Kingdom and Ireland.
Laing O'Rourke
Laing O'Rourke is a privately owned, internationally focussed engineering company based in the UK . They operate an integrated business model comprising the full range of engineering, construction and asset management services delivering single-source solutions for some of the world's most prestigious public and private organisations. Across key business sectors they design, procure, manage, construct, refurbish and maintain commercial offices, data centres, industrial facilities and science and research centres. Laing O'Rourke is at the forefront of the design and delivery of power infrastructure, transport projects, power infrastructure, mining and resources infrastructures. Their infrastructure businesses offer the full range of specialist engineering, construction and asset management expertise.
Barratt
Barratt Developments plc is one of the largest residential property development companies in the United Kingdom operating a network of over 30 divisions. It was founded in 1958 as Greensitt Bros. but control was later assumed by Sir Lawrie Barratt. It was originally based in Newcastle upon Tyne but is now located in Coalville. Barratt Developments PLC owns three consumer brands: Barratt Homes, David Wilson Homes and Barratt London and one commercial business brand Wilson Bowden.
Interserve
Mace
Mace Group Ltd, commonly known as Mace, is a global consultancy and construction firm headquartered in London, United Kingdom, employing approximately 5,000 people, across five continents. Mace's is mainly involved in the following sectors: Programme and project management, Cost consultancy, Construction delivery, Facilities management. Additional services include health and safety management, sustainability consultancy, contracts and dispute management, social inclusion programmes, investment and Building Information Modelling (BIM), supply chain training and site logistics.
Curious about the construction and architecture industry? Let's discover which are the architecture firms in Europe:
Best architecture firms in the UK
Best architecture firms in the Netherlands 
Best architecture firms in Italy
Best architecture firms in Denmark
Best architecture firms in Germany
Best architecture firms in Spain
Best architecture firms in Sweden
Best architecture firms in France